The Glucagon market is expected to grow at a CAGR of 6.1% to reach US$ 845.7 million in 2028.
The hike in growth rate can be attributed to the rise in the number of incidences of chronic diseases across the globe, increasing geriatric population, rising prevalence of chronic ailments in young adults, surge in the number of out-patients associated with diabetes and are manoeuvring heavy reliance on advanced therapeutic practices thus diversifying growth in global glucagon market.
In addition to this, rapidly escalating technological advancements in the pharmaceutical sector along with government funding is expected to act as a major driver augmenting the growth of the global glucagon market. Despite exceptional efficacy of glucagon therapy in treating hypoglycaemia, global glucagon market still faces certain barriers opposing full-fledged growth such as adverse side effects.
Some allergic reactions observed among certain patients with symptoms of vomiting and nausea are somehow restraining seamless adoption and growth. Ongoing expeditions in R&D to improve next gen-glucagon capabilities targeting severe hypoglycaemia is a dominant opportunity supporting market expansion in the forthcoming years.
Glucagon a medication widely used to treat severe hypoglycemia is a metabolic hormone naturally secreted by the pancreas within a human body. It stimulates the liver to convert glycogen into glucose at a faster rate after which it is released into the bloodstream thus resulting in increased blood sugar level.
Glucagon and insulin are two different yet equally critical hormones associated with the glycemic control system in a human body that monitors and regulates adequate blood glucose levels. In case of hypoglycemia, Glucagon works as a messenger signalling human body to release more glucose into the bloodstream thereby retaining the normal blood sugar level.
Glucagon plays a critical role in preventing the blood glucose level from dropping too low which can have adverse effects on the body. Glucagon stimulates the process of glycogenesis with the aim of stabilizing the sugar levels in blood. It also prohibits the liver from absorbing and storing excess sugar that causes deprivation in blood thus ensuring that the bloodstream has sufficient amounts of the metabolic hormone. In addition, glucagon also helps the body in case of deficiency of sugar by deriving glucose from other sources such as amino acids. Insufficient glucagon levels cause failure in maintaining the blood sugar level which can occur in rare cases involving babies.
Severe cases of hypoglycemia among diabetics can be effectively treated with prescription glucagon. Global glucagon market players are firmly positioned within the marketspace alongside the young competitors challenging the conventional dynamics. The new entrants are introducing highly innovative ideas and technologically advanced next-generation concepts with an objective of pacing up the scientific upgradation of the treatment besides displacing industry behemoths. With rapidly modernising pharmaceutical industry and research exploration accelerated by the key players has resulted in strengthened market fusion.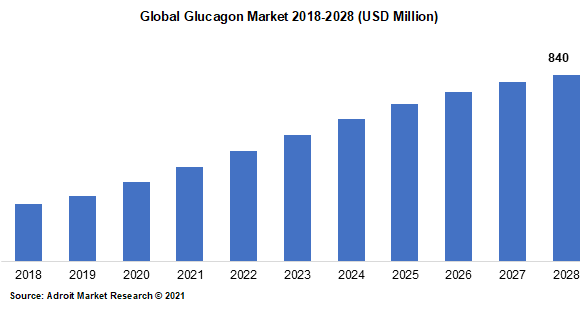 The major players of the global glucagon market are Eli Lilly, Taj Pharmaceuticals, Novo Nordisk, Fresenius Kabi, Xeris Pharmaceuticals, and Torrent Labs. The glucagon market comprises of strong local players with a well-flourished market presence along with the global players with international strategic initiatives. The key market players are adopting innovative approach with a view of enhancing product capabilities introducing advanced solutions with the view of attaining a competitive advantage in the global market.
In 2020, Fresenius Kabi developed a glucagon emergency kit for treating the life-threatening cases of low blood sugar which is considered to be a major opportunity for the company to enhance its product portfolio.
Glucagon Market Scope
| | |
| --- | --- |
| Metrics | Details |
| Base Year | 2020 |
| Historic Data | 2018-2019 |
| Forecast Period | 2021-2028 |
| Study Period | 2018-2028 |
| Forecast Unit | Value (USD) |
| Revenue forecast in 2028 | US$ 845.7 million |
| Growth Rate | CAGR of 6.1% during 2021-2028 |
| Segment Covered | by Type, by Application, Regions |
| Regions Covered | North America, Europe, Asia Pacific, Middle East and Africa, South America |
| Key Players Profiled | Novo Nordisk,,Eli Lilly,,Fresenius Kabi,,Torrent Labs,,Taj Pharmaceuticals,,Xeris Pharmaceuticals |
Key Segments of Global Glucagon Market
Type Overview, 2018-2028 (USD Million)
Injectable Glucagon
Nasal Glucagon
Application Overview, 2018-2028 (USD Million)
Emergency Kits
General Use
Diagnostic and Motility
Cardiogenic Shocks
Others
Regional Overview, 2018-2028 (USD Million)
North America
Europe
UK
Germany
France
Rest of Europe
Asia Pacific
China
India
Japan
Rest of Asia Pacific
South America
Brazil
Mexico
Rest of South America
Middle East and Africa
Reasons for the study
Primary aim of the study is to offer a comprehensive view into the global glucagon market thereby offering you to acquire authentic and accurate industry analysis.
Ensure you remain competitive amidst the rapidly modernizing marketspace driven by the innovations and advancements by the key players encouraging the global glucagon market.
What does the report include?
The study on the global glucagon market includes a thorough overview of the major qualitative factors including the drivers, restrains, opportunities as well as challenges along with their impact
The study entails detailed assessment data representing the competitive landscape housing existing and prospective players of the global glucagon market with potential to drive industry growth through strategic initiatives for enhancing product portfolio
The study covers market segmentation based on the product type and application evaluating the qualitatively as well as quantitatively significant data. Moreover, in-depth analysis of the key geographies is provided with a similar format
Accurate market estimations, sizes and forecasts are incorporated with each of the market segment.
Who should buy this report?
The report on the global glucagon market provides appropriate set of information along with valuable takeaways for all the market participants from medical background, pharmaceutical sector, healthcare professionals and staff from medical facilities
Insurance providers, stakeholders and investors looking for a thorough overview of the future outlook of global glucagon market
Researchers, academicians and biotechnology experts seeking insights reforming the global glucagon market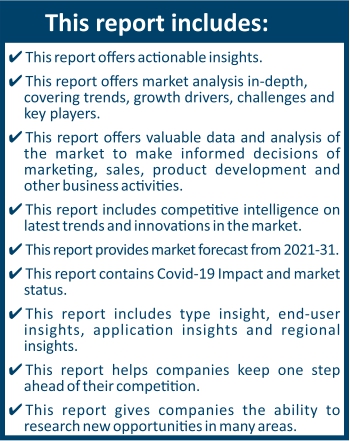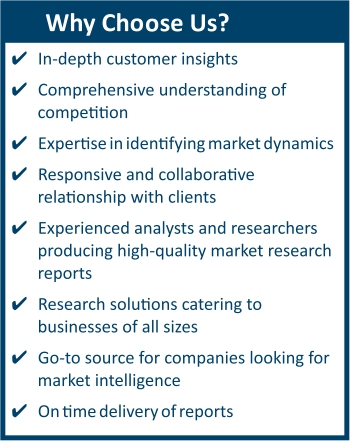 Frequently Asked Questions (FAQ) :
The major contenders in the global market are Eli Lilly, Taj Pharmaceuticals, Novo Nordisk, Fresenius Kabi, Xeris Pharmaceuticals, and Torrent Labs.
To get latest version of in glucagon market report can be obtained on demand from the website.
The market value of glucagon market in 2028 was USD 840 million
Escalating geriatric population, growing prevalence of chronic diseases and the subsequently rising demand for advanced emergency treatment solutions are boosting the growth of the global glucagon market. The pharmaceutical and biotechnology sectors are witnessing rapid modernization with the development and introduction of advanced technologies enhancing the efficiency of medical care and encouraging R&D initiatives which is expected to propel the global glucagon market growth. Multiple governments are further encouraging higher expenditure leading to strengthened healthcare infrastructure which is anticipated to offer lucrative growth opportunities for the global glucagon market over the forecast period.
Increasing incidences of severe hypoglycemic conditions has led to burgeoning demand for advanced glucagon treatment solutions. Severe hypoglycemia if not tended to or promptly treated can have fatal effects leading to coma or even death in some cases. With extreme implications of the condition, the need for instant care is driving the growth of the global glucagon market. Emergency use of glucagon is increasing rapidly with out-patient diabetics thus resulting in larger quantities of glucagon demand from hospitals and medical facilities. Factors such as skyrocketing demand for non-injectable glycogen is expected to fuel the glucagon market over the forecast period.
Type Segment
Based on the type of product, the market is split into nasal glucagon and injectable glucagon market segment. The nasal glucagon segment is expected to witness exponential growth over the forecast period as the technology is relatively new using a novel approach of introducing body with desired quantities of glycogen. The product is gaining popularity for its easy administration in treating hypoglycemia eliminating the frequency of handling errors that often arise when using an injectable glucagon. The injectable glucagon segment is anticipated to grow at a stable rate with its high preference in emergency cases of severe hypoglycemia.
Application Segment
In terms of application, the market is segregated into general use, emergency kits, diagnostic and motility, cardiogenic shock and others. Emergency kits are a predominant market segment as application of glucagon in emergency cases is very crucial worldwide. The segment is expected to grow sustainably over the forecast years. Diagnostic and motility also contributes significant growth with rapidly advancing healthcare diagnostic infrastructure resulting in advanced capabilities of diagnostic procedures, cardiogenic shock segment is expected to grow over the forecast owing to the growing prevalence of heart diseases globally.
North America holds a dominant market share and is more likely to continue expanding the global glucagon market growth over the forecast as the region is considered to be the largest glucagon market consumer. The region is a home to economies such as U.S. and Canada. U.S is popular for its increasing number of diabetic patients which diversely includes young as well as older generations thus resulting in increased chances of hypoglycemic cases reported by these nations. Europe accounts for second largest market share with advanced biotech and pharmaceutical companies accelerating research and development of novel medications. Asia Pacific is expected to witness fast-paced growth over the forecast owing to the increasing R&D investments coupled with surging population across emerging economies such as China and India.