The global and United States Retail System Integrators market is expected to develop USD 809700 Million by 2028, at a compound annual increase in price (CAGR) of 8.9% throughout the forecast period.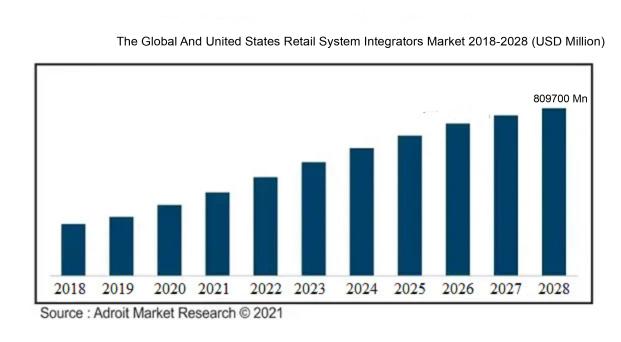 Corporations investing towards productivity improvement of current systems, as well as a growing preference for technologically equipped systems in tandem with the acceptance of cloud technology, are expected to drive the growth of the global and United States retail system integrator market during the forecast period. The growing industrial use of the Internet of Things (IoT), as well as growing safety and security concerns, are driving the demand for automated systems that offer low-cost solutions with energy-efficient manufacturing methods. Nonetheless, the higher maintenance and utilization costs associated with retail system integrators are thought to be a hindrance to the retail system integrator market's growth. COVID-19 has had a significant impact on the retail system integrator industries as well as the end-user industries it serves. Because of the growing spread of COVID-19 across countries, several governments have taken exceptional efforts to combat the epidemic. Many companies have been temporarily closed as a result of these actions, financial markets are in upheaval, and there are broad restrictions on travel and mobility. The first direct impact of the shutdowns has had a significant impact on demand for retail system integration services.
Retail system integration is a method of combining multiple service applications and sub-systems provided by a single person or organization. It involves the configuration, administration, integration, deployment, and enhancement of different retail activities such as merchandising, supply chain and logistics management, shops, and unified commerce and fulfillment. The primary advantages of working with retail system integrators are enhanced infrastructure management and considerably decreased data redundancy. Retail system integrators also give improved data integrity, which leads to overall improved performance through higher organizational efficiency and effectiveness.
The market is highly concentrated and competitive, with major global companies such as Retail Process Engineering (RPE), The frontline players profiled in the global and United States retail system integrators market are IBM, Accenture, Capgemini, Cognizant, Deloitte, HCL Technologies, Wipro Limited, SAP SE, Schneider Electric, among several others. For instance, IBM Corporation announced AI Now, a salesforce full force solution for retail and consumer items, in June 2019. Through integration, AI Now for connected commerce was developed to answer essential consumer demands and alter the retail environment across service, marketing, and sales channels. This advancement has aided the firm in expanding its product line. These firms have a special emphasis on improving product quality by implementing modern and novel cooling techniques to increase their market presence and geographical reach.
Retail System Integrators Market Scope
| | |
| --- | --- |
| Metrics | Details |
| Base Year | 2022 |
| Historic Data | 2018-2019 |
| Forecast Period | 2022-2028 |
| Study Period | 2018-2028 |
| Forecast Unit | Value (USD) |
| Revenue forecast in 2028 | USD 809700 Million |
| Growth Rate | CAGR of 8.9% during 2018-2028 |
| Segment Covered | Type, Application, Regions |
| Regions Covered | North America, Europe, Asia Pacific, Middle East and Africa, South America |
| Key Players Profiled | Accenture,Alcatel-Lucent,Business Connexion,Deutsche Telekom (T-Systems),Ericsson,Hpe,Honeywell,Ibm,Infosys,Mahindra Satyam,Mannai,Ness Technologies,Oracle,Siemens,Tata Consultancy Services |
Key Segments of the Global and United States Retail System Integrators Market
Type Overview (USD Million)
Enterprise Overview, (USD Million)
Large Enterprises
Medium-Sized Enterprise
Small Enterprises
Regional Overview, (USD Million)
North America
Europe

France
UK
Germany
Rest of Europe

APAC

China
Australia and New Zealand
Japan
Rest of APAC

MEA

UAE
Saudi Arabia
South Africa
Rest of MEA

Latin America

Mexico
Brazil
Rest of Latin America
Reasons for the study
To profile major companies in the market and thoroughly examine their fundamental strengths.
To offer a thorough competitive landscape of the market, as well as a study of leading market competitors' business and corporate strategies, such as mergers and acquisitions, new product launches and advancements, and expansions.
What does the report include?
A comprehensive review of the parent and replacement markets
In-depth market segmentation based on trends, growth, and historical and forecast data.
The scope of the report includes a market strategic analysis of future prospects, individual growth patterns, and the contributions of important sub-market stakeholders.
Profiles of key industry players, strategic viewpoints, market positioning, and an examination of essential competencies are also included.
Who should buy this report?
The precise market valuation, which includes size, share, and revenue, are also addressed for a better knowledge of the market position.
The analysis of competitive dynamic variables provides a comprehensive market picture.
In-depth industrial analysis, sales research, and production knowledge throw additional light on the market's future scope and growth rate.
The report includes regional as well as country-specific trends, as well as information on export and import operations.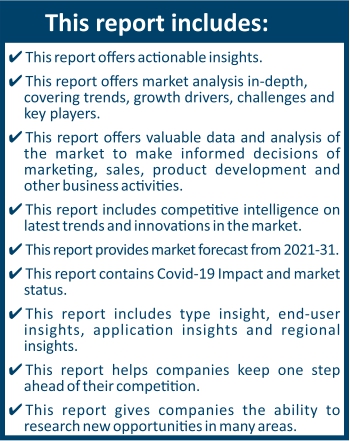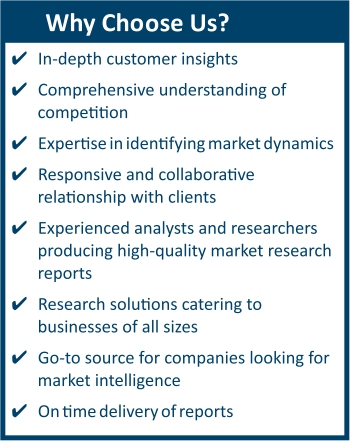 Frequently Asked Questions (FAQ) :
The global and united states retail system integrators market is growing at a CAGR of 13% over the forecast period.
The global and united states retail system integrators market is Segmented on the basis of Type, Enterprise, Regions
To get latest version of global and united states retail system integrators market report can be obtained on demand from the website.
The process of linking and integrating multiple retail components, processes, sub-systems, and activities into a single system that works as a single system is known as system integration. System integration is described as the process of connecting multiple business systems, services, and software to allow them to operate together. Systems integrator is a business that is in charge of designing, coordinating, installing, scheduling, testing, upgrading, and managing information technology systems. System integrators are employed in retail to enhance productivity, data processing, and the quality of operations and services, to accelerate information flows between retailers and their customers, and to minimize operational expenses for the company. System integration may be accomplished in several ways, including vertical integration, point-to-point integration, common data format integration, and horizontal integration.
The system integration market is extremely competitive due to the existence of several market competitors that are continually spending in R&D and producing technologically sophisticated goods in order to remain competitive. The growing number of telecom customers utilizing smartphones and other portable devices throughout the world is expected to favorably affect DCIM sector growth, boosting market expansion. Safety and security are top priorities in businesses such as oil and gas, energy and electricity, and chemicals and petrochemicals. Companies in these industries must develop their strategies in line with the rules and environmental standards established by the various nations. Oil & gas refineries are frequently situated in harsh areas. These industrial facilities require automated solutions to avoid accidents and equipment failures. Retail system integrators aids in the monitoring and analysis of these devices and problems. IT also aids in the collection of important data and the development of plans to improve efficiency.
Type Segment
The cloud-based sector will develop at a rapid pace in the worldwide retail system integrators market during the prediction period. Increased investments and the expanding trend of the internet of things in the retail sector are driving market expansion. Cloud-based deployment has several advantages, including lower IT expenses, increased collaboration efficiency, scalability, and work flexibility.
Enterprise Segment
The Large enterprise segment will drive sales growth. This is because major companies are increasingly adopting low-cost, energy-efficient manufacturing techniques. End-user concerns regarding safety and security gaps are also pushing market expansion. Rising government assistance for the retail sector is also fueling demand for retail system integrators.
The market will be dominated by the US backed by high-end opportunities in the North American region. Growing investments and favorable government backing for the adoption of new retail solutions are propelling market expansion in the North American region. The existence of significant suppliers involved in the development of retail system integrators, such as IBM, Retail Process Engineering (RPE), and Cognizant, among others, is boosting the market growth. The presence of major retail giants such as Amazon, Walmart, The Kroger Company, and Costco, among others, is also helping the region's need for retail system integrators. The Asia-Pacific region will experience market growth over the predicted period with substantial adoption in China and India. The use of automation technology in retail organizations, combined with increased investment, are driving market development.