The increasing digitalization across entertainment and education sector is projected to magnify growth in the global Gaming Simulation Market
Covid-19 Impact & Market Status
The report offers an exhaustive overview of the business dynamics and new investment strategies that are being adopted by business leaders across countries and regions to overcome the acute challenges and financial instabilities that have emerged in the post pandemic times.
The report highlights some of the best industry strategies and practices that are adopted by the players across local and global markets. Ever since the Covid-19 broke out in 2019, it has spread aggressively, resulting in rapid declaration by the WHO affirming Covid-19 as a global pandemic and an emergency.
The impact of the pandemic is widespread and the aftermath is well pronounced, gravely affecting the global Gaming Simulation chip market. The sudden pandemic and its implications have posed significant challenges such as travel bans, quarantines, and lockdowns.
These developments are hampering operations resulting in supply chain breaches, stock market inefficiencies, and vendor chaos. These are constantly interfering with the normal functioning of industries.
Ever since the outbreak of the global crisis, impact on upstream, downstream, and midstream industries have been appalling. The report delivers a quick ready-to-deploy approach to counter such crisis and steer the global Gaming Simulation market towards steady growth and systematic progression.
Amidst the pandemic, aligning with new dynamics, global Gaming Simulation market has been witnessing new dynamics which are further necessitating new business models and approaches to recoup growth and revenue streams.
In this report, inquisitive business players would be provided with sufficient guidelines regarding business transformation, integral to sustain stiffening competition in the pandemic and beyond pandemic era global Gaming Simulation market.
Gaming Simulation for hardware segment to Sustain the Highest Revenues, Followed by Software
Other growth-inducing reasons include the use of improved cameras, sensors, virtual reality (VR), and artificial intelligence (AI) solutions in game simulators, among others. The simulators are connected to motorized chairs that can auto-rotate to facilitate 360-degree viewing. On ther hand, the software segment is anticipated to grow at the significant CAGR over the forecast period.
Offline Gaming Simulation application Segment to be the Most Lucrative
The market is predicted to rise due to an increase in the popularity of online gaming during the worldwide lockout and a surge in the adoption of simulators across various industries. This restriction prompted a rise in the use of online gaming, which in turn fueled demand for simulators, propelling the market forward. Fighting is anticipated to account for largest revenue share. The racing segment is estimated to lucrative growth opportunity for market growth.
APAC to Sweep the Largest Revenue Streams Followed by North America
APAC is the largest contributor to this market, followed by Europe and then North America. In Asia, the presence of nations like China and India, with their massive subscriber bases and constantly shifting regulatory and competitive landscapes, has raised demand for Gaming Simulation systems. North America, on the other hand, is confronted with the challenges of a deregulated telecom sector.
Further, game type such as the racing is one of the fastest growing segment in application which in turn is favoring rampant expansion of the global Gaming Simulation market across regions such as North America and Asia Pacific. Consumer preferences for enhanced customer service with real-time billing experience is expected to gain traction in the global Gaming Simulation market.
Growing trend of video games is expected to offer new opportunities in the global Gaming Simulation market
The worldwide gaming simulation market is expected to grow due to increased usage of gaming simulation for training and analysis in various industries, as well as increased demand for virtual reality (VR) headsets. Furthermore, increased acceptance of 360-degree cameras as next-generation technology across various emerging countries has a beneficial impact on market growth. However, the game simulation market's growth is hampered by security and privacy concerns linked with VR headsets, as well as the expensive cost of VR headsets. Adoption of AI and cloud computing for enhanced experiences, as well as more collaboration between the entertainment sector and game simulator firms throughout the world, are likely to offer ample growth opportunities for market growth. Because of the rising movement toward the implementation of virtual and augmented reality based simulators across a lot of enterprises for working remotely and offering enhanced training to their staff, the COVID-19 pandemic has greatly boosted the gaming simulation market growth rate. For example, CXC Simulations established a Certified Pre-Owned programme in June 2020, which offers a fantastic opportunity to purchase a Motion Pro II simulator at a significantly reduced price.
Despite a minor growth dip owing to Covid-19 implications, the global gaming simulator market is anticipated to grow at a CAGR of 17.5% during forecast period 2021 to 2028.
The market is growing due to increased audience reach and engagement activities, significant investments, increased live streaming of games, and improved infrastructure for league events. Game creators, gamers, influencers, and event organisers have all benefitted from the industry's professionalisation. Because of the growing popularity of gaming competitions, outstanding international prize pools, streaming profits, and one-to-one sponsorships, millennials are contemplating Gaming Simulation as a professional vocation. Furthermore, institutions and colleges are launching dedicated Gaming Simulation curricula in order to train skilled professionals.
The Gaming Simulation degree programme has begun at Shenandoah University in Virginia, Becker College in Massachusetts, and Ohio State University. More than 100 high schools in the United States have begun Gaming Simulation programmes in addition to regular soccer and other games. Academic schools, in addition to sponsoring sports programmes, are now providing scholarships to players to help them flourish. The best six players will get scholarships from the University of California, Irvine. The market's expansion has been limited by a lack of tournament infrastructure and a small number of organisations. In recent years, such restrictions have resulted in fewer cash streams for athletes and team owners. Over the forecast period, the market is likely to grow due to the rising popularity of gaming and the continuing release of revolutionary VR headsets that can potentially improve the graphical experience. The increased inclination among players for a realistic gaming experience is also good news for the business.
The evolving gaming scene has spurred market expansion even more. The gaming industry's cornerstones include Fortnite, Dota2, Counter-Strike: Global Offensive and Overwatch, and League of Legends. The video gaming industry is fast evolving from a casual pastime to a professional career option. Massive Gaming Simulation events captivate millions of viewers in the same way that traditional sports do. As a result, these competitions are attracting sponsors and investors from global businesses to celebrities, resulting in overcrowding and live broadcasting. Because of factors such as growing acceptance of advanced gaming technology, changing entertainment preferences among consumers, rising income levels, and expanding demand for mobile gaming, the market for online games is developing at a healthy rate. Increased smartphone adoption and improved internet access have resulted in a significant increase in the number of gamers.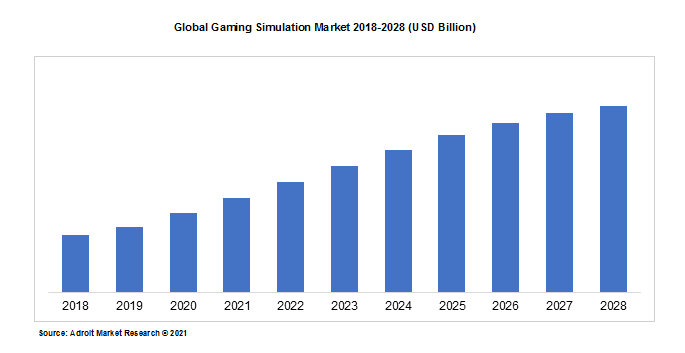 The major players of the global Gaming Simulation market are 3D Perception, CXC Simulations, CKAS Mechatronics Pty Ltd., D-Box Technologies Inc., Eleetus, Hammacher Schlemmer & Company, Inc., Play seat B.V., RSEAT Ltd, Sony Interactive Entertainment Inc. and Vesaro.
The Gaming Simulation market is a rapidly progressing industry and is characterized to have industrial frontliners as well as aspiring new players aiming to penetrate into the aggressive competitive landscape across global and local markets. Additionally, various new and aspiring players are improving their product lines and upgrading technological capabilities to improve revenue streams amidst Covid-19 impact.
Latest Innovations in the Global Gaming Simulation Market: a Snapshot
In May 2021, 3D perception has announced today the completion of a simulator visual display system upgrade at Cranfield University, supporting their aeronautical research and development.
In March 2021, CXC Simulations, creators of the most advanced racing simulators for home and personal use, was selected by the Henry Ford Museum to provide simulators for the museum's new Driven to Win exhibit.
Gaming Simulation Market Scope
| | |
| --- | --- |
| Metrics | Details |
| Base Year | 2020 |
| Historic Data | 2018-2019 |
| Forecast Period | 2021-2028 |
| Study Period | 2018-2028 |
| Forecast Unit | Value (USD) |
| Growth Rate | CAGR of 17.5% during 2021-2028 |
| Segment Covered | Component, Game Type, Regions |
| Regions Covered | North America, Europe, Asia Pacific, Middle East and Africa, South America |
| Key Players Profiled | 3D Perception, CXC Simulations, CKAS Mechatronics Pty Ltd., D-Box Technologies Inc., Eleetus, Hammacher Schlemmer & Company, Inc., Play seat B.V., RSEAT Ltd, Sony Interactive Entertainment Inc. and Vesaro. |
Key Segments of the Global Gaming Simulation Market
Component Overview, 2018-2028 (USD Billion)
Game Type Overview, 2018-2028 (USD Billion)
Shooting
Fighting
Racing
Others
Regional Overview, 2018-2028 (USD Billion)
North America
Europe
Germany
France
UK
Rest of Europe
Asia Pacific
China
India
Japan
Rest of Asia Pacific
South America
Mexico
Brazil
Rest of South America
Middle East and South Africa
Frequently Asked Questions (FAQ) :
The global gaming simulator is poised to grow at a CAGR of around 17.5% by 2028.
The verticals assessed in the market research report are Component, Game Type & Region.
The key manufacturers are 3D Perception, CXC Simulations, CKAS Mechatronics Pty Ltd., D-Box Technologies Inc., Eleetus, Hammacher Schlemmer & Company, Inc., Play seat B.V., RSEAT Ltd, Sony Interactive Entertainment Inc. and Vesaro.
North America Region is projected to rank higher in terms of market share than other regions of the global market for gaming simulator.