The global fructo oligosaccharides (FOS) market size was valued at over USD 500 million in 2018. Increasing prevalence of chronic diseases, followed by rising consumption of functional foods is expected to drive global fructo oligosaccharides market. Over the past few years, increasing working population coupled with hectic lifestyle has increased consumer preferences for junk foods. Increasing consumption of unhealthy food and sedentary lifestyle has resulted in deficiencies in the diet over the past decade. Additionally, rising prevalence of diabetes and obesity due to deficiencies in the diet has raised concerns regarding adequate intake of relevant dietary components.

Health relevant properties and high nutrition such as low calorimetric value, moderate sweetness, low glycemic index, and low carcinogenicity of fructo oligosaccharides is gaining popularity in food & beverage industry. In addition to that, increasing food & beverage industry is expected to offer potential opportunity for fructo oligosaccharides manufacturers to strengthen their distribution network to gain market competitiveness.
The global market for the Fructo Oligosaccharides (FOS) is anticipated to develop at a compound annual growth rate (CAGR) of 10.4% throughout the course of the forecast, to reach USD 4.29 Billion by 2028.
Growing uptake in infant formula, dietary supplements, animal feed, pharmaceuticals, and food & beverage industry is expected to increase market expansion over the coming years. Market players operating in this industry are increasingly investing in introducing cost-effective manufacturing processes to boost product output. Furthermore, as compared to other prebiotics, fructo oligosaccharides produce a reduced carbon footprint and is therefore commonly used. However, it is anticipated that laws regulating the amount of fructo oligosaccharides in food products and formula for infants combined with elevated prices will limit development.
Fructo Oligosaccharides (FOS) Market Scope
| | |
| --- | --- |
| Metrics | Details |
| Base Year | 2020 |
| Historic Data | 2018-2019 |
| Forecast Period | 2021-2028 |
| Study Period | 2018-2028 |
| Forecast Unit | Value (USD) |
| Revenue forecast in 2028 | USD 4.29 Billion |
| Growth Rate | CAGR of 10.4 % during 2021-2028 |
| Segment Covered | Type, By Application, Regions |
| Regions Covered | North America, Europe, Asia Pacific, Middle East and Africa, South America |
| Key Players Profiled | Beghin-Meiji, Baolingbao, CJ CheilJedang, Beneo, Ingredion, Cosucra, Quantum Hi-Tech, Meiji Food Materia, Tata and Sensus |
Key Segment Of The Fructo Oligosaccharides (FOS) Market
Source, 2021-2028 (USD Million)
• Sucrose
• Inulin
Form, 2021-2028 (USD Million)
• Solid
• Liquid
Application, 2021-2028 (USD Million)
• Infant formulations
• Food & beverages
• Animal feed
• Dietary supplements
• Pharmaceuticals
Regional Overview, 2021-2028 (USD Million)
North America
• US
• Canada
Europe
• Germany
• France
• UK
• Rest of Europe
Asia Pacific
• China
• India
• Japan
• Rest of Asia Pacific
South America
• Mexico
• Brazil
• Rest of South America
Middle East and South Africa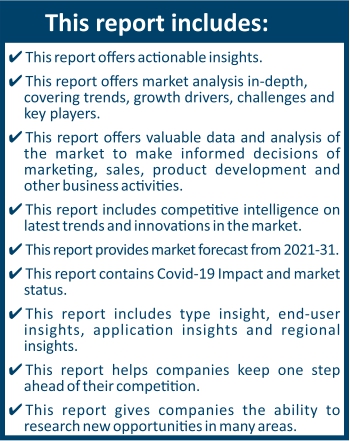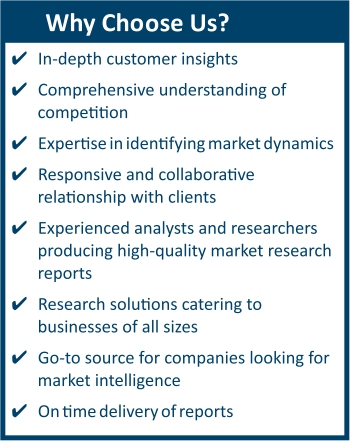 Frequently Asked Questions (FAQ) :
fructo oligosaccharides (FOS) market was valued at USD 500 million
The global fructo oligosaccharides (FOS) his Market is Segmented on the basis of Source, Application, Regions.
The base year for the report is 2019 in fructo oligosaccharides (FOS) market
Growing applications in weight loss products, green foods, dairy products, health beverages, mineral supplements, and nutrition bars, the worldwide prebiotics market size is expected to experience important development in the functional food industry. Prebiotics found mainly in foods such as leek, cereals, yogurt, bananas, table spreads, biscuits, onion, and wheat bran, help in consumers to stay healthy. Increasing prebiotic consumption is anticipated to drive the market during the forecast period, particularly in mature markets such as North America and Europe. As a prebiotic, fructo oligosaccharides demand is increasing at a fast pace.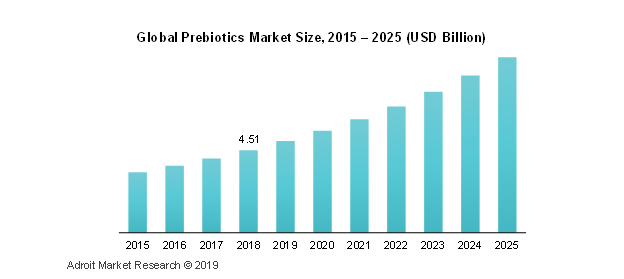 Prebiotics are non-digestible carbohydrates that serve as food for the beneficial living bacteria in the gut. As customers achieve recognition of probiotics and prebiotics' synergistic importance, consciousness and demand for prebiotic products is on the increase. It is expected that the deployment of prebiotics in medicines to reduce stress, boost memory and reduce fat will drive the market size of the prebiotics in the coming years. Prebiotics in dietary supplements and fermented food have a positive effect on sleep patterns and have also been beneficial in reducing the effects of physiological stress.
In the coming years, usage of prebiotics in the application of animal feed are expected to witness high gains due to increased livestock production, to meet the growing demand for animal meat as a major source of protein. Prebiotics also improve the productivity of cattle as they enhance their digestion, performance and immune system. The increase in the consumption of meat per capita, particularly in Latin America and the Caribbean regions, together with the ban on the use of antibiotics as a growth promoter in animal feed, is expected to have a positive impact on the prevalent trends in the prebiotics market in the coming years.
In addition to galacto oligosaccharides (GOS), inulin has a significant market share of more than 40% in the prebiotics market and has lucrative opportunities in the years to come. Inulin is used for optimum gut functioning in food products and promotes the spread of normal bacterial flora and impedes pathogenic organism growth. Because of their laxative effects, fructo oligosaccharides (FOS) is widely incorporated in food products and infant formulae. FOS enhances fecal bolus and deposition frequency, which in turn lowers constipation instances due to the increasing trend of inadequate dietary fiber in modern society.
Fructo oligosaccharides' major application is in food & beverage production, formula for infants, dietary supplements, feed for animals, and pharmaceuticals. Infant formula was the largest application segment, accounting for over 40% of the global market share of fructo oligosaccharides volume and revenue, followed by dietary supplements and food & beverage.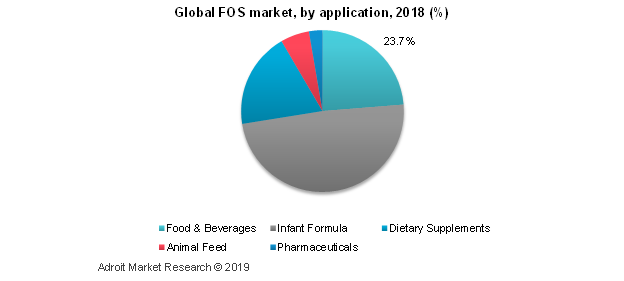 Due to the increasing demand from consumers, dietary supplements are the fastest growing application of fructo oligosaccharides. Modern consumers take interest beyond taste and attractiveness and have a growing focus on secure and healthy supplements. Fructo oligosaccharides have important physicochemical and physiological properties that are helpful to consumer health. As a result, their use as food ingredients has increased rapidly, resulting in significant position in the global market for functional foods.
Fructo oligosaccharides are generated primarily through two distinct procedures, i.e. inulin hydrolysis and sucrose transfructosylation. Production through sucrose transfructosylation dominated the worldwide fructo oligosaccharides market in 2018 and is likely to keep its dominance over the expected era. Oligo-Sugar, Beneshine Ptype, NutraFlora, Actilight, Meioligo, and Profeed are several commercially available foods that use sucrose as a substrate. Commercial food grade using inulin as a substratum includes Olifructinesp, Fibrulose, Orafti, and Frutalose.
In 2018, Europe dominated the global fructo oligosaccharides (FOS) market and is accounted for 40% of overall market share. Due to enhanced prebiotic consumption through nutritional and infant nutrition products, Europe was the dominant market for fructo oligosaccharides. Asia Pacific is expected to experience the highest growth rate of more than 11% over the forecast period due to increasing health awareness followed by increased per capita spending. Increasing urbanization is fueling the sale of packaged food products as a sweetener on the market, thereby increasing demand for fructo oligosaccharides.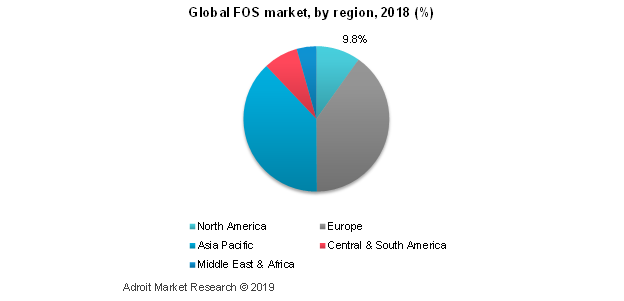 European Food Safety Authority (EFSA) announced a promising view on the adoption of non-digestible carbohydrates by replacing sugars in foods & beverages industry, thus in turn is expected to increase fructo oligosaccharides market concentration over the coming years. EFSA specialists stated that the claimed impact would result in the replacement of sugars with any non-digestible carbohydrates and will provide growth opportunities for fructo oligosaccharides business.
In Europe and Asia Pacific, rapid industrial growth and technological advances in the food industry have opened up favorable market trends for prebiotics. Additionally, existence of various end-user pharmaceutical companies such as Friesland Campina (Netherlands) and Royal Cosun (Netherlands), prebiotic ingredients indicates elevated demand from both countries for prebiotic products and is anticipated to increase the market volume of prebiotics. Growing opportunities for prebiotics is expected to offer lucrative growth for fructo oligosaccharides over the coming years.