The global fractional flow reserve market was valued at USD 601.7 million in 2019 and is expected to grow at a CAGR of 9.8% over the forecast period. In cases of cardiovascular disorders such as coronary heart diseases and high blood pressure, an upswing has occurred which was a major factor in business development. According to the American College of Cardiology (ACC) in 2017, cardiovascular disorders triggered around 31.0 per cent of all deaths worldwide.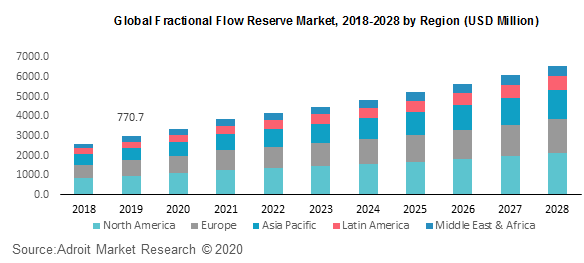 According to a paper released in May 2019 by the Society for Cardiovascular Angiography and Therapies (SCAI), FFR offered important information during angiography and may have an effect on care decisions and results in patients with stable coronary artery disease ( CAD) with acute coronary syndrome ( ACS), which emphasizes the significance of better patient management. Key players serving the global market include Terumo Medical Corporation, Siemens, Medtronic plc, B. Braun Melsungen among other prominent players.
Market operating firms are focused on developing new goods and increasing their company scope. For eg, Abbott obtained the U.S. in March 2019 FDA approval for the intravascular diagnostic procedure Resting Full-cycle Ratio (RFR), which is a new method of clinical measurement of FFR. This test aimed to detect narrowing of the coronary arteries that decides whether or not a stent is required.
Key segments of the global Fractional Flow Reserve market
Product Overview, 2018-2028 (USD Million)
FFR guidewires
FFR monitoring systems
Application Overview, 2018-2028 (USD Million)
Multi-vessel coronary artery disease
Single-vessel coronary artery disease
Regional Overview, 2018-2028 (USD Million)
North America
Europe

Germany
United Kingdom
France
Spain
Rest of Europe

Asia Pacific

China
Japan
India
Rest of Asia Pacific

Central and South America

Brazil
Mexico
Rest of Central and South America

Middle East & Africa

GCC
Rest of Middle East and Africa
Reasons for the study
The purpose of the study is to give an exhaustive outlook of the global fractional flow reserve industry
The overall segmentation of Fractional Flow Reserve market, especially key segments are thoroughly studied.
Presence of major players and their wide product portfolio across developed countries is anticipated to further boost the growth of fractional flow reserve market
What does the report include?
The study on the global fractional flow reserve market includes analysis of qualitative market indicators such as drivers, restraints, challenges and opportunities
Additionally, the market competition has been evaluated using the Porter's five forces analysis
The study covers qualitative and quantitative analysis of the market segmented on the basis of product and application. Moreover, the study provides similar information for the key geographies.
Actual market sizes and forecasts have been provided for all the considered segments
The study includes the profiles of key players in the market with a significant global and/or regional presence
Who should buy this report?
The report on the global fractional flow reserve market is suitable for all the players across the value chain including raw material suppliers, fractional flow reserve providers, medical device manufacturers, distributors, suppliers and retailers
Venture capitalists and investors looking for more information on the future outlook of the global fractional flow reserve market
Consultants, analysts, researchers, and academicians looking for insights shaping the global fractional flow reserve market
Owing to the late baby boomers in countries like Japan, China , and Brazil, among others, the global geriatric population is projected to rise rapidly over the next few years. The United Nations projected the number of people aged 60 years and over to be 962 million in 2017, and is anticipated to exceed 2.1 billion by 2050.
Increasing prevalence of U.S. coronary heart disease and diabetes is effective with the overall marketplace. Cases of diabetes are on the increase owing to poor dietary patterns of the country's population, which also contributes to obesity and related diseases. For starters, there were more than 1.9 billion people in the U.S. who were obese in 2016, according to WHO. In addition, that acceptance of the fractional flow method in tandem with OCT is likely to increase the customer base in the immediate future for patients suffering from cardiovascular disorders, particularly in the U.S.
The global fractional flow reserve market has been bifurcated based on product application and region. In 2019, Leading to their widespread use of cardiovascular testing procedures FFR guidewires accounted for the largest market share in 2018. Due to growing use for coronary artery disease diagnosis globally, this section is expected to record a healthy CAGR over the forecast era. According to the Centers for Disease Control and Prevention ( CDC), for example , in 2015, around 370,000 people suffered from coronary heart disease in the US. Aging individuals are often more vulnerable to heart failure. Hence the expanding geriatrics base benefits the segment 's expansion.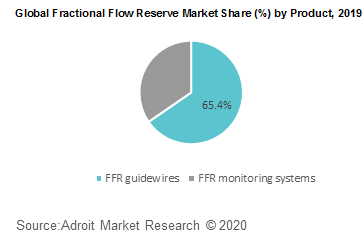 Based on regions, the global Fractional Flow Reserve market is segmented into North America, Europe, Asia Pacific, Central and South America and Middle East & Africa. Emerging markets such as China, India, and Japan are giving companies major growth prospects in the contract manufacturing industry for medical devices.
In 2019, North America accounted for majority of global industry sales. The region's supremacy can be due to favorable policy policies for penetration of medical products, and the availability of well-developed healthcare infrastructure. Moreover, growing mergers and acquisitions by main players are expected to hold the market intensity elevated in the immediate future.
In the coming years, the Asia Pacific fractional flow reserve market is projected to see lucrative growth owing to an rise in cases of diabetes and cardiovascular disorders, as well as growing disposable income. In addition, the implementation of favorable regulations for the use of medical devices is also expected to help regional demand development. A deal was introduced in Korea for example on March 15, 2012. This arrangement rendered duty-free medical instruments, thereby that usage.