The global food waste management market was valued USD 32.88 billion in 2018. Rising emphasis over the control and prevention of food waste has led to the development of stringent regulations and have fetched grants, funding and subsidies for the purchase of recycling machines. This is expected to drive the growth of global food waste management market.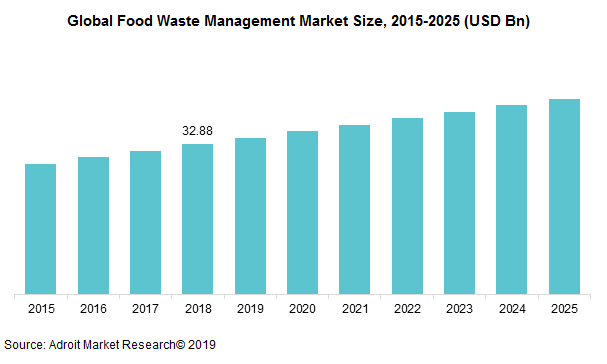 Another significant factor in the global market for food waste management systems is the use of food waste as a renewable energy source. Food waste acts as a source of methane, which is used to power different treatment plants. This trend has shown that a significant proportion of food waste litter is recycled and used for the production of organic fertilizers or animal feeds that leads the global food waste management industry to grow. Also, the development of newer techniques for waste disposal accompanied by the need to produce alternative energy sources offers lucrative opportunities for the growth of food waste management market in the near future.
However, underdeveloped countries, do not focus on appropriate waste disposal and treatment methods, thus leading to increase in the risk of diseases incidence. Regions such as Africa and Asia are still grappling with problems such as increase in population, internal politics, financial support as well as lack of solid technical expertise, knowledge and support. This is expected to show slow growth of the food waste management industry in these regions in the coming years.
Food Waste Management Market Scope
| | |
| --- | --- |
| Metrics | Details |
| Base Year | 2019 |
| Historic Data | 2017-2018 |
| Forecast Period | 2020-2025 |
| Study Period | 2015-2025 |
| Forecast Unit | Value (USD) |
| Revenue forecast in 2025 | USD 32.88 billion |
| Growth Rate | CAGR of 5.6% during 2021-2028 |
| Segment Covered | Process, Application, Regions |
| Regions Covered | North America, Europe, Asia Pacific, South America, Middle East & Africa |
| Key Players Profiled | Veolia Environment S.A., Suez S.A., Republic services S.E., Waste management Inc. |
Key segments of the global food waste management market
Process Overview, 2015-2025 (USD Million)
Collection
Disposal
Transfer
Others
Application Overview, 2015-2025 (USD Million)
Animal Feed
Fertilizers
Others
Regional Overview, 2015-2025 (USD Million)
North America
Europe

France
U.K.
Germany
Rest of Europe

Asia Pacific

India
Japan
China
Rest of APAC

Latin America

Brazil
Rest of Latin America

Middle East and Africa
Reasons for the study
This report study provides an extensive outlook of the food waste management market
While analyzing the market, we observed that collection is the most widely adopted process in waste separation and disposal
North America is the fastest growing region in the organic waste management industry and is expected to witness significant growth in the near future
Commercial waste management market is projected to witness immense growth opportunity in developing regions
Inadequate infrastructure that tends to increase the collaboration between value chain and lacking regulations are expected to reduce the food waste
What does the report include?
The study on the global food waste management market provides the analysis of key dynamic factors such as drivers, restrains, opportunities and threats
Also, the global market size has been widely studied using the Porter's five forces model, regulatory analysis and value chain analysis
The study covers market size and projections which are segmented on the basis of process, application and geography
Competitive strategies and product benchmarking of leading players have been provided in the final report
Who should buy this report?
This study is beneficial for industry leaders in the global food waste management marketseeking a thorough analysis and potential market entrants. The report will benefit:-
Executives of leading restaurants, hotels, food producing companies that are dealing with food collection, process and disposal issues
Managers/executives/decision makers at residential and commercial level who are willing to publish forecasted, current and historic data of solid waste management
Regulatory and governmental bodies, policymakers and financial organizations looking for innovations in global food waste management market
Market Competition of Food Waste Management Industry by Company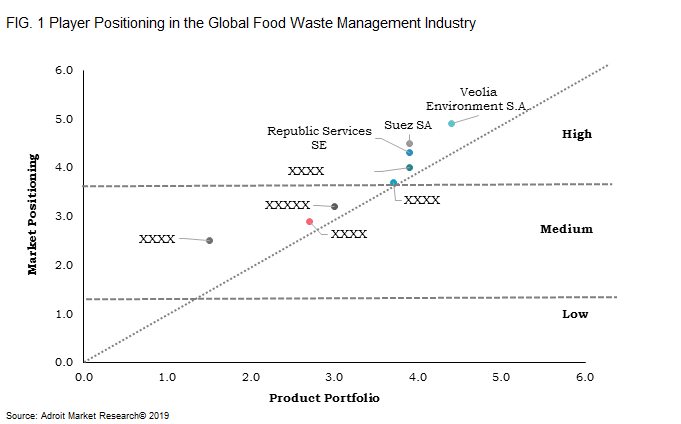 Food waste management is an opportunistic market as product innovation is the basic requirement for continued growth of the industry. Top player positioning showcases the position of food waste management service providers in the global market. Veolia Environment S.A., Suez S.A., Republic services S.E., Waste management Inc. are the leading industry giants and constitute a majority of market share in the overall market. Merger and acquisition (M&A) activity has also increased across the industry chain. Also, leading industrialists are being frequently engaged in innovating and conceptualizing the new technologies to monitor and reduce/reuse of food waste.
Food waste management involves the use of various techniques responsible for the conversion of food waste into different products. This scenario has changed with time as the local players are actively marking their presence across some regions. Entry of new players has made the market competitive by the development of new software, biotechnology based solutions and advanced imagery and analytics are some of the latest technologies. For instance, the number of medium and small scale manufacturers has increased in North America are now marking their presence in Asia Pacific due to stringent government regulations across India and China over proper processing and disposal of waste.
Expansion is another most preferred strategy among the players. Players like Veolia and Suez S.A. have kept this strategy on top priority since past few years. Product launch is another key approach followed by the players in the food waste management market.
By process, collection segment is expected to rise with a CAGR of 5.3% from 2019 to 2025. Wide range of equipment is used for handling, collection, storage, transfer and disposal of commercial waste in the commercial waste management market. The equipment range includes balers, compactors, containers, shredders, conveyors, separators, bag openers, sorting systems, screening machinery, storage bins, etc. Depending on the amount of waste generated and its treatment, the pricing of all equipment types vary to a considerable extent. Based on the type of waste generated, green bin and mixed collection processes are usually adopted for waste collection. Transfer of garbage from intermediate stations to disposal facilities, landfill tipping, recycling, waste-to-energy, equipment leasing, etc. are the next important service categories in the commercial waste management market.
Post the collection stage, commercial waste is transported from the point of source to intermediate dumping and storage stations. Waste segregation at these stations is conducted. Lastly, the separated waste material is loaded in garbage trucks and transferred to landfills and waste disposal & further treatment facilities. Various waste transfer services exist at every step of waste management from acceptance and loading of waste materials into dumpsters, trucks, and railcars to further transportation to the disposal site.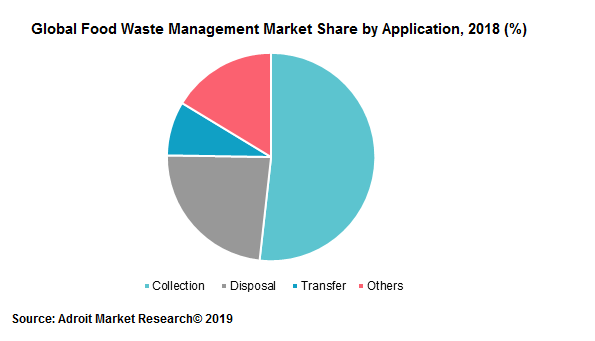 Other commercial waste management activities include waste-to-energy, recycling, automation and IoT services, etc. Conversion of waste-to-energy and recycling has increased over the recent years in India, Japan, the U.S., Canada, and the U.K. Significant incineration activities of solid waste in Europe, China, and Japan has decreased the dependency on landfills for waste disposal. In 2017, the total investments in waste energy and biomass surpassed USD 4.0 billion worldwide.
North America is projected to be the fastest growing regional market and dominate the global food waste management industry. Canadians and Americans produce almost twice as food as produced at Mexico. Although the largest amount of food waste is majorly wasted at the consumer level, a significant share is also wasted at the institutional, commerical and level.
According to the International Solid Waste Association, the municipal solid waste generated in the next 15-20 years will be doubled in lower income cities of Africa and Asia. These regions lack the human resources that have enough knowledge and expertise to handle waste efficiently. Also, economic constraints, lack of financial aid from developed countries, slow waste collaborative projects approval policies are other factors behind the nominal growth of waste management industry in these regions.
Population plays a very important role in various aspects deciding the countries' overall development and growth. As of now, China is the most populated country in the world having a population of 1386.4 Million. Problems arise when this huge population do not make proper food waste management initiatives & adopt with new methods. Currently, China has demonstrated consistent development in terms of innovation. For instance, the world famous Alibaba's Elea food delivery provider has established a new sustainability house at Shanghai in November 2018. The Ele.me app provides the option of no chopsticks.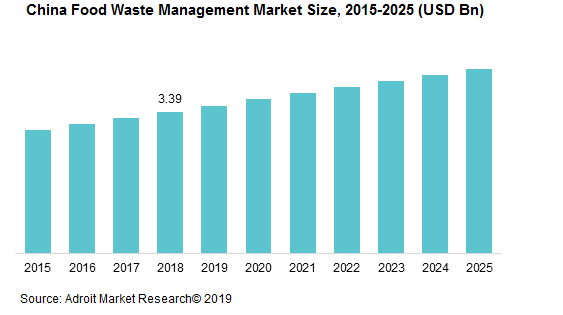 Similarly, India is the second most populous country in the world with a considerably large quantity of waste generation. A Bengaluru based Lebanese restaurant "Byblos" stores the leftovers (unsold) food in the fridge and this food is provided to the homeless and hungry people the next day. In Tokyo, Japan, all wastes such as recyclable bottles, cans and other materials are separated and placed in the appropriate receptacles and is recycled at Minato recycle center.