An increasing working population, rising disposable incomes, busy lifestyles, transitions in population dynamics from rural to urban areas, and a growing appetite for processed food are all driving the food packaging industry.
The COVID-19 Outbreak Will Increase Food Industry Demand for Flexible Packaging
Since the food industry was kept under the critical services umbrella by all countries, the influence of COVID-19 on the global market is smaller than that of other manufacturing industries. The need for packaged foods is being fuelled by shifting consumer demand patterns, legislative initiatives, and stockpiling. Due to the worsening food safety crisis brought on by the pandemic, many customers in developing nations like India have switched from preferring unpackaged foods to packaged ones. The surge in domestically processed food consumption and packing materials of the packaged foods during the outbreak were both aided by the growth of e-commerce retail. However, trade restrictions and disruptions in the supply chain are preventing the worldwide market from expanding.
Paper Based Packaging has a Competitive Based over Material Packaging
Growth in this market is being driven by a high product uptake in an effort to replace non-biodegradable packing choices. Due to design advancements, printability, and sustainability, paper packaging has a competitive advantage over plastic and metal packaging. End users are likely to swiftly accept plastic food packaging due to its low cost.
Rigid Packaging is Extensively Employed
Rigid packaging is frequently employed because of its benefits, including a strong barrier to light, moisture, and air that prevents food contamination. because packaged foods that are both convenient and wholesome are becoming increasingly popular with customers.
Physical Route to remain the Favourable Distribution Channel
The most common way to buy equipment for packing food remains through physical channels to market. Buyers with a better opportunity to view and feel what the products actually seem like when they make a physical or offline purchase. Additionally, manufacturers offer equipment trials so that consumers can better grasp the trends in food packaging equipment on the international market.
Seal and Segment is Anticipated to be the Fastest Growing Equipment's
The equipment with the fastest expected growth during the predicted period is Seal and Segment. High packaging speed and consistency are provided by this packaging equipment. Additionally, it is cost-effective because handmade bags cost less than ready-made ones. It boosts output, enabling the worker to reduce the number of shifts.
Fruits and Vegetables remains Atop
As people become more health-conscious, it is anticipated that both the demand for fruits and vegetables and the variety of packaging available for them will increase. Additionally, as consumer disposable income increases, so does demand for fresh from the garden goods. Demand for affordable, user-friendly, ecologically friendly food packaging solutions is expected to increase over the coming years.
Asia Pacific to be the Largest Market
North America, Europe, and Asia-Pacific are predicted to have the greatest markets. An expanding packaged food market, rising consumer demand, and a sizable producer base are likely to be the main factors influencing the demand for food packaging solutions in Asia Pacific. The forecast for Europe is anticipated to remain favourable over the projected timeframe.
Food packaging is essential for safely keeping and transporting food products without sacrificing their taste or quality. It shields the materials from contaminants and moisture, stops spills and tampering, and helps maintain the materials' quality and shape.
The relevance of food packaging has increased as a means of disseminating information about the nutritional value, expiration date, cost, and country of origin of packaged items. Modern marketing strategies can also use packaging to assist organisations draw in customers. It is anticipated that the expansion of retail chains will boost sales of packaged foods and expand the market.
The development of new package types and technologies, including active packaging, Modified Atmosphere Packaging (MAP), and printing technologies, is anticipated to have a positive impact on the global market.
Because of their longer shelf lives and potency in preventing content contamination, market growth is anticipated. Additionally, the market benefits from variables including expanding disposable income, declining household sizes, and rising population.
As food packaging supplies and cooking techniques have become more widely available, a sizable number of illegal packaging manufacturers selling knockoff goods have appeared in the market. As a result, counterfeit packaging hurts the packaging industry.
Increasing at a CAGR of 5.01% from its estimated value of USD 266.05 billion in 2020, the market for food packaging is anticipated to reach USD 437.86 billion by 2029.
When food is packaged to prevent damage, contamination, spoiling, and insect assault during transportation, storage, and retail sales, this is referred to as food packing. Food packaging is essential for keeping food items fresh and tasty while being stored and transported. It guards against spills and tampering, shields the contents from moisture and other impurities, and aids in maintaining form and quality.
The increased consumption of processed and ready-to-eat food, as a result of consumers' busy lifestyles and changing food tastes, as well as the worldwide population expansion, is the primary growth driver for the food packaging sector.
Since packaging debris takes decades to disintegrate, it is bad for the environment. Many governments are addressing this issue by enacting stringent regulations that the food packaging companies must adhere to.
Convenient packaging qualities including easy opening, portability, micro-perforation, lightweight, and simplicity of handling are driving demand for food packaging technologies and equipment for a variety of products.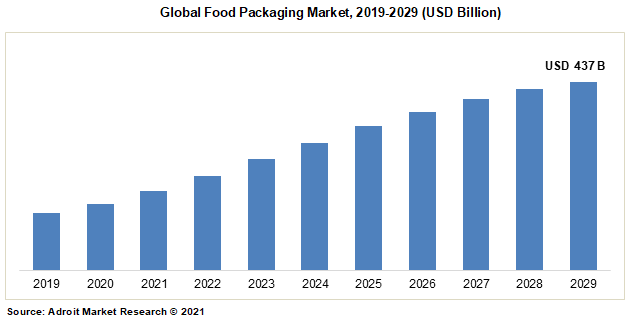 The "Global Food Packaging Market" study report will provide useful information with a focus on the global market. The top rivals in the market include Mondi, Amcor plc, Berry Global Inc., Ball Corporation, StoraEnso, Constantia Flexibles, Plastipak Holdings, Inc., Tetra Pak International S.A, DS Smith, and Exxon Mobil Corporation. The section on the competitive environment also provides details on the primary growth plans, market share analyses, and market positioning analyses of the aforementioned rivals on a global level.
Latest innovations in the Global Food Packaging Market: A Snapshot
The most recent advancements in food packaging offer a variety of options, including edible/biodegradable packaging, active packaging, nanocomposites, intelligent packaging, and various packaging designs.
Nanotechnology is a recently developed process that can improve consumer health, ensure food safety, extend food shelf life, repair packaging tears, and limit food spoiling.
Food Packaging Market Scope
| | |
| --- | --- |
| Metrics | Details |
| Base Year | 2021 |
| Historic Data | 2019-2020 |
| Forecast Period | 2022-2029 |
| Study Period | 2019-2029 |
| Forecast Unit | Value (USD) |
| Revenue forecast in 2029 | USD 437.86 billion. |
| Growth Rate | CAGR of 5.01 % during 2021-2029 |
| Segment Covered | Material, Packaging, Equipment's, Application, Distribution Channel, Regions |
| Regions Covered | North America, Europe, Asia Pacific, South America, Middle East and Africa |
| Key Players Profiled | Matcha Dairy, Bakery, Confectionary, Connivence Foods, Vegetables, Fruits, Sauces, Dressings |
Key Segments of the Global Food Packaging Market
Material Overview, 2019-2029 (USD Billion)
Paper and Board
Plastic
Glass
Metal
Packaging Overview, 2019-2029 (USD Billion)
Rigid
Semi-Rigid
Flexible
Equipment's Overview, 2019-2029 (USD Billion)
Bottling Line
Cartoning
Case Handling
Closing
Filling and Dosing
Form
Seal and Segment
Labelling
Decorating and Coding
Pelletizing
Wrapping and Buddling
Application Overview, 2019-2029 (USD Billion)
Dairy
Bakery
Confectionary
Connivence Foods
Vegetables
Fruits
Sauces
Dressings
Distribution Channel Overview, 2019-2029 (USD Billion)
Regional Overview, 2019-2029 (USD Billion)
North America
Europe
Germany
France
UK
Rest of Europe
Asia Pacific
China
India
Japan
Rest of Asia Pacific
South America
Mexico
Brazil
Rest of South America
Middle East and South Africa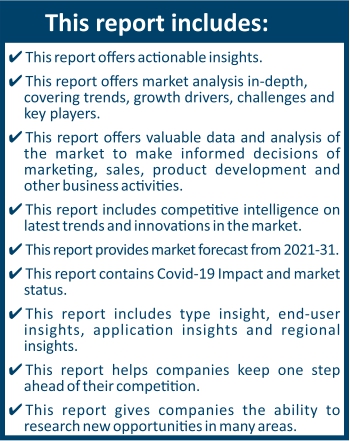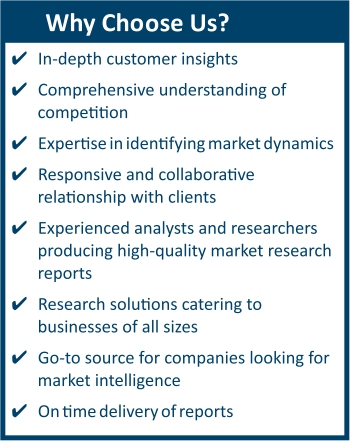 Frequently Asked Questions (FAQ) :
The market value of food packaging market in 2029 was USD 437.86 billion.
The food packaging market is growing at a CAGR of 5.01% over the forecast period.
The application of the food packaging market Matcha Dairy, Bakery, Confectionary, Connivence Foods, Vegetables, Fruits, Sauces, Dressings and other.