The global flocculants and coagulants market size was estimated around USD 10.6 Billion in 2018 and is expected to grow at a CAGR of 5.5% during the forecast period. With the depleting freshwater sources and increasing demand for clean water for various purposes such as irrigation, industrial use, and domestic purposes is expected to drive the global flocculants and coagulants market over the forecast period. Flocculants and coagulants are chemicals used during the water treatment for various purposes such as water clarification, solids removal, sludge thickening, solids dewatering, and lime softening.
Several players and companies in the industry are entering into the water treatment sector as it has a very wide scope and growth. Numerous start-ups such as Anfiro, High Voltage Water, Desolenator, and Adionics have entered the water treatment industry in the past five years bringing innovative solutions and tapping into lucrative opportunities directly influencing the growth of flocculants and coagulants market in the coming years. Additionally, efficient handling of solid wastes, absence of space for settling ponds, and water conservation, are some of the major issues presently tackled by the water industry. The use of chemicals to ease up the process is anticipated to boost the demand for flocculants and coagulants over the forecast period.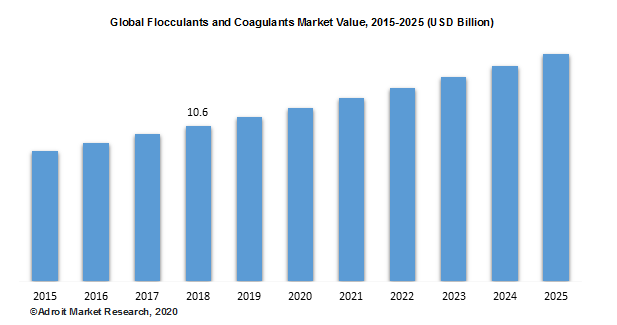 Water consumption is increasing at a pace double to that of its availability as a result of global population expansion. Over the recent years, rapid industrialization and urbanization have led to a depletion of river basins and scanty rainfall in heavily populated regions. This adverse climatic scenario has propelled the activities of tapping in new and accessible water resources in order to cater to its growing demand both for human consumption and industrial applications. Furthermore, various water treatment technologies are adopted for recycling wastewater, thus reducing the dependency on naturally available aquatic sources, which is expected to drive the flocculants and coagulants market during the forecast period.
Key Segments of the Global Flocculants and Coagulants Market Report
By Type Overview, 2015-2025 (USD Billion)
Flocculants

Anionic Flocculants
Non-ionic Flocculants
Cationic Flocculants

Coagulants

Inorganic coagulants
Organic coagulants
By End-user Overview, 2015-2025 (USD Billion)
Water and Wastewater Treatment
Oil & Gas
Mining
Pulp & Paper
Others
Regional Overview, 2015-2025 (USD Billion)
North America
Europe
Asia Pacific
Central & South America
Middle East & Africa
Reasons for the study
The purpose of the study is to give an exhaustive outlook of the global flocculants and coagulants market.
We intend to present how flocculants and coagulants has evolved and how it may impact execution of Industry
The study aims to identify the disruptive technologies, their adoption trend, impact on traditional approaches and monitor the transition of the industry
What does the report include?
The study on the global flocculants and coagulants market includes qualitative factors such as drivers, restraints, and opportunities
Additionally, the market has been evaluated using Porter's Five Forces and Value Chain Analysis
The study covers a qualitative and quantitative analysis of the market segmented on the basis of type and end users. Moreover, the study provides similar information for the key geographies
Actual market sizes and forecasts have been provided for all the above-mentioned segments
The study includes the profiles of key players in the market with a significant global and/or regional presence
Who should buy this report?
This study is suitable for industry participants and stakeholders in the global flocculants and coagulants market. The report will benefit:
Every stakeholder involved in developing and distributing flocculants and coagulants solutions
Product managers looking to publish recent and forecasted statistics pertaining to the global flocculants and coagulants market
Government organizations, regulatory authorities, policymakers and financial organizations looking for innovative global flocculants and coagulants solutions
Analysts, researchers, educators, strategy managers, and academic institutions looking for insights into the market to determine future strategies
Increasing population, less availability of freshwater bodies, an increase in industries resulting in increase in water requirement, increase public awareness about water conservation and strict government laws on water treatment are some of the key drivers of the water service market. This recycled wastewater is widely used in landscaping and irrigation. Moreover, it can be used as industrial water and endure the ecosystem by treating the wastewater. It is also used in improving the quality of coastal water with the help of effective water treatment practices. Growing water treatment activities is expected to boost the flocculants and coagulants market over the forecast period.
Flocculation and coagulation water treatment chemicals are used to remove suspended solids, iron, hardness, and organic colour from influent water. In wastewater treatment processes these clarification aids help with the elimination of other impurities and contaminants such as heavy metals, oil, and phosphate. Polymer products help to increase filter throughout, remove the need for pH adjustment, significantly reduce sludge volume, and decrease the load on demineralizers during raw water applications, owing to which the demand for flocculants and coagulants is expected to grow over the forecast period.
The flocculants and coagulants market by type is segmented into flocculants, anionic flocculants, non-ionic flocculants, cationic flocculants, coagulants, inorganic coagulants, and organic coagulants. Growing shortage of potable water which is used widely for domestic and industrial purposes is expected to drive the market growth for water treatment chemicals. Rising population along with the rapid expansion of industries has led to the advancement and development of various water treatment techniques and technologies such as such as water and waste water treatment, desalination, and others. Over the past few years, several countries and regions all over the world have undertaken measures to implement water management initiatives, owing to which the demand for chemicals especially flocculants and coagulants is expected to grow over the forecast period.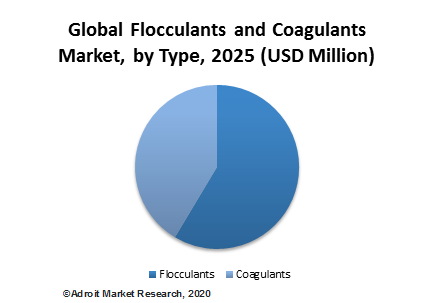 Various types of flocculants, coagulants, and polymers are being custom-designed which are used to support the water clarification process. Customers prefer ready to use and easy to feed solutions, and having wide range of charge densities, molecular weights, and chemistries. Additionally, the types of flocculants and coagulants used should promotes superior water clarity during water and wastewater treatment. Most of the players are introducing highly efficient emulsion breakers for oil-in-water emulsions, cost-effective powders and liquids, extensive assortment of clarification and dewater aids, owing to which the demand for various flocculants, and coagulants is expected to grow over he forecast period.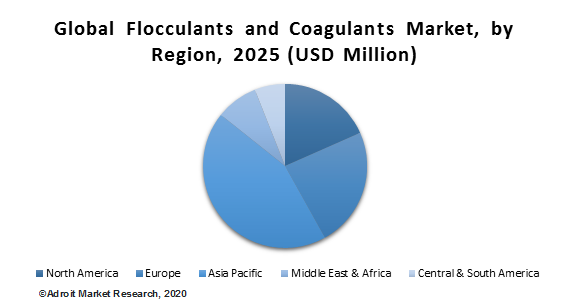 Asia Pacific is the fastest growing region in the flocculants and coagulants market, projected to reach USD 6.3 Billion, growing at a CAGR of 6% over the forecast period. Asia pacific region is mainly driven by the growing demand for efficient quality water used for daily domestic usage and drinking has substantially increased in last decade because of the rise in worldwide population, especially in urban areas. The contaminated water distribution practices mainly through water transportation pipes and storage systems resulted into mainly focusing on improvement in the quality of drinking water in developing nations such as China, India, and other South East Asian countries.
Flocculants and coagulants industry is projected to show a high growth in such countries on account of advancement in equipment and technology coupled with infrastructure mainly used for water treatment in industries. Large investments in the Asia-Pacific region and rising focus on water reuse coupled with the impediment of river contamination in not only in industrial but also in the municipal sector is also driving the industry during the forecast period. Key players operating in the global flocculants and coagulants market are BASF SE, Ecolab, Solvay, SNF Floerger, ChemTreat, Inc., Kemira, SUEZ, Thermax Global, Glen Farrow UK Ltd., Tramfloc, Inc. and others.