As flat disc brakes offer better braking performance than drum brakes, they are being used more and more in the automotive industry. In addition, a major reason propelling the expansion of the flat brake disc market is the growing desire for disc brakes in passenger cars. Another significant element driving the expansion of the flat brake disc market is the increasing demand for both heavy commercial vehicles (HCVs) and light commercial vehicles (LCVs). Since flat brake discs are a vital part of disc brakes, the manufacturing of these cars is expanding, which is driving up demand for them. Another important element fueling the growth of the flat brake disc market is the adoption of strict government laws governing vehicle safety.
The flat brake disc market is necessary since it offers a quick and reliable technique to stop a car. It also lessens vibration and noise. Using a flat brake disc instead of a regular brake disc has a number of benefits. Additionally, it aids in enhancing the vehicle's performance. A flat brake disc is additionally simpler to maintain and fix.
To provide the braking force required to stop a vehicle, a calliper is coupled with a particular kind of brake rotor called a flat brake disc. Contrary to conventional rotors, which are curved, flat brake discs are precisely flat thanks to machining. This design aids in reducing brake fade and enhancing braking performance. Flat brake discs can be vented or solid and are commonly constructed of steel or cast iron. Solid discs use convection to cool the rotor, whereas ventilated discs have tiny holes drilled through them to aid in heat dissipation. Due to its improved cooling and decreased brake fade, vented discs are a common feature of current vehicles.
The size of the global flat brake disc market is anticipated to increase between 2021 and 2031 at a CAGR of roughly 4.5%, reaching an estimated value of USD 24.4 billion.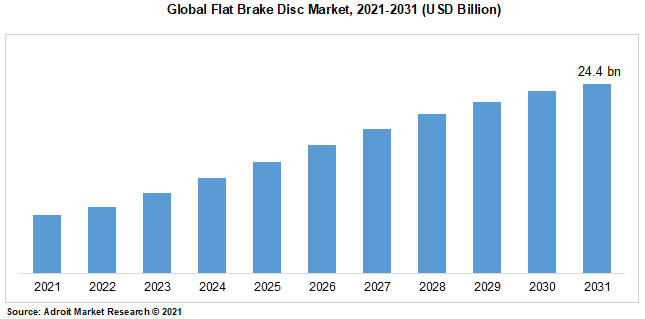 Rapid development and rising vehicle demand are driving this region's expansion within the worldwide flat brake disc marketplace.
The lack of knowledge and comprehension of the advantages of flat brake discs, the high costs involved in producing and marketing these goods, and their current restricted availability are some of the issues the flat brake disc market is now facing. Flat brake discs' market potential is also constrained by the fact that they are not frequently employed in conventional automobiles. Flat brake discs' sales potential is also limited by the fact that off-road vehicles rarely employ them. Nevertheless, the market for flat brake discs is anticipated to expand in the near future due to the rising popularity of electric vehicles. In the near future, the market for flat brake discs is anticipated to expand due to the growing popularity of self-driving cars.
Robert Bosch GmbH, Aisin Seiki Co., Ltd., Akebono Brake Industry Co. Ltd., Continental AG, Brembo SpA, and Nissin Kogyo Co., Ltd. are a few of the major companies in the global flat brake disc market. These companies are creating innovative goods to meet the growing demands of the automobile sector. To acquire success in the international market, many businesses are also concentrating on expanding their outreach.
Segment Analysis
The Cast Iron Segment emerged as the Most Lucrative Type
The market is divided into two types based on type: cast iron and CMC. As it offers greater brake fade resistance and thermal stability, the cast iron segment is among those that are predicted to expand at a significant CAGR throughout the forecast period. The substance is also strong and provides great wear resistance. The segment's expansion is further aided by the fact that cast iron is more cost-effective and suitable for mass production than CMCs.
The Most Prominent Application is the Passenger Cars Segment
Due to the rising global production of passenger automobiles, the flat brake disc market is primarily driven by the passenger car segment as opposed to commercial vehicles. However, commercial vehicles are anticipated to adopt flat brake discs at a quicker rate during the projection period due to growing concerns over safety and fuel efficiency.
The Asia Pacific Region to render Ample Financing Opportunities
The Asia-Pacific region is predicted to have the flat brake disc market's fastest rate of expansion during the forecast period due to increased demand from the automotive sector in countries like China and India. Additionally, the growth of the automobile industry in this region is another factor influencing the Asia-Pacific market. The Asia-Pacific automotive market is expanding quickly, which is driving up demand for flat brake discs.
COVID-19 Impact and Market Status
In 2020, the COVID-19 epidemic will have a significant impact on the flat brake disc industry. Flat brake disc demand was impacted by the pandemic's output decline brought on by lockdowns and shipping limitations. This can be attributed to a variety of problems, including governmental lockdowns and strict rules on internal and international trade that have seriously harmed big corporations, particularly the car industry. Due to employees' inability to report to work due to mobility concerns or because they had the coronavirus, which interrupted the supply chain for automotive parts like brake discs, many automotive units were temporarily shut down after the lockdown was implemented. But once the lockdown was lifted, everything went back to normal, and the industry is now on track to grow as expected in 2021.
Recent Developments in the Flat Brake Disc Market
• The revised truck regulations were adopted by the European Parliament in January 2019 and will go into force in January 2020. These regulations mandated that starting today, all newly produced automobiles are outfitted with an automated braking system in addition to other safety features. In the years to come, it is anticipated that this will result in a marked increase in demand for flat brake discs throughout Europe.
• Nissan announced in February 2020 that it would be worldwide recalling more than 3.53 million vehicles due to a possible brake safety issue. A few models of the Juke, Qashqai, and X-Trail SUVs built between 2014 and 2017 are included in the recall.
Flat Brake Disc Market Scope
| | |
| --- | --- |
| Metrics | Details |
| Base Year | 2022 |
| Historic Data | 2020-2021 |
| Forecast Period | 2022-2031 |
| Study Period | 2020-2031 |
| Forecast Unit | Value (USD) |
| Revenue forecast in 2031 | UUSD 24.4 billion |
| Growth Rate | CAGR of 4.5% during 2021-2031 |
| Segment Covered | Type, Application, Regions |
| Regions Covered | North America, Europe, Asia Pacific, South America, Middle East and Africa |
| Key Players Profiled | Robert Bosch GmbH, Aisin Seiki Co., Ltd., Akebono Brake Industry Co. Ltd., Continental AG, Brembo SpA, and Nissin Kogyo Co., Ltd. |
Key Segments of the Flat Brake Disc Market Market
Type Overview, 2021-2031 (USD Billion)
• Cast Iron
• CMC
Application Overview, 2021-2031 (USD Billion)
• Passenger Cars
• Commercial Vehicles
Regional Overview, 2021-2031 (USD Billion)
North America
• U.S
• Canada
Europe
• Germany
• France
• UK
• Rest of Europe
Asia Pacific
• China
• India
• Japan
• Rest of Asia Pacific
South America
• Mexico
• Brazil
• Rest of South America
• Middle East and South Africa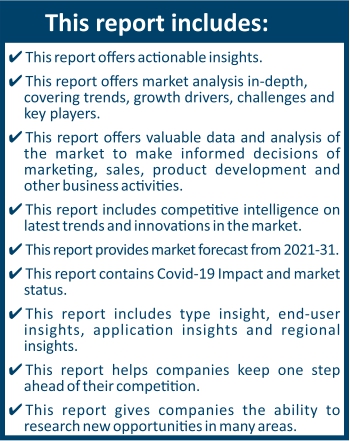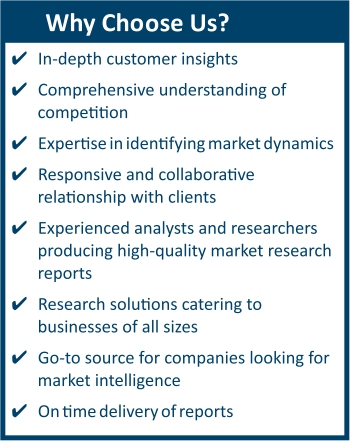 Frequently Asked Questions (FAQ) :
Flat Brake Disc Market is projected to reach USD 24.4 billion by 2031, growing at a CAGR of 4.5