An emergency tool that is regularly used to extinguish small flames is a portable fire extinguisher. It minimizes the prospective destruction of the property until the firefighters arrive at the place where the fire has been set up. A fire extinguisher is a cylinder with an extinguishing agent inside it, a nozzle, a hand, a dle, and a pressure gauge. It is capable of emitting the extinguishing agent at high pressure for putting off the fire by keeping the flame away from oxygen and interfering with the flame's chemical reaction.
The Fire Extinguisher market is expected to grow at a CAGR of 4% to reach US$ 12.2 Bn in 2031.
Covid-19 Market Impact & Status
The unprecedented outbreak of a fatal virus named COVID-19 in early 2019 led to an incomparable global public health emergency that adversely impacted almost every industry across the globe. The long-term consequences are likely to continue to affect a few parts of the industry over the forecast period. since fire extinguishers are important and the demands remain the same and hike significantly regardless of any uncertainties. Therefore, the fire extinguisher industry was less impacted by the COVID-19 wave.
Europe is the leading region in the fire extinguishers industry
The European region is the leading region in the fire extinguisher industry. It is holding a majority of the share of the fire extinguisher market. The chief manufacturers participating in the global market are inclined towards introducing eco-friendly extinguishers which are based on gas/powder fire that do not emit toxic gas or pollutants. These sustainable extinguishers are small, lightweight, and cost-effective. Moreover, numerous companies are adopting collaborations, partnerships, and Acquisitions to widen their customer base and expand their business operations globally.
Various Governments of countries worldwide are imposing safety norms for the public to avert the unforeseen fire calamities. This has led to the adoption of fire extinguishers almost everywhere such as in households, restaurants, hotels, schools, colleges, shopping complexes hospitals, offices, and factories. The demand for fire extinguishers is prompted by rapid industrialization, and the construction of commercial complexes, specifically in developing economies. The market is driven by the insurance agencies which have made it mandatory for every industry to install a fire extinguisher in buildings. The prime players in the global industry are coming up with eco-friendly, gas and powder-based fire extinguishers which do not emit any toxic gases. Additionally, they are expanding their product line by introducing small, light, and affordable fire extinguishers. Several companies are also emphasizing collaborations and acquisitions to broaden their customer base and hike their market operations around the world.
Some of the components propelling the prominence of fire extinguishers are Increasing construction activities for the development of new industrial plants, and commercial centres, the launch of new housing projects, and the implementation of stringent safety norms against fir. Furthermore, the innovation of sound-based firefighting technology is another factor boosting the growth of this market and will continue to do so over the next few years.
In addition to this, the researchers aligned with this industry have developed a new product for extinguishing fire called the Vacuum Extinguish Method (VEM). VEM is the reverse concept of conventional methods of extinguishing small fires. It inhales the combustion products, even flame, and the firing source itself to a vacuum chamber (which is inbuilt inside it) to clean up the fire zone. This breakthrough has been prover beneficial for space used for preventing the spread of harmful combustible products in the enclosed cabin.
Though the efficient and appropriate use of fire extinguishers does not cause any harm, there is some sort of outer risks such as mild respiratory, skin, or eye irritation. The spray of fire extinguishers in areas with poor airflow or using to harm someone or purposeful inhalation of fire extinguishers can lead to severe injuries to human beings. Fires not only bring the loss of many precious lives and injuries to the masses but also lead to huge property loss. Fire in residential buildings, especially in high-storey buildings becomes more intense and may lead to fatalities and great disruption. Since fire extinguishers are small in size and can only extinguish small fires, it becomes a restraining factor in the growth of the fire extinguishers market worldwide.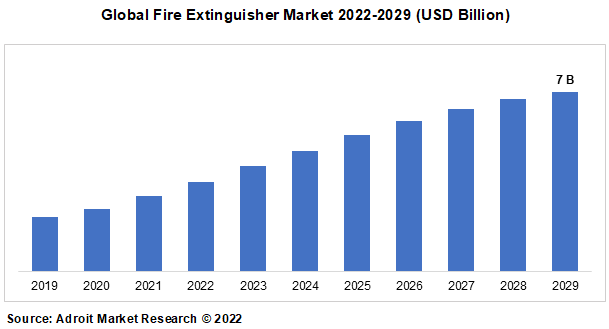 Some of the key players in the global fire extinguishers market are Tyco Fire Products LP, Britannia Fire Ltd., United Technologies Corporation, Amerex Corporation, First Alert Inc., Feuer Schutz Jockey GmbH & Co. KG, Ceasefire Industries Pvt. Ltd., Minimax GmbH & Company KG, JL Industries, Inc., and Desautels.
Major developments In Global Fire Extinguisher Market: A Snapshots
In May 2021, the release of the First COVID-19 Alert launched a new fire extinguisher which aimed to install fire extinguishers in-a home settings as well as in recreational spaces with the under-budget offering. This innovative product was designed to meet the rechargeable standards of REC.
At the "No Agricultural Waste research and development (R&D) project," Win Time Technology created a new plant-based fire extinguishing chemical in February 2021. The product is all set to become an environment-friendly substitute for conventional fire extinguishers.
In January 2021, a new range of eco-friendly models has announced at CASP Aerospace called 375H673 fire extinguishers. It was introduced as an alternative to Halon 1211 fire extinguishers.
Fire Extinguisher Market Scope
| | |
| --- | --- |
| Metrics | Details |
| Base Year | 2022 |
| Historic Data | 2021-2022 |
| Forecast Period | 2022-2031 |
| Study Period | 2021-2031 |
| Forecast Unit | Value (USD) |
| Revenue forecast in 2031 | US$ 12.2 Bn |
| Growth Rate | CAGR of 4 % during 2022-2031 |
| Segment Covered | Agent Type, Fire Type, Regions |
| Regions Covered | North America, Europe, Asia Pacific, South America, Middle East and Africa |
| Key Players Profiled | Morita Holdings Corporation, Amerex Corporation, Britannia Fire Ltd, Johnson Controls International Plc., United Technologies Corporation, Ceasefire Industries Pvt. Ltd, Fest Fire Security, Feuerschutz Jockel GmbH & Co. KG, Fike Corporation, and Flamestop Australia Pty. Ltd. |
Key Segments of the Global Fire Extinguishers Market
Product Overview, 2022-2029 (USD Billion)
Portable
Knapsack
Wheeled
Extinguishing Agent Overview, 2022-2029 (USD Billion)
Dry Chemical
Dry Powder
Foam
Carbon Dioxide
Others
Fire Overview, 2022-2029 (USD Billion)
Class A
Class B
Class C
Class D
Class K
Application Overview, 2022-2029 (USD Billion)
Industrial
Public Areas
Commercial
Households
Others
Regional Overview, 2022-2029 (USD Billion)
North America
Europe

UK
Germany
France
Rest of Europe

The Asia Pacific

China
Japan
India
Rest of Asia Pacific

South America

Brazil
Mexico
Rest of South America

Middle East & Africa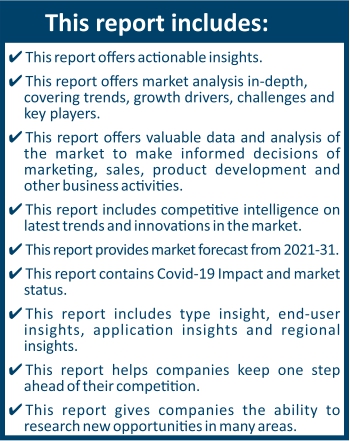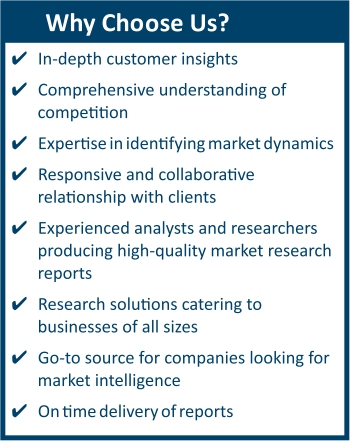 Frequently Asked Questions (FAQ) :
The market value of Fire Extinguisher market in 2029 was USD 7 Billion.
The Fire Extinguisher market is growing at a CAGR of 5.4% over the forecast period.
Europe dominated the market for Fire Extinguisher market and accounted for the largest revenue share.
The top companies that hold the market share in Fire Extinguisher market are Tyco Fire Products LP, Britannia Fire Ltd., United Technologies Corporation, Amerex Corporation, First Alert Inc., Feuer Schutz Jockey GmbH & Co. KG, Ceasefire Industries Pvt. Ltd., Minimax GmbH & among others.
To get latest version of Fire Extinguisher market report can be obtained on demand from the website.