The File Transfer Protocol Market is expected to reach US$4.5 Bn during the forecast period at a 10% CAGR.
The global file transfer protocol market has expanded fast in recent years, and it is estimated to increase by USD 1525 million at a CAGR of 11% over the forecast period. The growing requirement for improved visibility in file transfer operations across companies is projected to drive the expansion of the global file transfer protocol market.
File transfer protocol provide visibility and control over massive amounts of data transfer. They also provide security and dependability, as well as end-user simplicity, to help with important data transmission procedures. The adoption of MTF solutions enables organizations to boost their productivity by providing regulated and sophisticated file transfer solutions that are tailored to the needs of the business.
File transfer systems enable safe, real-time file transfers within networks and across a variety of different platforms. These solutions are frequently used in industries such as life sciences, healthcare, BFSI (banking, financial services, and insurance). Government institutions and IT & telecoms are also implementing them to improve business operations and promote integration.
Increased digitization, the growing availability of cost-effective FTP, rising demand for cost-effective file transfer protocols, rising demand for high-performance FTP, and technological advancements are all likely to drive the global market growth. Constant implementation and expansion of new technologies, such as cloud computing technology and MFTaaS for automatically encrypting are creating several opportunities for FTP industry growth.
The key causes motivating an expanding number of file transfer protocol solution providers delivering new and creative products for business continuity include benefits such as better company efficiency, robust data migration, and lower prices. The integration of technologies like Big Data, IoT, AI, and others is expected to help to the rise of the file transfer protocol industry by dramatically increasing capabilities and performance.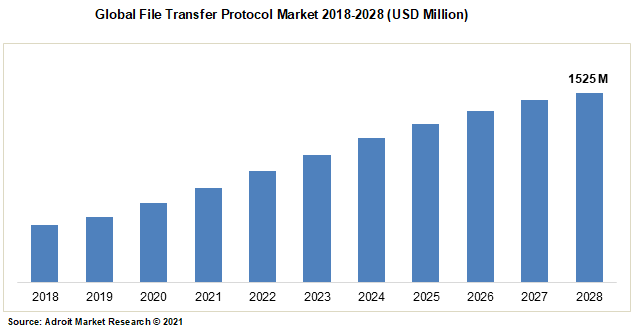 The prominent market players of the file transfer protocol industry are Axway, Inc., Progress Software Corporation, IBM Corporation, and Saison Information System Co. Ltd. This study examines the main file transfer protocol firms' market revenue, business strategies, market shares, current trends, and growth rates.
Recent events such as regional expansions, research activities, new solution/product releases, acquisitions, and technical breakthroughs are considered when determining these businesses' player position in the file transfer protocol industry.
File Transfer Protocol Market Scope
| | |
| --- | --- |
| Metrics | Details |
| Base Year | 2020 |
| Historic Data | 2018-2019 |
| Forecast Period | 2021-2028 |
| Study Period | 2018-2028 |
| Forecast Unit | Value (USD) |
| Revenue forecast in 2028 | USD 1525 million |
| Growth Rate | CAGR of 11% during 2021-2028 |
| Segment Covered | Product Type, Application, Regions |
| Regions Covered | North America, Europe, Asia Pacific, Middle East and Africa, South America |
| Key Players Profiled | Axway, Inc., Progress Software Corporation, IBM Corporation, and Saison Information System Co. Ltd |
Key Segments of the Global File Transfer Protocol Market
Product Type Overview, 2018-2028 (USD Million)
Application Overview, 2018-2028 (USD Million)
AEC Industry
Website designers
Graphic designers and transcription services
Educational institutions
Medical industry
Regional Overview, 2018-2028 (USD Million)
North America
• U.S.
• Canada
Europe
• France
• UK
• Germany
• Rest of Europe
Asia Pacific
• China
• Japan
• India
• Rest of Asia Pacific
South America
• Brazil
• Mexico
• Rest of South America
The Middle East and Africa
Reasons for the study
• To understand the market in terms of present trends, drivers, and future industry strategies.
• To appreciate various strategies devised by major corporations functioning on the global market.
What does the report include?
• This study provides an analytical representation of the global file transfer protocol market size, as well as future forecasts to aid in the identification of potential investment possibilities.
• The extensive file transfer protocol market global study tries to find profitable trends in order to get a competitive advantage.
• The report includes the leading manufacturers' file transfer protocol market shares as well as industry trends.
Who should buy this report?
• Executives in the file transfer protocol sector who want to learn more about the target market.
• Industry executives, analysts, government agencies, and researchers seek market data to aid in future operations planning.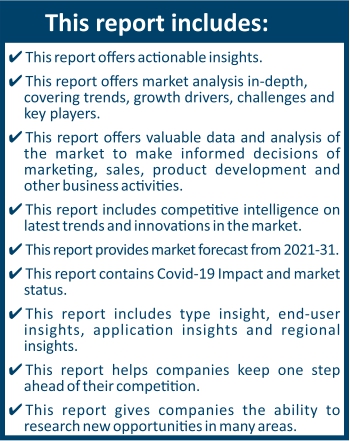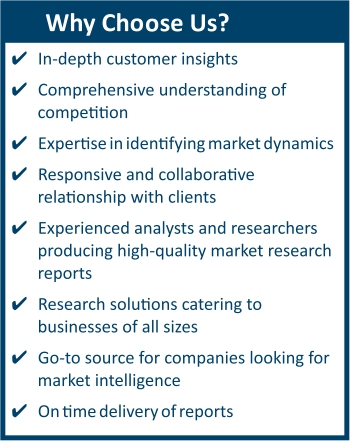 Frequently Asked Questions (FAQ) :
APAC dominated the market for file transfer protocol market and accounted for the largest revenue share.
The market value of file transfer protocol market in 2028 was USD 1525 million.
The major contenders in the global market are Axway, Inc., Progress Software Corporation, IBM Corporation, and Saison Information System Co. Ltd
FTP is a network protocol that allows systems to transfer files using TCP/IP connections. FTP is classified as an application layer protocol inside the TCP/IP series. The end user's machine is commonly referred to as the localhost in an FTP transaction. A remote host, which is generally a server, is the second computer participating in FTP. Both computers must be network-connected and correctly set up to transmit data over FTP. To access these services, servers must be configured to execute FTP services, and clients must have FTP software installed.
Although many file transfers may be performed using Hypertext Transfer Protocol (HTTP), another protocol in the TCP/IP stack, FTP is still widely used behind the scenes for various applications, such as financial services. It is also used to download new software via web browsers on occasion. Though it varies depending on the client used to handle the files, it fundamentally looks like any other file on your computer. There is a hierarchical folder structure that you may explore in the same way as you would in Windows Explorer or Finder.
Browse a public FTP server to get a sense of this. For example, Adobe provides FTP downloads of all of its products to customers who have a valid product key for applications such as Photoshop but don't have their installation CD accessible. FTP server exploration is also supported by browsers such as Chrome and Firefox (but not uploading files).
FTP support is dwindling owing to newer substitutes such as SFTP and browsers abandoning support. Google Chrome set the precedent by discontinuing FTP functionality in spring 2020. It could still be enabled with a command-line switch, but it was removed in version 82. FTP functionality has also been removed entirely in Firefox 88.0. Although Safari can display FTP data, it defaults to the Finder for all folders.
Product Type Segment
The cloud-based segment of the file transfer market will grow significantly in the coming years. Major corporations are implementing cloud-based file transfer protocol systems to assist them to distribute various files across different locations. As a consequence of the increased deployment of cloud computing technology, businesses are embracing cloud-based MTF solutions. Furthermore, corporations are migrating to cloud-based infrastructure, and industry players are developing cloud-based solutions.
Application Segment
The healthcare segment is likely to develop at the maximum CAGR over the prediction period. Healthcare organizations are using file transfer protocol to exchange and manage vital data such as patient medical histories and medical device readings.
The Asia Pacific file transfer market is expected to grow at the highest CAGR in the coming years. file transfer protocol systems are used by major organizations in China and India for safe, cost-effective communication and smooth virtual integration. MTF solutions are being used by businesses in the region's BFSI industry to improve the entire customer experience.