In the coming years, with growing awareness about health benefits, the epinephrine market is likely to grow substantially over the forecast years.
The global Epinephrine market size is expected to reach close to US$ 2.54 Billion by 2029 with an annualized growth rate of 4.9% through the projected period.
Covid-19 Impact
Post pandemic, the healthcare market for epinephrine is expected to increase substantially. COVID-19 has had an impact on the economies and industries of several countries due to strict lockdowns, social distancing, and impact on the supply chain. The pandemic has highlighted the need for improvements in healthcare facilities and long-term focused healthcare. The healthcare industry's growth is expected to slow as the COVID-19 pandemic spreads. The health sciences sector is thriving as a result of increased demand for diagnostic products and increased Research and innovation activities in the area. However, sales in the medical technologies and imaging segment are declining as a result of fewer surgeries and postponed or prolonged system maintenance.
Furthermore, after the pandemic, online consultations with healthcare professionals are expected to become the conventional treatment delivery model. As telehealth transforms care delivery, digital health will thrive in the coming years.
Retail and Hospital Pharmacies are expected to stimulate the Epinephrine Market
The intravenous segment is expected to have the highest revenue share in the epinephrine market because most physicians prefer intravenous injection. Anaphylaxis and heart attack are expected to account for a significant income percentage of the overall epinephrine market. The epinephrine market is classified into various end-user segments comprising retail, hospital pharmacies, and medical outlets. In recent times, online pharmacies is also emerging as a significant segment. The hospital and retail pharmacies segment is likely to grow most lucratively in the projected timeline.
Epinephrine Segment is Growing Most Significantly in the North America Region
Geographically, the global Epinephrine market is divided into several key regions, including North America, Europe, the Asia-Pacific, the Middle East, and Africa. Owing to high-end developments in the North American region more specifically in the US which boasts of superior healthcare facilities and treatment methods, the North American region is developing as a substantial region supporting large-scale growth. New developments are also growing exceptionally in APAC and Europe.
Other contributing factors to North America's consistent revenue growth include an increasing number of people suffering from life-threatening food allergies and the rising prevalence of diseases and adverse reactions, the presence of strong healthcare infrastructure and innovative medical facilities, and the rapid launch of highly developed epinephrine products and injections.
Some of the key factors driving revenue growth in the Asia Pacific epinephrine market are rising awareness about the efficacy of interventions for life-threatening allergies in various countries across the region, likely to lead to an increase in the pharmaceutical industry, and a high adoption rate of epinephrine injectors. In countries such as India, China, and Japan, food allergens, insect bites, and certain drugs are causing anaphylaxis. This is driving up demand for epinephrine treatment, which is expected to continue.
Increasing government and health agency support for generic products to drive epinephrine market growth.
The Epinephrine market is estimated to grow at a Compound Annual Growth Rate (CAGR) of 8.5% during the forecast period of 2022-2029 and reach a market size of 5.1 billion USD by 2029.
The increase in upstream epinephrine medicines is one of the main factors anticipated to drive growth in the global epinephrine market. The global market is expected to gain due to an increase in air pollution, which leads to an increase in the occurrence of respiratory disorders. The growing incidence of cardiovascular diseases, cardiac arrest, and other similar conditions is expected to drive the market in the coming years. As the millennial population gains considerable knowledge about the benefits of epinephrine the market is expected to grow in leaps and bounds.
The active hormone epinephrine is produced by the Adrenal Medulla. Epinephrine is identified as a neurotransmitter and hormone released by the adrenal gland. Owing to multiple health benefits, epinephrine is gaining prominence as a drug. It has long been used to treat hypersensitivity reactions in the form of an injection Epipen. Epinephrine helps with heart stimulation, systemic vasoconstriction dilation, and gastric relaxation, and all of these benefits are expected to drive the global epinephrine market forward.
Epinephrine affects many different parts of the human body, including the liver, skin, lungs, and heart. For example, during asthma, epinephrine relaxes the smooth muscles of the lungs, making breathing easier. Inhaling epinephrine helps bronchial tubes to widen while suffering from cough and breathlessness. This advantage of epinephrine is significantly increasing its demand in the pharmaceutical industry, which is contributing to the global epinephrine market's consistent revenue growth.
The increase in the demand for immediate and quick response to combat respiratory infections or disease have promoted new pathways for the Epinephrine Market. To improve the effectiveness of the hormones, manufacturers are trying innovative ways to make this drug accessible to all.
In some cases, doctors recommend other alternative drug therapy or immunotherapeutic mediums to treat allergies caused by epinephrine side effects such as hypertension, irregular heartbeats, headache, and anxiety. These factors are limiting the onward growth journey of the global epinephrine market. Another factor limiting market growth is limited R&D investment for increasing the pipeline of epinephrine.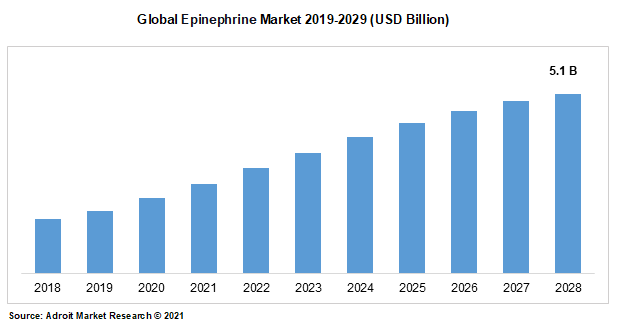 Latest Innovations for Epinephrine Market
In 2020, Lunatus Medical Supplies and Antares Pharma have entered a collaboration since 2020 to improve XYOSTED commercialization in MEA region
Also, Swizz based SHL Medical and Weibel have undersigned an agreement to develop a high-tech medication delivery network.
Eli Lilly created new job opportunities in Durham North Carolina, investing USD 470 million in January 2020, paving the way for the advanced pharmaceutical manufacturing department.
Alerje Inc., a food allergy management company based in Detroit, introduced a smartphone case with an auto-injector that releases epinephrine during severe allergic reactions in June 2021. When a dose is removed from the case, the Alerje smartphone app will automatically change the patient's support circle.
Epinephrine Market
| | |
| --- | --- |
| Metrics | Details |
| Base Year | 2020 |
| Historic Data | 2018-2019 |
| Forecast Period | 2021-2028 |
| Study Period | 2018-2028 |
| Forecast Unit | Value (USD) |
| Revenue forecast in 2028 | USD 5.1 billion. |
| Growth Rate | CAGR of 6.5% during 2021-2028 |
| Segment Covered | Type, Application, End-User, Regions |
| Regions Covered | North America, Europe, Asia Pacific, South America, Middle East and South Africa |
| Key Players Profiled | MYLAN N.V., Abbott, ALK ABELLO, Amneal Pharma, Kaleo, LINCOLN MEDICAL LTD (BioProject), Teva Pharmaceuticals Ltd, Adamis Pharmaceuticals Corporation (Novartis AG), Emirade, Aurum Pharma & among others. |
Key segments of the Epinephrine Market
Type Overview, 2022-2029 (USD Billion)
Auto-injector
Prefilled Syringes
Ampoules and Vials
Others
Application Overview, 2022-2029 (USD Billion)
Anaphylaxis
Cardiac Arrest
Superficial Bleeding
Respiratory Disorders
Others
End-User Overview, 2022-2029 (USD Billion)
Hospital Pharmacies
Retail Pharmacies
Online Pharmacies
Others
Regional Overview, 2022-2029 (USD Billion)
North America
Europe
Germany
France
UK
Rest of Europe
Asia Pacific
China
India
Japan
Rest of Asia Pacific
South America
Mexico
Brazil
Rest of South America
The Middle East and South Africa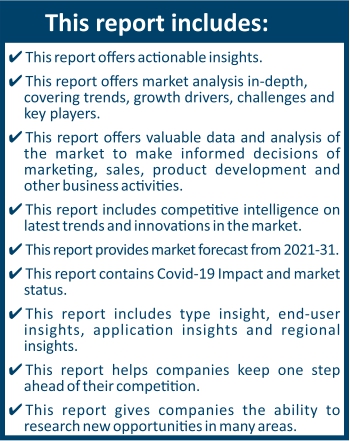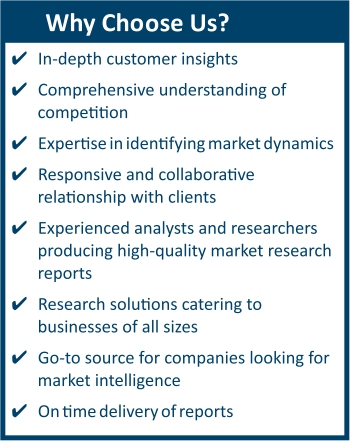 Frequently Asked Questions (FAQ) :
The market value of epinephrine market in 2029 was USD 5.1 billion.
The epinephrine market is growing at a CAGR of 8.5% over the forecast period.
The application of the epinephrine market anaphylaxis, cardiac arrest, superficial bleeding, respiratory disorders and other.
Asia Pacific dominated the market for epinephrine market and accounted for the largest revenue share.
The top companies that hold the market share in epinephrine market are MYLAN N.V., Abbott, ALK ABELLO, Amneal Pharma, Kaleo, LINCOLN MEDICAL LTD (BioProject), Teva Pharmaceuticals Ltd, Adamis Pharmaceuticals Corporation (Novartis AG), Emirade, Aurum Pharma & among others.