The global EHR Software market is expected to develop US$ 41.8 Bn by 2032, at a compound annual increase in price (CAGR) of 4.5% throughout the forecast period.
The primary driver of this industry is government measures to increase the use of healthcare IT. In Australia, for example, My Health Record is a national digital health record portal. Every Australian citizen has a "My Health Record" unless they opt not to have one. According to the organization, by the year 2022, all healthcare practitioners in the United States will be certified in nation and will be able to contribute to access the platform's healthcare data. Furthermore, the introduction of technologically upgraded healthcare services is expected to drive market growth.
Since the beginning of 2020, the Covid-19 epidemic has put a lot of strain on healthcare institutions. Because some client buying decisions and projects are delayed to focus on treating patients, getting critical medical supplies, and managing their organisations during this crisis, the pandemic has had a negative impact on key market participants' earnings. In addition, companies such as Allscripts saw delays in upfront software revenue and professional services instals throughout their outpatient and inpatient bases.
In recent years, new growth activities, product approvals, product launches, collaborations, and acquisitions have all had a favorable influence on the market. Furthermore, as the world becomes more digital, there has been a significant increase in demand for electronic health records, which is fueling market growth. Rising need for healthcare administration centralization and streamlining is projected to drive market growth. A value-based paradigm drives the centralization of health information management, which strives to streamline operations, standardize procedures, save costs, and improve the quality of service that leads to patient satisfaction.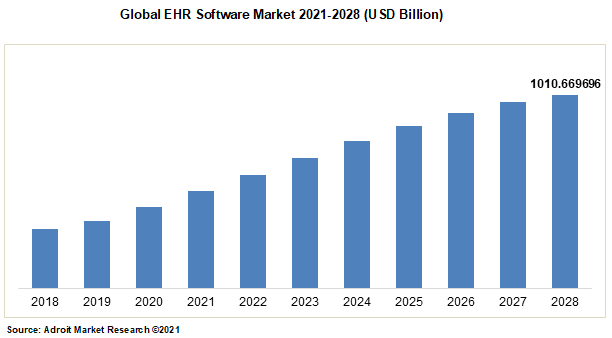 A medical mistake is a nightmare scenario that no doctor or practise wants to face. While most healthcare professionals and many consumers/clients/patients recognise that doctors are human and make mistakes, the majority of them strive for accuracy in all aspects of patient care. Thousands of people, on the other hand, are afflicted by medical errors and even die as a result of avoidable deaths each year. Artificial intelligence is aided by today's EHR systems, which can sift through massive amounts of patient data. A chronic sickness patient, for example, may have a paper record that was formerly hundreds of pages long.
An EHR system may now quickly sift through data to analyse current and historical prescriptions, laboratory tests, treatment plans, diagnoses, medical procedures, and even foods to avoid while taking particular medicines before or after a medical treatment or surgery. As a consequence, the growing number of pharmaceutical errors is expected to propel the EHR Software market ahead in the coming years. AdvancedMD, CareCloud, Inc., Athena Clinicals, Practice Fusion, eclinicalworks, Greenway Health, LLC, ChartLog, Aprima Medical Software, Inc, and Epic Systems Corporation are some of the major companies in the worldwide EHR Software market.
EHR Software Market Scope
| | |
| --- | --- |
| Metrics | Details |
| Base Year | 2022 |
| Historic Data | 2021-2022 |
| Forecast Period | 2022-2032 |
| Study Period | 2021-2032 |
| Forecast Unit | Value (USD) |
| Revenue forecast in 2031 | US$ 41.8 Bn |
| Growth Rate | CAGR of 4.5 % during 2022-2031 |
| Segment Covered | by Product, by Type, Regions |
| Regions Covered | North America, Europe, Asia Pacific, South America, Middle East and Africa |
| Key Players Profiled | Cerner Corporation (Oracle), GE Healthcare, Allscripts Healthcare LLC, McKesson Corporation, Epic Systems Corporation;, NextGen Healthcare, Inc., eClinicalWorks, Health Information Management Systems, CPSI, AdvancedMD, Inc. |
Key Segments of the Global EHR Software Market
Global EHR Software Market by Type
Global EHR Software Market by End-User
Hospitals
Pharmacies
Diagnostic and Imaging Centers
Ambulatory Care Centers
Other End Users
Global EHR Software Market by Region
§ U.S.
§ Canada
§ Germany
§ France
§ United Kingdom
§ Italy
§ China
§ India
§ Japan
§ South Korea
§ Southeast Asia
§ Brazil
Mexico
Rest of Latin America
§ Gulf Countries
§ Africa
§ Israel
§ Rest of MEA
Reasons for the study
To evaluate, examine, and analyze competitive developments such as strategic alliances, joint ventures, mergers, new product developments, and acquisitions.
To offer a prospective outlook on market size in major regions and key performing nations.
To investigate the variables influencing the growth of the Global EHR Software Market, as well as the market drivers.
What does the report include?
Market definition, description, an overview of market growth affecting elements, and forecast
Market segmentation, dominating segment, and region, followed by nation, as well as market value, share, year-over-year growth, CAGR, forecast, and contribution to the market.
Profiles of main market players, their latest advancements, strategy, financial data, core capabilities, regional presence, and product portfolio.
Insights, data, and forecasts that may be used to develop company strategies, identify business risks, spot trends, capitalize on market opportunities, generate business goals, and comprehend target customers/end users.
Insights on current innovations, target market regulations, pipeline goods, market investment, and political and economic variables that may affect market growth.
Who should buy this report?
System Integrators
Analytics consulting companies
Application builders
Distributors
Independent Software Vendors
Licensing providers
Intellectual property core
Market research and consulting firms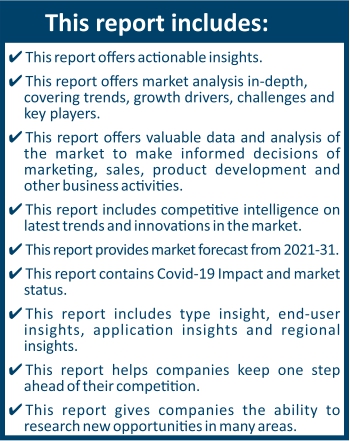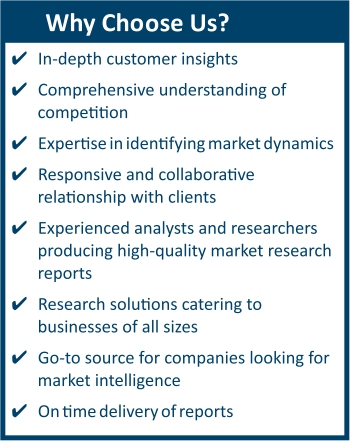 Frequently Asked Questions (FAQ) :
The ehr software market is growing at a CAGR of 3.7% over the forecast period.
The global ehr software market is Segmented on the Type, End-User, Regions.
The base year for the report is 2021 in ehr software market.
To stay ahead of the competition, market leaders engage in new product launches, partnerships, expansions, and acquisitions. To acquire a competitive advantage, both large and small businesses are engaging in mergers and acquisitions. Cerner Corp., for example, paid USD 375 million in April 2021 to purchase Kantar Health. Cerner's collection of real-world data and technology, paired with Kantar's life sciences expertise, expedited life sciences research innovation and enhanced global patient outcomes. CureMD Healthcare announced a practise continuity strategy for clinicians in March 2020, allowing them to serve their patients remotely throughout the pandemic. This would assist businesses combat Covid-19 through virtual care programs, while also strengthening the company's market position.
Asia Pacific has the largest revenue share and is a key market for technology-based industries. In 2020, the area will account for around 28.7% of the entire market's sales. With a CAGR of about 6.79 percent, the area was valued at roughly USD 8.51 billion in 2020 and is predicted to reach around USD 13.12 billion by 2026. After Asia Pacific, the Middle East and Africa will be the fastest expanding market, with a CAGR of roughly 5.91 percent by 2026. The market is divided into two types based on type: cloud-based and on-premises. In the year 2020, the Cloud Based sector will have the biggest market share. With a CAGR of about 5.82 percent, the Cloud Based type sector produced around USD 20.98 billion in 2020 and is predicted to reach around USD 30.65 billion by 2026. The market is divided into five types based on end-users. End users include hospitals, pharmacies, diagnostic and imaging centres, ambulatory care centres, and others. The Hospitals market was worth USD 17.5 billion in 2020, and it is predicted to grow to roughly USD 25.15 billion by 2026, with a CAGR of 5.89 percent.
The expanding market, with its burgeoning startups and market consolidation, has sparked fierce competition among the competitors. As a result, large businesses are more likely to compete by inventing more and capturing a larger market share. This is expected to be one of the segment's most important growth drivers. Consumer desire for innovation and personalised services provides a chance for businesses to develop better goods, particularly in the case of the COVID-19 pandemic, in order to grab market share. The advent of COVID-19 has resulted in a significant slowdown in infrastructure construction. Furthermore, the need for international jobs and accompanying money transfers is constantly increasing. Because of the simplicity with which mobile money may be transferred, several sectors use such software. This implies that the EHR Software industry saw a positive and hopeful rise throughout the pandemic period, particularly in the years 2020 and 2021.