Owing to the benefits of divalproex sodium is that an effective and well-tolerated antiepileptic medication (AED). Complex partial, myoclonic, and absence seizures have all been treated with it. A person loses consciousness during a complex partial seizure; myoclonic seizures are rapid, shock-like jerks of a muscle or set of muscles; and absence seizures are characterized by brief lapses of awareness that start and finish abruptly, lasting only a few seconds. Many doctors prescribe the drug for seizures that affect the entire body, known as generalized tonic clinic seizures. Because it works for so many different types of seizures, divalproex sodium is a very beneficial medicine.
The global Divalproex Sodium market worth USD 3.0 billion by 2026, growing at a CAGR of 6.2%
Covid-19 Impact & Market Status
The COVID19 epidemic has changed the expansion of many markets, with many direct consequences of its outbreak. Demand is slowing for some companies, but many other industries may continue to thrive and offer growth opportunities. Initially, the COVID-19 epidemic had an influence on the divalproex sodium market by directly hurting manufacturing, disrupting supply chains, and causing financial losses to businesses owing to government social distancing and lockdown measures. However, in the next years, demand for divalproex sodium is likely to increase significantly.
Tablet to Emerge as the Most Lucrative Segment
There are three varieties of capsules, tablets, and other products on the market. Tablets are more shelf-stable and have a longer shelf life than capsules, hence they dominate this category. A single tablet can store more medication than a single capsule, making them excellent for treatments that require a greater dosage.
Epilepsy and Migraine Headaches to Ensure Revenue Maximization
The primary reason for conditions of seizures is epilepsy. It may affect people at all ages, including children and adults, as well as people of many races and cultures. Seizures and epilepsy, for example, are two challenging health issues that many young people endure. Seizures are abnormal electrical activity in the brain. Epilepsy is described as the recurrence of these unindicted seizures, which feels like a shock wave going across the brain. During the projected period, a growth in the number of persons affected by epilepsy and migraines is likely to contribute to the segment's greatest market share.
North America Region to Render Ample Investment Avenues
In North America, the divalproex sodium market is dominated by the United States. The Divalproex Sodium market in the region is expected to grow due to increased government measures and increased research and development activity to bring new products to market. According to the Centers for Disease Control and Prevention, about 3 million elderly people and 470,000 children are affected by the disease.
Divalproex sodium can reduce glucose metabolism while also raising insulin and testosterone levels. Women may develop polycystic ovaries as a result, and their menstrual periods can also become irregular. These withdrawal symptoms might contribute to weight gain, increased face or body hair, scalp hair loss, and acne.
The Food and Drug Administration has approved the antiepileptic drug sodium valproate (FDA). Divalproex sodium includes valproic acid and its sodium salts in a 1: 1 molar ratio. Valproic acid and sodium valproate are included. Sodium valproate has been used to treat various types of seizures (epilepsy). This anticonvulsant works by interacting on brain tissue to prevent seizures. Divalproex sodium is also used to treat the manic phase of bipolar disorder and to minimize migraines (manic depression). For epilepsy patients above the age of ten, divalproex sodium pills and capsules are administered. Divalproex sodium can be used with or without prescription medications. As a result, you may also need to take it alongside other medications.
The divalproex sodium market is expanding owing to growing cases of bipolar ailments, along with a growing number of patients with epilepsy and migraines. Also, government intervention in expanding improved treatment and advanced R&D expeditions are expected to fuel the market in the coming years. Divalproex sodium demand is expected to rise due to an increase in the number of people suffering from epilepsy and migraine headaches throughout the world.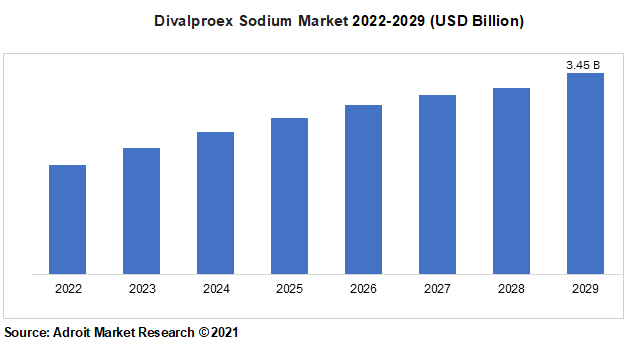 The key players in the segment are Aurobindo Pharma, Teva, Orchid, Dr Reddys Labs, AbbVie, LUPIN, Zydus Pharms, Mylan, Sun Pharm. These are the global market players in the divalproex sodium market.
Latest Innovations in the Divalproex Sodium Market
The highest resolution was obtained using a 50:50 percent v/v combination of 1hexane sulphonic acid sodium salt anhydrous and Acetonitrile. The analyte peak observed under these circumstances was highly defined and devoid of tailing. It was revealed that the RT was 3.58 minutes. The suggested technique has been validated in terms of accuracy, linearity, robustness, and accuracy, according to the ICH standard. This approach is economical and can analyze Divalproex with a tiny quantity of mobile phase due to the low retention duration. Based on a recovery survey, this procedure was shown to be accurate and precise. Because of its lower detection and quantification limitations, this approach is more sensitive. This approach is less responsive to slight changes in chromatographic settings, according to robustness data.
Divalproex Sodium Market Scope
| | |
| --- | --- |
| Metrics | Details |
| Base Year | 2020 |
| Historic Data | 2018-2019 |
| Forecast Period | 2021-2026 |
| Study Period | 2016-2026 |
| Forecast Unit | Value (USD) |
| Revenue forecast in 2026 | USD 3.0 billion |
| Growth Rate | CAGR of 6.2 % during 2021-2026 |
| Segment Covered | Application, Regions |
| Regions Covered | North America, Europe, Asia Pacific, Middle East and Africa, South America |
| Key Players Profiled | AbbVie (The U.S), Mylan, Zydus Pharms USA, Aurobindo Pharma (India), Dr Reddys Labs (India), LUPIN (India), Orchid (India), Sun Pharm (India), and, Teva (Israel). |
Key Segments of the Divalproex Sodium
By Type Overview, 2022-2029 (USD Billion)
By Application Overview, 2022-2029 (USD Billion)
Epilepsy and Migraine Headaches
Manic-Depressive Illness
Other Applications
By Region Overview, 2022-2029 (USD Billion)
North America
Europe

UK
Germany
France
Rest of Europe

Asia-Pacific

China
Japan
India
Rest of Asia-Pacific

South America
Mexico
Brazil
Rest of South America
Middle East and South Africa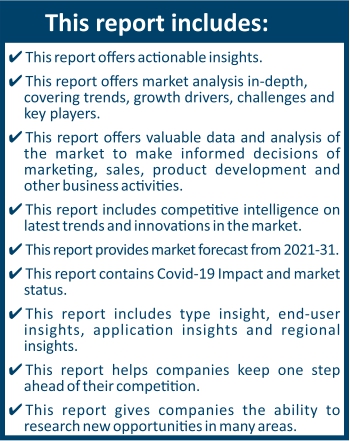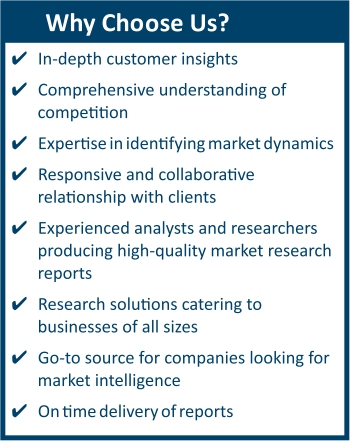 Frequently Asked Questions (FAQ) :
The market value of divalproex sodium market in 2029 was USD 3.45 billion.
The application of the divalproex sodium market epilepsy and migraine headaches, manic-depressive illness and other.
North America dominated the market for divalproex sodium market and accounted for the largest revenue share.
The top companies that hold the market share in divalproex sodium market are Aurobindo Pharma, Teva, Orchid, Dr Reddys Labs, AbbVie, LUPIN, Zydus Pharms, Mylan, Sun Pharm & among others.
The base year for the report is 2021 in divalproex sodium market.