The global market size for digital transformation in healthcare is anticipated to reach USD 210.00 billion by the end of 2025. The strong competitive pressure is proving to be a major driver for the digital transformation in healthcare. The digital transformation of healthcare will be boosted by institutional interest in cost reduction and improvement in patient engagement. Increased pharmaceutical investment, regulatory strengthening, payer engagement in digital tools and better connectivity in telemedicine through consolidation is to be expected in the coming years.
Health insurers will seek to enhance customer engagement and create allegiance through new digital instruments as they continue to explore value-based healthcare. The healthcare sector has invested directly in AI or through start-up relationships. The interest of the industry in value-based care and population health helps drive AI adoption because insurers apply data analytics to optimize healthcare costs and aid patients in obtaining adequate care to enable quality and cost-effective medicine.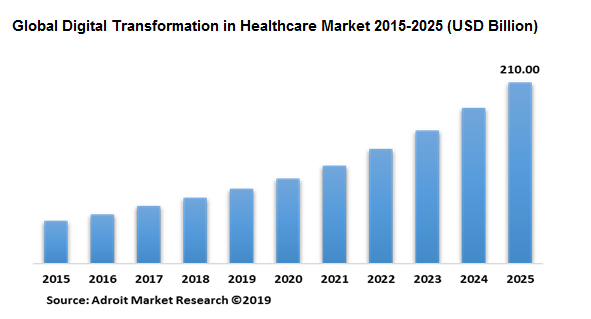 Currently, health systems regulations are poorly tailored to fast modifications in technology. This can be clarified by the fact that when it comes to changing their rules, countries proceed slowly. Reference may be created, among others, to issues relating to the licensing of inter-jurisdictional practice, authorization and certification of digital technologies, and delegation of duties, prescription or reimbursement of certain mobile apps, teleworking of clinicians and remuneration of telehealth operations. A delay of 2-3 years in adopting new technologies may lead to the technology becoming obsolete. This scenario could be explained by the fact that regulators use very ' concrete ' medical equipment with defined effects to homologate, which is almost impossible to predict by complicated interconnections linked to new digital techniques.
Digital Transformation in Healthcare Market Scope
| | |
| --- | --- |
| Metrics | Details |
| Base Year | 2019 |
| Historic Data | 2017-2018 |
| Forecast Period | 2020-2025 |
| Study Period | 2015-2025 |
| Forecast Unit | Value (USD) |
| Revenue forecast in 2025 | USD 76.34 billion |
| Growth Rate | CAGR of 14.2% during 2021-2028 |
| Segment Covered | Regions |
| Regions Covered | North America, Europe, Asia Pacific, South America, Middle East & Africa |
| Key Players Profiled | Fitbit, HealthVault, Apple, Osso VR, SentiAR, Xealth, Meditech |
Key Segments of the Global Digital Transformation in Healthcare Market
Regional Overview, 2015-2025 (USD Billion)
North America
Europe

France
UK
Germany
Italy
Rest of Europe

Asia Pacific

India
Japan
China
Southeast Asia
Rest of APAC

South America

Brazil
Argentina
Rest of South America
Reasons for the study
The purpose of the study is to give an exhaustive outlook of the global Digital Transformation in Healthcare market. Benchmark yourself against the rest of the market.

Be prepared for how Digital Transformation in Healthcare trends and the global Digital Transformation in Healthcare market will be impacted by socio-political and economic factors over the next few years

Ensure you remain competitive as new innovations and insurance models begin to enter the market.
What does the report include?
The study on the global Digital Transformation in Healthcare market includes qualitative factors such as drivers, restraints, and opportunities

Additionally, the market has been evaluated using the Porters 5 Forces and Value Chain Analysis.

The study covers qualitative and quantitative analysis of the market segmented on the basis of type and end user. Moreover, the study provides similar information for the key geographies.

Actual market sizes and forecasts have been provided for all the above-mentioned segments.

The study includes the profiles of key players in the market with a significant Global and/or regional presence.
Who should buy this report?
This study is suitable for industry participants and stakeholders in the global Digital Transformation in Healthcare market. The report will benefit:
Executives of Digital Transformation in Healthcare companies that are engaged in the Digital Transformation in Healthcare sales.

Managers within financial institutions looking to publish recent and forecasted statistics pertaining to the global Digital Transformation in Healthcare market.

Government organizations, regulatory authorities, policymakers and financial organizations looking for innovative global Digital Transformation in Healthcare solutions.

Analysts, researchers, educators, strategy managers, and academic institutions looking for insights into the market to determine future strategies.
User health is hugely influenced by wearable devices. Wearable technologies redefine patient diagnostics, disease management, and preventive treatment techniques by combining hardware, predictive analytics, and mobile apps. Since Apple announced the official launch of CareKit and ResearchKit in 2016, one point had been quite clear: wearable devices would play an important role in how we think about and how we act on our health.
Today, for almost everything, there's an interconnected wearable app. Life-threatening conditions can now be better managed by combining a wearable physical product that sends information for evaluation and suggestions to a website or mobile app. Users can share their health records in real-time and obtain faster, more precise diagnosis via wearable devices. In some cases, you even manage your conditions on-the-go.
This means that medical experts are able to use constant data flow to better diagnose and treat patients, such as blood pressure, breathing patterns, and sleep. In addition, omnipresent wearable technology allows patients to take responsibility for their own health. They are more conscious of their daily practices with user-friendly, minimalist and unobtrusive features.
The advantages of digital transformation were quickly realized by healthcare executives. Education is an obvious application of augmented reality in the healthcare field. Healthcare workers required to strive on anatomy and working of a body. AR applications permit learners to view and communicate with 3D representations of bodies. Even it is tool to let patients understand the surgery method. Apart from that, in accelerating research and drug discovery procedures, artificial intelligence has significant role to play. Its use will cut down on the time required for a drug to travel from laboratory development to the patient.
On geographical front, Asia-Pacific dominated the global digital transformation in healthcare market which was valued at USD 25.95 Billion in 2018 and is expected to do so over the forecast period 2019 – 2025. However, North America is predicted to have fastest growth rate by acquiring 14.2% CAGR during the forecast period. In Asia-Pacific, there is higher ageing population which needs comfortable healthcare facilities provided via digital medium and growing income levels coupled with increased health awareness permit the digital transformation in healthcare. Besides, in India, low-cost medical facilities attracted higher number of patients from medical tourism.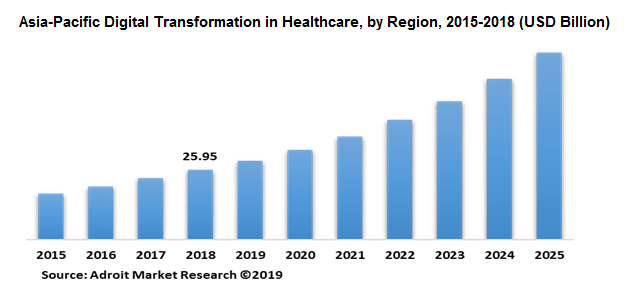 The prominent players handling global digital transformation market in healthcare includes Fitbit, HealthVault, Apple, Osso VR, SentiAR, Xealth, Meditech. Most of the players lead the way in this market by being the part of merger and acquisitions or by partnerships. For ex- in Aug 2019, Royal Philips declared acquisition of Carestream Health Inc.'s Healthcare Information Systems (HCIS) business. Carestream HCIS's cloud-enabled enterprise imaging platform is likely to expand Philips' existing enterprise diagnostic informatics solutions, which includes imaging data management, productivity enhancement, and advanced visualization and analysis.