The market for digital servo presses is driven by a variety of factors. First off, because digital servo presses perform better than traditional hydraulic presses in terms of speed, precision, and energy efficiency, the automotive industry is moving away from traditional hydraulic presses. This is due to how simple it is to integrate digital servo presses into Industry 4.0 production lines. The demand for digital servo presses is also being fuelled by the growing popularity of electric vehicles, as these vehicles are utilised to produce high-precision electrical components like batteries and motor controllers. The demand for digital servo presses is also increasing as a result of the growing miniaturisation trend because these machines can produce intricate and small parts with high precision.
The market for digital servo press products is expected to be stimulated by the significant expansion seen across a variety of industry sectors, including automotive, robotics, motor and electronics, aerospace, and medical equipment. This is because one of the most crucial pieces of equipment used in the creation of a wide variety of products is a digital servo press.
Additionally, the automotive sector is anticipated to have a significantly higher demand than other industries for the use of digital servo in the production of car parts. Additionally, the demand for precise and accurate metal pressing, particularly in motors and electronics-based items, is anticipated to increase, which will lead to an increase in the demand for digital servo presses.
The fact that digital servo presses are more accurate than their hydraulic and pneumatic equivalents is one of its benefits. This is because feedback loops are employed to control the ram's force. The result is that parts deform less during stamping operations. High repeatability means that identical components may be produced with little variation using digital servo presses. For applications requiring bulk production and constant quality, this is advantageous. Because they only use the power necessary to finish the stamping operation, digital servo presses are more energy efficient than traditional presses. As a result, energy costs are reduced, and the carbon footprint is reduced.
A form of stamping press known as a "digital servo press" use digital technology to manage the ram movement. These presses are frequently used for high-volume, high-speed processes like stamping sheet metal for automobiles. In contrast to conventional presses, which use crankshafts and cylinders, digital servo presses use linear motors. This design has a number of benefits, including increased speed and precision, reduced energy use, and reduced noise and vibration. Additionally, digital servo presses can be automated in numerous ways, such as with feeders and stackers.
The market for digital servo presses was expected to be valued US$ 831.5 Mn in 2021. It is predicted to grow at a CAGR of 3.6% from 2022 to 2031. The market for digital servo presses is expected to reach US$ 1.17 billion by the end of 2031.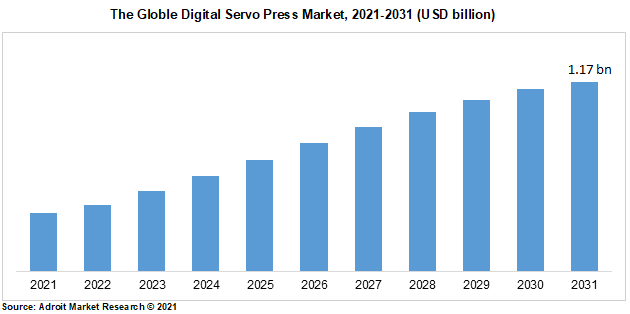 A number of restrictions apply to digital servo presses. The initial investment cost necessary to set up a digital servo press is one of the major reasons limiting the market for digital servo presses globally. As a result, small and medium-sized firms face a high entry barrier (SMEs). Additionally, the payback time is also fairly lengthy, which inhibits market expansion even more. However, compared to conventional metal forming technologies, digital servo presses offer a number of extra characteristics that are boosting their market penetration.
Dai-ichi Dentsu Ltd., Hoden Seimitsu Kako, Kenkyusho Co.,Ltd., AMADA MACHINE TOOLS CO., LTD., Promess Incorporated, Sanyo Machine Works Ltd., C&M Robotics Co.,.Ltd., Stamtec, Inc., Komatsu America Industries LLC, Coretec, Inc., and Janome Industrial Equipment are just a few of the major market participants.
Segment Analysis
The more than 200KN Type to Emerge as the Most Lucrative Segment
The digital servo press market is segmented into three categories based on type: less than 100KN, between 100KN and 200KN, and greater than 200KN. During the projection period, the more than 200KN category is anticipated to expand at a rapid CAGR. The expanding use of these systems in the automobile industry, particularly in electric vehicles, has increased demand for digital servo press systems with high force.
The Most Popular Application Segment is Automotive
Due to the increasing demand for electric vehicles around the world, the automotive segment of the digital servo press market is predicted to expand at a rapid CAGR during the forecast period. Because of the strict pollution standards enforced by different governments throughout the world, there is a growing market for electric vehicles. Government programmes like tax breaks and subsidies are also anticipated to support the expansion of this market. Applications like hard disc drives, compact disc drives, piezoelectric actuators, sensors, microphones, loudspeakers, buzzers, and chipset packaging are all a part of the motor and electronic industrial area. Increasing technical improvements in these industries are expected to cause this category to rise at a considerable CAGR over the course of the projection period.
The Region of North America will Provide Adequate Financing Avenues
North America is predicted to have significant CAGR growth throughout the forecast period in the global digital servo press market. Demand for digital servo press systems is anticipated to rise across a number of industries, including the automotive, aerospace, and construction sectors, as a result of the area's rapid industrialization. The increased use of advanced technologies like artificial intelligence and robotics is also projected to propel this market's growth in North America.
COVID-19 Impact and Market Status
The digital servo press market has been touched by Covid 19 in a variety of ways. First off, the pandemic spread has caused a slowdown in the automobile and electronic sectors, which are major consumers of digital servo presses. As a result, there is now less of a demand for digital servo presses worldwide. Additionally, the trade and travel restrictions put in place by different governments across the world have hampered supply chains and led to shortages of the raw materials and parts required to make digital servo presses. This has further impacted the worldwide downturn in digital servo press production and sales.The Covid 19 pandemic is expected to have an effect on the global digital servo press market during the course of the projected period.
Latest Innovations and Development in Global Digital Servo Press Market: A Snapshot
• HBS Bolzenschweiss-System will unveil their new 4000 kN 2-point servo press on May 31, 2021. The market's best digital data solution and motion performance are said to be offered by this new digital AC servo press device, which also offers enticing features.
• On May 31, 2021, HBS Bolzenschweiss-System will introduce their new 4000 kN 2-point servo press. This new product is wrapped in a very rigid "Tough & Smart" press and has three evolved features: basic performance evolution, industrial automation compatibility evolution, and intelligence evolution.
• PulPac and SEYI formally forged their cooperation on March 30, 2021. It is envisaged that the agreement will bring together the dry moulded fibre process with SEYI's extremely efficient and speedy production servo pressing technologies.
Digital Servo Press Market Scope
| | |
| --- | --- |
| Metrics | Details |
| Base Year | 2022 |
| Historic Data | 2021-2022 |
| Forecast Period | 2022-2031 |
| Study Period | 2021-2031 |
| Forecast Unit | Value (USD) |
| Revenue forecast in 2031 | US$ 1.17 billion |
| Growth Rate | CAGR of 3.6% during 2021-2031 |
| Segment Covered | by Type, By Application, Regions |
| Regions Covered | North America, Europe, Asia Pacific, South America, Middle East and Africa |
| Key Players Profiled | Dai-ichi Dentsu Ltd., Hoden Seimitsu Kako, Kenkyusho Co.,Ltd., AMADA MACHINE TOOLS CO., LTD., Promess Incorporated, Sanyo Machine Works Ltd., C&M Robotics Co.,.Ltd., Stamtec, Inc., Komatsu America Industries LLC, Coretec, Inc., and Janome Industrial Equipment |
Key Segment of the Digital servo Press Market
By Type Overview 2021-2031, (USD Billion)
• Less than 100KN
• 100KN-200KN
• More than 200KN
By Application Overview 2021-2031, (USD Billion)
• Motor
• Automotive
• Electronic Industry
By Region Overview 2021-2031, (USD Billion)
North America
• USA
• Canada
Asia Pacific
• China
• India
• Japan
• Rest of Asia Pacific
South America
• Mexico
• Brazil
• Rest of North America
Europe
• Germany
• France
• UK
• Rest of Europe
Middle East and Africa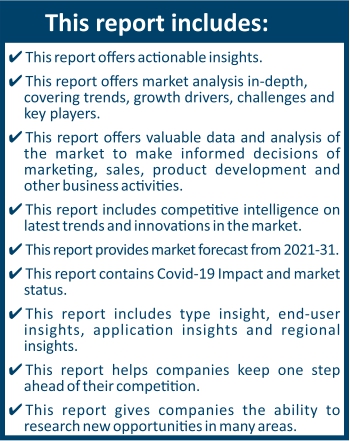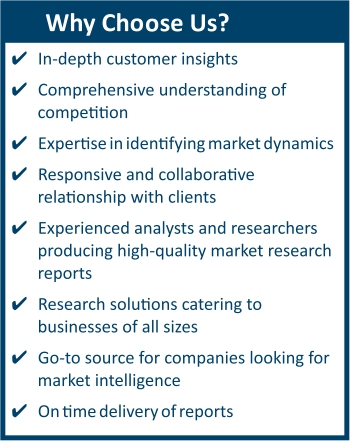 Frequently Asked Questions (FAQ) :
Digital Servo Press Market is projected to reach US$ 1.17 billion by 2031, growing at a CAGR of 3.6
The Digital Servo Press market is estimated to grow at a CAGR of 3.6%
The top leaders analyzed in the Digital Servo Press market study are Dai-ichi Dentsu Ltd., Hoden Seimitsu Kako, Kenkyusho Co.,Ltd., AMADA MACHINE TOOLS CO., LTD., Promess Incorporated, Sanyo Machine Works Ltd., C&M Robotics Co.,.Ltd., Stamtec, Inc., Komatsu America Industries LLC, Coretec, Inc., and Janome