The global destroyer market has been growing at a significant pace, owing mostly to force projection at sea.
Covid-19 Impact & Market Status
COVID-19's effect is being examined. The COVID-19 virus has spread to over 100 countries since its first outbreak in December 2019, inflicting significant losses in both lives and economic resources. Global manufacturing, tourism, and finance have been particularly hard hit, while the internet market has expanded. Many governments throughout the world have declared states of emergency and imposed countrywide, state-wide, or municipal lockdowns, essentially shutting down all manufacturing, transportation, educational institutions, and non-essential trade. This has had a significant influence on numerous sectors throughout the world, particularly in terms of decreased manufacturing and distribution.
The Propulsion Type Segment is Anticipated for the Significant Growth in the Predicted Timeframe
Diesel engines continue to be a popular alternative for both diesel and diesel-electric applications. Furthermore, leading propeller and gear manufacturers are continually enhancing their propulsion system products and components via technical developments in order to give the international naval market the quickest, most durable, fuel-efficient, and powerful propulsion systems. The propulsion system is vital to any modern Navy warship, whether it be a destroyer, cruiser, frigate, corvette, support vessel, or minehunter.
Wind-assisted propulsion is the use of sails or another sort of wind capture gear. However, as fuel prices rise and sails' capacity to reduce fuel use declines, there is growing interest in using wind power to drive commercial ships. It also serves as an alternative to systems that release huge amounts of CO2.
The Government Segment will Hold Majority of the Market Revenue in the Coming Future
A destroyer is a quick, nimble, and long-endurance warship designed to escort and defend bigger boats in a fleet, convoy, or battle group against strong short-range assaults. Before WWII, destroyers were light boats with limited endurance for unsupervised ocean operations; normally, a group of destroyers and a single destroyer tender worked together. Following the war, the development of guided missiles enabled destroyers to fill the surface combatant tasks previously held by battleships and cruisers. This resulted in bigger and more powerful guided missile destroyers capable of operating independently.
North America Market is projected to be a Maximum Growth Rate in the Future
Among the regions, the North American market for destroyers is likely to grow with the highest revenue in the coming years. DDG 51 destroyers, on the other hand, may work independently or as part of carrier attack groups, amphibious readiness groups, surface action groups, and replenishment groups. Aegis guided-missile destroyers are multi-mission surface combatants capable of engaging targets from above, below, and on the surface. On future ships of this type, anti-ballistic missile capabilities are also available. The all-steel design of the DDG offers a solid base. Ingalls shipbuilders apply lessons acquired from prior ships to enhance safety, quality, cost, and schedule requirements.
One of the key drivers for obtaining destroyers is their extended durability and quick response in all fights.
The navy has a variety of ship types available, including destroyers, littoral warships, aircraft carriers, amphibious warships, submarines, and support vessels. A destroyer is noted for its maneuverability, endurance, and quick response in the subsurface, surface, and air conflicts. The Destroyer is a floating military station armed with a fleet of missile and helicopters launchers, as well as anti-submarine warfare capabilities and radar-absorbent material. The global Destroyers market is predicted to reach over 112 USD billion at a CAGR rate of 17% during the estimated period.
Many countries intend to build destroyers in order to spread their might over the world. With 63 destroyers, the United States is the market leader. Whereas China is the developing player, it is projected to step up the pace with 35 warships in the near future.
National security, territorial integrity, and sovereign state are driving elements in global naval ship development and military capabilities. National security is the idea that a government should safeguard the state and its people from all types of "national" problems utilizing a range of power projections such as military force, diplomacy, political power, economic power, and so on, in collaboration with its parliament(s). Whereas Territorial integrity is the international law notion that governments should not seek to support separatist movements or boundary modifications in other states. In contrast, it maintains that imposing a boundary modification by force is an act of aggression.
Owing to their high power-to-weight ratio, steam turbines pose a significant challenge in destroyers, causing the ship's acceleration and maneuverability to suffer. However, with advancements in gas turbine technology, the industry is expected to accelerate.
Destroyers, sometimes known as "greyhounds of the sea," were originally designed to escort bigger warships in a fleet. They were required to resist the much smaller and quicker torpedo boats, which would dart in close to the bigger naval warships, launch their torpedoes, and then flee. When guided missiles were introduced, destroyers transitioned from simple escort vehicles to surface combat boats. This allowed them to take the place of battleships and cruisers. The current industrial tendency is to build destroyers with more capacity than their predecessors. Countries have shifted from constructing destroyers and frigates one or two at a time to a more serial production strategy, which has resulted in a fast rise in their numbers.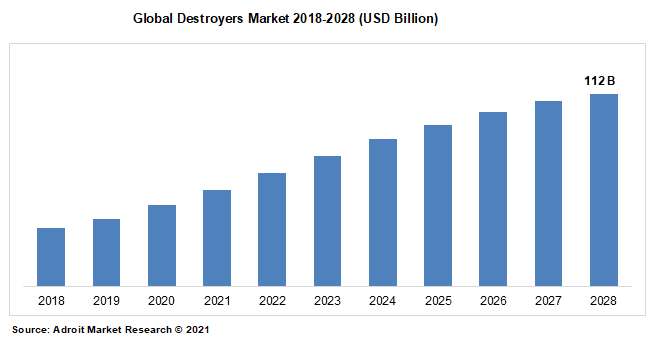 The market research contains a section dedicated exclusively to prominent players in the Global Destroyers Market, in which our specialists provide insight into all major rivals' financial statements, as well as notable advancements, product benchmarking, and SWOT analysis. Companies in this field can be tailored to the demands of the consumer. Thales, DCNS, Fincantieri, BAE System, Huntington Ingalls Industries, Finmeccanica, Northrop Grumman Corporation, Navantia, Wincaton, General Atomics, Cochin Shipyard, Babcock, United Shipbuilding, and others are among the firms profiled in the research. Market participants have been profiled based on characteristics such as financial overview, business strategy, company description, and recent developments.
Latest Innovations in the Global Destroyers Market: a Snapshot
MHI (Mitsubishi Heavy Industries) of Japan introduced the fourth of 22 Mogami-class multirole frigates for the JMSDF (Japanese Maritime Self-Defense Force) in December 2021. The 133-meter-long Mikuma sailed from Nagasaki Shipyard & Machinery Works in Nagasaki Prefecture on 10th December as well as is planned to join the JMSDF in March 2023.
This market research study's goal is to provide exact statistics on the global Destroyers market. The study decodes complex data to highlight the industry's current and historical position, as well as future market trends and growth. The study examines market leaders, investors, customers, and entrants in a variety of sectors.
Destroyers Market Scope
| | |
| --- | --- |
| Metrics | Details |
| Base Year | 2020 |
| Historic Data | 2018-2019 |
| Forecast Period | 2021-2028 |
| Study Period | 2018-2028 |
| Forecast Unit | Value (USD) |
| Growth Rate | CAGR of 17 % during 2021-2028 |
| Segment Covered | Product Type, Application, Regions |
| Regions Covered | North America, Europe, Asia Pacific, South America, The Middle East and South Africa |
| Key Players Profiled | Thales, DCNS, Fincantieri, BAE System, Huntington Ingalls Industries, Finmeccanica, Northrop Grumman Corporation, Navantia, Wincaton, General Atomics, Cochin Shipyard, Babcock, United Shipbuilding, and others are among |
Key Segments of the Global Destroyers Market
Product Type Overview, 2018-2028 (USD Billion)
Propulsion System
Radar Absorbent Material Command and Control System
Missile Launching System
ASW System
Radar System
Application Overview, 2018-2028 (USD Billion)
Regional Overview, 2018-2028 (USD Billion)
North America
Europe
Germany
France
UK
Rest of Europe
Asia Pacific
China
India
Japan
Rest of Asia Pacific
South America
Mexico
Brazil
Rest of South America
The Middle East and South Africa
Frequently Asked Questions (FAQ) :
The destroyers market is studied from 2018 - 2028.
The destroyers market is growing at a CAGR of 17% over the next 7 years.
North America is growing at the highest CAGR over 2021- 2028.
Thales, DCNS, Fincantieri, BAE System, Huntington Ingalls Industries, Finmeccanica, Northrop Grumman Corporation, Navantia, Wincaton, General Atomics, Cochin Shipyard, Babcock, United Shipbuilding