A Data Broker collects personal information from a variety of private and public sources, including driving records and motor vehicle records, census and change of address records, user-contributed content on social networking sites, consumer purchase histories, media and court reports, terrorist watch lists, bank card transaction records, voter registration lists, and health care authorities, and web browsing histories.
The value of the Data Broker market is projected to grow to US$ 462.4 Bn with an estimated CAGR of 6.8 % by 2031
Covid-19 Impact & Market Status
In the early years of 2021, COVID-19 disease began to spread over the world, sickening millions of people and causing major countries around the world to enforce foot restrictions and work stoppage orders.
Most industries have been significantly interrupted, with the exception of medical supplies and life support products, and Data Broker companies have also been seriously impacted. Due to stringent lockdowns and mobility restrictions implemented by governments around the world, the Covid-19 pandemic has had a significant influence on the global insurance brokerage business.
This resulted in the collapse of a number of insurance brokerage firms around the world, as well as the rapid withdrawal of contributions from shareholders of well-known publicly-traded insurance brokerage firms in order to satisfy their daily and long-term financial obligations.
Due to lockdowns imposed by several government entities throughout the world, many businesses in the global market for data brokers are facing decreased sales as well as disruptions in regular operational activities.
In order to recover from this catastrophic scenario, major organizations in the global data broker industry are increasing their focus on strategizing their commercial actions.
The market is divided into three types based on Types.
Unstructured data is a free-form text that can be written in any language and frequently incorporates media such as photographs or video. Traditional relational databases, which require organized fields for data entry, do not suit themselves to storing this type of data.
Structured data is pre-defined and grouped into fields that must be completed in a specified order. Images or videos can be included in this type of data, but it's all recorded as text, numbers, dates, and so on, making it easy to store in typical databases.
Based on the Application,
Banking
Due to the ever-increasing demand for greater customer service and risk management, the usage of banking in the data broker market is likely to rise at a significant rate. Governments around the world are putting more pressure on banks to use analytics tools like artificial intelligence (AI) and machine learning (ML) solutions, which can help them discover fraud.
Insurance and financial services (BFSI)
In the Financial Services and Insurance (BFSI) market, data brokers assist financial institutions with credit risk management. They assist businesses in determining whether a specific individual will be able to repay loans on time by analyzing data such as income, demography, and other factors.
Manufacturing
Data brokers are used to providing reports on business performance, customer information, and market intelligence in the Manufacturing industry. This aids in the development of data-driven decisions for improved production planning and forecasting.
Using the Region as a criterion,
Due to increased investments by major companies such as IBM Corporation (U.S.), Palantir Technologies Inc., and others, the North American region is likely to hold a significant share of more than 40% in terms of revenue generated throughout the projection period.
Increased demand for diverse data-based information on customers, technical data related to weather, natural events, different organizations, natural events, pharmacological research, and real estate information, among other causes, have all contributed to the market's rise.
High demand for unstructured and custom structured data due to a lack of standardization in IT systems, as well as rising adoption of big data technology in various industries, resulting in increased availability of raw unstructured and substandard data, are driving the market.
Because of increased spending on technologies such as automation, artificial intelligence, and the internet of things, North America will continue to dominate the global Data Broker Market from 2019 to 2028. Data Broker is a company that delivers marketing and financial data solutions to organizations.
Data brokers function as go-betweens for organizations looking to buy consumer information and the people who actually offer that information. These include financial institutions such as banks and credit bureaus, as well as supermarkets where customers scan loyalty cards and pharmacies that demand personal information while filling prescriptions. Companies and organizations have been compelled by market competency levels to contact various data brokerage firms for required, relevant, and customized data-based information in order to develop a more viable marketing strategy.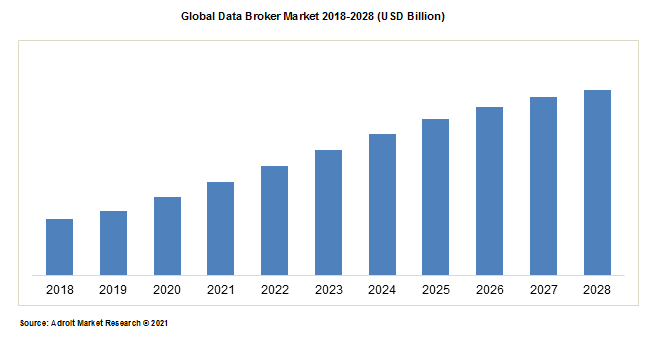 Acxiom, Experian, TransUnion, Oracle, Equifax, CoreLogic, Lifelock, H.I.G. Capital, Bloomberg, Datasift, FICO, RELX, PeekYou, TowerData, Alibaba, Moody's, Thomson Reuters, HG Data, IBM, Morningstar, Wolters Kluver, Ignite Technologies, Qlik, and IHS Markit are the major players in the Global Data Broker Market.
Latest Innovations in the Global Data Broker Market a Snapshot
The use of mobile devices has increased dramatically in recent years. As a result of this scenario, a vast amount of customer data has been generated, which can be used to enhance various businesses around the world.
Today, many customer-facing firms are turning to data analytics to learn about changing consumer behavior, purchase habits, trends, and growth opportunities. Because this is a difficult task, many businesses are enlisting the help of experts in the sector.
Data Broker Market Scope
| | |
| --- | --- |
| Metrics | Details |
| Base Year | 2022 |
| Historic Data | 2021-2022 |
| Forecast Period | 2022-2031 |
| Study Period | 2021-2031 |
| Forecast Unit | Value (USD) |
| Revenue forecast in 2031 | US$ 462.4 Bn |
| Growth Rate | CAGR of 6.8 % during 2022-2031 |
| Segment Covered | Data Type, End-use Industry, Regions |
| Regions Covered | North America, Europe, Asia Pacific, South America, Middle East and Africa |
| Key Players Profiled | Acxiom Corporation, Experian Plc, Equifax, Inc., CoreLogic, Oracle Corporation (DataLogix), Moody's Corporation, Epsilon, FICO, eBureau, Intellius, LexisNexis |
Key Segments of the Global Data Broker Market
Type Overview, 2018-2028 (USD Billion)
Structured Data
Unstructured Data
Custom Structure Data
Application Overview, 2018-2028 (USD Billion)
Manufacturing
Media
BFSI
Retail and FMCG
Government Sector
Others
Regional Overview, 2018-2028 (USD Billion)
North America
Europe
Germany
France
UK
Rest of Europe
Asia Pacific
China
India
Japan
Rest of Asia Pacific
South America
Mexico
Brazil
Rest of South America
Middle East and South Africa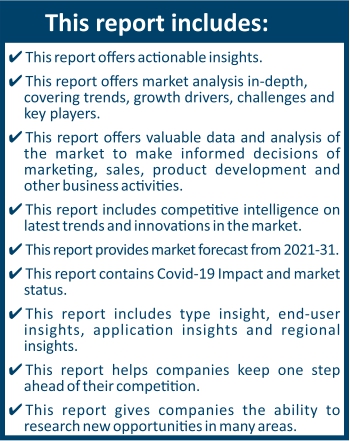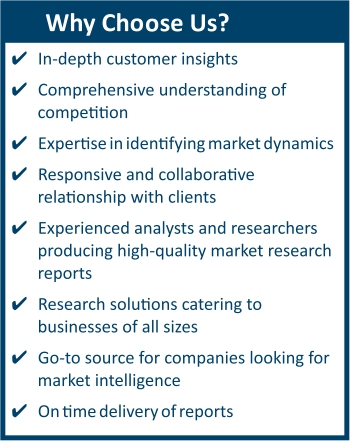 Frequently Asked Questions (FAQ) :
The data broker market is growing at a CAGR of 7.4% over the forecast period.
North America dominated the market for data broker market and accounted for the largest revenue share.
The base year for the report is 2020 in data broker market.
The top companies that hold the market share in data broker market are Acxiom, Experian, TransUnion, Oracle, Equifax, CoreLogic, Lifelock, H.I.G. Capital, Bloomberg, Datasift, FICO, RELX, PeekYou, TowerData, Alibaba, Moody's, Thomson Reuters, HG Data, IBM, Morningstar, Wolters Kluver, Ignite Technologies, Qlik.
To get latest version of data broker market report can be obtained on demand from the website.