Curtain Rods Market has been driven by the rising interest of people to invest in decorations for their households as people are willing to live a life of standard and they think that curtains make their house look attractive and wealthy. There is an increase in adoption of the curtains in both commercial areas and residential areas as it adds advantages to their surroundings. There is a need to enlarge the market as people are increasing their demands of applying curtains in almost every door, and window of their office areas, households, hotels, and shops. There is an increase in the number of construction of houses, offices, and hotels on a regular basis which demands the curtain rods market to grow.
Curtain Rods Market has a few amazing benefits it helps to make areas like offices, houses, shops, or hotels look more attractive. It helps to save the areas from dust as curtains can only be hung with the help of curtain rods. Curtain Rods are the rods that are used to hang curtains in any area like doors, windows, and more. Due to the increase in investment of people in curtains, there is a rise in demand for curtain rods. They are available in multiple types, materials, and colors which makes them preferable to people.
The market for curtain rods is estimated to be worth USD 2.1 billion in 2021, but it is likely to reach USD 3.81 billion by 2031, with a compound annual growth rate (CAGR) of 4.2% in the years following the forecast period.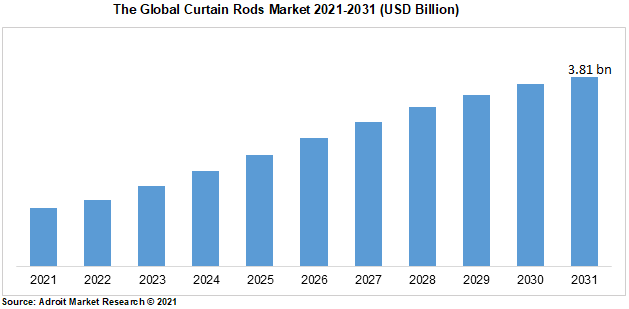 There are some limitations to the Curtain Rods market such as the rods being available in various materials which makes it more confusing to people. The metal rods if produced in heavy material won't be preferred by the people so there is a need to maintain the quality by keeping in view the weight of the curtain rods. The production of wooden curtain rods needs to be done with care as they are prone to be destroyed by the attack of weather and even bugs.
The study report gives an analysis with full details of various leading Curtain Rods Market vendors, which involve IKEA, Kirsch, FLY- ONE, Kenney, PiingHeh, KARNIX, Rowley Company, Kent International, Integra Products, Aalishan Interior Products, TreeHugger, Chapala Iron and Manufacturing Co Inc. Likewise, the research study of Curtain Rods Market contains the details on trends which are upcoming, opportunities, scope, and extortions that will hamper the procedure of market or firm. This research study is full of data and information in order to give sustenance to firms to misuse and strategize on any upcoming opportunities which are linked to the growth of the market.
Segment Analysis
Curtain Rods Market by Type (Metal Segment)
Based on Type, it has been determined that the market is dominated by the metal curtain rods category, and it is anticipated that this category will continue to grow during the projection period's remaining years. These rods have been rising in demand due to their being strong and durable. They have to hold heavy weights. They help to maintain a standard of living. Unlike wooden curtain rods, they won't get destroyed by bugs.
Curtain Rods Soap Market by Application (Households Segment)
Based on the Application, it has been analyzed that the segment of households holds a major part of the market. People prefer to use curtain rods at almost every door and window of the house and hang curtains. This is done to maintain a standard of living along with making the house look attractive. The curtains help them to save their surroundings from dust while helping to maintain ventilation in the house. It is also expected that the segment of offices along with the segment of hotels is will rise in the upcoming years of the forecast period.
Curtain Rods Market based on Distribution Channel (Offline Segment)
Based on Distribution Channel, it has been analyzed that the segment of offline stores holds a major part of the market. It is because people prefer to see and evaluate the quality of the rods before their purchase. It is also expected that there will be a rise in the segment of online stores in the upcoming years of the forecast period due to a shift to e-commerce.
Curtain Rods Market based on region
Evaluation has been done and it is stated that the North American region holds the major part of the market and is expected to grow in the upcoming years of the forecast period. There is rising demand and supply of curtain rods in this region due to the interest of people in maintaining a standard of living. They use these rods to hang curtains in their rooms, windows, and balconies to make them look attractive and save their house from dust.
Covid-19 Impact & Market Status
According to observations, COVID-19 had a significant impact on all markets and even had a global impact on consumer behaviour. COVID-19 also had an impact on the market for curtain rods. The market for curtain rods had a significant fall as a result of the worldwide recession. People did not prefer to spend to change or apply new rods in their households as they were willing to save more and spend on products that were more necessary for survival. Also, there was the shutdown of most of the shops, offices, and hotels which also did not demand any rode. There were huge losses faced by the curtain rods industry during the pandemic.
Latest Innovations in the Curtain Rods Market: A Snapshot
Currently, there is a rise in the production of curtain rods which are available in multiple colors. This makes them high in demand as people prefer to go with rods that match their background of the area instead of preferring silver curtain rods.
The aim of trade research analysis is to provide lessons that are reliable and trustworthy on the Curtain Rods Market. Data that is complex has been identified by the research study and it also demonstrates the prevailing and historical state of the industry along with market drifts which are expected and expected size of the market. All the descriptions of the sector have been recognized by the reported study which also includes leaders of the market, investors, customers, and new entrants.
Curtain Rods Market Scope
| | |
| --- | --- |
| Metrics | Details |
| Base Year | 2020 |
| Historic Data | 2020-2021 |
| Forecast Period | 2022-2031 |
| Study Period | 2021-2031 |
| Forecast Unit | Value (USD) |
| Revenue forecast in 2028 | USD 3.81 billion |
| Growth Rate | CAGR of 4.2% during 2021-2028 |
| Segment Covered | Type, Application, by Distribution Channel, Regions |
| Regions Covered | North America, Europe, Asia Pacific, Middle East and Africa, South America |
| Key Players Profiled | IKEA, Kirsch, FLY- ONE, Kenney, PiingHeh, KARNIX, Rowley Company, Kent International, Integra Products, Aalishan Interior Products, TreeHugger, Chapala Iron and Manufacturing Co Inc. |
Key Segments of the Curtain Rods Market
By Type Overview, 2021-2031 (USD Billion)
By Application Overview, 2021-2031 (USD Billion)
By End User Overview, 2021-2031 (USD Billion)
By Regional Overview, 2021-2031 (USD Billion)
North America
Europe
Germany

France

UK

Rest of Europe
Asia Pacific
China

India

Japan

Rest of Asia Pacific
South America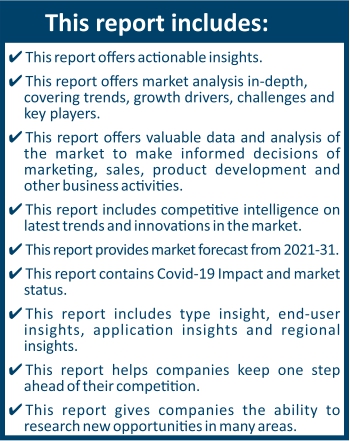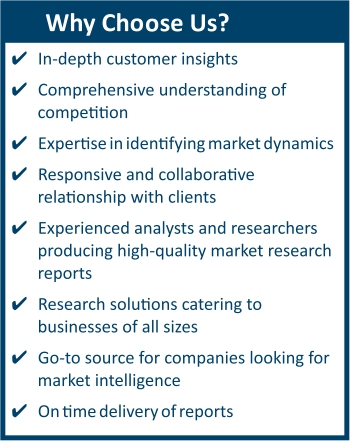 Frequently Asked Questions (FAQ) :
Curtain Rods Market is projected to reach USD 3.81 billion by 2031, growing at a CAGR of 4.2%