High-quality hardware is simple to use and can assist in increasing security and longevity. More consideration is typically given to the appearance and quality of the door and windows and their hardware than to how effectively they will operate over time, with the exception of making sure that the choice satisfies the minimal functional and code requirements. Selecting the best hardware ensures safety from robbers reducing easy access to your property, and saving both your possessions and safety.
Any structure makes an essential part of their investment in windows and doors hardware since they can lower energy expenses, boost exterior attractiveness, enhance ventilation, and create more pleasant interiors. It is imperative to focus on quality key parts of doors and windows for this can have an impact on the looks and security of the structure. Thus, it's crucial to find the ideal entry door and window for your house, but equally crucial is picking the perfect hardware.
People are becoming more concerned with the appearance of their homes and offices. Growing attention on door hardware in particular is a reflection of the seriousness surrounding aesthetics. Around the world, the sector is creating new types of housing that are labeled as being economical, eco-friendly, adaptable, stylish, or healthy. These non-traditional housing options already account for a sizable portion of all newly constructed residential structures, changing the standard for home design. Along with having well-designed doors and stylish windows, consumers are also paying close attention to door handles and hinges, which is fueling growth in the door hardware industry.
Door hardware is nothing but products like door levers, electrical door locks, hinges, handles, electrical door locks, bells, chimes, door bolts, closers, latches, stoppers, and push/pull plates. windows hardware includes window pull handles, folding handles, latches, window adjusters, window stays, and window frames.
The rapid population growth throughout the world is having an influence on the requirement for infrastructure facilities, and improved infrastructure facilities for hospitals, megamarts, educational institutions, and other development projects are developing quickly. The government also significantly contributes to the development of infrastructural facilities by making large expenditures in the construction of hospitals, government buildings, and educational institutions.
Hardware for buildings, such window and door hardware, is highly sought for on a global scale. The growing need for infrastructure development projects is one of the key factors driving the market.
Door & Window Hardware Market is projected to grow over 110 billion at a CAGR of over 4% through the forecast span of 2031.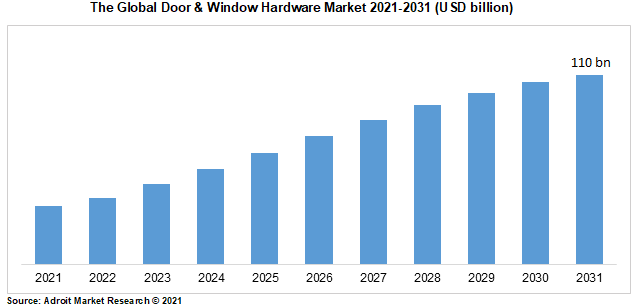 However, the market for Door & Window Hardware Market is likely to face a growing use of revolving door systems presents which presents a significant obstacle for the door hardware sector. Revolving doors are also becoming more popular as a result of the need for solutions to ensure that entrances to frequently used buildings are secure, safe, and user-friendly.
The upcoming trends will be in smart buildings and product breakthroughs. The market for door hardware has a chance to expand as a result of upgraded and reframed building technology. To create "smart" and energy-efficient buildings that respond to the needs of the moment, contractors and builders are using the internet of things as well as clever and agile technologies.
Particularly in poorer countries, smart locks are becoming more and more common. The benefit of keyless entry, automatic door locks, and increased safety and security is the foundation for the popularity of smart locks.
The major players in the Door & Window Hardware Market are Seleco Hardware decoration Products Co, Enrico Cassina, Hooply, Ltd, Allegion plc, Galbusera G. & G, Tyman PLC, Knape and Vogt, Kuriki Manufacture, Daya, Assa Abloy Group, Hafele, Anderson, Spectrum Brands, Bangpai, Ltd, Sobinco among others. To support the expanding door hardware market, the market's key players are turning to mergers and acquisitions and corporate development. SchlegelGiesse Ltd., an international business of Tyman's PLC, purchased Reguitti, an Italian company that manufactures door and window handles.
Segment Analysis
Metal Door Segment to hold the largest share
The most popular kind of door hardware is aluminum metal hardware. It is frequently used in high-end, commercial, and residential doors. Aluminum is resistant to harsh weather because of its high level of corrosion and rust resistance. Aluminum is also lighter and requires less installation than other materials like metal or wood, making it easier to maneuver through tight spaces inside of homes. Manufacturers are increasingly turning to aluminum door knobs because of their low maintenance requirements and long lifespan as consumer awareness of energy conservation and green building practices rises.
A residential segment to lead the market
In 2021, the residential market segment accounted for a large share of the total market. Two key factors that are anticipated to favor the particular market are the rapid expansion in urbanization in several places of the world and the rise in population. The performance of the builder hardware sector will be significantly impacted by non-residential over the projection period. The increasing demand for automation and changing security and safety standards are the main drivers of the corporate door market growth. Consumers are now spending more money on automated entrances, which are now present in all banks and retail malls because of the trend of fast-paced living and rising energy conservation awareness.
North America to remain atop
The market for door handles in North America is primarily being driven by a sharp increase in demand from property owners who are increasingly making investments in automated doors that are now found in shopping malls or banks due to their desire for greater convenience as well as safety concerns regarding identity theft, among other things. A rapidly growing share of the market was accounted for by Asia Pacific in 2021.
Rapid industrialization and the growth of the construction sector are two key elements that will determine its success. Japan, China, and India will be crucial in deciding the growth of the Asia Pacific region throughout the anticipated time. Recent years have seen fast industrialization in China, which has significantly impacted market performance. It very surely will have a big impact on the future market expansion. Western Europe, the second-largest region, accounted for more than 20% of the global hardware market.
Covid-19 Impact & Market Status
Despite the closures, the door and window hardware market holds a better position than the pre-COVID expert predictions. Residential window and door sales are anticipated to surpass the market in billions in the forecast period.
Looking ahead to the pandemic, the overall demand will grow faster than it did in the pre covid era. By volume, windows are anticipated to slightly exceed doors through the forecast period, with new construction predicted to see a dip before returning to its historical growth rate. Single-family demand growth will surpass multifamily demand growth in terms of unit type by volume, bucking recent trends in part because multifamily apartments tended to be concentrated in metropolitan areas that were particularly heavily hit by the epidemic.
Latest Innovations in the Door & Window Hardware Market: a Snapshot
• October 2020: Leading manufacturer of glass hardware and accessories in Latin America and the Caribbean, Olimpia Hardware, has been acquired by ASSA ABLOY.
• August 2020: ASSA ABLOY holds over 93% of the voting rights and shares capital of agta record.
Door & Window Hardware Market Scope
Metrics

Details

Base Year

2022

Historic Data

2021-2022

Forecast Period

2022-2031

Study Period

2021-2031

Forecast Unit

Value (USD)

Revenue forecast in 2031

US$ 110 bn

Growth Rate

CAGR of

4%

during 2021-2030

Segment Covered

Type, Application, By End-use, Regions

Regions Covered

North America, Europe, Asia Pacific, South America, Middle East and Africa

Key Players Profiled

Seleco Hardware decoration Products Co, Enrico Cassina, Hooply, Ltd, Allegion plc, Galbusera G. & G, Tyman PLC, Knape and Vogt, Kuriki Manufacture, Daya, Assa Abloy Group, Hafele, Anderson, Spectrum Brands, Bangpai, Ltd, Sobinco among others.
Key Segments of the Door & Window Hardware Market
Type Overview, 2021-2031 (USD Billion)
• Door Hardware
• Window Hardware
Application Overview, 2021-2031 (USD Billion)
• Residential Building
• Commercial Building
End- User Overview, 2021-2031 (USD Billion)
• Hospitals
• Clinics
• Research laboratories
• Other
Regional Overview, 2021-2031 (USD Billion)
North America
• U.S
• Canada
Europe
• Germany
• France
• UK
• Rest of Europe
Asia Pacific
• China
• India
• Japan
• Rest of Asia Pacific
South America
• Mexico
• Brazil
• Rest of South Americ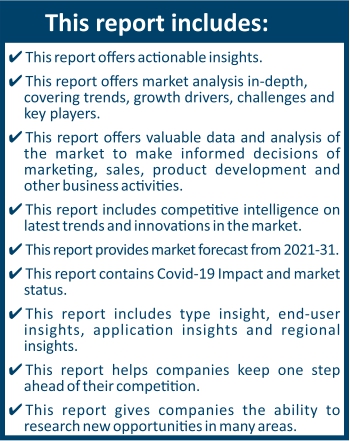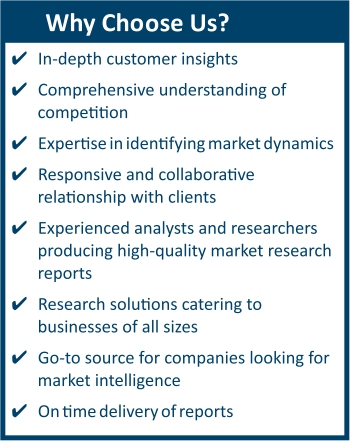 Frequently Asked Questions (FAQ) :
Door & Window Hardware Market is projected to reach 110 billion by 2031, growing at a CAGR of 4