Advantages such as cost-efficiency and 24- hour availability of services to the customers along with providing ready solutions to complex problems to the target audience create the need for services with conversational AI feature, which consequently boost the demand for conversational AI.
COVID-19 Impact& Market Status
The effect of an unforeseeable outbreak due to COVID-19 can be seen in many industries, followed by revolutionary changes in many key sectors. Hence, it can easily be concluded sector of conversational AI is not spared from the pandemic. However, contrary to the negative impact of COVID on the demand of most industries, the lockdown has increased the demand for conversational AI software especially due to changing policies of government to accommodate the prevailing situations. The study identified the escalated use of conversational AI technology in call centers during COVID period would lead to the permanent adoption of the same technology, resulted in increase in demand. This will enhance the personalized customer support and free the employees from burden of answering repetitive question at the same time. Conversational AI has become a significant tool in the sector of health care along with public sector enterprises that are thriving hard to create awareness amongst the citizen.
The customer needs dedicated support and providing exceptional customer services leading in contributing to customer delight is likely to promote the growth of Global Conversational AI market.
The adoption of advanced technology and a view to providing a more personalized consumer experience in customer-dedicated order to attract customers over the competition helps conversational AI software to spread widely.
Telecommunication sectors are continuously looking for widening for increasing the customer base and expanding their service areas but with this, the burden to provide consistent customer support is also increasing. Bots powered by next-generation technologies can be used to provide the most advance, intelligent, and human- like support and provide most effect solutions. These factors collectively inducing the overall growth in the market share of 37.94 Billion at a CAGR of 24.04% in the forecasted period of 2022 to 2029.
Furthermore, as the traffic on internet is growing because of the increased number of users has increase the dependability for the time saving solutions. There are my websites which provided knowledge of almost all the sector to the learner which causes tremendously boost in the significance of Conversational AI assistances in all sectors. The future of very efficient travel is conversational AI. For tech-savvy millennials who want to book travel on the go, it provides a cutting- edge business processing platforms. In addition to this the growth in the adoption of technological smart devices such mobiles, laptops and tablets among with others are promoting the growth of conversational AI software in the internet.
Inclination of banking sectors towards introducing new policies and aiming to engage more clients is further driving factor that causes the rise of conversational AI software. To meet the financial goals and long-term needs while not increasing the burden of employees by answering time-consuming and complex queries are what the non-banking financial institutions are aiming for and this is where conversational AI software come in handy. And purports as a key driving factor for growth in the market of conversational AI.
Some of the key driving factors such as the expansion of business with remote assistance, personalized experience to the potential customer, preservation, and collection of data in real-time, effective allocation of human workforce, scalability, cost savings, and effective communication; fueling long-term demand for conversational AI systems.
During a sudden boost in demand or holiday season, when there is a shortage of employees conversational AI system can be very effective, thus improving the scalability of the business. However, customers' apprehension to provide personal details can be quite a factor that can dampen the favorability of conversational AI in the market. As wide use of conversational AI software for customer support with the feature of improved customer engagement, resulting in rising demand in the market.
In line with this, the report offers a depth analysis of various leading corporates in Conversational AI Market which includes Google, Microsoft Body Corporate, Amazon Web Service, IBM Corporation, Oracle Corporation. Followed by this, market report offers the extensive research on upcoming trends& mega-trends, threats, opportunities, scope that cause the sudden change in the market. This report suggests the possible strategies to adopt while taking advantage of upcoming opportunities.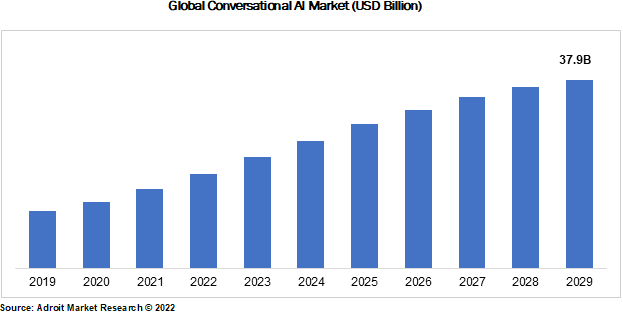 Latest Innovations in the Global Conversational AI Market: A Snapshot
Voice AI after the change in working practices anticipated by covid -19 for business meetings has become a standard feature. And now Otter upgrades AI to summarize and analyze the client's meeting. The changes made by OTTER align with those made by giants like Alibaba. More than 500 million people use order clay every day partly as a result of the transition to hybrid and homework arrangements. The company's transcribing minutes increased fourfold from 3 billion to 12 billion last year. Although its business from the alone giant truck was bringing in significant investors' checks, Otter supported its growth with the 50 million it was that little over year ago.
In Oct 2022, Conversational AI executive assistant start up Xembly has raised $15 million in a Series A funding round contribute by Norwest Venture Partners. Xembly specializes in providing a natural language processing software that enables an AI to process conversations held between people in meetings and in addition to sending in emails and helps in taking notes by sending slack messages, followed by furnishing the other relevant documents and creating to-do-list.
Square Messages is a platform which is used by business to make payments. , And now Square Messages came with the feature of conversation AI which leads to increase 10% reply rates. The latest features provide with enhance merchant suggestions on how to reply and obtain the best reaction from the consumers.
Customer experience automation platform Yellow.ai on 1 Nov 2022, announced the rollout of a $43 million worth of ESOPs to its global platform.
The market data analysis's aim is to give reliable research on the worldwide conversational AI market. The study concluded the complicated data and present the industry's present and historical state, as well as predicted market trends and size. The research identifies all relevant aspects of the sector, including market leaders, investors, customers, new entrants, suppliers, preference of consumer, and substitute entrants.
Conversational AI Market Scope
| | |
| --- | --- |
| Metrics | Details |
| Base Year | 2021 |
| Historic Data | 2019-2020 |
| Forecast Period | 2022-2029 |
| Study Period | 2019-2029 |
| Forecast Unit | Value (USD) |
| Revenue forecast in 2029 | USD 37.94 Billion |
| Growth Rate | CAGR of 24.04% during 2021-2029 |
| Segment Covered | Component, Type, Deployment, Organization Size, Technology, Industry, Regions |
| Regions Covered | North America, Europe, Asia Pacific, South America, Middle East and Africa |
| Key Players Profiled | Google, Microsoft Body Corporate, Amazon Web Service, IBM Corporation, Oracle Corporation & among others. |
Key Segments of the Global Conversational AI Market
Component Overview, 2019- 2029 (USD Billion)
• Solution
• Service
Type Overview, 2019- 2029 (USD Billion)
• Chatbots
• Intelligent Virtual Assistants
Deployment Overview,2019- 2029 (USD Billion)
• Cloud
• On- Premises
Organization Size Overview,2019- 2029 (USD Billion)
• Large Enterprises
• Small and Medium Enterprises
• Start-ups
Technology Overview,2019- 2029 (USD Billion)
• Machine Learning
• Natural Language Processing
• Data Mining
• Automatic Speed Recognition
Industry Overview,2019- 2029 (USD Billion)
• Health Care
• Non- Banking Financial Institutions
• Telecommunication
• Information Technology
• Travel and Hospitality
• SaaS
• Automobile
• Real Estate
• Media and Entertainment
Region Overview, 2019-2029 (USD Billion)
North America
• U.S.
• Canada
• Europe
• Germany
• France
• UK
• Rest of Europe
• Asia Pacific
• China
• India
• Japan
• Rest of Asia Pacific
• South America
• Mexico
• Brazil
• Rest of South America
• The Middle East and South Africa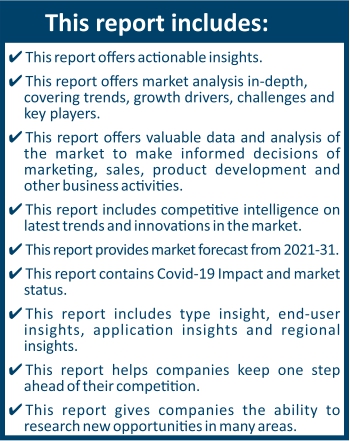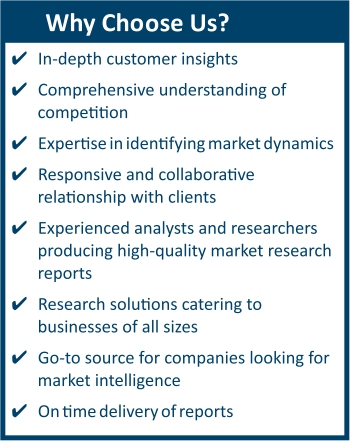 Frequently Asked Questions (FAQ) :
The market value of conversational ai market in 2029 was USD 37.94 billion.
The conversational ai market is growing at a CAGR of 24.04% over the forecast period.
The top companies that hold the market share in conversational ai market are Google, Microsoft Body Corporate, Amazon Web Service, IBM Corporation, Oracle Corporation & among others.