Stringent regulations & standards for the implementation of serialization and Increasing focus of manufacturers on brand protection to magnify growth in the global Contract Tracing Technology Market
Covid-19 Impact & Market Status
The report offers an exhaustive overview of the business dynamics and new investment strategies that are being adopted by business leaders across countries and regions to overcome the acute challenges and financial instabilities that have emerged in the post pandemic times.
The report highlights some of the best industry strategies and practices that are adopted by the players across local and global markets. Ever since the Covid-19 broke out in 2019, it has spread aggressively, resulting in rapid declaration by the WHO affirming Covid-19 as a global pandemic and an emergency.
The impact of the pandemic is widespread and the aftermath is well pronounced, gravely affecting the global contract tracing technology market. The sudden pandemic and its implications have posed significant challenges such as travel bans, quarantines, and lockdowns.
These developments are hampering operations resulting in supply chain breaches, stock market inefficiencies, and vendor chaos. These are constantly interfering with the normal functioning of industries.
Ever since the outbreak of the global crisis, impact on upstream, downstream, and midstream industries have been appalling. The report delivers a quick ready-to-deploy approach to counter such crisis and steer the global contract tracing technology market towards steady growth and systematic progression.
Amidst the pandemic, aligning with new dynamics, global contract tracing technology market has been witnessing new dynamics which are further necessitating new business models and approaches to recoup growth and revenue streams.
In this report, inquisitive business players would be provided with sufficient guidelines regarding business transformation, integral to sustain stiffening competition in the pandemic and beyond pandemic era global contract tracing technology market.
Bluetooth followed by GPS to Sustain the Highest Revenues
Bluetooth and GPS technologies are used to track and trace effectively and is expected to grow during the forecast period. In hospitals, they use these technologies to traxk potential pateints and proximity to other users.
Standalone Systems Segment Services to be the Most Lucrative
IoT devices are expected to dominate the industry as these devices are the most convenient way to spread the availability of the technology on a larger scale in a short time duration. These devices also help to connect devices and equipment with the patients that currently need it. They are used to track ventilators and how they are deployed where they need the most. This eventually helps in successfully managing the health equipment in the healthcare service delivery sector.
North America to Sweep the Largest Revenue Streams Followed by APAC
North America accounted for the largest share of 42.9% of the global contract tracking solutions market, followed by Europe (33.5%). The presence of developed healthcare systems in the US & Canada; the presence of many pharmaceutical & biotechnology companies and medical device manufacturers; stringent regulations regarding serialization; and the growing medical devices market are major factors driving market growth in North America.
Asia Pacific (APAC) is the fastest-growing market and is projected to grow at the highest CAGR of 13.8% for track and trace solutions. Growing regulatory requirements in the healthcare industry to comply with manufacturing and distribution practices, the rising number of pharmaceutical and biotechnology companies, and the significant economic development in emerging Asia Pacific countries such as China and India are the major factors driving the demand for contract tracking solutions in the APAC region.
Increase in offshore pharmaceutical manufacturing and remote authentication of products to offer new opportunities in the global contract tracing technology market
Contact tracing technologies are used to locate and isolate people suffering from infectious diseases to prevent a large-scale outbreak of any infectious diseases. These technologies can also aid in understanding virus transmission paths, assess outbreak trends, and developing effective disease management strategies. For instance, the Ebola Contact Tracing application (ECT app) was developed for the 2014 – 2016 Ebola epidemic. However, the COVID-19 pandemic has drastically increased the global demand for contact tracing technology.
Government initiatives and investments in digital contact tracing for COVID-19 are positively impacting market growth. For instance, in February 2021, the government of Ontario, Canada invested USD 2.5 million in Facedrive Inc. for the deployment of TraceSCAN, wearable contact tracing technology at workplaces.
Many private companies are launching a contact tracking app to help in alerting the spread among its employees. For instance, U.S. based privately held firms Locix and Microshare are building apps for firms to allow them to keep track of employees who may be infected. On the other hand, restaurants and bars face few issues as they open for dine-in business in the medley of tracing regulations.
Forward-looking players in the global contract tracing technology market are furthering investments towards developing advanced contract tracing technology. The social Automatic Workstations analytics and artificial intelligence (AI) to deploy comprehensive solutions.
However, huge setup costs and high costs and long implementation timeframe associated with serialization and aggregation is hampering its market.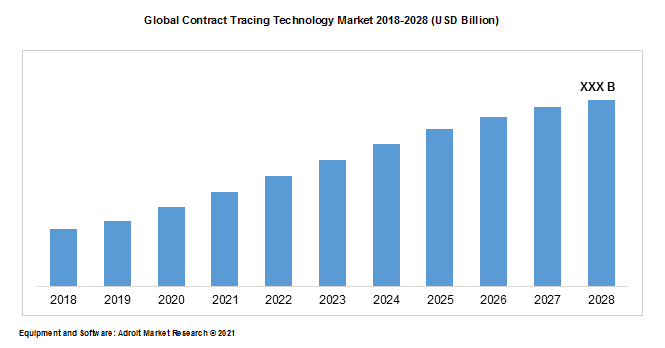 The major players of the global contract tracing technology market are Google, Apple,Microsoft, Polte Corporation, Triax Technology, Everbridge, Facedrive, Salesforce, IBM, and ImageSoft, Inc.
The contract tracing technology market is a rapidly progressing industry and is characterized to have industrial frontliners as well as aspiring new players aiming to penetrate into the aggressive competitive landscape across global and local markets. Additionally, various new and aspiring players are improving their product lines and upgrading technological capabilities to improve revenue streams amidst Covid-19 impact.
Latest Innovations in the Global Contract Tracing Technology Market: a Snapshot
In October 2020, TraceLink launched the Serialized Product Intelligence–a new cloud application that uses serialization data to provide actionable intelligence and operative excellence.
In February 2021, Anatres Vision (Italy) acquired Adents International (France). Through this acquisition the company expanded its portfolio of software solutions and cloud services for end-to-end traceability with this acquisition. The development also helped in the strengthening of the Group's international presence, especially in France.
In October 2020, OPTEL Group (Canada) partnered with Bureau Veritas (Canada). This partnership aimed to launch V-Trade, a complete assured traceability solution for COVID-19 vaccines, in addition to the whole supply chain.
Contract Tracing Technology Market Scope
| | |
| --- | --- |
| Metrics | Details |
| Base Year | 2020 |
| Historic Data | 2018-2019 |
| Forecast Period | 2021-2028 |
| Study Period | 2018-2028 |
| Forecast Unit | Value (USD) |
| Revenue forecast in 2028 | USD 2.5 million |
| Segment Covered | Technology, Devices, Database Management, Regions |
| Regions Covered | North America, Europe, Asia Pacific, Middle East and Africa, South America |
| Key Players Profiled | Google, Apple,Microsoft, Polte Corporation, Triax Technology, Everbridge, Facedrive, Salesforce, IBM, and ImageSoft, Inc. |
Key Segments of the Global Contract Tracing Technology Market
Technology Overview, 2018-2028 (USD Billion)
Global Positioning System (GPS)
Bluetooth
Wireless Fidelity (Wi-Fi)
Near Field Communication (NFC)
Wireless Sensor Network Technology
Radio Frequency Identification (RFID)
Others
Devices Overview, 2018-2028 (USD Billion)
Internet of Things
Standalone Systems
Database Management Overview, 2018-2028 (USD Billion)
Mass Tested

Government Tested Database
Identified Red Alert Area

Self-reported
Health Tracking Solutions
Regional Overview, 2018-2028 (USD Billion)
North America
Europe
Germany
UK
France
Italy
Spain
Russia
Asia Pacific
China
India
Japan
Singapore
Australia
South America
Middle East and Africa
Saudi Arabia
South Africa
UAE
Frequently Asked Questions (FAQ) :
The study period for Contract Tracing Technology Market is 2021-2028
Bluetooth followed by GPS Segment Sustain the Highest Revenues
The major players of the global contract tracing technology market are Google, Apple,Microsoft, Polte Corporation, Triax Technology, Everbridge, Facedrive, Salesforce, IBM, and ImageSoft, Inc.
The adoption of contact tracing technology is rapidly increasing to control the spread of the COVID-19 pandemic thereby driving growth of the contact tracing technology market