NFC is a short-range radio communication technique that makes it simpler for consumers to connect to different types of devices and exchange multimedia resources globally. It is principally utilised in mobiles, portable computers, and tablets for small-range data sharing (up to 0.1m or less). This technology is employed in a wide range of additional applications, including chip-enabled mobile marketing, ticketing, identity and access, and gaming, in addition to marketing and payment-related ones.
The global market for the Near Field Communication (NFC) is anticipated to develop at a compound annual growth rate (CAGR) of 19.5 % throughout the course of the forecast, to reach 113,155 by 2030.
Covid-19 Impact & Market Status
The forecast for 2029 is more optimistic than it was prior to COVID-19. Because of the growing consumption for non - contact alternatives, the COVID-19 epidemic has significantly sped up the expansion rate of the base station communication industry. During the epidemic, businesses confront a number of difficulties, such as shifting supply chains, alterations in operating hours, and the need to safeguard their staff while putting the public's health first. Consequently, during the pandemic, NFC tags as well as other non - contact techniques are extremely desirable. Additionally, to offer improved customer experiences throughout the epidemic, industry participants launched cutting-edge near field communication enabled devices. This element stimulates market expansion. For instance, in May 2019, Samsung Electronics unveiled a vertical TV that functions as a conventional TV in horizontal mode using NFC technology.
Drivers Being Mobile commerce's rising popularity
Over the past decade, the technological subdivision of mobile commerce has grown at an unheard-of rate. Furthermore, mobile devices have developed into a crucial data transfer method because to technologies like NFC that enable PoS systems. Work is being done by a number of financial institutions and mobile app developers to develop apps that will let customers do business.
The use of wearable technologies is growing.
Smart wearables and IoT gadgets are growing more and more popular by incorporating more features despite severe space and power limitations. A wearable with NFC capability enables access to public transportation, office buildings, and payment at retail establishments.
SECORA Connect, a label collection of Infineon, is an illustration of a solution household that discusses the increasing popularity of wearable technologies and IoT devices. It is a mechanical assistance created to work with smart wearables purpose of providing Dedicated Short - range Interaction for chip and pin secured payment transactions, public transport issuing tickets, and other apps (NFC).
The issue with long-distance communication
Only short-range data transfer is useful for near field communication. The communication devices must be 4 cm apart or closer together in order for data to be transferred using NFC technology. Among the primary concerns with NFC technology is this.
13.56 megahertz is the frequency at which it runs. Data transmission rates of 106, 212, or 424 kilobits per second are possible; these rates are fast enough to carry music, images, and contact information. Apple Pay, Android Pay, and Samsung Pay all make use of NFC technology, while Samsung Pay has a unique implementation.
Worries about the security of NFC
NFC offers a device no reliable privacy security, leaving it open to unintentional data or software receipt. The NFC protocol has weak protections against data eavesdropping and tampering. Because the "Contactless Payment System" is one of the most widely used applications using this technology, security is a big problem. NFC does not require authentication, so the transfer of malicious programmes could put the user at serious risk. A secure NFC application is necessary to implement the potential capabilities of an NFC-enabled application in a way that is secure in order to fully benefit from this technology.
Substitute payment methods posing a threat.
A touchscreen-based alternative to NFC is called TouchBase. Similar to QR codes, this technology incorporates digital codes into real-world things. These codes replicate finger touches made by invisible capacitive ink patterns when tapped on touchscreens. People may, for instance, include TouchBase's technology into their business cards, which, when retrieved, would reveal contact information. In addition, it is employed for tickets, promotion, and payment.
In the estimated time period, viewer emulation is anticipated to accelerate at the highest rate. Reader emulation is anticipated to have the greatest CAGR over the projection period since it is used in the majority of mobile phone and retail applications. Because of the growing need for payments, NFC-based digital payments like Google Pay, Samsung Pay, Apple Pay, and Android Pay are expected to experience the fastest growth over the next few years.
During the forecast period, non-auxiliary products will account for the majority of the NFC market. The majority of the market for NFC products was made up of non-auxiliary items. Non-auxiliary NFC commodities are inbuilt smartphone components with NFC functionality, such as NFC IC/Chips for contactless payments, access control, and safe information flow with those other Devices. The market for non-auxiliary products has expanded as a result of more people using NFC on their smartphones.
Near field communication (NFC), a relatively brief radio communication advanced technologies, simplifies the process for individuals all over the globe to link to various types of gadgets and communicate digital content.
In addition to marketing and payment-related applications, this technology is used in a wide range of other areas, such as chip-enabled mobile marketing, ticketing, identification and access, and gaming.
Peer-to-Peer near-field communication can be used for more than only secure money transfers between individuals. It can also be used to share different kinds of data, though. The feature used by the Android OS is referred to as Android Beam. By just holding two compatible phones together, Android developers can utilize this functionality to transfer films, photographs, webpages, or other types of data. But one advantage of near-field communication is that it works with contactless smart cards, RFID tags, and current RFID infrastructure.
At a CAGR of 14.8% from 2021 to 2029, the global NFC market is projected to increase from $15,531 million in 2019 to $54,521 million by 2029.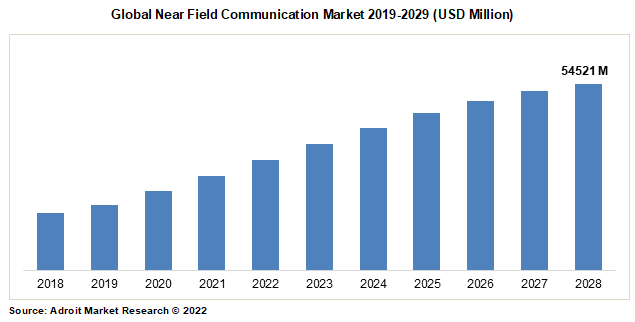 The major players of the Near field communication market are Amazon, APL Logistics, IBM Corporation, Walmart, Logitech Corporation, Samsung Electronics and others.
Latest Innovations in the Global Near field communication Market: A Snapshot
Offering NFC-enabled contactless payments and a wide range of other applications that can enhance workflow and the customer experience can help businesses retain their consumers. Additionally, consumers have grown to love innovative NFC applications like smart posters, NFC-enabled smart automobiles, and smart sensors, especially young and tech-savvy consumers, which has opened up new markets for existing businesses. Air carriers use NFC technology for priority boarding and safety access, as well as central locking for companies, structures, and automobiles, creating opportunities for the NFC industry. NFC technology is also used for payments and device-to-device sharing.
Near Field Communication Market Scope
| | |
| --- | --- |
| Metrics | Details |
| Base Year | 2021 |
| Historic Data | 2019-2020 |
| Forecast Period | 2022-2029 |
| Study Period | 2019-2029 |
| Forecast Unit | Value (USD) |
| Revenue forecast in 2029 | USD 54,521 million |
| Growth Rate | CAGR of 14.8 % during 2021-2029 |
| Segment Covered | Type, Application, Downstream Field, Regions |
| Regions Covered | North America, Europe, Asia Pacific, South America, Middle East and South Africa |
| Key Players Profiled | Amazon, APL Logistics, IBM Corporation, Walmart, Logitech Corporation, Samsung Electronics and others. |
Key Segments of the Global Near field communication Market
Type Overview, 2019-2029 (USD Million)
NFC Tags, NFC ICs/Chips
SIM Cards
NFC Readers
Others
Application Overview, 2019-2029 (USD Million)
Retail,
Transportation
Automotive
Residential & Commercial
Medical & Healthcare
Others
Downstream Field Overview, 2019-2029 (USD Million)
Non- Auxiliary Products
Auxiliary Products
Software
others
Regional Overview, 2019-2029 (USD Million)
North America
· United States
· Canada
Europe
· Germany
· France
· UK
· Rest of Europe
Asia Pacific
· China
· India
· Japan
· Rest of Asia Pacific
South America
· Mexico
· Brazil
· Rest of South America
Middle East and South Africa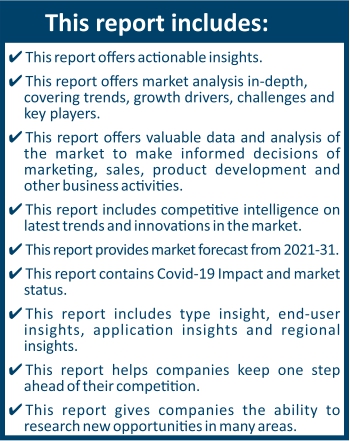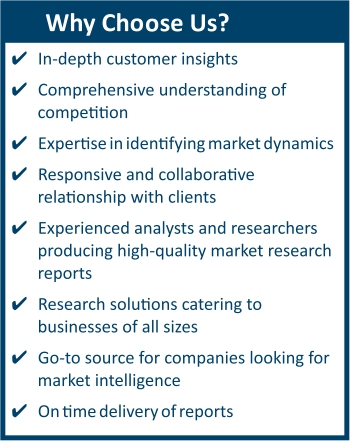 Frequently Asked Questions (FAQ) :
The market value of near field communication market in 2029 was USD 54,521 million.
The near field communication market is growing at a CAGR of 14.8% over the forecast period.
The application of the near field communication market retail, transportation, automotive, residential & commercial, medical & healthcare and other.