The improvement in safety features, such as hands-free communication options and voice recognition, as well as the rising demand for in-vehicle entertainment services and the increasing installation of advanced infotainment systems, are the main factors propelling the expansion of the worldwide automotive commercial vehicle audio systems market. Increasing demand for technologically improved audio systems is also anticipated to fuel market expansion throughout the anticipated time frame.
The need for in-car entertainment services and the rising adoption of cutting-edge infotainment systems have created a requirement for the commercial vehicle audio systems market. Additionally, there is a demand for audio systems that can facilitate easier communication between operators and drivers due to the expansion of the freight transportation industry. The development of this market is also being fueled by the rising number of safety features, including hands-free alternatives, speech recognition, and other related technologies.
Commercial vehicles like trucks, buses, and other transport vehicles employ audio systems called commercial vehicle audio systems. The systems offer cutting-edge capabilities like hands-free calling, speech recognition, and others. For connecting mobile devices, the systems also have a number of connectivity choices, including Bluetooth, Wi-Fi, USB, and Aux ports. Even when they are travelling a great distance on the road, drivers can swiftly and effectively interact with their operators owing to the audio system.
The market for commercial vehicle audio systems is anticipated to develop at a CAGR of almost 6.2% between 2021 and 2031, from a projected value of USD 8.3 billion in 2021 to USD 13.3 billion in 2031.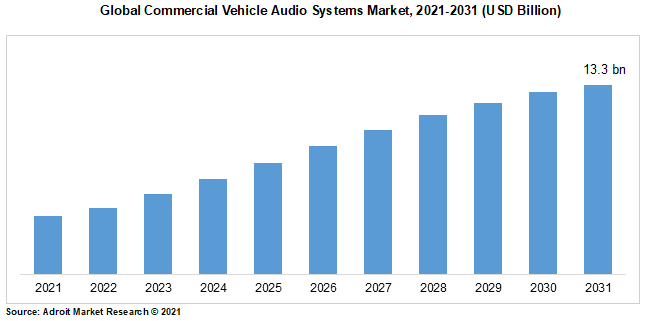 This expansion can be ascribed to elements including expanding demand for hands-free communication, better in-car entertainment systems, and rising commercial vehicle sales as a result of an increase in freight transportation activities.
The high cost of installation, repair, and maintenance is one of the main issues the global industry for automotive and commercial vehicle audio systems is facing. When compared to typical audio systems, the system's sophistication makes installation more challenging. Additionally, the successful adoption of cutting-edge technology like speech recognition and hands-free communication necessitates specialised employees, which drives up operational costs. Manufacturers are investing in creating more inexpensive and effective solutions, nevertheless, to help down these prices in response to the rising demand for high-end audio systems.
Panasonic Corporation, Robert Bosch GmbH, Harman International Industries Inc., Continental AG, Robert Bosch GmbH, Alpine Electronics Inc., Pioneer Corporation, Delphi Automotive LLP, Clarion Co. Ltd., DENSO Corporation, and Visteon Corporation are just a few of the major companies active in this market. To obtain a competitive advantage over their rivals, many businesses are concentrating on releasing cutting-edge, feature-rich products.
Segment Analysis
The QNX System Segment emerged as the Most Lucrative Type
The commercial vehicle audio systems market is predicted to be dominated by QNX systems and will reach USD 7.2 billion by 2031. This is due to commercial vehicles installing Bluetooth, Wi-Fi, USB, and Aux connections more frequently in order to connect mobile devices and offer improved communication services. Moreover, it is anticipated that demand for these systems would increase over the projection period as a result of the development of autonomous driving technology. Rising investments in connected car technologies are also anticipated to fuel this market's expansion in the ensuing years.
The Most Prominent Application is the Aftermarket Sector
Due to rising demand from fleet owners who prefer upgrading their existing audio systems with enhanced capabilities, aftermarket applications accounted for a significant portion of applications in 2020 and are predicted to maintain their dominance throughout the projection period. During the projected period, growing awareness of the need for driver safety is also anticipated to fuel this segment's expansion.
The APAC Region to render Ample Financing Opportunities
Between 2021 and 2031, the Asia Pacific is expected to have the greatest market for commercial vehicle audio systems. This is due, among other things, to the rise in motor vehicle production in nations like China, India, and Japan. Additionally, it is anticipated that the growing demand for premium vehicles with cutting-edge audio systems will speed up expansion in this area.
COVID-19 Impact and Market Status
The market for commercial vehicle audio systems has been significantly impacted by the COVID-19 Pandemic. Due to the pandemic-related closure of manufacturing and assembly facilities in various nations, the supply chain for automotive parts was hampered, which reduced demand for commercial cars. On the other hand, it is anticipated that an increase in freight transportation activities will enhance commercial vehicle sales, hence promoting the expansion of this industry. Additionally, the rising demand for cutting-edge in-car entertainment systems and hands-free calling is anticipated to boost market expansion throughout the anticipated time frame.
Recent Developments in the Commercial Vehicle Audio Systems Market
• Corning Incorporated introduced its Gorilla Glass DX+ for vehicles in February 2019 to address consumer demand for greater scratch resistance, durability, and surface reflection.
• A new JBL sound system for commercial vehicles was introduced in May 2019 by HARMAN International Industries, Inc., a Samsung Electronics Co. Ltd. subsidiary, to provide a premium audio experience and improve driving safety.
• A vehicle entertainment head unit with HD resolution capabilities and NXP Semiconductor's i.MX 8M System-on-Chip (SoC) to give high-performance audio and video capabilities was introduced by Panasonic Corporation in October 2019.
• The introduction of Apple CarPlay for commercial cars was announced by Alpine Electronics, Inc. in April 2020 in order to keep up with consumer trends and provide hands-free communication and navigation.
• An AI-enabled in-vehicle audio solution for commercial cars will be developed by DENSO Corporation in conjunction with Intel Corporation beginning in May 2021.
• Texas Instruments Inc. introduced its new lineup of commercial vehicles' automotive audio amplifiers in March 2021, promising to give higher sound quality and great power efficiency.
• To shorten the time needed for system development, Fujitsu Semiconductor Limited announced the release of its Automotive Audio Hub IC F2MC-16FX in January 2022.
• To provide a richer, more immersive audio experience, Bose Corporation announced the release of its QuietComfort Earbuds for commercial vehicles in May 2022.
• The XAV-AX7000 digital multimedia receiver for commercial vehicles, which enables hands-free communication and navigation, was introduced by Sony Corporation in July 2022.
Commercial Vehicle Audio Systems Market Scope
| | |
| --- | --- |
| Metrics | Details |
| Base Year | 2022 |
| Historic Data | 2020-2021 |
| Forecast Period | 2022-2031 |
| Study Period | 2020-2031 |
| Forecast Unit | Value (USD) |
| Revenue forecast in 2031 | USD 13.3 billion |
| Growth Rate | CAGR of 6.2% during 2021-2031 |
| Segment Covered | Type, Application, Regions |
| Regions Covered | North America, Europe, Asia Pacific, South America, Middle East and Africa |
| Key Players Profiled | Panasonic Corporation, Robert Bosch GmbH, Harman International Industries Inc., Continental AG, Robert Bosch GmbH, Alpine Electronics Inc., Pioneer Corporation, Delphi Automotive LLP, Clarion Co. Ltd., DENSO Corporation, and Visteon Corporation |
Key Segments of the Commercial Vehicle Audio Systems Market
Type Overview, 2021-2031 (USD Billion)
• QNX System
• WinCE System
• Linux System
• Other
Application Overview, 2021-2031 (USD Billion)
• OEM
• Aftermarket
Regional Overview, 2021-2031 (USD Billion)
North America
• U.S
• Canada
Europe
• Germany
• France
• UK
• Rest of Europe
Asia Pacific
• China
• India
• Japan
• Rest of Asia Pacific
South America
• Mexico
• Brazil
• Rest of South America
• Middle East and South Africa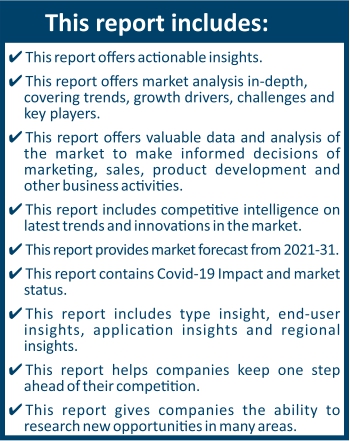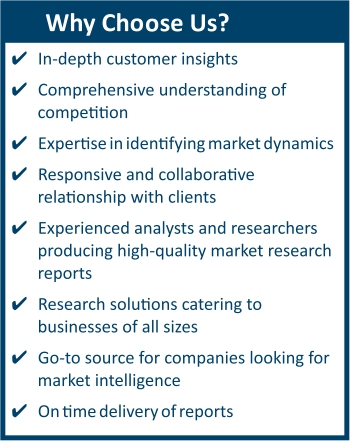 Frequently Asked Questions (FAQ) :
Commercial Vehicle Audio Systems Market is projected to reach USD 13.3 billion by 2031, growing at a CAGR of 6.2%