Commercial satellite imaging is primarily concerned with taking photographs of the world by satellite, often known as earth observation, and using these images for a variety of commercial reasons.
The global Commercial Satellite Imaging market is anticipated to increase at a 7.6 % CAGR to reach value US$ 7.0 Bn in 2031
Covid-19 Impact & Market Status
On a global scale, the COVID-19 pandemic had a significant impact on the aerospace sector. The epidemic has also had an impact on revenue streams dedicated to R&D and the adoption of innovative technologies in the commercial satellite imaging industry. However, due to the rising application of commercial satellite imagery and analytics in numerous end use sectors, post-pandemic demand for commercial satellite imaging is expected to increase significantly.
These developments have resulted in supply chain breaches, stock market inefficiencies, and vendor instability. These are constantly interfering with the normal operations of industry.
Since the commencement of the global crisis, the impact on the upstream, downstream, and midstream businesses has been disastrous. The report offers a ready-to-use method for coping with such crises while also steering the Commercial Satellite Imaging Market toward long-term growth and progress.
New dynamics have evolved in the global Commercial Satellite Imaging Market as a result of the pandemic, encouraging the creation of new business models and ways to recover growth and income streams.
This study contains enough business transformation recommendations for inquisitive business players to sustain strong competition in the pandemic and post-pandemic period Commercial Satellite Imaging market.
Military & Defence and Government are estimated to be a lucrative segment in terms of End Use
For most government organizations and defence authorities, satellite imaging provides geospatial products and services for various purposes, the most essential of which is security. Satellite imaging is a reliable source of information for any government or defence authority, with high image quality and precise information that aids in the optimization of security programmes. Furthermore, data gathered from satellite photos is assisting local governments in better assessing real-world conditions, which aids in the development of initiatives to save lives, protect property, and improve future economic stability in their areas.
Furthermore, in the defence sector, the current terror threat and attacks on important infrastructure may be tracked using geographic mapping and defended using preventative measures. Decision-making is becoming easier than ever before because to satellite imaging. Furthermore, satellite imagery aids mission planning, search and rescue operations, and the formulation of future improvements by providing exact mapping. As a result, the government and defence sectors have combined to become a major development driver for this industry.
North America is anticipated to Dominate the Market
North America is expected to dominate the market studied during the forecast period due to the highest number of researches and investments in the market studied the presence of sophisticated infrastructure to undertake space programmes, and the earliest and highest adoption of commercial satellite imaging across various industries in the region. The market researched is expected to increase further in the region as a result of the federal government's significant support for grants to academic institutions and industries in order to create highly advanced satellite imaging systems. The US government is currently overhauling its existing commercial space regulations, which need to be simplified. This is expected to boost the region's commercial space operations. For example, SpaceX launched a radar-imaging satellite for Spain's Hisdesat Servicios Estrategicos SA, as well as a broadband demonstration satellite. The satellite is planned to collect data for government and commercial users, including ship monitoring and weather data.
Acquisition and mapping, disaster management, energy and natural resource management, urban planning and development, and security and surveillance are just a few of the most common commercial satellite uses. Because of the increased use of satellite images in environmental forecasting and responding promptly to emergencies such as defence security events and natural tragedies, the importance of satellite photos is growing.
Satellite imaging is the process of creating raw image data with the use of a satellite equipped with optical sensing. Aeronautical imaging has a higher image resolution than satellite imaging since it is closer to the object. Terrestrial imaging has the highest picture resolution and is the most cost-effective, although it is limited geographically. Satellites, in addition to providing speedier picture data delivery, also provide global coverage, making them the preferred imaging solution above other options. Furthermore, after the satellite is placed into orbit, using imaging services is quite inexpensive, which is projected to fuel market expansion in the coming years.
Satellite imagery provides information that aids in the strengthening of defence operations and the provision of security services on a national and global scale. Satellite imaging already offers information on the planet's chemical, physical, and biological aspects. This data is commonly used by researchers and scientists, and it is growing in popularity among organizations that develop a variety of IT applications. They all require high-quality, precise, and current Earth imaging products. Advances in satellite imagery analysis, the development of AI (Artificial Intelligence) that uses massive datasets, and more commercial engagement are all propelling the business forward.
Satellite imagery was not available to the general public at first. End customers can now quickly access image information thanks to Google Earth and the growth of the Internet and consumer electronics. Despite the fact that Google's services are free, they account for a significant portion of the company's advertising revenue. Commercial satellite imaging is an important part of location-based services (LBS) and is particularly valuable in delivering emergency response in life-threatening situations and natural catastrophes.
Its goal is to boost imagery collection and reinvest in commercial satellite imaging infrastructure. These government contracts account for the majority of these companies' revenue, which is likely to add to overall market revenue in the forthcoming period.
The expanding use of satellite imagery for security purposes, as well as the availability of internet services to end-users, are projected to propel the business forward. Product innovation and overall market growth are projected to be aided by technological advancements and increased investment. Despite the fact that only a few organizations own imaging satellites, a huge number of companies offer software and software as a service (SaaS) integration solutions.
The Australian government has stepped up its investment in satellite technologies as they arise in diverse regions. Recently, the government said that throughout the current projected period, it will spend up to US$ 260 million on strengthening efforts related to satellite technology development and, as a result, creating different and enriched employment chances for the Australian population. Because of the numerous requirements for the expansion of security programmes, most countries are increasing their defence and military expenditures, making the defence sector one of the most active consumers of market applications and operations. Similar trends are predicted to expand market operations, assisting the market in reaching the anticipated market value by the end of the forecast year.
The lack of awareness about market applications among the target audience is one of the primary restrictions on the market's growth during the current projection period. Furthermore, governments in various global locations have a tendency to enact shutter control policies that require foreign satellites that are a part of the territorial airspace to turn off imaging equipment in extreme and critical cases, causing the market to improve its operations and grow at a slower rate.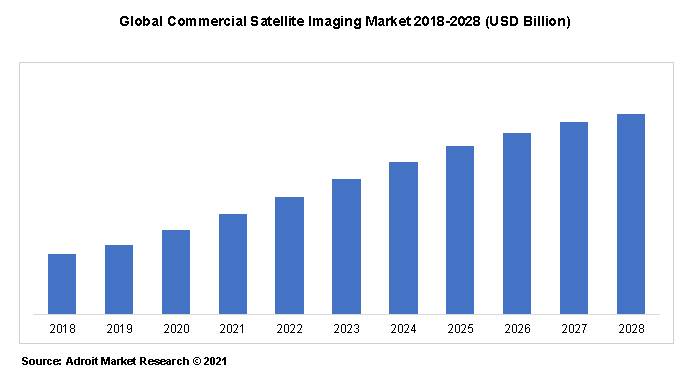 The major players of the Global Commercial Satellite Imaging Market are Galileo Group Inc., Blacksky Global, Planet Labs Inc, Telespazio, DigitalGlobe Inc., Exelis Inc., Trimble Navigation Ltd., SkyLab Analytics and Spaceknow Inc. among others.
Key Developments in the Commercial Satellite Imaging Market: A Snapshot
In February 2020, the Air Force Life Cycle Management Centre signed a multimillion-dollar contract with L3Harris Technologies to develop a software platform that will make it easier for analysts to use artificial intelligence (AI) to identify objects in large data sets, addressing a critical need for automation in the defence sector.
DigitalGlobe released OpenStreetMap imagery endpoints in July 2019, which may allow OpenStreetMap users to see content consistency between previous and new layers. Using the most recent Maxar mosaic content, the images should be more recent and updated more frequently. OSM contributors should benefit from the improved production methods.
Commercial Satellite Imaging Market Scope
| | |
| --- | --- |
| Metrics | Details |
| Base Year | 2022 |
| Historic Data | 2021-2022 |
| Forecast Period | 2022-2031 |
| Study Period | 2021-2031 |
| Forecast Unit | Value (USD) |
| Revenue forecast in 2031 | US$ 7.0 Bn |
| Growth Rate | CAGR of 7.6 % during 2022-2031 |
| Segment Covered | Application, End-use Industry, Regions |
| Regions Covered | North America, Europe, Asia Pacific, South America, Middle East and Africa |
| Key Players Profiled | DigitalGlobe, Spaceknow, Harris Corporation, Planet Labs, BlackSky Global, Galileo Group, ImageSat International, European Space Imaging, UrtheCast, Maxar |
Key Segments of the Global Commercial Satellite Imaging Market
Application Type Overview
Natural Resource Management
Geospatial Data Acquisition and Mapping
Surveillance and Security
Disaster Management
Defense and Intelligence
Conservation and Research
Construction and Development
End Use Type Overview
Construction
Government
Transportation and Logistics
Energy
Military and Defense
Forestry and Agriculture
Others
Regional Overview
North America
Europe
Germany
France
UK
Rest of Europe
Asia Pacific
South America
Mexico
Brazil
Rest of South America
Middle East and South Africa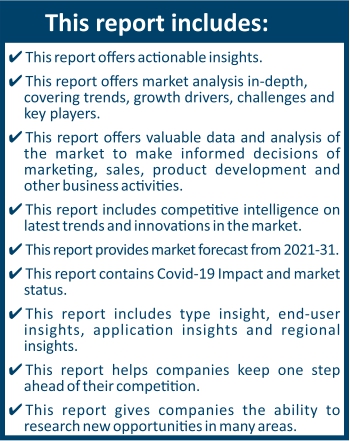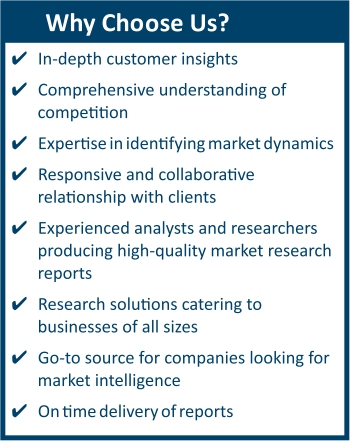 Frequently Asked Questions (FAQ) :
The base year for the report is 2020 in commercial satellite imaging market.
North America dominated the market for commercial satellite imaging market and accounted for the largest revenue share.
The application of the commercial satellite imaging market are Geospatial Data Acquisition and Mapping, Natural Resource Management, Surveillance and Security, Conservation and Research, Construction and Development, Disaster Management, and Defense and Intelligence & others.
The top companies that hold the market share in commercial satellite imaging market are Galileo Group Inc., Blacksky Global, Planet Labs Inc, Telespazio, DigitalGlobe Inc., Exelis Inc., Trimble Navigation Ltd., SkyLab Analytics and Spaceknow Inc.
To get latest version of commercial satellite imaging market report can be obtained on demand from the website.