The global collaborative robotic (cobot) market is expanding owing to rising automation demand in various industries such as healthcare, automotive, meals and drinks, metallurgy and metalworking, plastics and polymers, retail, and others.
The global Collaborative Robot market is projected to reach USD 3,998.1 million by 2028, growing at a CAGR of 26.9%
COVID-19 Impact and Market Status
The growing degree of automation in the healthcare business will provide numerous prospects for expansion. The use of robotics in hospitals and medical institutions is becoming more common. The need for other robots is particularly great in the health-care sector during a pandemic. During the epidemic, these collaborative robotics were utilised to clean and clean patient rooms. Robots are also used to screen and provide covid tests to patients in the Asia Pacific region. Hospitals can adhere to Covid 19 standards with the assistance of robots. Cobots will do even more duties in the healthcare industry in the coming years. This technological invention is boosting the global collaborative robot market.
Prospects for 5-10 kg Segment Look Bright in 2022
The global collaborative robot market is classified into up to 5 Kg, 5-10 Kg, and Above 10 Kg on the basis of payload. Among these, the 5-10 Kg payload collaborative robot segment accounted for highest market share of global collaborative robot market. The key factors such as high return on investment, growing installation of cobots in many nations, cobots becoming highly flexible and inexpensive are driving the growth of collaborative robots segment in the global collaborative robots market.
The Global Collaborative Robot Market is Driven by Processing Cobots Segment
The global collaborative robots market is classified into Handling and Processing on the basis of application. The processing segment accounted for highest market demand due to growing flexibility of robots for multipurpose solutions. The High Return on Investment as compared to Traditional Industrial Robotic system is driving the processing segment in global collaborative robot market.
The deployment of typical industrial robots in manufacturing plants requires a lengthy set-up. Those robots are bigger, and they require a lot of permanent and interlocked technical controls. Robotic arms, as well as other kinds of robot peripherals such as controllers, finished, handheld, and vision systems, are required for these robots. These robotics, like collaborative robots which function from inside fencing, require additional gear such as fittings, conveyors, and safety fencing. As a consequence, the standard industrial robotic system's physical footprint is much larger, taking up a substantial portion of retail spaces. As a result, traditional industrial robots' entire pricing, including additional hardware and components, is more than collaborative robots. Cobots have a higher Return on Investment than traditional robots because they only necessitate a vision system, control system, and determinant, whereas traditional industrial robots require a camera system, controller, and indicator, which would be a major driving factor in collaborative robot adoption.
The benefits such as high Return on The investment (ROI) generated from of the installation of collaborative robots, as well as the benefits to corporates in terms of overall competition, greater output, and improved product quality, are driving the global collaborative robot industry. Furthermore, these cobots are simpler to programme. These reasons are laying the ground work for their widespread acceptance in both SMEs and major corporations.
Cobots, also known as robotic, are automatons that can work with people and improve their abilities. Cobots, also known as automated machines, have a number of benefits, including the ease with which they may be programmed, installed, and expanded, as opposed to conventional robots. Firms apply cobots, also known as cobots, to automate activities including product assembly, packing, labelling, pumps, welder, repainting, blasting, material management, and many others.
Technological improvements have resulted in significant advancements in the robotics sector. These machines were initially costly and had limited or restricted functionality, such as a fixed spindle or fixed rotation angles. Modern-day robots, on the other hand, can execute extraordinary project successfully and at a lower cost because to technological breakthroughs. Furthermore, because of the reduction in overall expenses and the increase in production rate, they provide a speedy Return on Investment (ROI). Additionally, the use of robots in industrialization has led to the reduction in workplace injuries and accidents. It has also improved product quality and generated earnings for a range of businesses. Stats and surveys back up the experiences of businesses and organisations that have adopted collaborative practises.
However, significant expenditure associated with investment in collaborative robot and lack of skilled workforce is hampering the global collaborative robot market. Furthermore, recent advancements making collaborative robots more flexible for multipurpose solutions is anticipated to increase the demand of collaborative robots. This remains a great growth opportunity to the global collaborative robot market.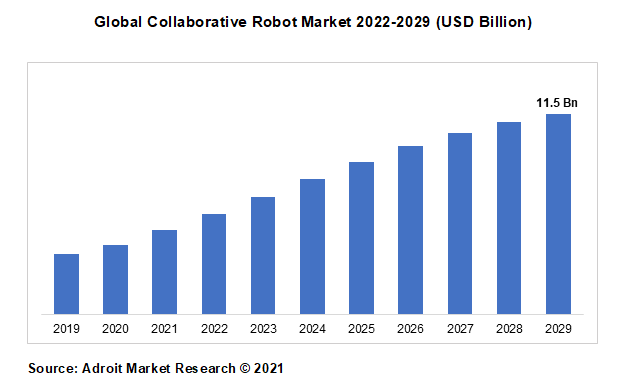 The major companies in global collaborative robot market are FANUC, Doosan Robotics, ABB, Precise Automation, Universal Robots, and Denso Corporation among others. These companies serve different segments such as industrial automation, robotics, discrete automation, electronics, etc. These companies have geographical presence in key regions such as North America, APAC, Europe, Africa, and South America. Furthermore, these major players are working on cobots with advanced visual capabilities.
Collaborative Robot Market Scope
| | |
| --- | --- |
| Metrics | Details |
| Base Year | 2020 |
| Historic Data | 2018-2019 |
| Forecast Period | 2021-2028 |
| Study Period | 2018-2028 |
| Forecast Unit | Value (USD) |
| Revenue forecast in 2028 | USD 3,998.1 million |
| Growth Rate | CAGR of 26.9 % during 2021-2028 |
| Segment Covered | By Payload Capacity, By Application, Regions |
| Regions Covered | North America, Europe, Asia Pacific, Middle East and Africa, South America |
| Key Players Profiled | The key players dominating the global collaborative robots market are Neura Robotics, F&P Robotics, FrankaEmica, MABI Robotic, Rethink Robotics, K2 Kinetics, Staubli International AG, AUBO Robotics, Yaskawa America Inc.-Motoman Robotics Div., ABB, Bosch Rexroth AG, Fanuc Corporation, Rethink Robotics GmbH, Universal Robots, Ocean Engineering International Inc., Dooshan Robotics Inc., Kuka AG and other prominent players. |
Key Segments of the Global Collaborative Robot Market
Payload Overview, 2019-2029 (USD Billion)
Up to 5 Kg
5-10 Kg
Above 10 Kg
Application, 2019-2029 (USD Billion)
Regional Overview, 2019-2029 (USD Billion)
North America
Europe
Germany
France
UK
Rest of Europe
Asia Pacific
China
India
Japan
Rest of Asia Pacific
South America
Mexico
Brazil
Rest of South America
Middle East and South Africa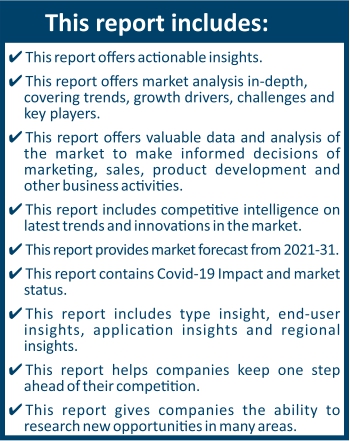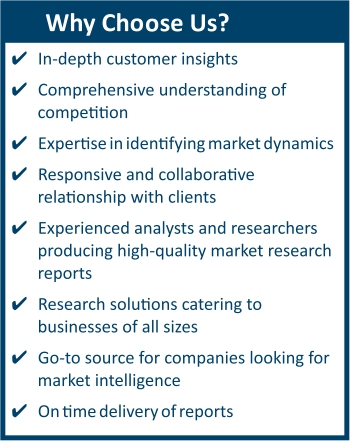 Frequently Asked Questions (FAQ) :
The market value of collaborative robot market in 2029 was USD 11.5 billion.
The collaborative robot market is growing at a CAGR of 43.4% over the forecast period.
The top companies that hold the market share in collaborative robot market are FANUC, Doosan Robotics, ABB, Precise Automation, Universal Robots, Denso Corporation & among others.
To get latest version of collaborative robot market report can be obtained on demand from the website.
The base year for the report is 2021 in collaborative robot market.