Robotic system integrators are the firms that help other firms in achieving robotic automation. They examine the requirement of a firm in terms of robotic automation and accordingly offer expertise in robotics. The main work of these systems is to design, build, program, commission and support a robot system.
The global market for robotic system integrators looks strong as it accounted USD 66.94 billion in 2018 and is estimated to be worth USD 189.49 billion by 2025, growing at a 15.9% CAGR. This market is primarily driven by increasing demand of robot integrators in the automation process. Both robot suppliers and manufacturers use robotic integrators for aptly launching robotic system and secure higher revenues. This connects growth of robot integrators market to technological advances in other industries. Technological advances in collaborative and industrial robotics lead to higher adoption rates and subsequently escalates the demand for robotic integration.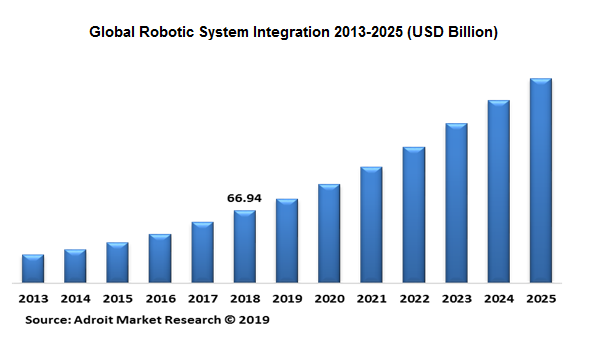 However, there are factors which may hamper the growth of robotic system integration market. Out of which, most impacting one is cost of technology. Robots cost highly depends on the type of area or field it is being used. When analyzing a requirement of robot in a company, they have to also consider other dependable parameters like space requirements, payload, reach and installation cost. Proper installation is achieved with system integrators which requires huge capital.
Robotic System Integration Market Scope
| | |
| --- | --- |
| Metrics | Details |
| Base Year | 2019 |
| Historic Data | 2017-2018 |
| Forecast Period | 2020-2025 |
| Study Period | 2015-2025 |
| Forecast Unit | Value (USD) |
| Revenue forecast in 2025 | USD 189.49 billion |
| Growth Rate | CAGR of 15.9% during 2021-2028 |
| Segment Covered | Company Size, Application, Component Type, Regions |
| Regions Covered | North America, Europe, Asia Pacific, South America, Middle East & Africa |
| Key Players Profiled | RobotWorx, Midwest Engineered Systems, Phoenix Control Systems, SIERT, Motoman Robotics, Motion Controls Robotics, Mecelec Design, Genesis Systems Group, Dynamic Automation, Geku Automation, KUKA, BW Integrated Systems and Yaskawa Motoman Automation |
Key Segments of the Global Robotic System Integration Market
Application Overview, 2015-2025 (USD Billion)
Food & Beverages
Metal & Machinery
Chemical & Rubber
Automotive
Electronics
Logistics
Others
Company Size Overview, 2015-2025 (USD Billion)
Component Type Overview, 2015-2025 (USD Billion)
Hardware
Software
Service
Regional Overview, 2015-2025 (USD Billion)
North America
Europe

France
Germany
Spain
Italy

Asia Pacific

India
Japan
China
Rest of APAC

Latin America

Brazil
Mexico
Rest of Latin America

Middle East and Africa

UAE
Saudi Arabia
Qatar
Rest of MEA
Reasons for the study
The purpose of the study is to give an exhaustive outlook of the Global Robotic System Integration Market. Benchmark yourself against the rest of the market.

Be prepared for how Robotic System Integration trends and the Global Robotic System Integration Market will be impacted by socio-political and economic factors over the next few years

Ensure you remain competitive as new innovations and insurance models begin to enter the market.
What does the report include?
The study on the Global Robotic System Integration Market includes qualitative factors such as drivers, restraints, and opportunities

Additionally, the market has been evaluated using the Porters 5 Forces and Value Chain Analysis.

The study covers qualitative and quantitative analysis of the market segmented on the basis of application, company size and component type. Moreover, the study provides similar information for the key geographies.

Actual market sizes and forecasts have been provided for all the above-mentioned segments.

The study includes the profiles of key players in the market with a significant Global and/or regional presence.
Who should buy this report?
This study is suitable for industry participants and stakeholders in the Global Robotic System Integration market. The report will benefit:
Executives of Robotic System Integration companies that are engaged in the Robotic System Integration sales.

Managers within financial institutions looking to publish recent and forecasted statistics pertaining to the Global Robotic System Integration market.

Government organizations, regulatory authorities, policymakers and financial organizations looking for innovative Global Robotic System Integration Solutions.

Analysts, researchers, educators, strategy managers, and academic institutions looking for insights into the market to determine future strategies.
Big surge in robotic work cells and robotics-based technology has been recorded. Robotics System Integration is reaching next level with intelligent robots using 3-D scanning. In addition to that, artificial intelligence will be trending in robots world. For instance, if a robot is expected to pick a product randomly, then robot has to itself figure the way picking it up. If there is no pattern available, the robot has to look at it and learn and go get it. Intelligence will add the value to the robotic system integration.
Artificial Intelligence has more to offer in future. Similarly, blend of technologies like Industrial Internet of Things (IIoT) and cloud computing technologies also have lot to offer like robust solutions to the end-user industries with help of Cloud Robotics. With the support of this technology, robots in a shares services and converged infrastructure gain from the powerful storage and computational abilities of the modern data centers. For instance, researchers at Singapore ASORO labs have fostered in creation of cloud computing infrastructure for building a 3D model of environment letting robots perform simultaneous localization and mapping. Likewise, Gostai, a robotic firm provides GostaiNet which is a cloud-based robotic infrastructure that permit robots to produce voice speech recognition and face detection tasks and record videos.
Furthermore collaborative robots are gaining momentum in the industry as these can work safely alongside humans and comparatively less expensive from their industrial counterparts. Collaborative robots are highly viable in tough industrial settings which increases their adoption by manufacturers with strict ROI requirements. In addition to this, virtual solutions are becoming integral part of robotics as it helps in proof of concept and offline programming.
Another buzzing technology which is getting closer to deployable technology is quantum computing. Industry giants like, Daimler AG is working with IBM to advance the potential use cases of quantum computing for the automotive and transportation industry.
Application Segment
Based on the application, the market is segmented Food, Metal & Machinery, Chemical & Rubber, Automotive, Electronics, Logistics and Others. In 2018, automotive segment highly adopted the robotic system integrators and made it USD 25.48 Billion industry. However, logistics sector is anticipated to attain fastest CAGR. Countries like China in Asia-Pacific region has logistics giants like Alibaba which is world's largest online retailer. These companies strive more on automation to have agile and heavy manufacturing which is achievable with use of robots and robot system integrators.
Company Size Segment
On the basis of company size, this market is bifurcated into Large and SMEs. In 2018, large companies dominated the market, however, SMEs is predicted to win the race of fastest growth rate with 18.6% CAGR during the forecast period. Small and medium size companies adopt the robotic integration system as they are diving more into automation. Developing countries like India is getting support from government to set more startups with better funding which allows startups and medium size companies to adopt robots and robotic system integrators.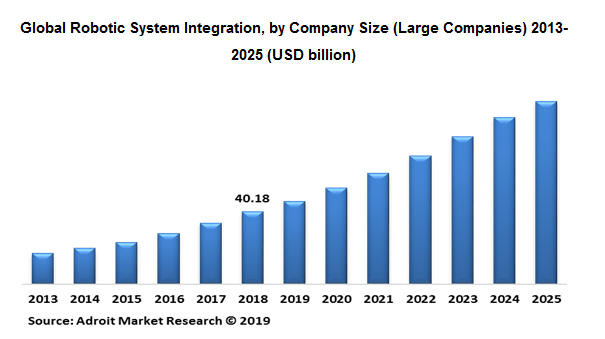 Component Type Segment
Based on the component type, global robotic system integration is segmented into hardware, software and service. Out of which, hardware segment had maximum value in 2018, however, software segment is anticipated to have fastest CAGR that is, 15.8%. Disruptive technology like IoT when blended with industrial robots, the industry reap benefits at its max by keeping count of the performance of the robot with each cycle and constant monitoring on the components. With IoT, robots become intelligent and itself can collect data and extract values with sensors which results in unparalleled information.
In 2018, Asia-pacific dominated the robotic system industry market by holding USD 47.08 USD Billion. Japan leaded the Asia-Pacific market with a value of USD 41.62 Billion in 2018. Aging population and decreasing birth rates are few of the major factors providing impetus towards robotics adoption in Japan. Due to low population of workers most of the manufacturers are implementing robotics at their facilities. Also, developing countries like India and China were among the top rank in this region. The factor that drive Chinese market is, in 2006, China crafted 5-year plans with specific goals to encourage the use of robots in manufacturing to enhance quality and reduce the need for unskilled labor, and to establish the manufacture of robots in-country to reduce the reliance on foreign suppliers.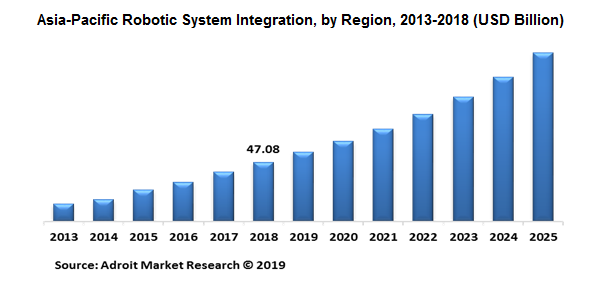 The major players of Global Robotic System Integration includes RobotWorx, Midwest Engineered Systems, Phoenix Control Systems, SIERT, Motoman Robotics, Motion Controls Robotics, Mecelec Design, Genesis Systems Group, Dynamic Automation, Geku Automation, KUKA, BW Integrated Systems and Yaskawa Motoman Automation. In 2018, Yaskawa Motoman and RAMTEC declared the formation of the Ohio Manufacturing Workforce Partnership. This partnership is likely to be a big support to the State of Ohio in building highly sustainable workforce development model and will offer Ohio students as well as educators with STEM-aligned curriculum coupled with training in order to become proficient in Industry 4.0 technologies.