The cloud storage gateway appliances are gaining traction among the users due to continuous rise in data, need to integrate cloud storage with legacy/local object storage, and rising need for data encryption. Hence, the adoption of cloud storage gateway appliances (Physical and Virtual) in various industries is increasing, which is one of the factors driving this market. For instance, in March 2018, BlackBerry and Microsoft partnered to empower the mobile workforce. By making Microsoft's mobile apps seamlessly available within BlackBerry Dynamics, enterprise users have a consistent experience when opening, editing, and saving a Microsoft Office 365 on any iOS or Android device. This enabled users to work anytime, anyplace, with rich file fidelity.
Generally, cloud storage gateways are implemented as software gateways provide a suite of services to facilitate seamless data transfer and retrieval between remote cloud storage servers, data compression for faster transfer, version management, and control of entire storage snapshots and run-time encryption, which ensures secure data transmission.
The global cloud storage gateway market size is predicted to reach over USD XX billion by 2028. This can be ascribed to the high cost associated with traditional storage It offers new opportunities for key players operating in the global cloud storage gateway market. Besides, higher deployment rate of cloud-based solutions. is affecting the market in a positive manner.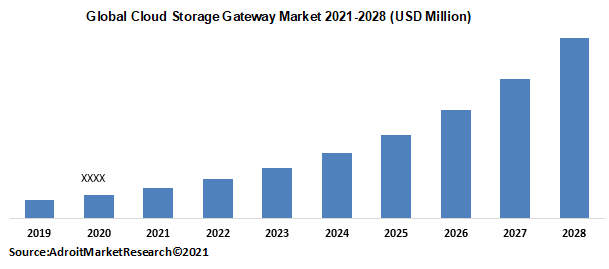 However, data security concerns and Wan speed and latency in remote areas is hampering the market growth. Furthermore, the demand for efficient disaster recovery and backup is likely to provide lucrative development opportunities for the cloud storage gateway market in the forthcoming years.
Key Segments of the Global Cloud Storage Gateway Market
Organization Size Overview, 2021-2028 (USD Million)
Small and Medium Enterprises
Large Enterprises
Deployment Type Overview, 2021-2028 (USD Million)
End Use Overview, 2021-2028 (USD Million)
BFSI
Manufacturing
Healthcare and Life Science
Retail & Consumer Goods
Research and Education
High Tech and Electronics
Media & Entertainment
Others
Regional Overview, 2021-2028 (USD Million)
o U.S.
o Canada
o UK
o Germany
o France
o China
o Japan
o India
Middle East and Africa
South America
o Brazil
Reasons for the study
The purpose of the study is to give an exhaustive outlook of the global cloud storage gateway market. Benchmark yourself against the rest of the market.
Ensure you remain competitive as innovations by existing key players to boost the market.
What does the report include?
The study on the global cloud storage gateway market includes qualitative factors such as drivers, restraints, and opportunities
The study covers the competitive landscape of existing/prospective players in the cloud storage gateway market industry and their strategic initiatives for product development.
The study covers a qualitative and quantitative analysis of the market segmented based on Organization Size, Deployment Type and End User. Moreover, the study provides similar information for the key geographies.
Actual market sizes and forecasts have been provided for all the above-mentioned segments.
Who should buy this report?
This study is suitable for industry participants and stakeholders in the global cloud storage gateway market. The report will benefit every stakeholder involved in the cloud storage gateway market.
Managers within the Cloud Storage Gateway market industry looking to publish recent and forecasted statistics about the global cloud storage gateway market.
Government, regulatory authorities, policymakers, and organizations looking for investments in trends of the global cloud storage gateway market.
Analysts, researchers, educators, strategy managers, and Government institutions looking for insights into the market to determine future strategies.
A cloud storage gateway is a software or hardware networking device that provides connectivity and protocol translation services between a cloud storage service provider and local customer application. It is a software implemented on a local machine or application to facilitate data transfer between incompatible protocols, security, and compression services. A cloud storage gateway is designed to provide better interoperability between different data protocols used in a client/server cloud architecture.
The ever-increasing volume of data on digital networks among government agencies and private enterprises encourage adoption of cloud storage, which drives the cloud storage gateways market. Gateway providers normally reduce data redundancy and surge compression capabilities to utilize bandwidth resourcefully and mobilize data, cutting down Capex and Opex cost of organizations, which drives the cloud storage gateways market growth. Reduced digital footprint for low service cost boosts demand for cloud storage gateways.
However, the market is expected to become fragmented in the forthcoming years as several new market players are emerging from developing countries such as India, Japan, China, and other countries.
Organization Size Segment
In terms of the organization size, the cloud storage gateway market is segmented into small and medium enterprises, and large enterprises. The large enterprise sector is expected to grow at a significant rate due to the need for secure management and huge data management.
Deployment Type Segment
On the basis of deployment type, the cloud storage gateway market is segmented into public,private, and hybrid. public cloud is expected to dominate the cloud storage gateway market and is expected to contribute the largest market share, whereas hybrid cloud deployment model is expected to grow at the highest rate during the forecast period. In 2015, the public cloud has shown huge adoption compared to private cloud and hybrid cloud deployment model. The public cloud deployment model for cloud-based solution is considered as a standardized, simple, and efficient model which is utilized by business organizations working in and across a number of industries
End User Segment
Based on end user, is segmented into BFSI, manufacturing, healthcare and life science, retail & consumer goods, research and education, high tech and electronics, media & entertainment and others. The BFSI industry has been estimated to have the highest market share among all the verticals due to the growing requirements to securely manage and recover data stored on cloud. The research and education industry is poised to grow at the highest rate during the forecast period owing to improved process where the cloud storage gateways are deployed in educational institutes to provide smooth access to the files shared and stored in cloud.
North America region is expected to grow at fastest rate over the forecast period. The increase of adoption in this area is due to the high penetration of cloud-based organization in this region. Furthermore, Asia-Pacific market is expected to grow at a higher CAGR in the forecast period due to the increasing adoption of cloud-based storage solutions and rise in demand for fast, secure, reliable and easy accessible storage environment in various industries.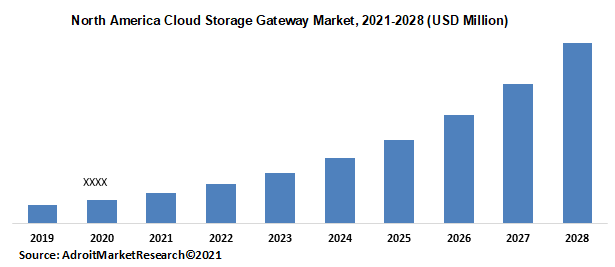 The major players of the global Cloud Storage Gateway Market are Agosto, Amazon Web Services, CTERA Network Corporation, EMC Corporation, Emulex Corporation, Hewlett-Packard, Maldivica Inc., Microsoft Corporation, Nasuni, NetApp, Dell Inc., Oracle Corporation. In addition, the previously recognized as well as new market players are approaching the market with advanced and new strategic solutions and to remain competitive in the global market.