The global clinical decision support system (CDSS) market is estimated to reach USD 2.5 billion mark by 2026, growing at a CAGR of 11.3% during the forecast period from 2020 to 2026. Growing demand for high quality healthcare in both developed and developing economies, and reliable integrated solutions is a major trend facilitating the growth of this market. More and more hospitals are recently installing advanced information systems for seamless data storage, transfer and interpretation. Furthermore, healthcare institutions and associations worldwide are also advocating the initiatives taken by governments towards healthcare data integration. IT solutions such as clinical decision support systems are sophisticated tools and well regulated, and are therefore expected to fulfil the stringent regulatory criteria, well since the development phase.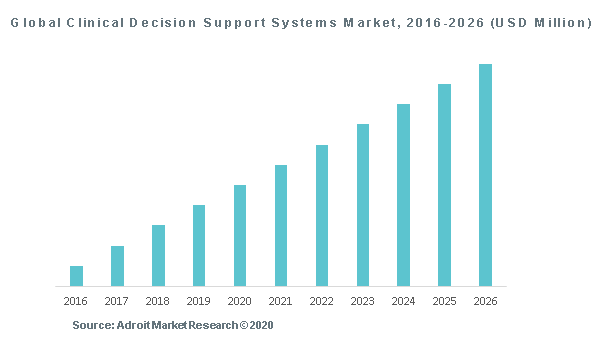 Come of the most prominent players in the global clinical decision support systems market are McKesson Corporation, IBM, Philips Healthcare, Cerner Corporation, Siemens Healthineers, Wolters Kluwer NU, Hearst Health, Elsevier B.V., Medical Information Technology, Inc., NextGen Healthcare Information Systems, Epic Systems Corporation and Allscripts Healthcare Solutions.
Key Segments of the Global Clinical Decision Support Systems Market
Component Overview, 2016-2026 (USD Million)
Delivery Mode Overview, 2016-2026 (USD Million)
Function Overview, 2016-2026 (USD Million)
Sales and Marketing
Customer Service and Support
Case Management
Others
Regional Overview, 2016-2026 (USD Million)
North America
Europe

Germany
United Kingdom
France
Rest of Europe

Asia Pacific

China
Japan
India
Rest of Asia Pacific

Latin America

Brazil
Mexico
Rest of Latin America

Middle East & Africa
Reasons for the study
Novel initiatives by healthcare organizations to reduce healthcare expenditure while augment efficiency and patient satisfaction
Growing preference of healthcare organizations towards value-based healthcare
Growing rate of chronic diseases and related readmissions for efficient disease management
What does the report include?
The study on the global clinical decision support system market includes qualitative insights such as drivers, restraints, challenges and opportunities
Additionally, the market has been evaluated using the Porter's five forces analysis
The study covers qualitative and quantitative analysis of the market segmented on the basis of component, deployment mode and function. Moreover, the study on clinical decision support system market provides similar information for the key geographies.
Actual market sizes and forecasts have been provided for all the above-mentioned segments
The study includes the profiles of key players operating in the market with a significant global and/or regional presence
Who should buy this report?
The report on the global clinical decision support system market is suitable for all the players across the value chain including software and hardware providers, maintenance and upgrade solution providers, healthcare organizations, distributors, and technology intermediaries
Venture capitalists and investors looking for more information on the future outlook of the global clinical decision support system market
Consultants, analysts, researchers, and academicians looking for insights shaping the global clinical decision support system market
Consistent and rapid advancement in the field on IT and bioinformatics are leading to optimization in the area od data recording, storage, transfer and management along with data analytics in healthcare organizations. This market is expected to further witness more prominent innovation being introduced by large firms with significant investments. The use of AI and cloud computing is expected to further revolutionize this space. There has been historically significant increase in the number of healthcare organizations installing different forms of clinical decision support systems; and in the recent times, there is an upsurge being witnessed to upgrade the existing solutions, therefore serving significant potential for the market players.
The demand for advanced clinical decision support systems using real time knowledge and cloud computing is phenomenally growing in the developed markets of North America and Western Europe. Such solutions are assisting healthcare organizations in these regions on the ground of consistent growth in the number of patients with chronic diseases.
Healthcare facilities worldwide have increased their focus on providing quality healthcare to patients, which will boost the market growth. The clinical and patient data stored in the systems and on cloud can be efficiently accessed by the concerned medical personnel, therefore improving the quality of care while ensuring complete comfort to the patient. Additionally, collaborations between healthcare organizations and CDSS solutions providers has also led to significant innovation and customization serving specific needs of users. It is anticipated that the following growth opportunities shall be evident in the market in the near future:
Introduction of interoperable solutions
Growing usage in the area of patient surveillance
Deployment in population health management
Automation in the field of direct communication with patients
In the current market scenario, the demand for CDSS that integrate with the electronic health records of any hospital is high. However, there is also a consistent demand for standalone CDSS due to their low cost, simple operability and ease of use in smaller facilities. There is growing awareness about integrated CDSS in large organizations, where prompt and seamless communication and data exchange among departments is essential for optimal functioning. Additionally, efficient deployment of CDSS offers solutions like precise prediction of drug reaction and patient's response to any dosage, this helps physicians to take prompt and appropriate decisions regarding drug combination and drug dosage. Based on the mode of delivery, the adoption of on-premise delivery systems is high, due to the information safety and privacy concerns.
In the base year 2019, North America dominated the global clinical decision support systems market. The demand for healthcare information systems and integrated solutions with EHRs has always been high in the region. High prevalence of both chronic and acute conditions in the region is a major contributor to the growing piles of healthcare records in the U.S., this has contributed to the need for fine and robust clinical decision support systems. However, this demand is further catered by the already well-established healthcare infrastructure, high capability of the healthcare system of incurring installation and maintenance costs and better awareness. Additionally, Asia Pacific is expected to be the fastest growing regional market due to increasing investments in healthcare infrastructure in Japan, China, India and Australia, burgeoning medical tourism industry and so on.