The growing usage of clad plates as a cost-effective solution in the building of various vessels, pipe systems, and pressure vessels in industries including oil & gas, power generation, and transportation is one of the market-driving factors for clad plates. The market is expanding as a result of the expanding usage of clad plates in industrial applications for the construction of storage tanks, fuel tanks, and chemical reactors. Manufacturers have been able to reduce product weight and improve efficiency through the creation of lightweight materials with a better strength-to-weight ratio. This is probably going to enhance the demand from different businesses for the clad plate.
Additionally, the use of improved production techniques is anticipated to increase demand from end-user industries, propelling the expansion of the worldwide clad plate marketplace.
The Clad Plate Market is crucial since it provides a necessary component for the manufacture of metal parts. Applications requiring better corrosion and wear resistance, such as those in maritime conditions, chemical processing, and oil and gas production, call for the usage of clad plates. Because of its strength, formability, weldability, and corrosion resistance, it is also utilised in structural applications.
Additionally, because of their relatively inexpensive manufacturing method, clad plates provide a more affordable solution than other materials. Additionally, because clad plates are lightweight and need less energy to produce, their use reduces the global carbon footprint. These factors indicate that the Clad Plate Market will expand significantly during the coming years.
A carbon steel or low alloy metal sheet and a stainless steel plate are joined together to create a composite steel plate known as a clad plate. To prevent the corrosion of carbon steel, this metal combination is used. Explosion-bonded clad plates, which are created by explosively joining two metals together, are the most prevalent type of clad plate. Using a clad plate as opposed to more conventional corrosion protection techniques like painting or hot-dip galvanising has various advantages. Clad plates last longer and are more cost-effective. Due to the lack of harmful chemicals required during manufacturing, they are also more ecologically responsible.
The global market for clad plates is anticipated to develop at a CAGR of 4.2% between 2021 and 2031, from a value of USD 5.62 billion in 2021 to USD 7.77 billion by 2031.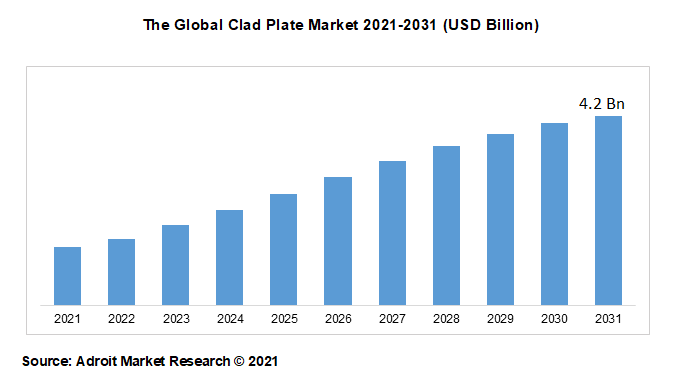 A composite material known as the clad plate is created by layering and bonding two or more metals together under pressure and heat. Explosion-bonded clad plates, roll-bonded clad plates, etc. are a few examples of the various types of clad plates. These plates are widely used in the water treatment, chemical, and oil & gas industries because they offer superior resistance to corrosion and high temperatures while being lighter than solid metal plates.
The expansion of the worldwide clad plate market is being constrained by a number of issues. First off, market participants are finding it extremely difficult to compete because of the high price of raw materials. Another significant factor impeding market expansion is the strict environmental restrictions regulating the usage of dangerous chemicals in production operations. Thirdly, the market expansion is being hampered by how unstable crude oil prices are on a worldwide scale. The availability of substitutes like stainless steel and aluminium is also posing a significant barrier to market expansion.
Finally, the development of the worldwide clad plate market is also being constrained by a lack of staff with the expertise to operate the complicated gear. Additionally, the expensive cost of installation, upkeep, and repair is impeding the market's expansion. Yet, in the upcoming years, it is anticipated that profitable chances for market expansion would be provided by technical advancements and the introduction of novel goods. Additionally, it is anticipated that current research in the area of clad plate technology would open up new prospects for market expansion.
Nippon Steel & Sumitomo Metal Corporation (Japan), POSCO (South Korea), thyssenkrupp AG (Germany), Outokumpu Oyj (Finland), Voestalpine AG (Austria), ArcelorMittal S.A. (Luxembourg), JFE Holdings, Inc. (Japan), and Aperam S.A. (Luxembourg) are the leading companies in the global clad plate industry. These suppliers have a broad range of products and are constantly creating new ones to meet market demands.
Segment Analysis
The Explosion Bonded Clad Plate Segment emerged as the Most Lucrative Type
The market is divided into Explosion Bonded Clad Plate and Roll Bonded Clad Plate based on Types. Due to its exceptional strength and longevity, Explosion Bonded Clad Plate is predicted to dominate the industry. Its greater corrosion resistance and higher temperature resistance, among other things, are also anticipated to contribute to the segment's growth over the forecast period.
The Most Prominent Application is the Oil and Gas Segment
The market is divided into Oil and Gas, Chemical Industry, Water Treatment, and Others based on application. Due to its extensive use in oil and gas pipelines, the oil and gas segment is anticipated to dominate the market over the forecast period. It is also anticipated that other factors, including the increased government expenditure in the development of new oil resources and the growing demand for oil and gas globally, will contribute to its domination.
The North American Region to render Ample Financing Opportunities
According to region, North America is anticipated to hold a dominant position in the worldwide clad plate market throughout the course of the forecast period due to increased demand from end-user industries like the chemical and oil & gas sectors across nations like the US, Canada, and Mexico. The demand in this region is anticipated to be further fueled by the presence of well-established infrastructure for these industries as well as rising investments.
COVID-19 Impact and Market Status
The COVID-19 pandemic epidemic has had a substantial effect on the clad plate business. Due to the lockdown measures put in place by various governments around the world, demand for clad plates from end-use industries like oil and gas, chemical, and water treatment has dramatically decreased. As a result, clad plate production and sales will decline in 2020. As demand from end-use sectors progressively recovers to pre-pandemic levels in 2021, the market is anticipated to recover. The automotive and construction sectors' rising need for clad plates is also anticipated to drive market expansion in the next years.
Recent Developments in the Clad Plate Market
• Nippon Steel Corporation announced the creation of a brand-new series of clad plates in January 2022 called "Creep Resistant Clad Plates." This series is appropriate for usage in high-temperature situations like power plants or waste incineration facilities and has good creep resistance. It is predicted that these fields will use it extensively.
• Hyundai Steel Co. Ltd. announced the introduction of a new line of wear-resistant clad plates in May 2021. These plates have improved resistance to abrasion and impact. The product line is constructed of two distinct materials: an inner layer of hard-facing alloy and an outer layer of stainless steel. Excellent corrosion protection and long-lasting abrasion protection are both provided by this combination.
• Metinvest Holding LLC announced the introduction of its new line of high-strength, corrosion-resistant clad plates in August 2020. The plates have greater endurance and corrosion resistance even in tough situations since they are made using cutting-edge welding techniques. Applications in oil and gas production, petrochemical plants, chemical processing facilities, and other industrial settings where they can offer improved safety and efficiency, are what the company is aiming for.
Clad Plate Market Scope
| | |
| --- | --- |
| Metrics | Details |
| Base Year | 2022 |
| Historic Data | 2020-2021 |
| Forecast Period | 2022-2030 |
| Study Period | 2020-2030 |
| Forecast Unit | Value (USD) |
| Revenue forecast in 2030 | USD 7.77 billion |
| Growth Rate | CAGR of 4.2 % during 2021-2030 |
| Segment Covered | Type, Application, Regions |
| Regions Covered | North America, Europe, Asia Pacific, South America, Middle East and Africa |
| Key Players Profiled | Nippon Steel & Sumitomo Metal Corporation (Japan), POSCO (South Korea), thyssenkrupp AG (Germany), Outokumpu Oyj (Finland), Voestalpine AG (Austria), ArcelorMittal S.A. (Luxembourg), JFE Holdings, Inc. (Japan), and Aperam S.A. (Luxembourg) |
Key Segment of Global Clad Plate Market
By Type Overview 2021-2031, (USD Billion)
• Explosion Bonded Clad Plate
• Roll Bonded Clad Plate
By Application Overview 2021-2031, (USD Billion)
• Oil and Gas
• Chemical Industry
• Water Treatment
• Others
By Region Overview 2021-2031, (USD Billion)
North America
• USA
• Canada
Asia Pacific
• China
• India
• Japan
• Rest of Asia Pacific
South America
• Mexico
• Brazil
• Rest of North America
Europe
• Germany
• France
• UK
• Rest of Europe
Middle East and Africa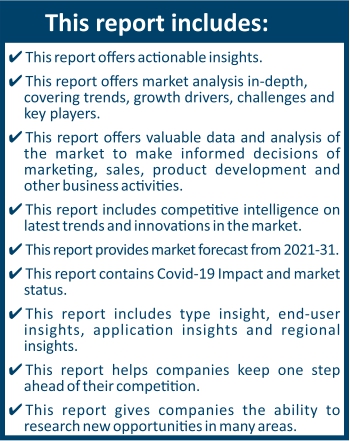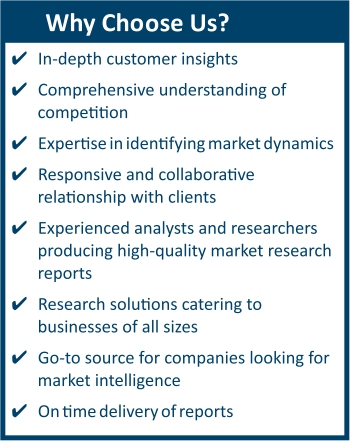 Frequently Asked Questions (FAQ) :
Clad Plate Market is projected to reach USD 7.77 billion by 2031, growing at a CAGR of 4.2%