Market analysis and insights
The global caviar market was valued at US$ 465.02 million in 2023 and by 2033 it is expected to grow USD 975.03 million growing at a CAGR of 7.7% during the forecast period.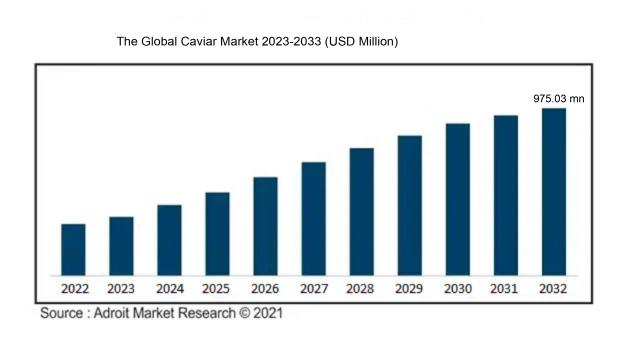 The rise in the development of caviar production from aquaculture is one of the key factors anticipated to propel market expansion for caviar during the forecast period. Additionally, a rise in consumer disposable income is projected to fuel the caviar market's expansion. Also predicted to support the caviar market's expansion is the rise in consumer awareness of other cuisines.
Caviar Market Scope :
| | |
| --- | --- |
| Metrics | Details |
| Base Year | 2022 |
| Historic Data | 2021-2022 |
| Forecast Period | 2022-2032 |
| Study Period | 2021-2032 |
| Forecast Unit | Value (USD) |
| Revenue forecast in 2033 | US$ 975.03 million |
| Growth Rate | CAGR of 7.7% during 2021-2033 |
| Segment Covered | by Product, By Form, By Application, Regions |
| Regions Covered | North America, Europe, Asia Pacific, South America, Middle East and Africa |
| Key Players Profiled | Caviar Blanc, AmStur Caviar., AMANGUL TULBERGENSepehr Dad Caviar, Agroittica Lombarda SpA, Caviar de Riofrio, KARAT CAVIAR, Caviar Creator Inc., The Caviar Co., Caviar de France, Sterling Caviar., Osage Catfisheries Incorporated., Hangzhou Qiandaohu Xunlong Sci-tech Co., Ltd., Russian Caviar House, California Caviar Company, Labeyrie Fine Foods SAS, Black River Caviar., DELICATESSEN SNAILEX S.R.O., Sasanian Caviar, Inc., AMUR-Caviar A, among others. |
Market Definition
Caviar is a high-end culinary item made from the refined eggs, or roe, of specific fish species, most frequently sturgeon.
Due to its unique flavor, texture, and scarcity, sturgeon caviar is highly appreciated and regarded as a delicacy.
The region surrounding the Caspian Sea, mainly Iran (formerly Persia) and Russia, produces the most known and sought-after caviar. The most well-known varieties of sturgeon caviar include Beluga, Ossetra, and Sevruga. The size, color, and flavor characteristics of each kind vary.
Normally, mature eggs from female sturgeons are carefully removed in order to collect caviar. To improve the taste and lengthen the shelf life of the eggs, they are then gently salted or cured.
Sturgeon caviar becomes harder to get and more costly as a result of overfishing and the fall in sturgeon numbers. As a result, substitute caviar varieties employing the roe of several fish species, including salmon, trout, whitefish, and paddlefish, have developed. These substitutes may have a similar texture and look to genuine sturgeon caviar, but they frequently have distinct flavor profiles and are more widely available and less expensive.
Key Market Segmentation
Insights on Product
The Sevruga Segment Valued for the Highest Share
In 2021, the Sevruga segment had the highest revenue contribution in the market. Because of the exceptional texture and flavor of these caviar species, customers favor them. In addition, the cheap cost of these species relative to osetra and salmon is anticipated to continue to be favorable for the segment's growth in the foreseeable future. The greatest revenue share valuation went to Osetra. Black, blue, yellow, and green versions of these goods are offered. It is anticipated that these species would be used by high-end customers due to their sumptuous delicacy and premium price.
Insights on Form
The Fresh Segment was held by the Highest Share
The highest market share in 2021 belonged to recently harvested caviar. Dried caviar will have the fastest growth in 2021, with a CAGR of 11.3%. The primary elements driving the category growth include an increase in the use of dried caviar powder by fans of fine dining and its seasoning or sprinkle over seafood, potatoes, pasta, and eggs.
Insights on Application
The Restaurant Segment Accounted for the Highest Share
Caviar is frequently used in restaurants to enhance flavor and provide nutrients to a variety of meal items. Because of this, restaurants had a substantial market share in 2021. The segment is driven by consumers' preference for the food prepared by chefs who have experience making delectable caviar dishes.
Insights on Region
The APAC Region Accounted for the Highest Share
As demand for salmon, sushi, sevruga, and osetra has increased, the Asia-Pacific region now controls the majority of the caviar business. Also contributing to the expansion of the caviar market in the area during the projected period will be the increased knowledge of the product's health advantages. Due to the growing purchasing power of consumers, North America is expected to experience substantial expansion in the caviar industry.
Key Company Profiles
Some key players in the global market are Caviar Blanc, AmStur Caviar., AMANGUL TULBERGENSepehr Dad Caviar, Agroittica Lombarda SpA, Caviar de Riofrio, KARAT CAVIAR, Caviar Creator Inc., The Caviar Co., Caviar de France, Sterling Caviar., Osage Catfisheries Incorporated., Hangzhou Qiandaohu Xunlong Sci-tech Co., Ltd., Russian Caviar House, California Caviar Company, Labeyrie Fine Foods SAS, Black River Caviar., DELICATESSEN SNAILEX S.R.O., Sasanian Caviar, Inc., AMUR-Caviar A, among others.
COVID-19 Impact and Market Status
The epidemic affected the caviar business as well as the whole worldwide seafood supply chain. The harvesting, processing, and shipment of caviar were all delayed as a result of transit restrictions, trade restrictions, and logistical issues.
Certain varieties of caviar were less accessible and costlier as a result of this interruption. Consumer purchasing power and tastes have been impacted by the economic effects of the epidemic, including job losses, lower earnings, and financial concerns.
Given that it is a luxury dish, demand for caviar fell as people prioritized necessities and reduced their expenditure on discretionary items. The demand for caviar was greatly hampered by the closing of eateries, lodgings, and other hospitality businesses, notably during lockdowns and social segregation measures.
There has been a shift in consumer behavior towards home cooking and dining as more individuals choose to stay at home. The demand for supermarket products and ingredients that may be used to prepare meals at home has increased as a result. But the demand for caviar, which is usually reserved for special events or eating out, has been very muted.
Latest Trends
1. Alternative caviar sources are becoming more and more popular as the demand for conventional sturgeon caviar exceeds the availability. For customers, caviar manufactured from different fish species such as salmon, trout, whitefish, and paddlefish offers a more affordable and environmentally friendly alternative.
2. Sustainable aquaculture methods are being accepted in the caviar business due to worries about overfishing and the loss of wild sturgeon populations. To produce caviar with the least amount of negative environmental effects, fish farms are implementing responsible aquaculture practices, such as closed-loop systems, eco-friendly feed, and enhanced water management.
3. The caviar business is experiencing a rise in consumer demand for foods that are ethically and organically sourced. Producers are putting more of an emphasis on humane and ecologically beneficial practices, such as utilizing organic feed, being non-GMO certified, and adhering to fair-trade norms. These initiatives cater to ethical and sustainable food choices made by conscientious customers.
4. The caviar industry is making use of technological advances. Enhancing production efficiency and ensuring ideal circumstances for sturgeon or other fish species requires improved monitoring systems, automated feeding and water quality management, and data-driven analytics.
Significant Growth Factors
The demand for upscale foods like caviar has risen as a result of growing disposable incomes and shifting customer tastes. The demand for premium caviar as a gourmet delicacy is rising as people look for distinctive and luxurious dining experiences.
A growing number of upscale eateries, accommodations, and culinary experiences are fueling the growth of the world's fine dining market. Due to its frequent inclusion on fine dining menus and association with affluent dining, caviar is in higher demand.
Omega-3 fatty acids, vitamins, and minerals, all of which are abundant in caviar and are thought to be good for health. The increased appeal of caviar as a gourmet food option has been attributed in part to the greater understanding of the health advantages connected with its intake.
Influencer marketing and celebrity endorsements have a big impact on raising customer knowledge and interest in upscale foods like caviar. Celebrities, well-known chefs, and food influencers frequently use caviar in their culinary creations, which raises consumer interest and demand.
Restraining Factors
Traditional caviar is made from sturgeon fish, whose populations have been declining due to overfishing and habitat loss. Meeting the rising demand for caviar is significantly hampered by the scarce supply of sturgeon caviar and the sluggish development and reproduction of sturgeon fish.
Environmental and sustainability issues have been brought up by the fall in sturgeon populations and the ecological effects of conventional caviar production techniques. The long-term sustainability of the caviar business depends on ethical aquaculture, sustainable agricultural methods, and initiatives to save wild sturgeon populations.
Because it is a luxury dish and may be fairly pricey, caviar is not widely available to consumers. The high cost of caviar may discourage some customers from repurchasing it or trying it for the first time, which would limit market expansion.
Caviar is a fragile product that has to be handled, transported, and stored carefully to preserve its quality and freshness. Due to its perishable nature and short shelf life, distribution and storage may be difficult, particularly in areas without easy access to specialized storage facilities.
Recent Developments in the Global Caviar Market: A Snapshot
• In April 2022, Georgian Fish and Caviar, a producer of regionally sourced, clean fish species, stated its intention to broaden its market penetration by fresh financial commitments, technological advancements, and higher output.
• In July 2021, a rare reserve of Royal White Sturgeon caviar will be released, according to Berg Hospitality. Several additional Berg Hospitality businesses as well as B&B Butchers & Restaurants will serve the caviar. For US$95 apiece, 1oz jars of caviar from each restaurant will be offered in a unique presentation and pairing.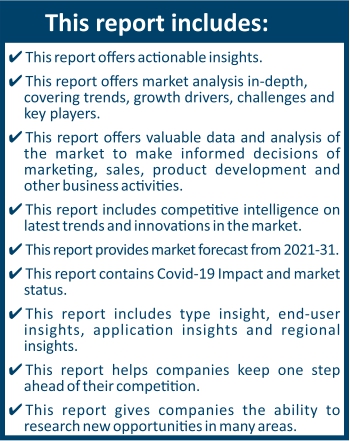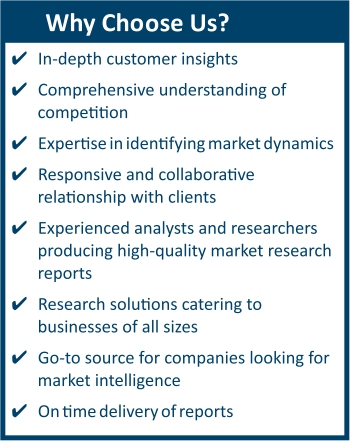 Frequently Asked Questions (FAQ) :
In 2031, the caviar market was worth USD 1.2 billion.
The CAGR for the caviar market is 9.27% during the anticipated period.
The Caviar Co., Agroittica Lombarda SPA, Delicatessen Snailex s.r.o., Caviar of France, Sterling Caviar LLC, and Caviar Blanc & are a few of the top businesses that dominate the caviar market.