The booming food packaging business is one of the key factors driving the cast film line market. There has never been a greater need for effective and high-quality packaging solutions due to the rising popularity of packaged goods. In comparison to other types of packing technology, cast film lines have a variety of advantages, such as higher speeds and production rates, more consistent product quality, and less energy use. The expanding medical and hygiene packaging market is another factor driving the cast film line market. The need for hygienic and sanitary goods grows along with the understanding of these issues. Because they can manufacture sterile goods with little contamination, cast film lines are perfect for this application.
Cast film lines are essential for producing plastic goods in large quantities. Numerous sectors, including those in the automobile, healthcare, food packaging, and electronics, employ plastic products. Manufacturers may swiftly produce these plastic goods in big volumes with little loss and downtime by utilising a cast film line. The market for cast film lines is expanding quickly as a result of the rise in demand for low-cost production options. By offering high-quality goods at reasonable rates, this market gives plastics manufacturers a chance to boost their earnings and stay ahead of the competition.
The cast film line is used to make several different kinds of plastic films, including CPP (cellulose propionate polymer) cast film, CPE (chlorinated polyethylene), and others (such as LDPE and HDPE). Due to their ability to be heat sealed, high barrier qualities, exceptional clarity, and durability, these films are frequently used in food packaging. Additionally, because of their excellent tensile qualities, they are also employed in medical and hygiene items including diapers, sanitary pads, and other medical products. Due to their efficient manufacturing process, these films are also utilised for industrial packaging purposes such as shrink wrapping and the lamination of paper boards.
Cast Film Line's global market is projected to grow at a CAGR of 4.2% from 2021 to 2031, reaching a value of USD 8.1 billion.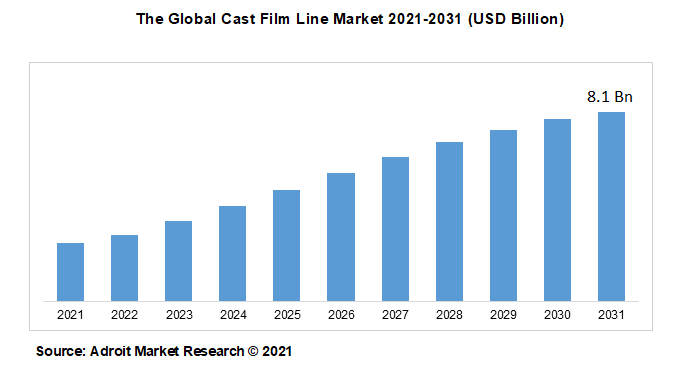 Growing demand from food packaging, medical and hygiene packaging, industrial packaging, and other end-use industries is what propels the market. This expansion is related to the rising customer desire for economical and eco-friendly packaging options.
The market for cast films is constrained by a number of variables. First of all, establishing a cast film line requires a large upfront cost. Second, professional labour may not be easily accessible but is needed to operate these devices. Thirdly, when compared to other types of plastic processing machinery like blown film lines and extrusion coating lines, cast film lines have a comparatively low output. Fourth, the use of some chemicals in food packaging applications is subject to stringent restrictions, which can limit the market's expansion.
Furthermore, the expansion of this industry may be constrained by the rising cost of raw materials like polyethylene and polypropylene. Finally, the cast film line market is facing challenges as a result of customers' growing disinterest in plastic packaging due to the growing emphasis on sustainability and eco-friendly packaging. Due to its exceptional qualities, such as strength, transparency, and barrier properties, the cast film line market is anticipated to expand steadily throughout the forecast period despite these difficulties.
The existence of a sizable number of producers who provide a broad range of products has led to a highly fragmented market for cast film lines on a global scale. ExxonMobil Chemical Company, DuPont, Dow Chemical Company, 3M Company, and LyondellBasell Industries N.V. are important market participants. To increase their position in the worldwide market, these suppliers have used a variety of techniques, including partnerships with other producers, acquisitions, expansions, and the introduction of new products.
Segment Analysis
The CPP Cast Film Line Segment emerged as the Most Lucrative Type
The Cast Film Line Market is segmented into CPP Cast Film Line, CPE Cast Film Line, and Others based on kinds. Due to its extensive use in the application of food packaging, the CPP Cast Film Line segment would probably lead the market over the forecast period. The great cost-efficiency of this market segment also plays a role in its expansion.
The Most Prominent Application is the Food Packaging Segment
The Cast Film Line Market is segmented into three categories based on application: food packaging, medical and hygiene packaging, and others. Due to its extensive use in goods including dry foods, dairy products, and frozen food items, the food packaging segment is anticipated to dominate the market during the course of the forecast period. Its cost-effectiveness compared to other packaging materials is another element fueling this expansion.
The APAC Region to render Ample Financing Opportunities
Due to the swift economic expansion of nations like China and India, the Asia Pacific area is anticipated to have the quickest rate of growth for cast film lines. The need for packaged foods, medical treatments, and other consumer goods, which call for effective and dependable packaging solutions, is being driven by the rising disposable income of people in these nations.
COVID-19 Impact and Market Status
Global demand for cast film lines has significantly decreased as a result of the COVID-19 epidemic. A significant portion of the worldwide cast film line market is made up of applications for food packaging and medical and hygiene packaging. However, it is projected that the COVID-19 pandemic will have the biggest effects in North America and Europe. Due to the presence of several important manufacturers there, the Asia Pacific area is predicted to be least affected by the COVID-19 pandemic. Cast film lines and associated items are primarily manufactured in China. Following the COVID-19 pandemic-related lockdown period, the nation has seen a gradual return to normalcy. During the projected period, this is anticipated to have a favourable effect on the cast film line market in the Asia Pacific.
Recent Developments in the Cast Film Line Market
• Cast Film Line announced the opening of its first cast film line in March 2020. The new line can be used for a variety of purposes, such as industrial materials, medical containers, and food packaging. It has faster processing times, better graphics capabilities, and superior efficiency. The business has also created modular design approaches that make it simple to alter the layout of a production line.
• Cast Film Line announced the establishment of its second plant in Canada in April 2020. The company will use this facility to expand its current product line and produce new cast film lines. Additionally, it will offer more capacity for international clients who want high-volume production runs.
• Cast Film Series unveiled a new line of cast film lines in June of 2020 with improved features like simultaneous heating and cooling systems and automatic width adjustment. These goods are made to fulfil the exact specifications needed for high-stakes applications like electronics, medical devices, and automobile parts.
• Cast Film Line introduced a number of cutting-edge technological breakthroughs in January 2021 that increase production run efficiency while generating less waste. This involves the development of automated material handling systems that can cut the cost of manual labour by up to 80% and laser-based welding systems that can cut welding time by up to 50%.
Cast Film Line Market Scope
| | |
| --- | --- |
| Metrics | Details |
| Base Year | 2022 |
| Historic Data | 2020-2021 |
| Forecast Period | 2022-2030 |
| Study Period | 2020-2030 |
| Forecast Unit | Value (USD) |
| Revenue forecast in 2030 | USD 8.1 billion |
| Growth Rate | CAGR of 4.2 % during 2021-2030 |
| Segment Covered | Type, Application, Regions |
| Regions Covered | North America, Europe, Asia Pacific, South America, Middle East and Africa |
| Key Players Profiled | ExxonMobil Chemical Company, DuPont, Dow Chemical Company, 3M Company, and LyondellBasell Industries N.V. |
Key Segments of the Cast Film Line Market
Type Overview, 2021-2031 (USD Billion)
• CPP Cast Film Line
• CPE Cast Film Line
• Others
Application Overview, 2021-2031 (USD Billion)
• Food Packaging
• Medical and Hygiene Packaging
• Others
Regional Overview, 2021-2031 (USD Billion)
North America
• U.S
• Canada
Europe
• Germany
• France
• UK
• Rest of Europe
Asia Pacific
• China
• India
• Japan
• Rest of Asia Pacific
South America
• Mexico
• Brazil
• Rest of South America
• Middle East and South Africa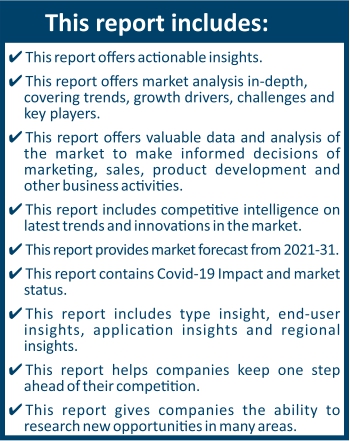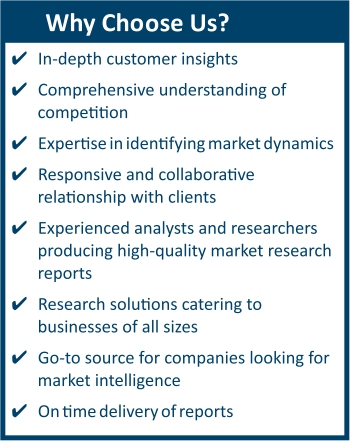 Frequently Asked Questions (FAQ) :
The global Cast Film Line market size projected to reach USD 8.1 billion by 2031.