The market for carbon black is predicted to grow at a CAGR of around 4.10% over the aforementioned forecast period. By 2031, the market, which was valued at USD 25.82 billion and would reach USD 38.15 billion.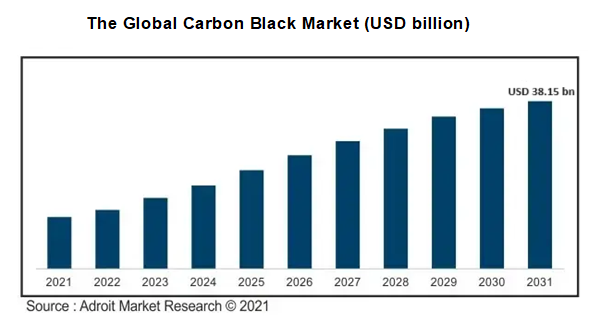 Demand for environmentally friendly carbon black substitutes is being driven by environmental restrictions and increased sustainability consciousness. To lessen reliance on non-renewable feedstocks and prevent negative environmental effects, this includes efforts to generate bio-based carbon black and promote recycling. Consumer desire for eco-friendly and sustainable products is predicted to boost market growth.
Carbon Black Market Scope :
| | |
| --- | --- |
| Metrics | Details |
| Base Year | 2021 |
| Historic Data | 2020-2021 |
| Forecast Period | 2022-2031 |
| Study Period | 2021-2031 |
| Forecast Unit | Value (USD) |
| Revenue forecast in 2030 | USD 38.15 billion |
| Growth Rate | CAGR of 4.1% during 2021-2031 |
| Segment Covered | By Keys, By Components, By Application, Regions |
| Regions Covered | North America, Europe, Asia Pacific, South America, Middle East and Africa |
| Key Players Profiled | BASF SE, Dow Inc., Dominion Colour Corporation, Cabot Corporation, Mitsubishi Chemical Holdings, Nouryon, Birla Carbon Public Company Limited, Asahi Carbon Co., Ltd., Phillips Carbon Black Limited, and SABIC. |
Market Definition
A kind of finely split carbon called carbon black is created when hydrocarbon-based substances like coal, oil, or natural gas are burned insufficiently.
It largely consists of elemental carbon and different contaminants, such as ash, tar, and metals. The process of making carbon black is known as carbon black manufacture.
An essential component in the creation of rubber products, especially tires, is carbon black. It improves the rubber compounds' tensile strength, wear resistance, and durability. Rubber's mechanical qualities, such as tensile strength and abrasion resistance, are enhanced by the addition of carbon black.
Plastics employ carbon black as a coloring and strengthening ingredient. It gives plastic items coloring and adds UV resistance. Additionally, the strength and dimensional stability of plastic materials is enhanced by the addition of carbon black.
Coatings, paints, and inks are all made with carbon black as an ingredient. It serves as a pigment, giving the color and opacity of the goods. Inks, industrial coatings, and automobile coatings all often employ carbon black pigments.
Key Market Segmentation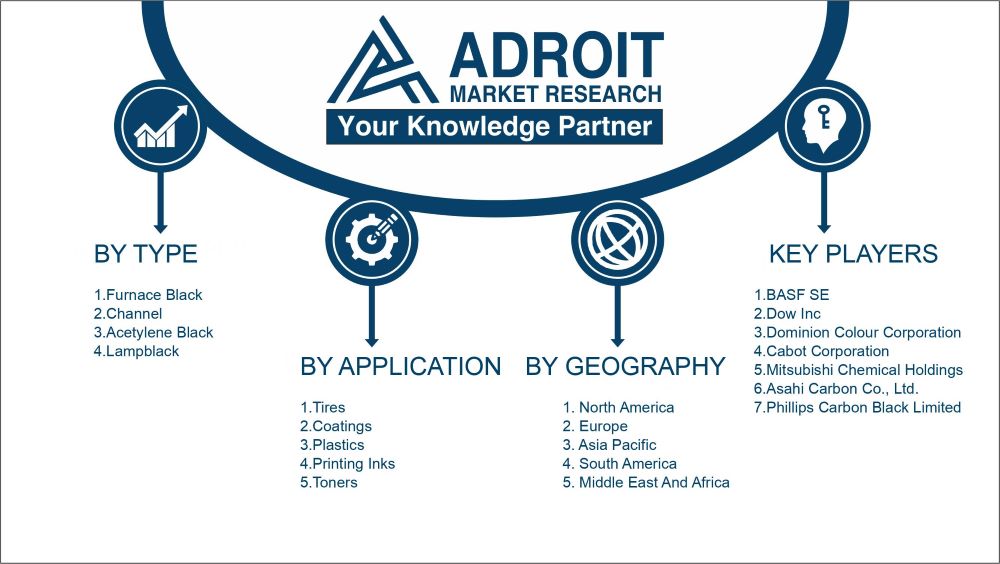 Insights on Application
The Tires Segment Valued for the Highest Share
The tire segment contributed the most to the market, while the one that is expected to develop at the fastest CAGR over the next several years is plastics. Carbon dark is most often employed (70%) in these items as a pigment and reinforcing element in vehicle tires. Carbon black aids in the heat transmission process that keeps the tread and belt region of the tire from experiencing thermal degradation and shortens its usable life. The demand for vehicles is expected to increase, which will lead to a considerable expansion of the automotive industry. Demand is anticipated to rise as a result of this component, particularly for the carbon black used in seat belts and tires.
Insights on Region
The APAC Region Accounted for the Highest Share
The region that contributed the most to market revenue was Asia-Pacific. Carbon black is playing a bigger role in the construction engineering industry in the Asia-Pacific area due to its high stiffness, good chemical resistance, high tensile strength, low weight, high-temperature tolerance, and low thermal expansion. In order to maintain its economy, Asia is expected to invest $8–$9 trillion in infrastructure development by 2030, according to the Asian Development Bank. In the Asia-Pacific region, it is projected that this would increase demand for carbon black in the building sector.
Key Company Profiles
Some key players in the global market are BASF SE, Dow Inc., Dominion Colour Corporation, Cabot Corporation, Mitsubishi Chemical Holdings, Nouryon, Birla Carbon Public Company Limited, Asahi Carbon Co., Ltd., Phillips Carbon Black Limited, and SABIC.
COVID-19 Impact and Market Status
The outbreak messed with the world's supply chains, especially in the carbon black industry. The supply of raw materials was limited by transit restrictions, decreased manufacturing capabilities, and lockdown measures, which made it more difficult to produce and distribute carbon black.
The epidemic had a significant effect on the automotive industry, which uses a lot of carbon black. Vehicle sales and manufacturing fell as a result of lockdowns, travel restrictions, and economic uncertainty. This had an effect on the market for carbon black since it decreased demand for tires and other rubber products.
The pandemic caused changes in consumer behavior that reduced demand for tires and other rubber goods by increasing remote work and reducing travel. Since carbon is a crucial ingredient in the production of tires, this had a direct effect on the black market for carbon.
The automobile industry started to recover as lockdown measures subsided and business operations resumed. The demand for cars, tires, and associated goods gradually increased as a result, which had a favorable effect on the black market for carbon. The market's recovery was aided by the restart of production activity and the need for replacement tires.
Latest Trends
1. The focus on creating sustainable substitutes for conventional carbon black manufacturing techniques is expanding. Innovative solutions, such as using biomass or waste materials as feedstocks, implementing cleaner production processes, and using renewable energy sources, are being investigated to lessen the environmental effect of carbon black manufacturing.
2. To create specialized carbon black grades with improved performance characteristics, carbon black producers are spending money on research and development. To fulfill the particular requirements of various sectors, such as automotive, electronics, and coatings, these grades may provide greater reinforcement, higher conductivity, better UV resistance, and optimized dispersion qualities.
3. Industries are increasingly looking for carbon black solutions that are specifically tailored to fit their needs. Manufacturers of carbon black are working with clients to provide specialized solutions that provide the best performance, coloring, and compatibility with certain polymers or applications.
4. To improve operational efficiency and optimize carbon black manufacturing processes, digital technologies, and data analytics are being used. Manufacturers may optimize feedstock utilization, increase energy efficiency, decrease waste, and improve overall production by using real-time monitoring and data-driven analytics.
Significant Growth Factors
Carbon black is widely used in the automobile industry, notably for the production of tires. It is anticipated that the global automotive sector, which is expanding due to increased vehicle production and sales, would also help the carbon black market expand.
The demand for carbon black is primarily driven by the growing middle class in emerging nations, urbanization, and the need for new tires.
Another large user of carbon black is the building sector, which uses it mostly for coatings, pipelines, and roofing materials. The demand for carbon black is being fueled by the accelerated urbanization and infrastructural development that are occurring in emerging nations.
The manufacturing industry, which makes products like rubber goods, plastics, and paints and employs carbon black in them, is anticipated to expand. The demand for carbon black is influenced by the growing industrialization and manufacturing activity in emerging nations.
The efficiency and quality of carbon black production are always being improved by advances in manufacturing technology. The performance properties of carbon black are improved through advancements in machinery, manufacturing techniques, and feedstock utilization, making it suitable for a wider range of applications.
Restraining Factors
Natural gas and crude oil are major feedstocks used in the manufacturing of carbon black. Changes in feedstock prices may have an effect on the cost of production and profitability for producers of carbon black.
Market expansion and profitability may be hampered by price volatility. Environmental problems are raised by the pollutants and trash that can result from carbon black production operations.
The entire cost of production may be impacted by the need for extra expenditures in emissions control technology and compliance methods due to strict environmental rules and the requirement to minimize carbon emissions.
A possible obstacle is the creation and adoption of substitute substances and additives that can either completely or partially replace carbon black in particular applications. The development of silica-based fillers as carbon black substitutes, for instance, may have an influence on carbon black demand in the tire industry.
The dynamics of the carbon black market can be impacted by trade disputes, tariffs, and geopolitical issues. Global trade uncertainties and limitations have the potential to upset supply chains, cause market volatility, and influence the development of the carbon black market.
Recent Developments in the Global Carbon Black Market: A Snapshot
• ADNOC Distribution and ADNOC signed into a new supply deal for carbon black in June 2022, allowing ADNOC Distribution to test the carbon black market.
• To purchase its carbon black production plant in Tianjin, China, Cabot Corporation bought Tokai Carbon Group in March 2022.
• In February 2022, Orion Engineered Carbons in Italy opened a new production line for specialty and technical rubber carbon black with a 25-kiloton capacity, particularly for the European market.