The global Bow and Crossbow market size is anticipated to reach up to USD 4368.43 million by 2028, at a CAGR of 6.46% over the forecast period. A crossbow is a hunting, outdoor sports activity, and other shooting gear that consists of a compact, powerful bow attached across a piece of wood as a weapon and mounted crosswise near the end of stock. Factors such as the technological advantages of a crossbow over a traditional bow in a variety of applications, as well as the health benefits of crossbow sports activities, have raised the market for bow and crossbow sports, which is likely to drive the worldwide Bow & Crossbow market. On the other hand, the market has been limited by the demand of a certain skill set as well as rigorous regulatory regulations in several nations. Furthermore, user-friendly goods and affordability have created a significant potential for providers and opened a substantial target.
Companies engaged in this industry could expect fresh opportunities as new products are introduced across various age and application segments. Furthermore, the entry of internet gaming into the sector has had a massive impact on the market in recent years. Many sectors, on the other hand, are in the exploratory stage as they understand that their strategy and customer acquisitions need to improve. The pandemic is causing a drop-in outdoor sports activity as people spend more time at home and in their communities. In recent years, the transition from outdoor sports to online gaming during the COVID-19 lockdown period has had a severe impact on the global bow and crossbow market growth.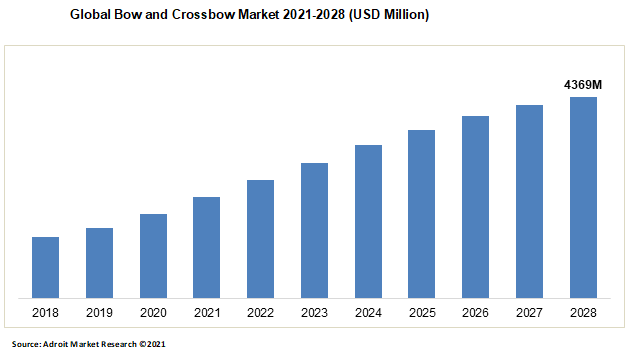 The market is highly concentrated and competitive. A compound bow is an excellent introduction to archery and bow hunting. Because compound bow hunting can provide a basis for conventional bow hunting and increase enthusiasm, one can become comfortable landing a true shot and honing bow hunting abilities with a compound bow. In addition, the compound bow might help you develop the desire to take on the longbow. With a compound bow, you still need to train and sight bow in, but not as much as with a recurve bow. When compared to traditional bows, compound bow cams provide bow hunters with a flatter arrow trajectory and a longer holding time at full draw. Crossbows have a number of advantages over vertical bows that allow bow hunters to go hunting sooner and more frequently. The horizontal limbs of a crossbow make it simple to rest the stock for further stability. With a crossbow, heavy clothes aren't an issue, and mitts aren't required. The market article includes a part dedicated specifically to major players in the Global Bow and Crossbow Market, in which our experts provide an overview of all of the major manufacturers' financial statements, as well as key advancements, product benchmarking, and SWOT analysis. A business description and financial facts are also included in the company profile section. The firms in this section can be adjusted to meet the needs of the client.
Bow & Crossbow Market Scope
| | |
| --- | --- |
| Metrics | Details |
| Base Year | 2020 |
| Historic Data | 2018-2019 |
| Forecast Period | 2021-2028 |
| Study Period | 2018-2028 |
| Forecast Unit | Value (USD) |
| Revenue forecast in 2028 | USD 4368.43 million |
| Growth Rate | CAGR of 6.46% during 2021-2028 |
| Segment Covered | Type, Application, Regions |
| Regions Covered | North America, Europe, Asia Pacific, Middle East and Africa, South America |
| Key Players Profiled | Arrow Precision Limited CENTERPOINT CORPORATION, Excalibur Crossbow, TenPoint Crossbow Technologies, Velocity Outdoor, Inc., FeraDyne Outdoors LLC, Bear Archery Inc, etc. |
Key Segments of the Global Bow and Crossbow Market
Type Overview, 2021-2028 (USD Million)
Application Overview, 2021-2028 (USD Million)
Hunting and Outdoor
Shooting Sports
Army
Regional Overview, 2021-2028 (USD Million)
North America
Europe

France
UK
Germany
Rest of Europe

APAC

China
India
Japan
Rest of APAC

MEA

UAE
Saudi Arabia
South Africa
Rest of MEA

Latin America

Mexico
Brazil
Rest of Latin America
Reasons for the study
To profile major companies in the market and thoroughly examine their fundamental strengths.
To offer a thorough competitive landscape of the market, as well as a study of leading market competitors' business and corporate strategies, such as mergers and acquisitions, new product launches and advancements, and expansions.
What does the report include?
A comprehensive review of the parent and replacement markets
In-depth market segmentation based on trends, growth, and historical and forecast data.
The scope of the report includes a market strategic analysis of future prospects, individual growth patterns, and the contributions of important sub-market stakeholders.
Profiles of key industry players, strategic viewpoints, market positioning, and an examination of essential competencies are also included.
The competitive landscape includes the top players' market rankings, as well as new service/product launches, partnerships, company expansions, and acquisitions made by the companies profiled in the previous five years.
Who should buy this report?
The precise market valuation, which includes size, share, and revenue, are also addressed for a better knowledge of the market position.
The analysis of competitive dynamic variables provides a comprehensive market picture.
In-depth industrial analysis, sales research, and production knowledge throw additional light on the market's future scope and growth rate.
The report includes regional as well as country-specific trends, as well as information on export and import operations.
The research provides an in-depth examination of several customer journeys that are relevant to the market and its sectors. It provides a variety of client perspectives on the products and services. The study digs deeper into their concerns and pain points across a variety of consumer touchpoints. This will assist them in their efforts to increase customer engagement with their companies. Bow hunting is a silent, safe, non-disturbing, and efficient hunting method. Urban bow hunting programs successfully show the potential of the bow and arrow in these wildlife management programs. Bow hunting in itself is a very sustainable and environmentally-friendly form of hunting. Bow hunter is defined by his dedication and excitement for his natural surroundings and its inhabitants.
Modern bow hunters are known for being extremely dedicated to their weapon of choice, putting in lengthy hours of practice to become expert marksmen with the bow. These unique talents will improve the crossbow's performance in terms of technology; yet, these qualities are predicted to boost the market in the forecasted time. Crossbow hunting, like archery and other forms of hunting, can be a useful wildlife management technique for encouraging the establishment of healthy animal populations and improving ecosystems, particularly in locations where modern firearms are prohibited. Domestic meat grown for human consumption is healthier than wild game meat. Individuals and families can participate in target shooting all year round. The hunter leaves behind some of the long-range advantages of modern technology and hunting equipment. They have chosen a more time-consuming, but very efficient way of harvesting games. The skillset required can hamper the market as most of the users may ignore to get converted into regular buyers.
Type Segment
Bows come in a variety of shapes and sizes, including recurve bows, compound bows, conventional bows, and more. The compound bow may help you achieve your goal of taking on the longbow. With a compound bow, you still need to train and sight bow in, but not as much as with a recurve bow. Compound bows provide for more precision and force from a larger distance because they do not rely on physical strength as much. As a result, abilities like stealth and camouflage become less important.
The horizontal limbs of a crossbow make it simple to rest the stock for further stability. Because there is no movement, the hunter does not have to decide when to draw, which is a major advantage because they can just track their prey's progress within the sight until it reaches a clean shooting lane. With a crossbow, the shooter might lie down in the long grass beneath the decoy and be ready to shoot without the need for a partner, allowing for a solo bow hunt. As the chosen wide-open the aforementioned pros of the crossbow are predicted to see a larger development rate in the forecasted time, ambushing from wide-open fields becomes a real pose single-month crossbow.
Application Segment
Crossbow hunting, like archery and other forms of hunting, can be a useful wildlife management technique for encouraging the establishment of healthy animal populations and improving ecosystems, particularly in locations where modern firearms are prohibited. Indoor shooting sports have a lot of potential in the sporting and recreational world. The physical and emotional health benefits of engaging in shooting sports are quantifiable. Shooting a variety of firearm platforms develops physical discipline, as well as strength, stamina, hand-eye coordination, and fine and gross motor abilities. Core strength, establishing center, moving body weight to the balls of feet, and maintaining motionless in shooting stance are all terrific core muscles exercises that assist appropriate posture. Military bows and crossbows are not the same as traditional crossbows in the modern meaning. The range and power of military crossbows have been substantially improved thanks to the incorporation of a large number of new materials and techniques. Even the most modern micro-acoustic weapons now produce sounds and will be detected by watchful foes, but the crossbow does not. This is projected to be one of the primary factors driving the market segment over the forecasted time.
The United States, Canada, and the Rest of North America are featured in a country and sub-region level overview of North America. The market for crossbows in Europe is analyzed and forecasted across the United Kingdom, Germany, France, and the rest of Europe. Asia Pacific, on the other hand, encompasses India, China, Japan, and the rest of Asia Pacific. GCC, South Africa, and the Rest of Middle East & Africa are included in the Middle East & Africa market analysis and forecast. The South American crossbow market is divided into two categories: Brazil and the Rest of South America. Because of the rise and popularity of archery in the region, North America dominated the worldwide crossbows market in 2020. During the forecast period, the crossbow market in North America is expected to grow at a quick pace, followed by Asia Pacific and Europe.