Biogas is a sustainable, environmentally beneficial fuel that is made by turning organic waste into gas. It has a wide range of applications, including road vehicle fuel and industrial applications such as municipal and on-site electricity generation.
Covid-19 Impact & Market Status
The global pandemic has slowed the expansion of a number of sectors and markets, including biogas. Lockdowns, social distance norms, and curfews have disrupted business and supply chain networks significantly. Project delays, a lack of raw materials, a shrinking workforce, and other factors are stifling the biogas market's expansion. As countries try to return to pre-pandemic levels, the worldwide impact of the COVID-19 situation is projected to diminish away. It's impossible to determine how long the situation will remain this way. Nonetheless, the in-depth study in our research report will assist you in gaining a thorough grasp of this niche industry.
Germany, France, Italy, Spain, the United Kingdom, and Norway are among the main economies affected by the COVID-19 situation. Due to the virus outbreak, several industries have been forced to close due to a scarcity of raw materials and supply chain problems. Moreover, the global standstill has halted municipal electricity production, on-site electricity production, and transportation fuel activities, reducing demand for waste-derived biogas. Manufacturing of oil, gas, and other goods was suspended around the world due to a lack of raw materials and workers, which slowed the expansion of the biogas sector.
Furthermore, the expansion of many end-use sectors is projected to be influenced by an increase in the demand–supply imbalance, price volatility, and government regulations such as greater emphasis on bio-based products and incorporating green efforts. The COVID-19 epidemic has outrun any headwind in terms of its immediate and long-term impact on industry and consumers.
The COVID-19 epidemic had a minor influence on the worldwide biogas plant business, owing to disruptions in the international supply chain and lower investment in new projects. With the rising incidence of pollution, several governments throughout the world are focusing their efforts on lowering carbon emissions. Using renewable energy sources, such as biogas, can help lower the world's rising carbon footprint and, as a result, the average rate of global warming. The market for biogas plants is primarily driven by favourable government policies and the growing use of biogas and biomethane mixes. The growing usage of alternative renewable energy sources, as well as expensive initial investment and installation costs, may stymie the biogas plant market.
Remote Monitoring Systems for Small-Scale Bio digesters Cut Down on Operating Costs
Biogas market participants are assessing new potential in Africa and India. Connected Energy, a smart metering technology start-up located in the United Kingdom, is stepping up its efforts to lower operational costs for energy service providers and improve value chain localization. Local enterprises are being given complete authority by venture capitalists, who are putting together their own product packages to sell in local marketplaces. Companies in the biogas industry are stepping up their efforts to develop remote monitoring systems for small-scale bio digesters in order to collect data about what is being fed and identify flaws. These solutions reduce the cost of running a bio digester.
Assistance providing incentives for private-sector investors to expand their businesses
Startups and businesses are eager to learn more about biogas finance and business strategies. Because of the enticing potentials of a lucrative economic framework, public funding is encouraging private sector investors to have a natural interest in investing in new plants. Because city trash is polluted with plastics and must be removed prior to anaerobic digestion, it has been discovered that biogas facilities treating municipal bio-waste are more expensive to operate than agricultural biogas plants. As a result, enterprises in the biogas sector are looking for funding from government agencies using a mix of revenue from waste treatment and revenue from the sale of renewable gas or renewable energy and heat.
Market Growth is affected by High Capital Investment and Explosion Risks
The purchase and installation of a bio digester is a significant financial investment in the deployment of biogas. Stakeholders must also follow strict safety and emission standards, as the bio digester appears to be at risk of exploding. As a result, biogas is regarded as a safe technology, with significantly lower methane concentrations than LPG (Liquefied Petroleum Gas). Biogas companies are aiming to put up plants in rural areas, as biogas aids in the effective management of expanding biomass volumes.
Increased need for on-site power generation will fuel corporate expansion
Strict pollution rules, along with a growing demand for sustainable energy sources in the industrial sector, will boost technological adoption. Low operating costs and maintenance, along with rising energy prices, will boost industry figures. The biogas industry will grow in size as ongoing efforts to reduce greenhouse gas emissions and the deployment of energy efficient technologies continue. Due to restricted grid access, particularly in rural areas, the biogas industry from residential applications is expected to grow at a healthy rate. The deployment of biogas plants in the residential sector will be fueled by rising demand for auxiliary energy services in agricultural processing, as well as growing worries about energy security.
The circular economy impact of biogas generation is enhanced by organic fertilizers collected throughout the manufacturing process.
The biogas business is gaining a lot of traction for a variety of reasons. For example, the ever-increasing global population relies on fossil fuels for a variety of uses, including cooking, commuting, and power generation. Because fossil fuels are non-renewable resources that are predicted to deplete owing to over-consumption, the desire for renewable energy sources is expected to drive biogas demand in the coming years.
The global biogas market was valued at $52.9 billion in 2020, and is expected to increase at a CAGR of 4.4% to $126.2 billion by 2028. The rise in environmental awareness and supply concerns associated with the use of fossil fuels are likely to boost the expansion of the global biogas market. Furthermore, the worldwide market's primary driving forces include fast infrastructure development and rising energy consumption from the commercial and industrial sectors.
Furthermore, the implementation of strict pollution regulations, increased awareness of environmental conservation, increased concern about the overuse of fossil fuels, and a surge in corporate initiatives against corporate social responsibility (CSR) activities all contribute to the market's growth. However, in the next years, market expansion is expected to be restricted by high initial manufacturing setup costs.
During the biogas market projection period, however, a spike in demand for renewable energy resources due to diminishing fossil fuel resources and an exponential increase in population is expected to give profitable prospects for industry expansion.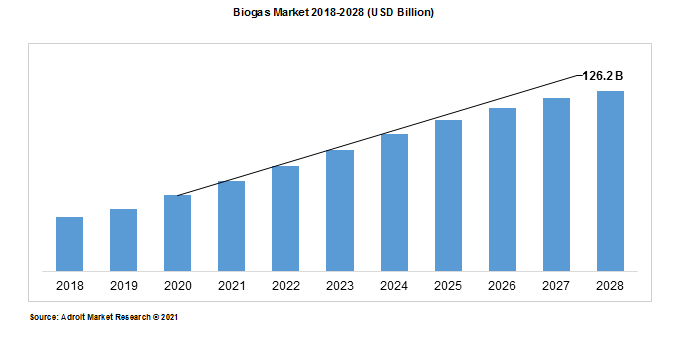 AAT Abwasser- und Abfalltechnik GmbH, Bekon Biogas Energy Inc., Biogen Greenfinch, Cargill Inc., Clarke Energy, Environmental Products & Technology Corp., N-bio GmbH, Siemens AG, WELTEC BIOPOWER GMBH, and Zorg Biogas are among the important players analysed and highlighted in the paper. The study includes a competitive analysis as well as profiles of the leading companies in the worldwide biogas market.
Latest Innovations in the Biogas Market: a Snapshot
The Mazoon Diary Company (MDC) opened a biogas facility in Oman in October 2019. The plant is part of MDC's waste-to-energy strategy, which aims to improve waste management efficiency. This is the first time in the region that a dairy company has implemented clean technology on such a large scale.
April 2020: In northern Poland, Ductor, a Finnish Swiss biotech business, is building three combined bio fertilizer-bio gas complexes. The new facilities will be constructed in the Zachodniopomorskie region of Poland. Two of the new plants will have a capacity of 0.5 MW, while the third will have a capacity of 1 MW.
Gasum, a Nordic energy business, said in June 2020 that it would open a liquefied natural gas (LNG) and liquefied petroleum gas (LPG) filling station near Stockholm's Arland Airport. This is Gasumq's first station in the Stockholm area.
Biogas Market Scope
| | |
| --- | --- |
| Metrics | Details |
| Base Year | 2020 |
| Historic Data | 2018-2019 |
| Forecast Period | 2021-2028 |
| Study Period | 2018-2028 |
| Forecast Unit | Value (USD) |
| Revenue forecast in 2028 | $126.2 billion |
| Growth Rate | CAGR of 4.4% during 2021-2028 |
| Segment Covered | Source, Industrial, Application, Regions |
| Regions Covered | North America, Europe, Asia Pacific, Middle East and Africa, South America |
| Key Players Profiled | AAT Abwasser- und Abfalltechnik GmbH, Bekon Biogas Energy Inc., Biogen Greenfinch, Cargill Inc., Clarke Energy, Environmental Products & Technology Corp., N-bio GmbH, Siemens AG, WELTEC BIOPOWER GMBH, and Zorg Biogas |
Key Segments of the Biogas Market
Source Outlook (Revenue, USD Million, 2017 - 2028)
Application Outlook (Revenue, USD Million, 2017 - 2028)
Regional Outlook (Revenue, USD Million, 2017 - 2028)
Frequently Asked Questions (FAQ) :
The forecast period of biogas market is 2021-2028.
The global biogas market was valued at $126.2 Billion in 2028.
AAT Abwasser- und Abfalltechnik GmbH, Bekon Biogas Energy Inc., Biogen Greenfinch, Cargill Inc., Clarke Energy, Environmental Products & Technology Corp., N-bio GmbH, Siemens AG, WELTEC BIOPOWER GMBH, and Zorg Biogas are the top players in biogas market.
You can request sample report of biogas market from website or drop us an email at help@adroitmarketresearch.com.