The bike-sharing service market offers a number of advantages. The demand for the bike-sharing service market is rising as cycling becomes more and more recognised as an environmentally friendly and practical mode of transportation. Cycling encourages a healthier lifestyle, eases traffic congestion, saves money, improves mobility, and contributes to reducing carbon emissions. People can travel between locations easily, affordably, and efficiently by using bike-sharing services. For commuters, leisure riders, and individuals looking for a cheap form of exercise and recreation, they present a fantastic option. In addition, because they can lessen traffic congestion and air pollution, bike-sharing services are growing in popularity in urban areas. As a result, many cities now provide bike-sharing programmes that let users rent reasonably priced bikes from specific hubs located throughout the city. As a result, there is now a greater demand for bike-sharing services, which attracts business owners.
The market for bike-sharing services has a number of benefits, including Customers who don't own a bike or only need to borrow one occasionally can use bike-sharing services to get one at a reasonable price. Since owning a bike can be expensive, this is especially advantageous for people who live in cities. Without having to drive a car or use public transportation, it is simple and convenient to get around town using bike-sharing services. For those on a tight schedule, it's frequently quicker and more effective than walking or taking the bus. It's a great way to protect the environment and lower air pollution to reduce emissions from cars and other motor vehicles by using bike-sharing services. You can benefit the environment and your health at the same time by cycling, which is known to be much healthier for you than sitting in traffic or on public transportation. Bike-sharing services enable people to travel farther distances with more ease and convenience than ever before by offering an alternative mode of transportation. Because of the increased mobility, previously inaccessible opportunities for employment, education, and leisure pursuits may now become available.
The market for bike-sharing services was valued at USD 10.81 billion in 2019 and is projected to grow to USD 34.54 billion by 2031, at a CAGR of 16.4%. During the anticipated period of 2020 to 2031, the market growth has been driven by the rising trend of bike-sharing services.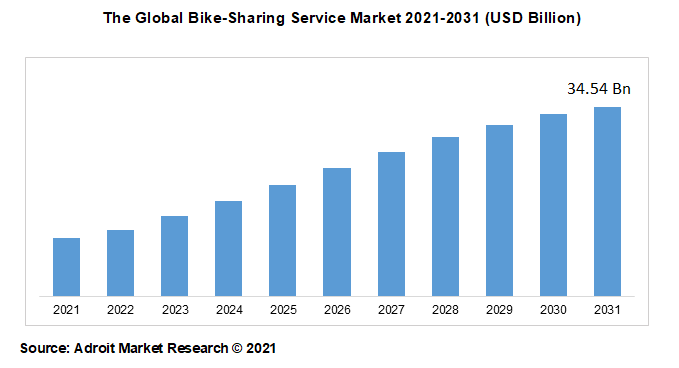 People are choosing environmentally friendly modes of transportation like biking and bike sharing as a result of rising population levels and environmental concerns, which is driving market expansion. Additionally, companies can now offer sophisticated bike-sharing services with features like tracking, automated locks, etc., making it easier for users to use this service.
Customers can rent shared bicycles for a brief period of time from vendors in the market for bike-sharing services. In addition to offering a form of transportation that is friendly to the environment, it is a quick, easy, and affordable way for people to get around in cities. Users of the services typically have to register with the business, pay a fee, and then have access to the bikes. These costs frequently include usage fees, upkeep, insurance, and other related expenses.
The market for bike-sharing services is driven by a number of factors. Bike sharing services are getting more and more affordable, making them a more appealing option for people on a limited budget. Due to this, the market has been able to reach out to new demographics like students and low-income households in addition to its core clientele. Many regions of the world are becoming more urbanised, which is increasing the demand for bike sharing services.
These services are appealing to commuters who want to save time and money on their daily commutes because it is convenient to rent bikes in city centres. Incentives like tax breaks and access to designated areas where bikes can be parked or stored are now being offered by many cities to businesses that offer bike sharing services. As a result, there are now more companies on the market, which has led to lower prices and increased customer accessibility. With advancements like mobile apps and smart locks making it simpler than ever for users to find available bikes and quickly rent them out with just a few clicks or taps on their phones or tablets, technology is playing an increasingly significant role in the bike sharing market.
the restrictions and difficulties the bike-sharing service market must overcome are Bike sharing services may find it difficult to both attract new customers and keep their current ones. It's crucial to maintain customer interest by providing alluring promotions and discounts. It can be challenging to set up a reliable infrastructure that can meet the needs of bike-sharing services due to regional variations in rules and specifications.
Additionally, in order to use the service, users must have access to bike parking or docks, which might not always be available in some areas. Bicycle-sharing services must carefully consider cost structures and pricing plans that will enable them to maintain a profit while attracting new customers. When creating a workable business plan for a bike-sharing service, subscription fees, pay-as-you-go rates, discounts for specific user groups, and other strategies must all be taken into account. Competition can get intense as more businesses compete for customers' loyalty and market share as more players enter the market. Bicycle-sharing services must differentiate their offerings from those of their rivals in this cutthroat market by offering unique features or value propositions that will draw users away from
Several The report includes profiles of key participants, manufacturers, and vendors in the market, including Pony-Bikes, Jump Mobility, DJ Bikes, Mobike, LimeBike, Spin, and Nextbike GmbH.
According to type, the Bike-Sharing Service Market is divided into Dockless and Station-based segments, with the latter segment growing. Due to its many applications and low cost, the bike-sharing service market dominated this station-based segment in 2018, holding a share of about 65%. Customers prefer station-based bike-sharing services the most because they can pick up bicycles from nearby docking stations and return them to other nearby docking stations. In comparison to dockless services, this type of service also requires less maintenance. In comparison to dockless bike sharing systems, station-based bike sharing systems are more expensive up front and take longer to implement.
On the basis of applications, the age 18–25 segment commands the largest market share. The market for bike-sharing services is divided into three age groups: 18 to 24; 25 to 34; and 35 to 44. Due to its accessibility and affordability, bike-sharing has the highest market share among people aged 18 to 24. Bike sharing services are becoming more and more well-liked among the younger generation as health and environmental protection become more and more important. Additionally, bike-sharing services offer a secure and healthy mode of transportation in light of the pandemic situation. Additionally, because they are practical and economical, bike sharing services have grown in popularity.
Based on a region analysis, North America dominates the segment. the market segmentation for bike-sharing services The forecast period is expected to see the highest growth rate in the North American region. This is due to the presence of significant providers that provide bike-sharing services in this area, like Lyft and Uber. The region's Europe market is fueled by supportive government programmes like subsidies and tax breaks. due to the availability of reputable bike-sharing service providers like Ofo and Mobike. Because of its rapid urbanisation and rising awareness of the health benefits of cycling, Asia Pacific is expected to experience the fastest growth in the global market for bike-sharing services during the forecast period.
Market Status and COVID-19 Impact on Bike-Sharing Services
The market for bike-sharing services has been significantly impacted by the COVID-19 outbreak. The lockdown imposed by various governments around the world has reduced the demand for bike-sharing services. The revenue of the companies offering bike-sharing services has decreased as a result of this. The fear of contracting the virus has also reduced the number of users of these services. As the lockdown measures are lifted and people begin to travel once more, the market for bike-sharing services is anticipated to rebound in 2021. In addition, the launch of new bike-sharing programmes is anticipated to fuel market growth. For instance, Bounce began offering a bike-sharing service in India in 2020.
Due to its accessibility and practicality, many users have chosen to use this service. In addition, the market for bike-sharing services is anticipated to grow as a result of the adoption of electric bikes. Due to their affordability, lack of emissions, and convenience, electric bikes are becoming more and more popular among end users. Since they can now rent out electric bikes at reasonable rates, this is anticipated to open up new opportunities for bike-sharing services. Overall, the market for bike-sharing services has a bright future through 2021. The market is anticipated to be driven in the future by the rising demand for accessible and reasonable transportation options.
Recent Developments in the Bike-Sharing Service Market
• In 2019, the growth of the bike-sharing service market will be focused on expanding their offerings to include electric bikes, cargo bikes, and other unique bicycle models. Additionally, businesses are making investments in cutting-edge tools for data analytics and usage tracking. For instance, Jump Bikes, a business owned by Uber, uses its app to compile data on how its bikes are used for urban transportation in various cities around the world. A new membership programme is also being launched, allowing customers to pay monthly or annually for limitless bike trips.
• Companies in the bike-sharing service market are anticipated to introduce more cutting-edge products in 2020, including dockless bike rentals and mobility-as-a-service models. Additionally, in order to increase market penetration and reach new customers, they will be extending their services to more regions around the world. Lastly, businesses will keep making investments in technological innovations that can enhance the customer experience by delivering real-time updates on pricing, availability, and routes for finding a bike nearby.
• In order to expand operations and provide commuters with better service options, the development of the bike-sharing service market in 2021 and 2022 will concentrate on forming alliances with both public transportation providers and private businesses like universities or corporations. A few businesses are also looking into integrating their services with autonomous vehicles.
Bike-Sharing Service Market Scope
| | |
| --- | --- |
| Metrics | Details |
| Base Year | 2022 |
| Historic Data | 2021-2022 |
| Forecast Period | 2022-2031 |
| Study Period | 2021-2031 |
| Forecast Unit | Value (USD) |
| Revenue forecast in 2031 | USD 34.54 billion |
| Growth Rate | CAGR of 14.6 % during 2022-2031 |
| Segment Covered | by Type, By End User, By Application , Regions |
| Regions Covered | North America, Europe, Asia Pacific, South America, Middle East and Africa |
| Key Players Profiled | Pony-Bikes, Jump Mobility, DJ Bikes, Mobike, LimeBike, Spin, and Nextbike GmbH. |
Key Segments of the Bike-Sharing Service Market
By Type Overview, 2021-2031 (USD Billion)
• Dockless
• Station-based
By Application Overview, 2021-2031 (USD Billion)
• Age 18-24
• Age 25-34
• Age 35-44
• Others
By Regional Overview, 2021-2031 (USD Billion)
North America
• U.S
• Canada
Europe
• Germany
• France
• UK
• Rest of Europe
Asia Pacific
• China
• India
• Japan
• Rest of Asia Pacific
South America
• Mexico
• Brazil
• Rest of South America
Middle East and Africa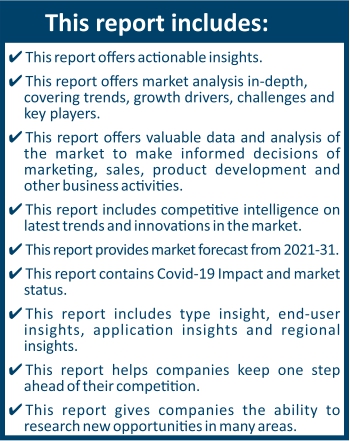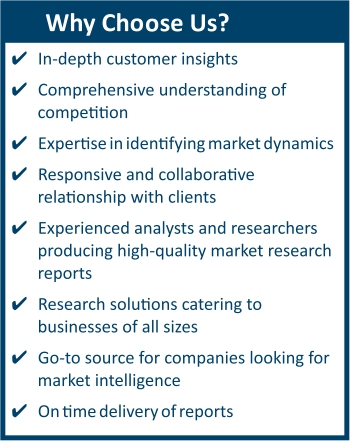 Frequently Asked Questions (FAQ) :
The global Bike-Sharing Service market size is expected to reach USD 34.54 billion in 2031.