The most important element linked with the sharp surge in demand for behavioral therapies over the last decade has been a shift in perception about behavioral rehabilitation. The acceptance of behavioral problems in society encourages individuals to seek appropriate therapy. The rising participation of the Government and Non-Governmental Organizations (NGOs) in raising awareness about mental diseases is predicted to boost the global expansion of the behavioral rehabilitation market. Advances in the field of various therapies, such as cognitive behavioural therapy, are playing an important part in the market's development.
Impact of COVID-19 and Market Status
The COVID-19 virus poses serious obstacles to rehabilitation services everywhere. For patients with COVID-19 who are critically ill with the illness as well as those who are still dealing with the long-term effects of their illness, rehabilitation needs to increase. The market was able to counteract the pandemic's damaging consequences by witnessing growth through online channels when several rehab institutions in this region began offering therapy sessions and treatments via digital platforms in the second half of 2020.
The anxiety Disorder Segment Will Account for the Largest Value
This category of behavioural disorders has the biggest market share in 2020, and it is predicted that it will hold this position throughout the forecast period. During the forecast period, this market is anticipated to rise due to the accessibility of antidepressants as well as developments in the field of anxiety treatment brought about by ongoing research and development.
The Outpatient Behavioral Rehabilitation Will Increase its Growth During the Projection Period
During the pandemic, the outpatient segment had the highest revenue share, and it is predicted that it will continue to lead throughout the projection period. This is a result of the advantages it offers to patients. Patients who regularly attend outpatient therapy sessions can go home afterwards. Due to its adaptability, outpatient care is advantageous for patients who are experiencing the early stages of a mental health disorder. Because of this, this is also the fastest-growing segment.
Counselling Therapy Will Hold More Share in the Forecast Period
During the projection period, the Counseling Therapy Segment is anticipated to increase at the greatest CAGR. During the counselling session, the patient feels easier and more comfortable conveying their problem which in turn makes the counselling session count. Also, the increasing awareness about mental health issues and the growing need for counselling services are some of the factors that are expected to drive the growth of this market.
Asia Pacific is Assumed to Have the Rampant Growth.
The market in Asia Pacific is anticipated to grow rapidly over the forecast period. This is due to increased consumer awareness of mental disorders, an increase in the number of rehabilitation centres, increased consumer expenditure on healthcare, and rising rates of drug addiction among youth. In the upcoming years, market growth is anticipated to be boosted by the rise in illegal drug usage among young people, as illicit drug use is linked to several mental health conditions.
Over the forecast period, the global market for behavioural rehabilitation is likely to be driven by the rising prevalence of behavioural issues worldwide. Behavioural disorders usually appear throughout childhood or adolescence. Children with disruptive behaviour patterns that persist for at least six months and cause problems at home, at school, and in social situations are said to have behavioural disorders.
The broad accessibility of the internet plays a key role in the development of addictions to gaming, online gambling, and pornographic material. There are also more behavioural problems that are extremely common. Unmet demand is growing as the prevalence of behavioural disorders rises. As a result, the rising prevalence of behavioural disorders will fuel market expansion throughout the forecast period. One of the primary behavioural rehabilitation industry trends driving market expansion is the increasing amount of online detoxification programmes. Internet and social media addiction are becoming more common as technology spreads throughout the world. Technology-savvy people, particularly teenagers and young adults, are particularly vulnerable to such addiction.
Mass shootings and assaults in public places highlight the need for more effective behavioural disorder diagnosis and treatment options. Furthermore, the Affordable Care Act's inclusion of mental health therapy as an essential health benefit is likely to lead to a rise in the number of people opting for these treatments. Along with rising demand, institutes providing these services are planning mergers and acquisitions, as well as regional expansions, to fuel growth throughout the projection period.
The influence of stigma on people who have behavioural disorders is expected to restrain the expansion of the global market for behavioural rehabilitation. The stigma associated with behavioural disorders, for example, has a detrimental influence on people and directly impacts individuals and their families. Social discrimination and stigmatization can exacerbate mental health conditions and keep people from getting the help they need.
"Behavioral Therapy" is used to describe several kinds of therapeutic approaches used to treat mental health disorders. Therapy of this kind aims to recognize and support the modification of potentially harmful or unhealthy behaviours. Positive reinforcement is used in behavioural rehabilitation following a brain injury to change undesirable behaviours and produce long-lasting changes. It is a popular technique for treating patients with behavioural addictions. The goal is to create a novel intervention that will enhance memory, executive functioning, attention, and quality of life in addition to preventing future mood episodes.
It is estimated that between 2019 and 2029, the market for behavioural rehabilitation would expand at a compound annual growth rate (CAGR) of 3.7%, reaching USD 208 billion. Addictions and behavioural disorders have become more common as cities have grown in size and technology has advanced. Behavioural issues are becoming more common. It is especially prevalent among young adults aged 16 to 25 because of too easy availability of harmful substances.
One of the challenges inhibiting the growth of the behavioural rehabilitation industry is a shortage of patient enrolment. People's reluctance to seek treatment for behavioural problems and addictions hurts the growth of the worldwide behavioural rehabilitation market. Several factors influence patient enrollment in behavioural rehabilitation programmes. For example, there is a dearth of understanding regarding the influence of addictions on health, as well as a lack of knowledge about behavioural problems. The demand-supply gap for behavioural rehabilitation services is enormous in the majority of regions, and market participants have a greater opportunity for growth. Furthermore, the rising prevalence of drug addiction among children is increasing the need for behavioural rehabilitation therapies.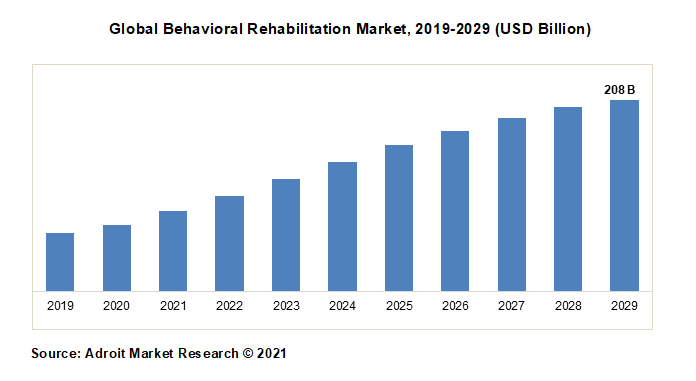 Magellan Health, Inc., Acadia Healthcare, Psychiatric Solutions, Inc., Universal Health Services, Inc., Behavioral Health Group, Aurora Behavioral Health System, CRC Health, Haven Behavioral Healthcare, Inc., American Addiction Centers, Inc., and Springstone, Inc. are a few of the well-known businesses in this market that provide behavioural medical assistance.
A Snapshot of the Latest Innovation in the Behavioral Rehabilitation Centers
To address issues with access to mental health services, "Color Health" expands into behavioural health.
"Headspace" builds out an integrated mental health platform for employee well-being.
Behavioural Rehabilitation Market Scope
| | |
| --- | --- |
| Metrics | Details |
| Base Year | 2021 |
| Historic Data | 2019-2020 |
| Forecast Period | 2022-2029 |
| Study Period | 2019-2029 |
| Forecast Unit | Value (USD) |
| Revenue forecast in 2028 | USD 208 billion |
| Growth Rate | CAGR of 3.7 % during 2021-2028 |
| Segment Covered | Behavioural Disorder, Healthcare Setting, Treatment Method, Regions |
| Regions Covered | North America, Europe, Asia Pacific, Middle East and Africa, South America |
| Key Players Profiled | Magellan Health, Inc., Acadia Healthcare, Psychiatric Solutions, Inc., Universal Health Services, Inc., Behavioral Health Group, Aurora Behavioral Health System, CRC Health, Haven Behavioral Healthcare |
Key Segment on Global Behavioral Rehabilitation Market
Behavioural Disorder Overview, 2019-2029 (USD Billion)
Anxiety Disorder
Mood Disorder
Substance Abuse Disorder
Personality Disorder
Attention Deficit Disorder
Healthcare Setting Overview, 2019-2029 (USD Billion)
Outpatient Behavioral Rehabilitation
Inpatient Behavioral Rehabilitation
Residential Behavioral Rehabilitation
Treatment Method Overview, 2019-2029 (USD Billion)
Counselling
Medication
Support Service
Others
Regional Overview, 2019-2029 (USD Billion)
North America
Europe
Germany
France
UK
Rest of Europe
Asia Pacific
China
India
Japan
Rest of Asia
South America
Mexico
Brazil
Rest of America
Middle East and Africa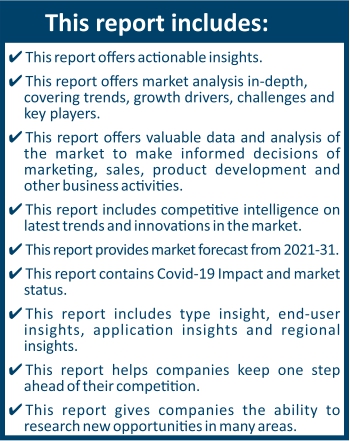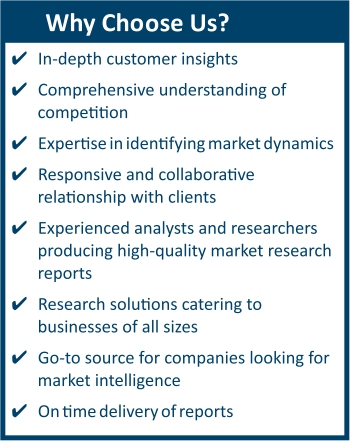 Frequently Asked Questions (FAQ) :
The market value of behavioural rehabilitation market in 2029 was USD 208 billion.
The behavioural rehabilitation market is growing at a CAGR of 3.7% over the forecast period.
The top companies that hold the market share in behavioural rehabilitation market are Magellan Health, Inc., Acadia Healthcare, Psychiatric Solutions, Inc., Universal Health Services, Inc., Behavioral Health Group, Aurora Behavioral Health System, CRC Health, Haven Behavioral Healthcare & among others.