The global cognitive behavioral market is poised to grow at a rapid pace reaching over 190.45 billion in terms of revenue while the CAGR is pegged at 9.01%. The superlative growth in cognitive behavioral market is attributed to the improved mental health treatment, accessibility, and service delivery. Additionally, the reduced stigma leading patients to present themselves for diagnosis and treatment, and Covid-19 led practices such as social distancing, quarantine, isolation leading to eating and other psychological disorders are some key factors boosting the market growth.
However, out of pocket expenses required for psychological treatment and diagnosis, lesser accessibility to face-to-face treatment amidst Covid-19 specific norms, and other associated factors are some challenges lurking in the global cognitive behavioral therapy market. Nevertheless, , adopting enhanced cognitive behaviour therapy (CBT-E) in the light of Covid and remote evidence-based treatments for all eating disorders are anticipated to be rife opportunities for the global cognitive behavioral market.
The cognitive behavioural therapy is a psychotherapy that empowers patients to detect and modify the existing patterns and change behaviour to mitigate stress related problems and promote well-being. The cognitive behavioural therapy is usually triggered to treat depression and anxiety related disorders. Identifying problems affecting emotional behaviour and tools used to address the emotional challenges is classed under cognitive behavioural therapy.
Clinical firms provide tests and procedures that help prevent, detect, and treat physiological conditions. Health organizations including new entrants and established players are providing products and services in the CBT space. To stay ahead of competition and address the growing demand especially during covid are providing highest quality cognitive-behavioral treatment for multiple physiological problems like depression, anxiety, adolescent problems etc. Remote service delivery is the latest technique used by firms for improving accessibility and connecting healthcare professionals around the world. This is disrupting the traditional services. But, the traditional players are also adapting to the new strategies providing growth opportunities in the global behavioural therapy market.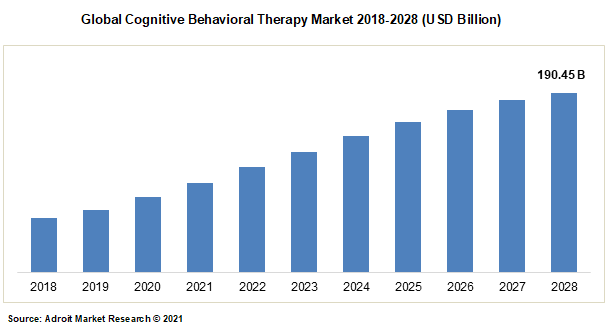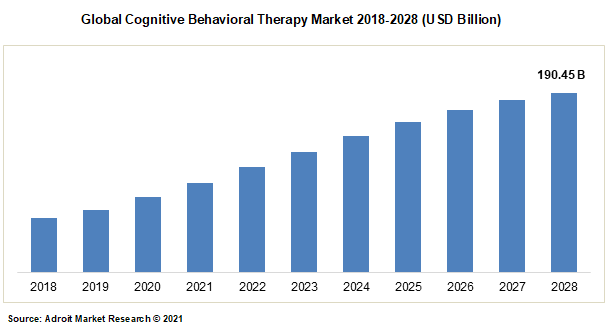 Market players that are dominating the global cognitive behavioral market are TOLMAR Pharmaceutical, Limbix, Strides Arcolab, Sandoz, Apotex, Zynerba, Perrigo, Taro Pharmaceutical Industries, Novartis, and Allergan among others. These players provide successful, caring and highly professional cognitive treatments.
Key Segments of the Global Cognitive Behavioral Therapy Market
Type Overview, 2018-2028 (USD Billion)
Systematic Desensitization
Aversion Therapy
Cognitive Behavioural Therapy
Others
Application Overview, 2018-2028 (USD Billion)
Depression
Anxiety
Eating disorder
Patient Type Overview, 2018-2028 (USD Billion)
Regional Overview, 2018-2028 (USD Billion)
North America
Europe
Germany
UK
France
Rest of Europe
Asia Pacific
China
Japan
India
Rest of Asia Pacific
South America
Brazil
Mexico
Rest of South America
Middle East and Africa
Reasons for the study
To identify the physiological problems arising due to Covid and discuss the solutions being adopted to address these problems, as well as potential opportunities for you in current and future market scenarios.
Ensure you remain competitive in the market especially in such a fast-moving market where customers are offering tailored solutions to each different market segments.
What does the report include?
The report includes guidelines about how to adapt to the various stages, market strategies and procedures to use it particularly during COVID-19.
The report includes qualitative and quantitative factors having a major influence on the global cognitive behavioral therapy market such as drivers, restraints, opportunities, market sizes, GDP, annual growth rate, and future revenue forecasts.
Actual market sizes for the aforementioned segments and sub-segments.
The report covers the competitive landscape of the existing, prospective players, and new entrants.
Who should buy this report?
The analytical parameters and outcome variables given in the global cognitive behavioral therapy market report are relevant to all the players operating in the value chain such as government representatives, regional or institutional health administrators, healthcare services providers, patients , should be identified before research is begun to ensure that t to them
Health economists and external organizations can also refer this report.
Cognitive behavioral therapy offers solutions that help alter potentially self-destructing physiological behaviour. CBT is also used to treat patients suffering from eating disorders, panic disorders, anxiety, and other physiological conditions. Increasing prevalence of mental disorders especially due to pandemic led isolations, quarantines, and growing acceptance of mental disorders are key factors affecting the growth of global cognitive behavioral therapy market.
Additionally, rising prevalence of behavioral disorders, increasing awareness, accessibility, and government initiatives are some other factors propelling the market growth. Moreover, CBT when integrated with technology offers advanced solutions to patients and better investment returns. An increasing number of small, large, and medium health organizations have started providing CBT as a result of growing demand and growth opportunities offered by the global cognitive behavioral therapy market. Thus, the small, medium, and large clinical firms are providing advanced technology enabled products, services, and platforms giving the patients better satisfaction and improved results.
Type Segment
Depending on different segments the market is classified into type segment namely systematic desensitization, aversion therapy, cognitive behavioural therapy, and others. The cognitive behavioural therapy segment gathered the largest market share as it is being extremely helpful in situations like covid that has led to mental illnesses due to quarantine, isolation.
Patient Type Segment
Depending on different segments the market is classified into patient type segment namely young and adult. The adult age segment especially between the age group of 21 and 50 are facing multiple mental disorders leading to increased access to CBT.
Application Segment
Depending on different segments the market is classified into application segment namely depression, anxiety, and eating disorder. The depressive segment accounted for largest market share because it is the most common psychiatric disorder affection millions of people worldwide due to changing lifestyles, extreme work pressures, emotional challenges, and other occurring in people of all ages cross all world regions.
The North American region has recorded an impressive growth in 2020 and is poised to see a stable growth in forecasted years 2021-2028. The key reasons are increased delivery of medical education, increasing number of research institutes conducting research studies for mental health problems, emergence of new firms, social acceptance of mental illnesses.
APAC is also the next dominant region in the global cognitive behavioural therapy market due to growing prevalence of physiological disorders, social acceptance, and improved service delivery through traditional and online platforms.