Due to schedule changes, people struggled to get enough sleep. This increase therefore reflects that people were looking for self-care solutions when anxiety was causing various sleep disorders. As a result, spending on comfort and bedding increased, which ultimately contributed to the expansion of the market. Additionally, people's spending habits are changing to prioritize buying bedding for their homes due to the work-from-home revolution sparked by pandemic-related lockdowns in several countries. A significant portion of consumers are working from home and spending more time at home, which has improved the sleep environment.

Demand for home bedding is growing as the functional benefits of luxury bedding also contribute to improved company performance. Given the important relationship between healthy sleep and a healthy mind and body, quality bedding becomes even more important. Global Bed Sheets sales are being boosted by advances in fabric technology, the availability of more man-made fabrics, brighter colours, and a variety of sheet materials. Shorter replacement cycles, rising purchasing frequency, and changing home decor preferences are all contributing to the market's expansion.

One of the main trends in the Global Bed Sheet industry is that players are concentrating on the practical advantages of Bedsheets made of plant-based materials. For instance, compared to standard cotton, Tencel, bamboo, and organic cotton offer higher moisture absorption and breathability. Along with consumers' preference for large beds and mattresses, eco-friendly products like organic material, and these other factors, the popularity of various styles and patterns of embroidered covers is also boosting the market growth.
Sheets and pillowcases are examples of linen, which is a type of cloth used to make beds. It used to be made of linen, but now it is made of various materials such as cotton and polyester. Bedding refers to the fabrics used in beds such as pillowcases, sheets, duvet covers, and blankets, while linen refers to the fabric products that make up beds such as pillowcases. It can be decorated with bedding in different patterns and colours. Bedding is made of materials such as cotton, rayon, satin, polyester, polycotton, prints and bamboo.
The sector will profit from consumers' increased interest in Bed Linen goods that are environmentally friendly, sustainable, and made from organic materials. It will significantly contribute to its growth during the course of the forecast. The housing sector, which encourages consumers to spend more on home furnishings, technical improvements, and the accompanying availability of products in a wide range of fibre types, fabrics, textiles, styles, and colour combinations are other elements that influence the industry.
The market for bed linens was worth US$ 22,368 million in 2021 and is projected to grow to US$ 36,441 million by 2031, with a sizable CAGR of 6.4% over the forecast period of 2021 to 2031.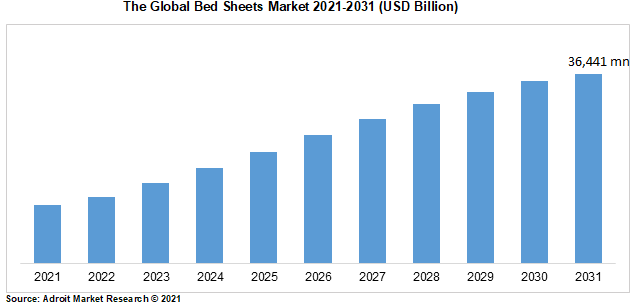 A small number of new entrants and established players make up the market, which makes it unique. To expand their customer base, companies are beginning to diversify their product lines to include cutting-edge home bedding. Acton & Acton Ltd., American Textile Company, Tempur Sealy International, Inc., Bombay Dyeing, Casper Sleep Inc., Beaumont & Brown, Pacific Coast Feather Company, Crane & Canopy Inc., Peacock Alley, Purple Innovation, Inc., The White Company, and Portico New York are just a few of the well-known companies in the world's market for home bedding.
Segment Analysis
Cotton Bedsheets to Remain Atop
Based on the Types, Cotton held more than half of the market shares in the past because of qualities such as being lightweight, breathable, and simple to clean. The best material for daily use is cotton. Cotton bed linens also absorb moisture and permit air circulation, which helps to regulate body temperature as you sleep. Cotton sheets are designed to keep the body warm in the winter and cool in the summer. Additionally, it makes a great choice for bedding all year round due to its breathability. The use of cotton linens is growing as a result of these factors.
Residential to Grow at Faster Rate
Due to the increased use of pillowcases and bedsheets, as well as expanding urbanisation and consumer awareness of superior house aesthetics, the residential application is anticipated to increase over the projection period. Population growth and the expansion of the building sector in various emerging nations are two major factors influencing the market size. Consumer expectations are shifting toward bed linen goods that are more long-lasting, ecological, resilient, and healthy as a result of the culture of working from home.
Sheets to Expand more out of all end-Use
Because it represents the status and taste of the owner, who is happy to spend more money on decorating the house, a nice bed sheet that matches an attractive look is extremely significant as a component of the interior bedroom décor. As a result, during the course of the projected period, the trend for bed sheets will continue to rise quickly in both the domestic and international markets. Global bed sheet sales are also increasing as a result of developing textile technology, easy access to more natural materials, bolder, brighter colours, and a larger variety in the make-up of the sheets, as well as other factors.
Asia Pacific Region to Run the Market
The fastest-growing market in the world is in the Asia-Pacific region. The primary drivers of growth in the region include the growing Asian countries' stable financial growth, expanding retail networks throughout the area, an increase in nuclear families, and simple access to a large variety of goods. Additionally, as the population of the affluent middle class has grown, there has been a rise in the desire for designer and luxury bed linens. This trend has also been influenced by the low cost of labour in countries like China and India.
COVID-19's Effect on Market Situation
The COVID-19 breakout has caused significant harm to the home bedding industry. However, as soon as the shutdown was announced, online sales skyrocketed. The fluctuating timetables made it difficult for people to obtain enough sleep. Since COVID-19 anxiety was creating a lot of sleep issues, this rise was an indication that people were looking for self-care choices. Spending on bedding and comfort items increased as a result, ultimately contributing to the market's growth.
Latest Innovations and Developments in Global Bedsheets Market: A Snapsho
• The Stratus Sheet Set was introduced by Slumbercloud; the fabric technology helps to keep the body at a suitable temperature throughout the night.
• The Luxe Core Sheet Set from Brooklinen has ingenious tabs on the fitted sheet with the labels "long side" and "short side."
• Mellanni introduced its reasonably priced microfiber polyester bedding set.
| | |
| --- | --- |
| Metrics | Details |
| Base Year | 2020 |
| Historic Data | 2020-2021 |
| Forecast Period | 2022-2031 |
| Study Period | 2021-2031 |
| Forecast Unit | Value (USD) |
| Revenue forecast in 2031 | US$ 36,441 million |
| Growth Rate | CAGR of 6.4 % during 2021-2031 |
| Segment Covered | Type, Application, by End-Users, Regions |
| Regions Covered | North America, Europe, Asia Pacific, Middle East and Africa, South America |
| Key Players Profiled | cutting-edge home bedding. Acton & Acton Ltd., American Textile Company, Tempur Sealy International, Inc., Bombay Dyeing, Casper Sleep Inc., Beaumont & Brown, Pacific Coast Feather Company, Crane & Canopy Inc., Peacock Alley, Purple Innovation, Inc., The White Company, and Portico New York |
Key Segments of the Bed Sheets Market
By Type Overview, 2021-2031 (USD Billion)
Cotton Fabric Bedsheets

Linen Fabric Bedsheets

Linen Blended Bedsheets

Others
By Application Overview, 2021-2031 (USD Billion)
By End User Overview, 2021-2031 (USD Billion)
By Regional Overview, 2021-2031 (USD Billion)
North America
Europe
Germany

France

UK

Rest of Europe
Asia Pacific
China

India

Japan

Rest of Asia Pacific
South America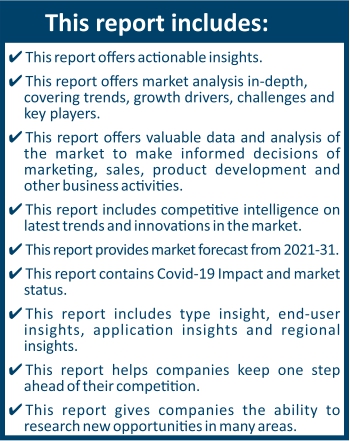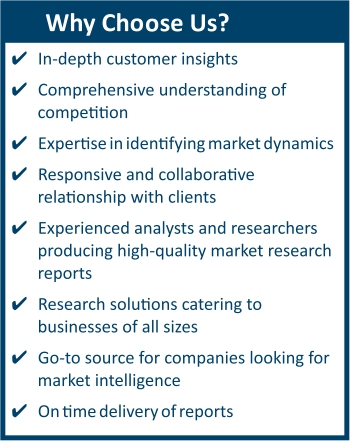 Frequently Asked Questions (FAQ) :
The global Bed Sheets market size projected to reach US$ 36,441 million by 2031.