The market for automotive smart surfaces and displays is heavily influenced by the growing consumer desire for innovative technologies in cars. To incorporate cutting-edge display systems into their vehicles, automakers are spending a lot of money on research and development. These systems include head-up displays, touch devices for climate control and infotainment, touchscreen infotainment clusters, augmented reality HUDs, and instrument clusters. Governmental efforts to lower pollution are also helping vehicle electrification spread around the world. Due to this, automakers are now creating electric cars with cutting-edge interior features that require fewer buttons or controllers physically. Over the course of the forecast period, advances like these are anticipated to fuel the market for automotive smart interfaces and displays.
Automotive Smart Surfaces and Displays market was valued at USD 15.0 billion in 2021 and is expected to reach at a value of USD 20.0 billion by 2031.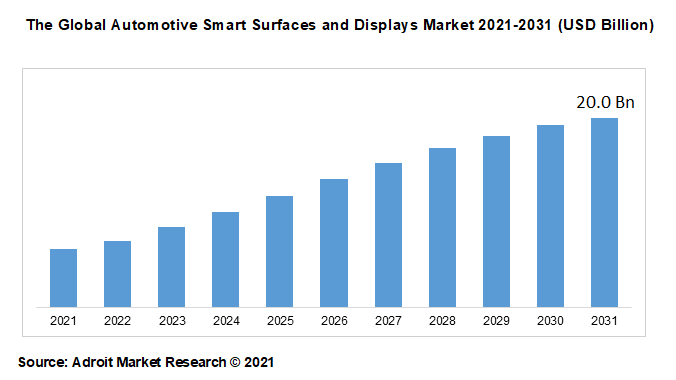 The demand for better in-car experiences, increased driver safety, and lower emissions have created a market for automotive smart interfaces and displays. With the help of cutting-edge in-car technologies like head-up displays, augmented reality HUDs, and digital instrument clusters, automakers are concentrating on giving their customers better sensations. These innovations give drivers more control over their cars while also enhancing the inside cabin's aesthetics. These devices can also notify drivers of potential traffic incidents in real time, which will increase safety. The desire for improved interior components with considerably fewer buttons or controls has increased as vehicle electrification becomes more and more popular due to its low pollution production.
The integration of cutting-edge display technologies into automobiles is referred to as the use of automotive smart surfaces and displays. Improved user experience, increased safety, and improved entertainment elements are all provided. Climate control, mapping, telematics, infotainment, head-up displays, touchscreen infotainment clusters, and interactive 3d HUDs are just a few of the uses for smart surfaces and demonstrates.
The market is facing significant challenges due to the high development expenses involved with automotive smart materials and displays. Advanced technologies including gesture detection, voice commands, wearable technology, and countenance identification are needed for smart displays. These cutting-edge technologies are expensive. Another difficulty the market faces is the incompatibility of pre-existing components, including buttons and switches, with new systems. This is because not all contemporary vehicles have enough inside capacity to handle elaborate display elements. The development of novel materials, such as wearable electronics, is anticipated to lower production costs, solve the problems caused by limited space, and support the market's growth.
COVID-19 Impact and Market Status
The demand for vehicle smart surfaces and displays has significantly decreased as a result of the COVID-19 pandemic outbreak. The supply chain disruption brought on by travel restrictions and factory and other production facility lockdowns has slowed the expansion of the automobile industry. Logistics and launching plans have been delayed as a result of automakers having to reschedule or halt production. This has caused OEMs to be unsure about their investment choices, which is projected to negatively affect the market for automobile smart materials and displays in 2021. The demand for automobiles is anticipated to increase between 2021 and 2031 despite this, as governments in several nations have permitted automakers to take on additional responsibilities at a reduced capacity. As a result, increased expenditures in the vehicle industry are predicted to benefit suppliers over the projection period.
Segment Analysis
The Inside Car Type emerged as the Most Booming Segment
The automotive smart surfaces and displays market can be divided into inside cars and outside cars based on type. Concerning these, the inside-car segment is anticipated to rule the market over the forecast period thanks to several benefits like enhanced user experience and reduced driver distraction. The inside-car market includes passenger and commercial vehicles as well as head-up displays, touchscreen infotainment clusters, augmented reality HUDs, and touch devices for temperature control and infotainment software. Over the forecast period, demand for these elements is anticipated to fuel market expansion.
The Most Prominent Application is the Passenger Car Segment
The automotive smart surfaces and displays market is segmented into three groups based on application: passenger cars, commercial vehicles, and other motorized vehicles. A significant portion of the market share is expected to belong to the passenger car segment throughout the forecasted period as a result of rising demand for modern automotive technology. As a result of companies' active efforts to create new interior components with fewer physical buttons or controls, this market is becoming more and more popular. Additionally, manufacturers are emphasizing offering individualized interior designs that cater to customers, which is anticipated to fuel the expansion of the passenger car category throughout the course of the projected timeframe.
The Boosting Service Segment is Engineering Sector
Design, engineering, and manufacturing services comprise the market segments for automotive smart surfaces and displays based on services. The engineering services segment is predicted to expand the most over the forecast period of all of these segments. This is due to the rising demand for cutting-edge technology, including computerized cockpits in high-end cars. In addition, growing demand over the following ten years is anticipated to be driven by the mechanization of engineering services-related operations.
The Asia Pacific Region to render Ample Financing Opportunities
Due to the rising demand for luxury cars in nations like China and Japan, the Asia Pacific region is expected to dominate the automotive smart surfaces and displays market throughout the course of the forecast period. Consumption in this region is also being driven by government programmes that support the digitalization of vehicles.
Panasonic Corporation (Japan), HELLA GmbH & Co. KGaA (Germany), Continental AG (Germany), Denso Corporation (Japan), Robert Bosch GmbH (Germany), Visteon Corporation (U.S.), Nippon Seiki Co., Ltd. (Japan), and Magneti Marelli S.p.A. (Italy) are a few of the leading companies in the automotive smart surfaces and displays market. These businesses provide a wide range of automotive smart display solutions and are present in many different parts of the world, which is anticipated to drive market expansion over the coming years.
Recent Developments in the Automotive Smart Surfaces and Displays Market
• A new model with an interactive smart surface controller will allow drivers to access various capacities in their vehicles through gestures and voice commands, BMW has revealed intentions to release in 2020. Additionally, Volkswagen Group stated that it would create a new gesture-controlled digital cockpit system for its electric vehicles.
• In 2021, Continental AG intends to introduce an enhanced digital cockpit system with haptic technologies and 3D displays. The market for automobile smart surfaces and displays is anticipated to expand at a rapid rate during the anticipated time frame as a result of these advances.
Automotive Smart Surfaces and Displays Market Scope
| | |
| --- | --- |
| Metrics | Details |
| Base Year | 2022 |
| Historic Data | 2021-2022 |
| Forecast Period | 2022-2031 |
| Study Period | 2021-2031 |
| Forecast Unit | Value (USD) |
| Revenue forecast in 2031 | USD 20.0 billion |
| Growth Rate | CAGR of XXX during 2022-2031 |
| Segment Covered | by Type, By Application, Regions |
| Regions Covered | North America, Europe, Asia Pacific, South America, Middle East and Africa |
| Key Players Profiled | Panasonic Corporation (Japan), HELLA GmbH & Co. KGaA (Germany), Continental AG (Germany), Denso Corporation (Japan), Robert Bosch GmbH (Germany), Visteon Corporation (U.S.), Nippon Seiki Co., Ltd. (Japan), and Magneti Marelli S.p.A. (Italy) |
Key Segments of the Global Automotive Smart Surfaces and Displays Market
By Type Overview, 2021-2031 (USD Billion)
By Application Overview, 2021-2031 (USD Billion)
Passenger Car

Commercial Vehicle
By Regional Overview, 2021-2031 (USD Billion)
North America
Europe
Germany

France

UK

Rest of Europe
Asia Pacific
China

India

Japan

Rest of Asia Pacific
South America
Mexico

Brazil

Rest of South America
Middle East and Africa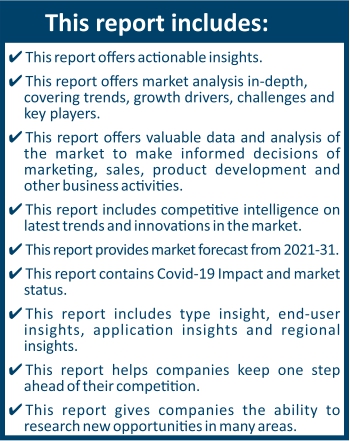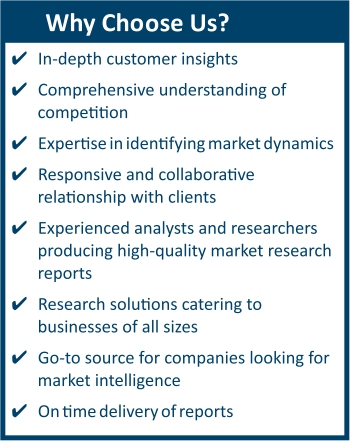 Frequently Asked Questions (FAQ) :
The global Automotive Smart Surfaces and Displays market size is expected to reach in USD 20.0 billion
The Automotive Smart Surfaces and Displays market is estimated to grow at a CAGR of XXX %
Key companies covered in the Automotive Smart Surfaces and Displays market are Panasonic Corporation (Japan), HELLA GmbH & Co. KGaA (Germany), Continental AG (Germany), Denso Corporation (Japan), Robert Bosch GmbH (Germany), Visteon Corporation (U.S.), Nippon Seiki Co., Ltd. (Japan), and Magneti Marelli S.p.A. (Italy)