The market for automotive LED lighting drivers is expanding as a result of the rising need for energy-efficient lighting solutions. On the other hand, the rising popularity of connected automobiles, which call for sophisticated lighting systems, will further fuel market expansion. Additionally, rising automobile production around the globe is anticipated to support the expansion of the market for automotive LED lighting. Additionally, the market is anticipated to benefit from the growing sophistication of lighting systems and the rising demand for comfort and convenience features in automobiles.
Because it can give automakers a more energy-efficient lighting source, there is a need for the Automotive LED Lighting Driver Market. Because they are more effective than conventional bulbs, LEDs are in demand on the market. In addition, it offers higher precision operations compared to conventional lamps and aids in reducing component size and cost. The need for automotive LED lighting drivers is anticipated to rise dramatically in the upcoming years as connected vehicles with advanced lighting requirements proliferate.
An electronic device known as an automotive LED lighting driver is used to regulate the functioning of one or more light-emitting diodes (LEDs). Given that it controls the power provided to LED lights and aids in obtaining greater brightness, it is a crucial component of contemporary car lighting. By regulating the current and voltage of LED lights, drivers also guarantee increased effectiveness and lifetime. They are frequently employed for interior and exterior lighting, including turn signals, brake lights, taillights, and headlights. LED lighting drivers are furthermore utilised in signal lights, smart lamps, and other vehicle applications.
The market for automotive LED lighting drivers is anticipated to develop at a CAGR of 5.3% between 2021 and 2031, from a value of USD 35.1 billion in 2021 to USD 53.3 billion by 2031.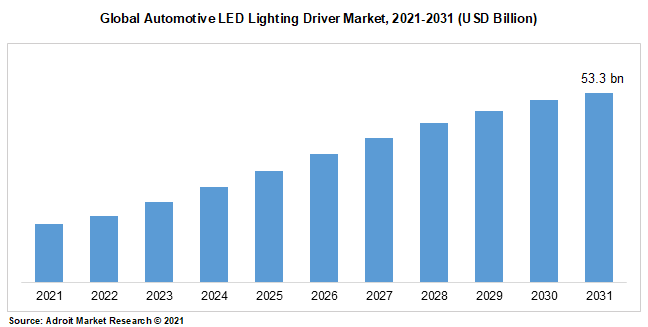 The market has been primarily driven by the escalating demand for automobiles with energy-efficient lighting systems, an increase in auto manufacturing, and a rising trend toward connected vehicles.
The main obstacle to the global market for automotive LED lighting drivers is the existence of strict government restrictions, particularly in industrialised nations. To improve road safety and lower energy usage, the majority of governments have established stringent regulations for car lighting systems. This raises the price of LED drivers and all of their components, which can be prohibitive for users just starting out. The heavy reliance on imports, particularly from Asian nations like China and India, presents another difficulty. As a result, changes in currency rates, import tariffs, and other economic considerations have a significant impact on the worldwide market. Additionally, manufacturers are under tremendous pressure to match evolving client demands and expectations while keeping up with quickly emerging technologies. The industry is anticipated to continue increasing, nevertheless, as the emphasis on enhancing features and boosting energy efficiency grows.
STMicroelectronics, NXP Semiconductors, Texas Instruments, OSRAM GmbH, Intersil Corporation, Maxim Integrated Products Inc., ON Semiconductor Corporation, and Dialog Semiconductors are a few of the leading companies in the automotive LED lighting driver market. To obtain a competitive edge in this market, these businesses are concentrating on tactics for product innovation and differentiation.
Segment Analysis
The Single-channel Segment emerged as the Most Lucrative Type
Single-channel and Multi-channel LED lighting drivers make up two market segments based on type. From 2021 to 2031, it is anticipated that the single-channel segment will account for a sizeable portion of the global market. This has largely been attributed to the cost-effectiveness and energy efficiency of this type of LED lighting driver, which are two important factors driving demand for them. Additionally, compared to conventional lights, these LED lighting drivers have a longer lifespan, which is why they are being used more frequently for automotive lighting applications.
The Most Prominent Application is the Interior Lighting Segment
The market is divided into two categories: interior lighting and exterior lighting. Due to rising demand for connected vehicles and other comfort amenities in cars, the interior lighting category is anticipated to dominate the automotive LED lighting driver market. These lighting drivers are also used to regulate the colour and brightness of many car parts, including the dashboard lights, seat belts, and door handles.
The Asia Pacific Region to render Ample Financing Opportunities
North America, South America, Europe, Asia Pacific, and Middle East & Africa regions make up the regional segments of the worldwide automotive LED lighting driver market. A substantial portion of the global market is anticipated to be held by the Asia Pacific region due to its expanding economy and population. The market for automotive LED lighting drivers is anticipated to grow as a result of the rise in demand for automobiles. Additionally, the area is home to a large number of well-known auto suppliers and manufacturers who are always updating their goods with new lighting technology.
COVID-19 Impact and Market Status
The COVID-19 epidemic has had an effect on a wide range of businesses, including the market for automotive LED lighting drivers. Vehicle sales have decreased as a result of the interruption in supply chains and production activities, which has decreased demand for automotive LED lighting drivers. Despite this slowdown, it is anticipated that the market will gradually rebound and return to its pre-pandemic levels due to rising demand for energy-efficient solutions and the uptake of connected vehicles with cutting-edge features like dynamic artificial lights.
Recent Developments in the Automotive LED Lighting Driver Market
• In order to improve its options in the market for automotive LED lighting drivers, NXP Semiconductors purchased Marvell's Wi-Fi and Bluetooth connection business in 2019. With the help of this acquisition, NXP was able to diversify its product line and provide a variety of connected car entertainment, power management, and automotive safety systems.
• Three new power stage devices for automotive LED lighting applications were released by Texas Instruments (TI) in 2019. These goods are made to increase levels of efficiency while lowering system cost and complexity.
• STMicroelectronics created LED driver ICs based on their unique SmartReset technology in 2019 for extremely effective current control over both analogue (1%-100%) and digital (0%-100%) dimming ranges. For applications involving LED lighting in automobiles, the technology aids in providing highly accurate and reliable current regulation.
• The first GaN Tech Lab in Europe, which would offer automotive LED lighting drivers, was announced by Infineon Technologies in 2020. With this lab, the company hopes to enhance the performance and power efficiency of its current LED driver solutions.
• The MAX16820 flyback converter for automotive LED lighting applications was released by Maxim Integrated in 2021. In comparison to other conventional solutions, the company's innovative solution helps reduce power consumption and costs by up to 50%.
Automotive LED Lighting Driver Market Scope
| | |
| --- | --- |
| Metrics | Details |
| Base Year | 2022 |
| Historic Data | 2020-2021 |
| Forecast Period | 2022-2031 |
| Study Period | 2020-2031 |
| Forecast Unit | Value (USD) |
| Revenue forecast in 2031 | USD 53.3 billion |
| Growth Rate | CAGR of 5.3% during 2021-2031 |
| Segment Covered | Type, Application, Regions |
| Regions Covered | North America, Europe, Asia Pacific, South America, Middle East and Africa |
| Key Players Profiled | STMicroelectronics, NXP Semiconductors, Texas Instruments, OSRAM GmbH, Intersil Corporation, Maxim Integrated Products Inc., ON Semiconductor Corporation, and Dialog Semiconductors |
Key Segments of the Automotive LED Lighting Driver Market
Type Overview, 2021-2031 (USD Billion)
• Single-channel
• Multi-channel
Application Overview, 2021-2031 (USD Billion)
• Single-channel
• Multi-channel
Regional Overview, 2021-2031 (USD Billion)
North America
• U.S
• Canada
Europe
• Germany
• France
• UK
• Rest of Europe
Asia Pacific
• China
• India
• Japan
• Rest of Asia Pacific
South America
• Mexico
• Brazil
• Rest of South America
• Middle East and South Africa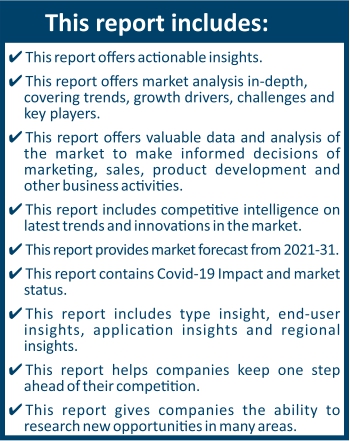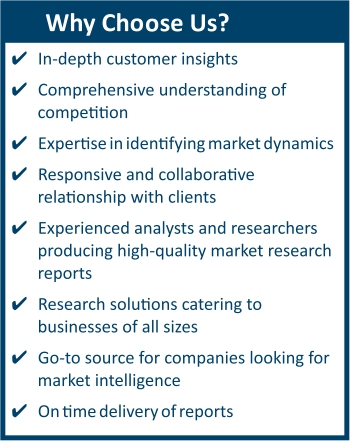 Frequently Asked Questions (FAQ) :
Automotive LED Lighting Driver Market is projected to reach USD 53.3 billion by 2031, growing at a CAGR of 5.3