The rising demand for luxury cars is the main driver fueling the expansion of this market. Luxury vehicles with glass roofs that give passengers an open-air feeling and better visibility are becoming more and more popular among consumers. Additionally, as consumers strive for greater features and technologies in their vehicles, rising consumer disposable income is supporting market expansion. More advanced products can now be offered by automakers thanks to technical improvements in the sector, such as the increased use of electronics to operate panoramic roofs and sunroofs. The demand for glass roofs has also increased as a result of it now.
The need to improve the appearance of cars and give passengers a better view of the outside is what propels the market for automotive glass roofs. Small automobiles appear roomier because to automotive glass roofs, which increases their appeal. To gain market share, automakers are now concentrating on offering premium options to customers, like ventilated and panoramic sunroofs. As a result, there is now a greater demand for vehicle glass roofs across all market groups and geographical areas.
A form of vehicle roof known as an automotive glass roof can be modified so that the driver and passengers can take advantage of outside light. A glass panel or window on the top of the car is moved, tilted, or raised to accomplish this. Automobile glass roofs can be operated manually or often by electric control.
The market for automobile glass roofs is flourishing and is anticipated to expand at a CAGR of 7.9% from 2021 to 2031 when it is predicted to reach a value of USD 9.27 billion. The demand for luxury vehicles is on the rise, consumers' disposable money is expanding, and the automobile industry is advancing technologically, among other things.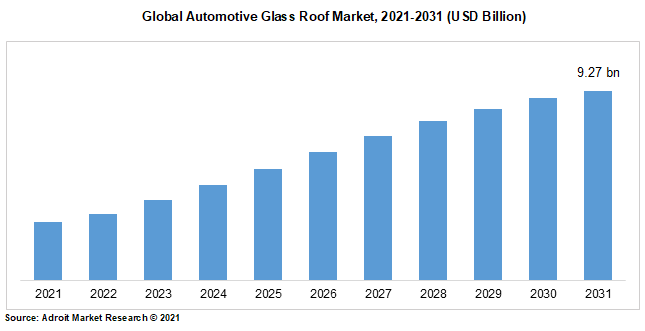 Cost is the main obstacle the vehicle glass roof market must overcome. Since installing a glass roof requires a lot of labour and supplies, many customers find the price to be exorbitant. Additionally, some models' designs might not be compatible with the installation of a glass roof, which reduces the market's potential for expansion. Additionally, consumers are choosing lighter materials like polycarbonate or acrylic over heavier ones like glass for their roofs due to growing environmental awareness and a focus on fuel efficiency. The automotive glass roof market faces significant difficulty as a result of this feature. Meanwhile, thanks to technological improvements, manufacturers are currently developing sophisticated, lightweight glass rooftops that will accelerate the expansion of this industry.
Segment Analysis
The Inbuilt Sunroof Type emerged as the Most Booming Segment
During the anticipated period, the inbuilt sunroof sector is anticipated to rule the automobile glass roof market. This market is expanding as a result of rising consumer disposable income and rising demand for premium vehicles. In addition, the car industry's technology breakthroughs have made it possible for automakers to build complex sunroof systems right into their automobiles.
The Most Prominent Application is the Sedan Sector
Sedans are anticipated to rule the automobile glass roof market over the projected period, based on application. This can be attributable to consumers' rising disposable money as well as their rising demand for luxury vehicles outfitted with cutting-edge sunroof systems.
The Asia Pacific Region to render Ample Financing Opportunities
Geographical divisions of the vehicle glass roof market include North America, South America, Europe, Africa, Asia Pacific, and the Middle East. Because there are so many manufacturing and retail outlets there, Asia-Pacific has the biggest market share among these areas for car glass roofs. Additionally, the rising disposable income of customers in this region and the rising desire for luxury cars both contribute to the market's expansion.
COVID-19 Impact and Market Status
The market for car glass roofs has been adversely affected by the COVID-19 outbreak. Due to the enactment of lockdowns and limitations on manufacturing activity, the automotive industry saw a dramatic fall in sales across the globe. The supply chain has been hampered as a result, which has led to a general decline in demand for vehicle glass roofs. The market is anticipated to have a comeback in 2021 as manufacturers are now gradually adjusting to the new normal.
Some of the leading companies in the sector, including Inalfa Roof Systems Group BV (Netherlands), AISIN SEIKI Co. Ltd (Japan), CIE Automobile SA (Spain), Magna International Inc. (Canada), and Webasto AG, dominate the automotive glass roof market (Germany). The market position and viewpoint of the leading players in the vehicle glass roof industry are also included in this analysis.
Recent Developments in the Automotive Glass Roof Market
• A partnership between Webasto Group and Vodafone Automotive, one of the top automakers in Europe, was announced in February 2021 with the goal of creating and marketing an integrated glass roof solution for electric cars.
• Variolite is a new product that Webasto Group, one of the industry's top players, introduced in May 2021. This item is a portable, reasonably priced panoramic sunroof that may be added to electric cars.
• A new sunroof system for electric vehicles was introduced in February 2021, according to an announcement made by Magna International Inc., a leader in the global automotive sector. With better performance and cost savings, the new system is created to satisfy the needs of today's automakers and consumers.
• One of the global leaders in vehicle glass roofs, American Glass Roofs Inc., introduced the first retractable technology for their built-in sunroof system in March 2021. In comparison to current car glass roof systems, the new retractable technology delivers better performance and is intended to be an economical solution.
Automotive Glass Roof Market Scope
| | |
| --- | --- |
| Metrics | Details |
| Base Year | 2020 |
| Historic Data | 2020-2021 |
| Forecast Period | 2022-2031 |
| Study Period | 2021-2031 |
| Forecast Unit | Value (USD) |
| Revenue forecast in 2031 | USD 9.27 billion |
| Growth Rate | CAGR of 7.9% during 2022-2031 |
| Segment Covered | by Type, by Application, Regions |
| Regions Covered | North America, Europe, Asia Pacific, Middle East and Africa, South America |
| Key Players Profiled | Group BV (Netherlands), AISIN SEIKI Co. Ltd (Japan), CIE Automobile SA (Spain), Magna International Inc. (Canada), and Webasto AG, dominate the automotive glass roof market (Germany). |
Key Segments of the Global Automotive Glass Roof Market
Type Overview, 2021-2031 (USD Billion)
Inbuilt Sunroof
Spoiler Sunroof
Pop-Up Sunroof
Panoramic Sunroof
Others
Application Overview, 2021-2031 (USD Billion)
Regional Overview, 2021-2031 (USD Billion)
North America
Europe
Germany
France
UK
Rest of Europe
Asia Pacific
China
India
Japan
Rest of Asia Pacific
South America
Mexico
Brazil
Rest of South America
Middle East and South Africa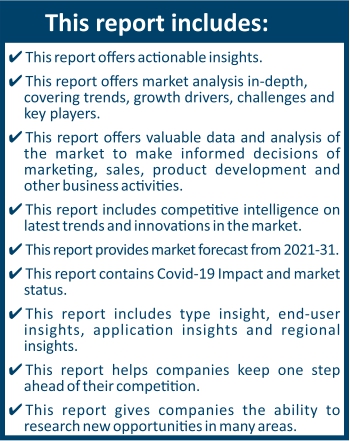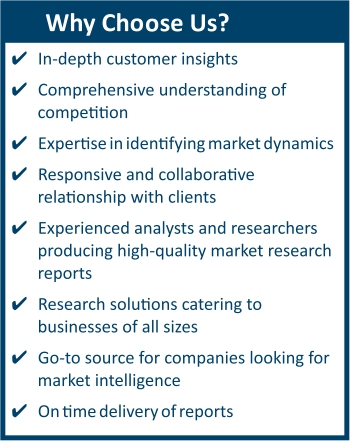 Frequently Asked Questions (FAQ) :
The global Automotive Glass Roof market size is expected to reach USD 2.48 billion in 2031.
The Automotive Glass Roof market is estimated to grow at a CAGR of 7.9%
The top leaders analyzed in the Automotive Glass Roof market study are Kuat Racks (US), Carpod Systems Ltd. (UK), Malone Auto Racks (US), Kogan QLD Pty Ltd. (Australia), Yakima Products Inc. (US), Rhino-Rack USA, LLC, Perrycraft, Inc. (US), Thule Group (Sweden), SportRack USA LLC, ARB Corporation Ltd. (Australia), and TracRac (US)