The market for automotive body-in-white is anticipated to increase significantly as a result of the rising need for lightweight materials and the rising popularity of electric and hybrid automobiles. In addition, strict regulatory guidelines on CO2 emissions are pushing automakers to use lighter body-in-white components. The demand for improved body-in-white components to shield passengers from outside impacts during accidents is anticipated to expand as safety regulations become more stringent. Additionally, the fast urbanisation trend and rising disposable income have boosted passenger car sales. Over the projection period, this is probably going to drive the body-in-white market ahead.
The Automotive Body-in-White Market is required because it offers a solid framework for the creation of cutting-edge cars. Vehicle body-in-white parts are crucial for enhancing safety, lowering weight, and boosting fuel economy. They also aid in giving the driver better comfort and performance. They can also be used to make the interior of the car look better overall while reducing noise and expanding cabin space.
An incomplete car body assembly comprised of sheet metal parts is known as an automotive body-in-white. It consists of the outside shell, the internal framework, and any additional reinforcements or stiffeners that may be required. Vehicles may be produced quickly and cheaply thanks to the body-in-white concept, which also helps to reduce vehicle weight and improve performance, safety, and fuel economy. Automobile manufacturers are putting more of an emphasis on enhancing the endurance and strength of vehicle body-in-white components to cut costs and boost general customer satisfaction.
The Global Automotive Body-in-White Market is anticipated to reach USD 13.25 billion by the end of 2031, expanding at a CAGR of 10.30% over the forecast period of 2021-2031.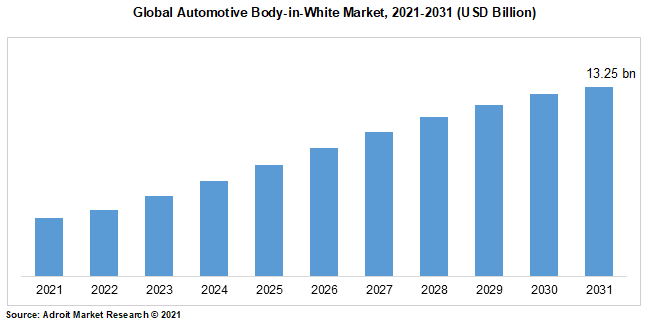 Automakers from all over the world are expected to continue focusing on the automotive body-in-white in the years to come.
A number of obstacles, including high production costs, strict pollution laws, and a movement in consumer preference toward alternative powertrains, are anticipated to affect the global automotive Body-in-White industry. In order to reduce the overall weight of vehicles, producers must also overcome the issue of creating high-strength materials for BIW components. During the anticipated period, the global population's expanding disposable income is expected to increase demand for passenger automobiles, which would likely drive the automotive Body-in-White market. Additionally, a rise in the sales of commercial vehicles over light pedestrian vehicles will have a big impact on the expansion of the BIW industry.
Martinrea International Inc., Magna International Inc., Benteler International AG, Aisin Seiki Co., Ltd., Tower International Inc., BASF SE, Inteva Products LLC, The Dow Chemical Company, Lear Corporation, and SMP Deutschland GmbH & Co KG are a few of the well-known companies active in the global Automotive Body-in-White Market. In order to maintain their competitive position in the market, these companies are concentrating on introducing cutting-edge body-in-white components for their automobiles. Additionally, these manufacturers are making significant investments in R&D projects to create cutting-edge solutions for the car body-in-white market.
Segment Analysis
The Aluminum Segment emerged as the Most Lucrative Type
During the forecast period, the aluminium segment is anticipated to account for a sizable portion of the market by type. This is explained by its many benefits, including its high corrosion resistance, lightweight, exceptional strength, and affordability. Furthermore, compared to other materials utilised for body-in-white components, it has better energy absorption and dent resistance qualities.
The Most Prominent Application is the Passenger Cars Segment
Due to the rising demand for passenger vehicles in regions like North America, Europe, Asia Pacific, and the Middle East & Africa, the passenger cars category is predicted to experience considerable growth over the course of the projected period. Growing manufacturing capacities in nations like China and India are another factor contributing to the expansion of this market.
The APAC Region to render Ample Financing Opportunities
According to the region, the automotive body-in-white market is anticipated to be dominated by the Asia-Pacific region. This is partly due to the expanding production capabilities and escalating rivalry among automakers in nations like China, India, Japan, and South Korea. The demand for passenger automobiles in this area is also anticipated to be driven by increased disposable income and fast urbanisation, which is anticipated to promote the expansion of automotive body-in-white components over the forecast period.
COVID-19 Impact and Market Status
The vehicle body-in-white market has been significantly impacted by the ongoing COVID-19 outbreak. During the lockdown, the world's auto factories all ceased output, which resulted in a sharp decrease in sector revenues. Manufacturers might need some time to return to pre-pandemic levels of production even if a gradual rebound is anticipated as restrictions are relaxed and economic activity picks back up.
Recent Developments in the Automotive Body-in-White Market
• Magna Steyr opened a new vehicle body-in-white manufacturing facility in Graz, Austria, in March 2019. Lightweight materials, automated welding and bonding processes, and perfect assembly of all components for the final vehicle body structure are anticipated from the new production facility.
• Faurecia introduced its brand-new modular body-in-white idea for the world's automobile industry in May 2019. This novel approach is based on a single set of manufacturing tools and a special lightweight material that is adaptable to various architectural styles and design specifications of manufacturers.
• Grupo Antolin and the top Chinese carmaker Geely Auto signed a contract in January 2020 to supply automobile body-in-white parts and assemblies for the most recent models of their brands.
• ThyssenKrupp, the top German automaker, stated in May 2021 that it will invest EUR 500 million in a new facility in India for designing and producing precise body-in-white components.
• Nifco purchased a 50% stake in Magna Steyr's vehicle body-in-white business in February 2020. This action is a part of Nifco's attempts to diversify its product offering and advance in the automotive sector.
• Stadco Ltd. announced in February 2022 that it would open a brand-new, cutting-edge body-in-white factory in Wolverhampton, United Kingdom. The plant will produce parts for a number of automobile manufacturers, including BMW and Jaguar Land Rover.
• Mercedes-Benz will increase the size of its body-in-white operations in Sindelfingen, Germany, in March 2022. A new, lightweight body-in-white facility will be built as part of the project to produce parts for electric and hybrid vehicles.
Automotive Body-in-White Market Scope
| | |
| --- | --- |
| Metrics | Details |
| Base Year | 2022 |
| Historic Data | 2020-2021 |
| Forecast Period | 2022-2031 |
| Study Period | 2020-2031 |
| Forecast Unit | Value (USD) |
| Revenue forecast in 2031 | USD 13.25 billion |
| Growth Rate | CAGR of 10.30% during 2021-2031 |
| Segment Covered | Type, Application, Regions |
| Regions Covered | North America, Europe, Asia Pacific, South America, Middle East and Africa |
| Key Players Profiled | Martinrea International Inc., Magna International Inc., Benteler International AG, Aisin Seiki Co., Ltd., Tower International Inc., BASF SE, Inteva Products LLC, The Dow Chemical Company, Lear Corporation, and SMP Deutschland GmbH & Co KG |
Key Segments of the Automotive Body-in-White Market
Type Overview, 2021-2031 (USD Billion)
• Aluminium
• Steel
• Magnesium
• CFRP
• Others
Application Overview, 2021-2031 (USD Billion)
• Passenger Cars
• Commercial Vehicles
Regional Overview, 2021-2031 (USD Billion)
North America
• U.S
• Canada
Europe
• Germany
• France
• UK
• Rest of Europe
Asia Pacific
• China
• India
• Japan
• Rest of Asia Pacific
South America
• Mexico
• Brazil
• Rest of South America
• Middle East and South Africa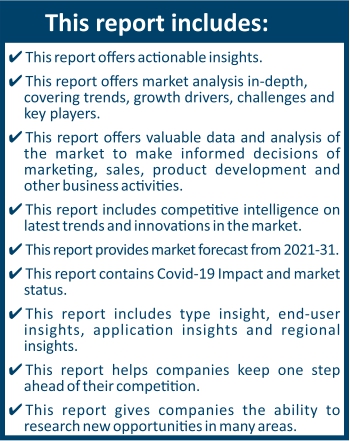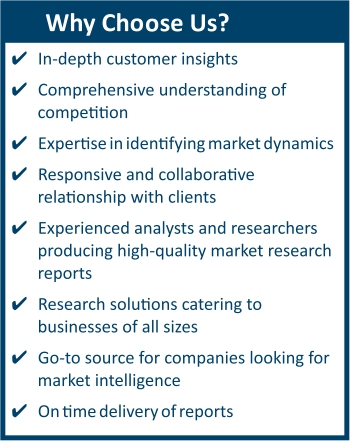 Frequently Asked Questions (FAQ) :
Automotive Body-in-White Market is projected to reach USD 13.25 billion by 2031, growing at a CAGR of 10.3