Some of the key factors driving the growth of this market are the rising demand for lightweight and fuel-efficient automobiles, strict emission standards around the world, and the rising popularity of luxury cars. Because air-conditioning electric compressors are lighter than traditional ones, automakers have begun incorporating them into their vehicles to lighten their overall weight and increase fuel economy. Furthermore, the global increase in demand for luxury automobiles is driving growth in the market for air-conditioning electric compressors.
Suppliers are making air-conditioning electric compressors with cutting-edge technologies such as brushless DC motors and variable frequency drives to satisfy the demands of the market. These elements make them more acceptable for usage in vehicles by boosting efficiency and lowering noise levels. The market for air-conditioning electric compressors is also being driven by manufacturers' focus on improving passenger comfort through the use of improved air-conditioning systems.
The market for automobile air conditioning electric compressors has a number of benefits, including increased power efficiency, less noise and vibration, excellent reliability, and longer life. In comparison to traditional compressors, these components are also lighter and need less maintenance. Additionally, by utilising cutting-edge technology like brushless DC motors and variable frequency drives, they have become even more efficient and appealing for usage in automotive applications.
The refrigerant in an automobile air conditioning system is pressurised and circulated using an electric compressor for car air conditioning. It is more efficient and dependable than traditional compressors since it operates on electricity rather than engine power. The component is made up of a drive motor, an electromagnetic clutch, and a compressor head, among other components. It is joined to an evaporator, condenser, and refrigerant hose. Electricity is transformed into mechanical energy by the car air conditioner's electric compressor, which is then used to compress and move refrigerant throughout the system.
At a CAGR of 7.72% over the projected period, the global automotive air-conditioning electric compressor market is anticipated to increase from USD 4.06 billion in 2021 to USD 6.92 billion by 2031.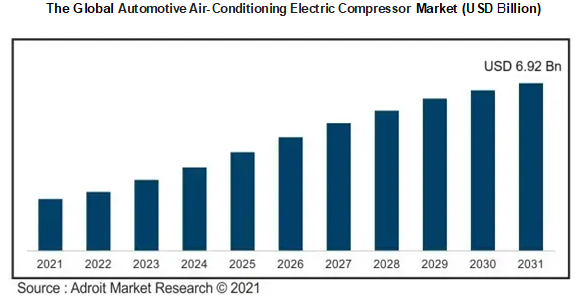 This market's expansion can be due to rising luxury automobile sales, strict global pollution standards, and rising demand for lightweight, fuel-efficient vehicles.
Some of the key barriers to the expansion of this market include the high price of electric compressors and the scarcity of qualified specialists. Additionally, regular maintenance is needed to keep electric compressors for automobile air conditioning operating efficiently. As a result, these components become more expensive and less desirable for use in automobiles. The cost of electric compressors is expected to decrease as a result of technical advancements, which will promote the growth of this business.
Denso Corporation (Japan), Sanden Holdings Corporation (Japan), Delphi Technologies (UK), Valeo Group (France), MAHLE GmbH (Germany), Calsonic Kansei Corporation (Japan), Rotomaster International Inc. (Canada), Mitsubishi Heavy Industries Ltd. are a few of the major companies active in the automotive air-conditioning electric compressor market (Japan). Nidec Corporation (Japan), Panasonic Corporation (Japan), Johnson Electric Group (Hong Kong), and DYMEC Co., Ltd. are further participants (Taiwan). To maintain their dominant position, these businesses are concentrating on initiatives including product launches, mergers and acquisitions, collaborations, and partnerships.
Segment Analysis
25 to 45 cc/r segment to form a major portion of the market
The sector with the largest increase during the forecast period is expected to be 25 to 40 cc/r. This is due to the variety of uses it has in passenger cars, including high-end cars and SUVs. A rise in demand for electric air-conditioning compressors with a capacity of 25–40 cc/r is a result of the rising demand for these vehicles from emerging countries. This is then expected to boost this market segment's expansion over the course of the projection period.
Passenger Car segment to be on top of the market
During the projected period, the passenger car category is anticipated to increase at the fastest rate. This can be ascribed to the rising demand from developing countries for high-end vehicles with cutting-edge comfort amenities. Additionally, strict pollution regulations around the world have increased demand for lightweight, fuel-efficient cars, which necessitate an effective air-conditioning system. Thus, it is projected that during the projection period, this will fuel the segment's growth.
Asia Pacific will command the marketplace.
Asia Pacific is predicted to dominate the global market for electric automobile air-conditioning compressors throughout the period of forecasting. The increasing demand for passenger and commercial automobiles from nations like China, Japan, India, and South Korea is to blame for this. The preference for premium vehicles in these nations is also fueling the demand for cutting-edge air conditioning systems, which is likely to propel the market's expansion. The need for fuel-efficient cars with effective air conditioning systems is also being driven by the region's strict emission regulations. Additionally, it is expected that during the projection period, this will encourage the growth of electric compressors for vehicle air conditioning in the Asia Pacific region.
Impact & Market Situation of Covid-19
The COVID-19 epidemic has had a substantial effect on the market for electric compressors for automobile air conditioning. Demand for these components has decreased as a result of the supply chain disruption and the closing of numerous manufacturing facilities as a result of strict government regulations. Additionally, the slump in the economy has decreased peoples' disposable income, which has decreased demand for passenger cars. The expansion of this market is then predicted to be significantly impacted throughout the forecast year. The market is expected to rebound in 2021, though, when industrial facilities gradually reopen and consumer confidence rises.
Latest Innovations in the Global Automotive Air-Conditioning Electric Compressor Market: A Snapshot
MAHLE GmbH unveiled a brand-new electric compressor with variable displacement for use in passenger cars. According to the manufacturer, this equipment is better for electric and hybrid vehicles than conventional compressors in terms of efficiency and performance. The business has also created a new air-conditioning heat exchanger with increased thermal performance that is lightweight and compact in design for use in passenger vehicles. Such developments are predicted to speed up this market's growth during the anticipated term.
Automotive Air-Conditioning Electric Compressor Market Scope
| | |
| --- | --- |
| Metrics | Details |
| Base Year | 2022 |
| Historic Data | 2021-2022 |
| Forecast Period | 2022-2031 |
| Study Period | 2021-2031 |
| Forecast Unit | Value (USD) |
| Revenue forecast in 2031 | USD 6.92 billion |
| Growth Rate | CAGR of 7.72% during 2021-2031 |
| Segment Covered | Type, Application, Regions |
| Regions Covered | North America, Europe, Asia Pacific, South America, Middle East and Africa |
| Key Players Profiled | Denso Corporation (Japan), Sanden Holdings Corporation (Japan), Delphi Technologies (UK), Valeo Group (France), MAHLE GmbH (Germany), Calsonic Kansei Corporation (Japan), Rotomaster International Inc. (Canada), Mitsubishi Heavy Industries Ltd. |
Key Segment of Global Automotive Air-Conditioning Electric Compressor Market
By Type Overview (USD Billion)
• Below 25 cc/r
• 25 ~ 40 cc/r
• Above 40 cc/r
By Application Overview (USD Billion)
• Passenger Vehicles
• Commercial Vehicles
By End-User Overview (USD Billion)
• OEMs
• Aftermarket
By Region Overview (USD Billion)
North America
• USA
• Canada
Asia Pacific
• China
• India
• Japan
• Rest of Asia Pacific
South America
• Mexico
• Brazil
• Rest of North America
Europe
• Germany
• France
• UK
• Rest of Europe
Middle East and Africa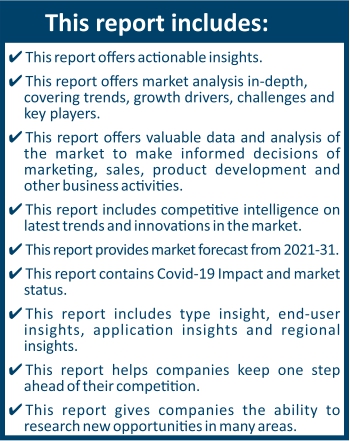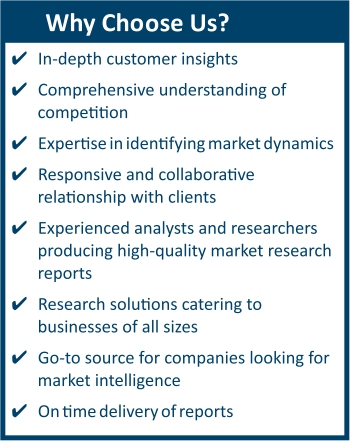 Frequently Asked Questions (FAQ) :
The global Automotive Air-Conditioning Electric Compressor market size projected to reach USD 6.92 billion by 2031,growing at a CAGR of 7.72%