Arabinogalactan is a biopolymer made up of two monosaccharides: arabinose and galactose. It exhibits starch-like qualities in terms of text texture and behaviour.
The global Arabinogalactan market is projected to reach $ 203.40 Million by 2028, growing at a CAGR of 3.66%
Covid19 Impact and Market Status
The sudden outbreak of the COVID19 epidemic has led to the implementation of stricter telephone laws in many countries, resulting in disruption of Arabinogalactan imports and exports. COVID-19 has the potential to impact the global economy in three ways: directly affecting production and demand, leading to a series of supply chain and market disruptions, and financial impact on firms and financial markets. Our global analysts predict that the market will create lucrative opportunities for producers following the COVID19 disaster. The purpose of this report is to provide an overview of the impact of recent climate change, recession, and COVID19 on the industry as a whole. The Arabinogalactan Market Development Strategy Pre and Post COVID19, by Corporate Strategy Analysis, Landscape, Type, Application, and Leading 20 Countries examines and predicts the Arabinogalactan industry worldwide, providing statistical data on market dynamics, growth factors, challenges major, PEST analysis, and market analysis strategies, opportunities, and predictions.
The Western Larch Source segment is accounted for the highest market share
Western Larch Source and Mongolian Larch Source are the two sorts of markets. Western Larch Source has the biggest market share in 2020. There is a lot of arabinogalactans in the lower part of the tree. With sapwood at the tree's centre, concentration rises. Due to the presence of significant arabinogalactan, it is in high demand. In the Arabinogalactan market, rising supplement demand among children and adults is a major factor. Fibre-rich arabinogalactan promotes the growth of good bacteria in the immune system and digestive tract. Arabinogalactan is vegan and gluten-free, which makes it popular among edible animals. Arabinogalactan is becoming more popular as a substitute for guar gum, Arabic gum, and starch in medicinal and food products.
The Food & Dietary Supplement segment is likely to grow at a highest market share
Arabinogalactan is widely used in food products on the market for people who prefer nongluten free, vegan, and starch options. With the growth of the vegan population, the demand for vegan and starch products may increase, increasing the demand for the product in the food and beverage industry during the review. Arabinogalactan has been widely used for a variety of purposes, including a combination of drug molecules to increase bioavailability, and arabinogalactan from larch trees has protective properties, increasing resistance to common colds and flu related illnesses. As a result, the strong demand for a product from the medical sector promotes market growth. Prebiotics, which are increasingly employed as an element in promoting intestinal health, bone health, immune system strength, and weight control, are predicted to see substantial growth as a result of the rising demand for health and nutritional supplements.
The North America region is likely to hold the highest market share
During the forecast period, North America is anticipated to account for a sizable portion of the worldwide arabinogalactan market, followed by Asia Pacific and Europe. The market for arabinogalactan in North America is largely driven by rising dietary supplement and food product consumption due to a region-wide increase in consumer health consciousness.
Arabinogalactan powder is largely utilised as a dietary fibre supplement due to its medicinal qualities.
Although there is limited proof, arabinogalactan is thought to provide health benefits. It's also utilised to enhance the immune system as a probiotic supplement and diet. Arabinogalactan is an effective probiotic due to its starch-like characteristics. It is anticipated that the market for arabinogalactan will increase by 3.66 percent CAGR from USD 151.72 million in 2022 to USD 209.40 million in 2029.
The global Arabinogalactan market is growing owing to the increasing awareness of the necessity of taking nutritional supplements to preserve health advantages. The rising demand for the component among children and adults is propelling the Arabinogalactan market forward. Modern consumers may want to invest in their health rather than medical services. The market demand for health items has increased as a result of this preference shift. Due to customer worries about starch and its impact on the human body, manufacturers are seeking for alternatives to starch, such as arabinogalactan powder. As more people choose to live a vegetarian diet, the demand for vegan and starchy meals is growing. As a result, arabinogalactan's prospects as a dietary supplement are bright.
Excessive fibre consumption may result in a lack of minerals due to its binding capacity, as fibre binds to nutrients, causing them to deplete before the body has a chance to absorb them. Commonly impacted elements include chromium, copper, iron, zinc, and calcium. In addition, the product's high price in compared to cheaper alternatives like guar gum and Arabic gum is anticipated to restrict its adoption. The aforementioned elements are therefore anticipated to have a detrimental effect on market expansion in the upcoming years.
The most popular arabinogalactan forms are powders and capsules. It is believed that boosting the immune system with arabinogalactan is a efficient and secure method. Manufacturers of auxiliary ingredients are in high demand because arabinogalactan encourages the growth of bacteria such as Lactobacilli and Bifidobacterial in the gut, which helps maintain good digestive and immunological health. In addition to food and beverage, arabinogalactan is utilised in personal care and cosmetics, animal feed, and medicine.. Alternative therapies and natural emulsifiers for beauty and skincare products are in high demand in the cosmetics sector.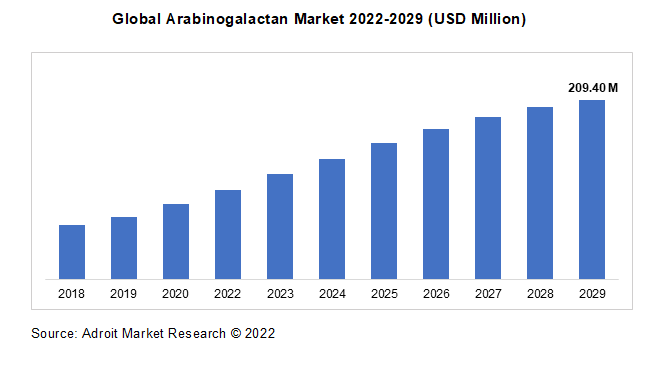 With a focus on the global market, the research report of the "Global Arabinogalactan Market" will provide useful information. Among the major players in the market are Pure Encapsulations, LLC, VetriScience Laboratories, Thorne Research Inc., Ametis, JSC, FoodScience, Lonza Jilin Forest Industry Co., Ltd., Vital Pharmaceuticals, Inc., Swanson Health Products, Inc., and eVermont.
Major Developments and Innovation in the Global Arabinogalactan Market: A Snapshot
February, 2021, One Gevity, a health intelligence company with a multi-omic, proprietary platform that uses machine learning and artificial intelligence to integrate, map, and understand the billions of biological and dynamic features that showcase the state of an individual's health, has merged with Thorne, a health and technology company looking to disrupt the prevention and wellness market.
Arabinogalactan Market Scope
| | |
| --- | --- |
| Metrics | Details |
| Base Year | 2020 |
| Historic Data | 2018-2019 |
| Forecast Period | 2021-2028 |
| Study Period | 2018-2028 |
| Forecast Unit | Value (USD) |
| Revenue forecast in 2028 | USD 209.40 million |
| Growth Rate | CAGR of 3.66 % during 2021-2028 |
| Segment Covered | Type, Application, Regions |
| Regions Covered | North America, Europe, Asia Pacific, Middle East and Africa, South America |
| Key Players Profiled | Pure Encapsulations, LLC, VetriScience Laboratories, Thorne Research Inc., Ametis, JSC, FoodScience, Lonza Jilin Forest Industry Co., Ltd., Vital Pharmaceuticals, Inc., Swanson Health Products, Inc., and eVermont. |
Key Segments of the Global Arabinogalactan Market
Type Overview, 2022-2029 (USD Million)
Western Larch Source
Mongolian Larch Source
Application Overview, 2022-2029 (USD Million)
Food & Dietary Supplement
Pharmaceutical
Other
Regional Overview, 2022-2029 (USD Million)
North America
Europe

UK
Germany
France
Rest of Europe

MEA

Kingdom of Saudi Arabia (KSA)
South Africa
United Arab Emirates (UAE)
Rest of MEA

APAC

Australia and New Zealand (ANZ)
Japan
China
Rest of APAC

South America

Brazil
Mexico
Rest of South America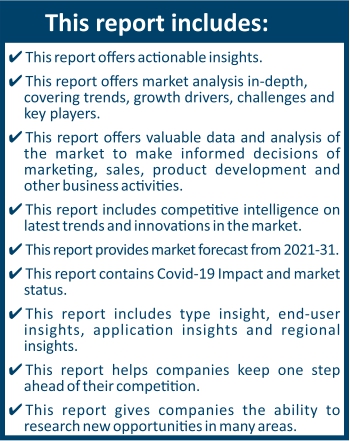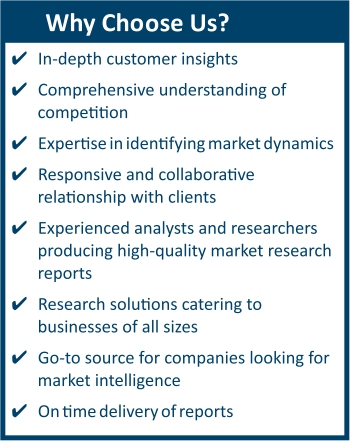 Frequently Asked Questions (FAQ) :
The market value of arabinogalactan market in 2029 was USD 209.40 million.
The arabinogalactan market is growing at a CAGR of 3.66% over the forecast period.
North America dominated the market for arabinogalactan market and accounted for the largest revenue share.
The top companies that hold the market share in arabinogalactan market are Pure Encapsulations, LLC, VetriScience Laboratories, Thorne Research Inc., Ametis, JSC, FoodScience, Lonza Jilin Forest Industry Co., Ltd., Vital Pharmaceuticals, Inc., Swanson Health Products, Inc., eVermont & among others.
To get latest version of arabinogalactan market report can be obtained on demand from the website.