Aluminum's rising use in automobiles, owing to its high strength and low weight, will drive market demand in the future years. The industry is likely to expand further as demand for sport utility vehicles and general utility vehicles grows. The Global Aluminum Casting Market study offers a comprehensive analysis of the industry. The research includes a detailed analysis of key segments, trends, drivers, constraints, the competitive landscape, and other important market variables
Covid-19 Impact & Market Status
COVID-19 sickness began to spread over the world in the first half of 2020, infecting millions of people globally, prompting major countries around the world to impose foot prohibitions and work stoppage orders. Most sectors, with the exception of medical supplies and life support products, have been severely disrupted, including the Aluminum Casting industry.
COVID-19 began to erupt in China around the end of 2019. Because of the massive drop in the global economy, we expect the global economy to expand at a rate of roughly 4% in 2020. As a result, the Aluminum Casting market size will grow at a slower rate of in 2020. There is a decrease of a few percentage points from previous years. There have been more than 20 million confirmed cases of CVOID-19 worldwide as of the date of the study, and the pandemic has not been adequately controlled. As a result, we forecast that by the end of 2020, the global epidemic will be mostly under control, and the global Aluminum Casting market will have stabilised.
This report has a detailed outlook of the many changes that have emerged in the global aluminium casting industry chain depending on upstream and downstream market conditions. A deep analysis of the Covid-19 pandemic inflicted changes in the businesses and the best industrial practices to restore growth trends across regions and countries have been documented in thorough detail to encourage progressive investment decisions by players and aspirants in the global aluminium casting market.
Process Segment
The Aluminum Casting Market is segmented by process into Die Casting, Sand Casting, Permanent Mold Casting, and Other. Die casting is predicted to develop at the fastest CAGR throughout the forecast period, owing to its high efficiency and economy, as well as the fact that it can produce a greater range of shapes and components than other casting techniques. In the automotive sector, die casting is commonly utilised for parts such as engine blocks and wheel spacers.
End- Use Sector Segment
The market is divided into Transportation Sector, Building & Construction Sector, Industrial Sector, and Others based on end-use sector. In terms of end consumption, the transportation segment is predicted to expand the most during the projection period. This increase can be ascribed to the global demand for lighter automobiles, which has led to the substitution of steel and iron parts in automobiles with aluminium products. The rising popularity of light vehicles with higher fuel efficiency is attributable to the rising demand for cast aluminium goods in the transportation sector.
Regional Segment
The Global Aluminum Casting Market is divided into four regions: North America, Europe, Asia Pacific, and the Rest of the World. The global Aluminum Casting Market was dominated by Asia-Pacific, followed by Europe and North America. However, developed countries such as China, India, and Turkey are expected to grow quicker as the Aluminum Casting Market matures. The Asia-Pacific area is predicted to develop faster than any other market because to the rapid expansion of applications such autos, heavy machinery, construction, and mass transit.
The high initial cost necessary to begin the die casting process is the most significant constraint. At the time of casting, the process necessitates a significant expenditure. Because the cost of the equipment and tools required for casting is so high, businesses should focus on mass manufacturing. As a result, in order to view it as a cost-effective technique, the manufacturer needs concentrate on high-volume production. The widespread use of aluminium casting in a wide range of networking and infrastructure equipment drives the aluminium casting market's sales and demand. It provides the market with an opportunity.
In terms of growth by process, the Asia-Pacific region is predicted to increase at the fastest rate between 2021 and 2028. The demand for aluminium products created from the die casting process, which delivers correct dimension products, smooth and textured surface metal components, has expanded rapidly in China, and the country now dominates the process segment. The United States dominates the segment in North America due to the large quantity of automotive parts created primarily through the high-pressure die casting method, such as engine blocks and structural elements. As in the automobile sector, Germany's process segment dominates the European market.
Aluminum casting is the technique of moulding liquid aluminium under high pressure into a die cavity to create simple to complicated items. The mould is manufactured with accuracy in the desired shape, size, quality, and finish surface. These are the lightest die-cast alloys, have the best surface polish, and can endure the highest working temperature of any die-cast alloy. The market is growing at a CAGR of 7.9% in the forecast period of 2021 to 2028 and is expected to reach USD 1,25,047.18 Million by 2028.
Aluminum casting processes include greensand casting, core package casting, gravity die casting, low pressure die casting, high pressure dies casting, and vacuum dies casting. Aluminum casting has numerous applications in the end-use industries, including automobiles, networking and telecommunications, machine production, and electricity.
Because of its inherent and diverse features of lightness, strength to weight ratio, corrosion resistance, electrical and thermal conductivity, nontoxicity, and so on, aluminium plays a significant role in the modern world through a variety of uses. Aluminum is gradually replacing gunmetal, bronze, stainless steel, and numerous grey iron and malleable iron castings in the form of castings. The market's growth is influenced by changes in the automotive industry, such as lightweight automobiles and electric mobility.
Aluminum has taken the role of cast iron. Aluminum is lighter than iron; it weighs 2.7 grammes per cubic centimetre, which is significantly less than iron. As a result, aluminium is a better metal or material for use in lightweight vehicle production. The Asia Pacific region is expected to grow the fastest. This is owing to the advent of China and India as important automotive centres, with global firms transferring or increasing their bases inside this region, which has influenced regional and worldwide demand.
North America is the world's largest market for automotive aluminium die casting. Aluminum casting is currently gaining popularity due to its strength and lightweight qualities, which are predicted to develop the industry.
Other factors projected to drive expansion in the worldwide aluminium casting market include an increase in demand for aluminium casting in the automobile industry to enhance fuel efficiency and, as a result, reduce CO2 emissions.
The vast range of applications in the die casting market is one of the primary reasons driving the industry's growth. The die casting method is highly efficient and may be casted into a wider range of forms and sizes than any other casting process.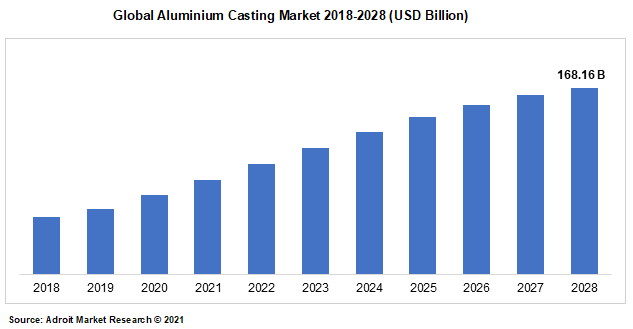 '
The "Global Aluminum Casting Market" research report will offer useful information with a focus on the global market. Alcoa Corporation, Ryobi Limited, Aluminum Corporation of China Limited (Chalco), Rio Tinto, United Company Rusal, China Hongqiao Group Limited, Arconic Inc., Gibbs Die Casting Corp, Dynacast Charlotte, and Nemak are the leading companies in the market. The competitive landscape section also contains a global study of the above-mentioned players' major development strategies, market share, and market position.
Aluminium Casting Market Scope
| | |
| --- | --- |
| Metrics | Details |
| Base Year | 2020 |
| Historic Data | 2018-2019 |
| Forecast Period | 2021-2028 |
| Study Period | 2018-2028 |
| Forecast Unit | Value (USD) |
| Revenue forecast in 2028 | USD 1,25,047.18 Million |
| Growth Rate | CAGR of 7.9 % during 2021-2028 |
| Segment Covered | Process, End Use Sector, Regions |
| Regions Covered | North America, Europe, Asia-Pacific, South America, Middle East and South Africa |
| Key Players Profiled | Alcoa Corporation, Ryobi Limited, Aluminum Corporation of China Limited (Chalco), Rio Tinto, United Company Rusal, China Hongqiao Group Limited |
Key Segments of the Global Aluminium Casting Market
Process Overview, 2018-2028 (USD Billion)
Die Casting
Sand Casting
Permanent Mold Casting
Other
End Use Sector Overview, 2018-2028 (USD Billion)
Transportation Sector
Building & Construction Sector
Industrial Sector
Others
Regional Overview, 2018-2028 (USD Billion)
North America
Europe
Germany
France
UK
Rest of Europe
Asia Pacific
China
India
Japan
Rest of Asia Pacific
South America
Mexico
Brazil
Rest of South America
Middle East and South Africa
Frequently Asked Questions (FAQ) :
The Aluminium Casting Market is growing at a CAGR of 7.9% over the next 5 years.
Asia Pacific is growing at the highest CAGR over 2021- 2028.
Alcoa Corporation, Ryobi Limited, Aluminum Corporation of China Limited (Chalco), Rio Tinto, United Company Rusal, China Hongqiao Group Limited
Growth in the aluminum casting market can primarily be attributed to the growing involvement of aluminum in the transportation sector, industrial sector and building & construction sector.