The global Aluminium Cylinders market size is expected to reach close to USD 3910.8 million by 2029 with an annualized growth rate of 8.7% through the projected period.
The most prevalent metallic element and most frequent nonferrous metal in the crust of the Earth is aluminium (Al). A thin silvery-white metal, it is. The three market categories for aluminium are geography, end-user industry, and processing method.
Covid-19 Impact & Market Status
As major end-user industries like construction and automotive were closed due to the COVID-19 pandemic, the market suffered. But the market has already returned to its pre-pandemic levels, and throughout the projection period, it is expected to increase gradually. The market under study is expected to be driven by rising building activity in the Asia-Pacific region in the medium term. COVID-19 had a major impact on the construction industry, as several projects were delayed in 2020 due to a lack of funding, labour shortages, and lockdown regulations. A ban on interstate travel led to a major exodus of migrant labour, which had a disastrous impact on the supply chain. As a consequence, less building material was used, which reduced both the demand for and the supply of building materials. In 2020, the global automotive industry produced 55.8 million passenger cars and 21.78 million commercial vehicles, according to OICA (Organisation Internationale des Constructers Automobiles). In 2020, 77.62 million automobiles will be produced, down 16% from 2019.
The transportation segment is likely to grow at a highest rate
In 2021, the transportation application segment is dominated with the highest revenue share, which was the highest. The expansion is linked to the rising worldwide demand for lightweight cars and aeroplanes. One of the most attractive markets for lightweight vehicles is the sports vehicle market. The market for sports cars continues to be driven by the popularity of sporting events, rallies, and races in North America and Europe, which also increases demand for aluminium casting.
The APAC region is dominated the aluminium cylinders market
The Asia Pacific region will continue to rule the global market. The biggest market shares are anticipated to be in the Asia Pacific. The main driver of the expansion in the Asia Pacific area of the global high-pressure gas cylinder market in the anticipated period is the growing demand for industrial gases and CNG cars in the region.
Castings, sheets and plates, pigments and powder, extrusions, forgings, rods and bars, and other forms of processing are among them.
The market is made up of many end-user sectors, including automotive, packaging, building and construction, aerospace and defence, transportation, electrical and electronics, and industrial. The global Aluminium Cylinders market is expected to be worth US$ 2442.7 million in 2022, with a readjusted size of USD 4475.6 million by 2029, growing at an 8.3 percent CAGR during the review period. The study also includes market estimates and forecasts for 15 countries in key regions. Market sizing and forecasting were done based on volume for each segment (kiloton). The market's expansion can be attributed to rising demand for lightweight, fuel-efficient automobiles in developing countries such as India and china.
The growing demand for light weight vehicles is expected to increase demand for aluminium cylinder heads in the near future. Increased production and use of aluminium cylinder heads will increase manufacturer competition, resulting in lower prices and higher quality products being offered over time, driving up sales volumes and revenues from these products over time, as well as higher profits from these products over time, which will be another factor driving this market's growth into 2021 and beyond. The rising use of aluminium as an alternate material for engine components will also help to drive market expansion in the future years.
The gravity casting aluminium alloy segment is likely to account for a significant portion of the global aluminium cylinder head market during the forecast period due to its low cost and quick production rate. Due to its higher strength properties than gravity castings, the low-pressure casting aluminium alloy category is predicted to increase rapidly, making it appropriate for high-performance engines with higher power output needs, such as turbocharged or supercharged engines.
Innovative applications of graduated cylinders are being noticed in the industry, which is projected to boost graduated cylinder market value during the forecasted time. The Graduated Cylinder Lab Decanter improved the body of the wine and its presentation to guests. It features a rubber stopper at the top and is made of solid glass. The industry is seeing innovative uses of graduated cylinders, which is expected to boost the market value of graduated cylinders throughout the forecasted period. Lab Decanter, for example, offers an innovative technique to serving wine that improves both the wine's body and presentation with the graduated cylinder, which is a copy of conventional lab equipment down to the smallest of marks. The Graduated Cylinder Lab Decanter enhanced the wine's body and presentation to guests. It is composed of solid glass and has a rubber stopper at the top.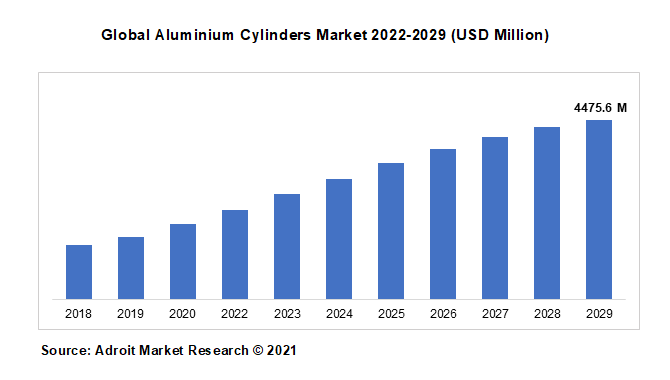 Key competitors operating in the global aluminium cylinders market are Worthington Industries Luxfer Gas Cylinders, Norris Cylinder, Metal Impact, Shenyang Gas Cylinder, Catalina Cylinders, Faber Industrie, and Shanghai Qilong.
Major Developments and Innovation in Aluminium Cylinders Market: A Snapshot
The second most used metal in the building and construction industry is aluminium. Examples include windows, cladding, solar screens, solar panels, curtain walls, roofing, railings, shelves, and other transient constructions.
One of the key drivers propelling the industry recently examined is increased construction activity around the world.
The Asia-Pacific area has the largest construction market in the world, and due to urbanisation, rising middle-class incomes, and population expansion, this industry is expanding at a healthy rate.
Due to the rising need for hotels, shopping centres, high-rise buildings, arenas, and stadiums, the construction sector has grown and the region's use of aluminium has soared (both outdoor and indoor).
Nearly 80% of people have single-family housing as their ultimate goal, and nearly 70% of people are working toward it, which has led to a rise in the number of homes being built each year.
Several firms are partnering with a variety of organisations to assist scientific research, applied science, and life science around the world, which is expected to drive aluminium demand from the building and construction industry over the forecast period. Ensco Scientific, for example, joined the Laboratory Equipment Association (LPA) in June 2021 with the purpose of better cooperating with other manufacturers, distributors, and suppliers of science laboratory products and services throughout the world to promote scientific endeavours.
Aluminium Cylinders Market Scope
| | |
| --- | --- |
| Metrics | Details |
| Base Year | 2020 |
| Historic Data | 2018-2019 |
| Forecast Period | 2021-2028 |
| Study Period | 2018-2028 |
| Forecast Unit | Value (USD) |
| Revenue forecast in 2028 | USD 4475.6 million |
| Growth Rate | CAGR of 8.3 % during 2021-2028 |
| Segment Covered | Type, Application, Regions |
| Regions Covered | North America, Europe, Asia Pacific, Middle East and Africa, South America |
| Key Players Profiled | Worthington Industries Luxfer Gas Cylinders, Norris Cylinder, Metal Impact, Shenyang Gas Cylinder, Catalina Cylinders, Faber Industrie, and Shanghai Qilong. |
Key Segments of the Global Aluminium Cylinders Market
Type Overview, 2022-2029 (USD Million)
Less Than 20L
20 - 50 L
More Than 50 L
Application Overview, 2022-2029 (USD Million)
General Industry
Chemical Energy
Transportation
Food Industry
Medical Industry
Others
Regional Overview, 2022-2029 (USD Million)
North America
Europe

UK
Germany
France
Rest of Europe

MEA

Kingdom of Saudi Arabia (KSA)
South Africa
United Arab Emirates (UAE)
Rest of MEA

APAC

Australia and New Zealand (ANZ)
Japan
China
Rest of APAC

South America
Rest of South America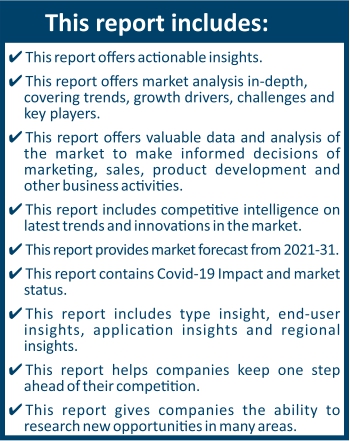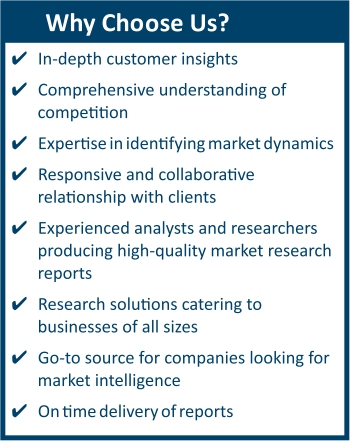 Frequently Asked Questions (FAQ) :
The market value of aluminium cylinders market in 2029 was USD 4475.6 million.
The aluminium cylinders market is growing at a CAGR of 8.3% over the forecast period.
The application of the aluminium cylinders market General Industry, Chemical Energy, Transportation, Food Industry, Medical Industry and other.
Asia Pacific dominated the market for aluminium cylinders market and accounted for the largest revenue share.
The top companies that hold the market share in aluminium cylinders market are Worthington Industries Luxfer Gas Cylinders, Norris Cylinder, Metal Impact, Shenyang Gas Cylinder, Catalina Cylinders, Faber Industrie, Shanghai Qilong & among others.