There is a need of AI speech recognition market as it helps in increasing the efficiency of various business processes. It also helps in reducing the time taken to carry out certain tasks and enhances communication between different entities. Additionally, it is used for various other purposes such as customer service and product delivery.
Covid-19 Impact and Market Status
The coronavirus disease began to spread globally around the beginning of 2021. Powerful nations throughout the world have implemented foot disallowances and work stoppage orders after the COVID-19 illness infected a large number of people. With the exception of the medical supply and life support item industries, the majority of firms have seen considerable impacts, and the speech and voice recognition sector has also experienced significant impacts.. The Speech Recognition Imarket has also seen a special influence from the decline in global economic growth, but has maintained a somewhat utopian outcome. The Speech Recognition Market Size maintained its 2021 to 2030 average annual growth rate over the past four years.
Based on functionality, the global market has been further split into voice recognition and speech recognition. In terms of revenue in 2021, the speech recognition market had a decisive share of more than 65.5 percent of the worldwide market. Voice recognition technologies are perfect for usage in automobiles and mobile phones. Due to society's increasing mobility, access to data and services must be provided at all times and in all locations. Voice recognition technologies based on the cloud and clients may significantly enhance customer experience while saving enterprises money.
Technology Insights
Based on technology. In 2021, the sector of technology not reliant on artificial intelligence accounted for more than 72.000% of worldwide revenue. According to projections, the market will continue to hold the top spot, expanding at a consistent CAGR between 2022 and 2030. On the other hand, it is anticipated that the category of technology based on artificial intelligence will grow at the fastest pace during the course of the expected time. Artificial intelligence-based fixes are becoming more and more crucial as the system correctly recognises speech patterns.
By using a number of procedures, including as the representation of speech units, the formulation and development of recognition algorithms, as well as the display of suitable inputs, artificial intelligence transforms voice beautifully into well-structured algorithms. The development of the artificial intelligence-based technology sector is anticipated to be supported by the expanding developments in machine learning and natural language processing. The need for voice and speech recognition solutions is predicted to increase throughout the forecast period as a rising number of digital assistants with artificial intelligence, such as Alexa and Cortana, become more prevalent.
Vertical Insights
The automotive, enterprise, consumer, BFSI, government, retail, healthcare, military, legal, educational, and other sectors have each been given their own segment of the global market based on verticals. The healthcare market had the largest percentage share of sales in 2021.—more than 29.00 percent.In EHR systems, speech recognition speeds up the data collection process. This technique allows doctors to have a brief interaction with the system. There are now several healthcare fields where speech recognition is used, including radiology, pathology, emergency medicine, and others.
Many healthcare workers invest a lot of time in making notes, writing reports, and maintaining patient records. However, these activities divert time from more beneficial pursuits like patient care and direct communication. Therefore, doctors and other healthcare professionals prefer to employ speech recognition software. When a doctor or staff member is not accessible, such software is frequently used to record medical examinations, patient data, diagnostic reports, etc. These software programmes enable medical practitioners to add notes to the electronic health record (EHR) system or to their laptops without detracting from patient care and allowing them to continue working productively all day.
Since they won't have to miss work to complete paperwork, healthcare professionals will be able to see more patients during the day. Physicians may execute their jobs more efficiently because to the user-friendly and practical characteristics of automated speech recognition software in medical systems, which contributes to the expansion of the speech market and voice recognition.As a result, increased productivity also increases cash flow.
The ability to see more patients during the day will allow healthcare workers to visit more patients as they won't have to skip work to do paperwork. Because automated speech recognition software is practical and user-friendly in medical systems, which helps the speech market and voice recognition grow, doctors may do their duties more effectively.
The market for AI speech recognition was valued at USD 14.58 billion in 2022 and is anticipated to grow to USD 45.35 billion by 2032, with a CAGR of 16.24% between 2022 and 2032.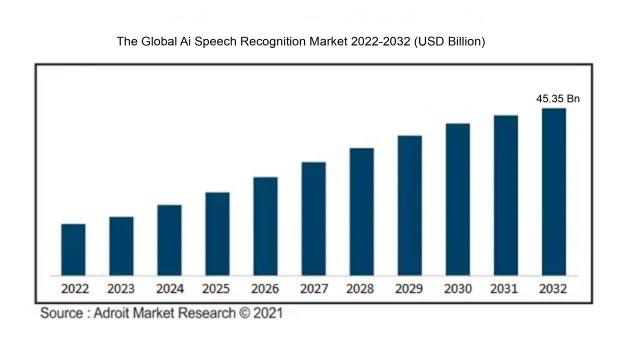 Words called homophones to have similar sounds but different meanings. As an illustration, use right and write, bye or by, purchase, etc. Without a complete language model and training on these words about proper contexts, AI may find it challenging to recognise synonyms in a phrase. Many terms in both English and Latin have many meanings.
The major players in the global AI speech Recognition market are Apple, Microsoft, IBM, Alphabet, Amazon, Baidu, iFlytek, SESTEK, speak2web, Verint, and Others.
Latest Innovations in the Global AI speech Recognition Market: a Snapshot
In order to incorporate Nuance discourse and visual assistant technology into Athena health's electronic health records and mobile apps, the two companies merged in May 2021.
The global spread of the coronavirus epidemic began around the beginning of 2021. Thanks to this link, customers will be able to use voice-driven power, which will reduce paperwork and improve the patient experience.
Powerful governments all over the world enacted foot restrictions and work stoppage orders after the COVID-19 virus infected a large number of people. The majority of businesses have been severely impacted, with the exception of those in the medical supply and life support item industries, as well as the speech and voice recognition sector.
The slowdown in global economic development has had a particular impact on the speech recognition market as well, although the market has managed to preserve a relatively utopian outcome.
The average annual growth rate for the Speech Recognition Market Size between 2021 and 2030 has been constant over the preceding four years.
In order to improve productivity, change performance, and streamline communication with individuals who speak different languages, Baidu and Logitech partnered in April 2021. The collaboration will enable Baidu Al to more accurately identify speeds for Logitech.
AI speech Recognition Market Scope
| | |
| --- | --- |
| Metrics | Details |
| Base Year | 2022 |
| Historic Data | 2022-2023 |
| Forecast Period | 2022-2032 |
| Study Period | 2022-2032 |
| Forecast Unit | Value (USD) |
| Revenue forecast in 2032 | USD 45.35 billion |
| Growth Rate | CAGR of 16.24 % during 2022-2032 |
| Segment Covered | Type, Application, End-Users, Regions |
| Regions Covered | North America, Europe, Asia Pacific, Middle East and Africa, South America |
| Key Players Profiled | Apple, Microsoft, IBM, Alphabet, Amazon, Baidu, iFlytek, SESTEK, speak2web, Verint |
Key Segments of the Global AI speech Recognition Market
Type Overview (USD Billion)
Application Overview (USD Billion)
Automatic Speech Recognition
Speech Recognition
Voice Recognition
Others
End-Users Overview (USD Billion)
Automotive
Banking
Telecommunication
Healthcare
Government
Consumer Applications
Others
Regional Overview (USD Billion)
North America
Europe
Germany
France
UK
Rest of Europe
Asia Pacific
China
India
Japan
Rest of Asia Pacific
South America
Mexico
Brazil
Rest of South America
Middle East and South Africa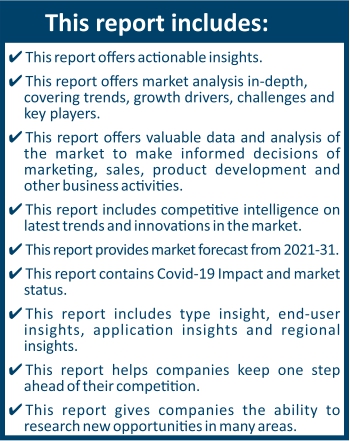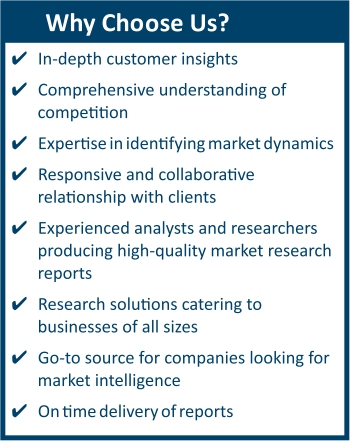 Frequently Asked Questions (FAQ) :
The market value of ai speech recognition market in 2032 was USD 45.35 billion.
The ai speech recognition market is growing at a CAGR of 16.24% over the forecast period.
The application of the ai speech recognition market Automatic Speech Recognition, Speech Recognition, Voice Recognition and other.