At a compound annual growth rate of 12.1%, the size of the worldwide Agritech market is projected to reach US$ 41,172.5 million in 2027.
The global agritech market is expanding at a skyrocketing pace and is estimated to reach close to USD 45 billion by 2028 and is likely to project a CAGR growth up to 14% throughout the forecast years from 2018 to 2028. The substantial rise in growth rate of the global global agritech marketcan be attributed to the increasing demand for high performance, superior quality, high efficiency and productivity products across the agriculture sector with advanced technological capabilities.
Rapidly evolving environment is encouraging the development of mechanized as well as digitized equipments and systems including tools, machines, hardware, software and other product components eliminating the risks and challenges of farmers with the traditionally used manual agricultural tools.
Increasing need for maximized productivity and reduction in losses both tangible and intangible are further boosting the growth of the global agritech marketin recent times, and the same is likely to substantiate in the forecast years as well.
Factors such as lack of adequate know-how, lower tendencies of adoption amongst farmers across mid and low-income countries as well as high capital involvement are some of the major growth restraints in the global agritech market.
Nevertheless, active government back-ip advances across areas such as digital content creation, AI specialization, besides other technological milestones are ramping up novel growth opportunities that are likely to bolster high revenue growth in the global agritech market. Agricultural evolution is the most prominently observed technological growth transforming from wood-based shovels and hulls along with manually used tools to partially mechanized and now completely digitized technologies which have introduced the application of drones, sensors based on internet of things, satellite photography, blockchain, artificial intelligence and big data.
Combined usage of such a broad range of advanced technologies allows farmers and agricultural experts address some of the key challenges such as land management, concerns associated with depleting reserves of resources, climate change and biodiversity loss.
Agritech refers to a broad spectrum of technologies used across diverse range of agricultural applications. Agriculture technology primarily focuses on integration and utilization of highly advanced technologies with an ultimate goal of scaling up the yield significantly thereby resulting in higher profitability rates. Agriculture technology is gained popularity as it effectively eliminates higher human generated risks and errors which are observed in case of traditional equipments and products used in agriculture.
The global global agritech market is likely to gain normalcy and emerge as a mainstream methodology to operate and monitor various agricultural chores as organizations worldwide intensely focus on ways to enhance overall productivity of the agriculture sector and maximize quality crop production. Also, persistently escalating integration of diverse and uniquely specializing technologies at the global level is accelerating further advancement and in general market growth.
Affirmative response from farmers across majority of countries with a flourished agricultural landscape is boosting the agritech providers to focus on enhancing the technological capabilities of products offered.
Global agritech market players are well established with a strong foundation placed alongside the surging number of young entrants bringing into the market a range of novel strategies with the purpose of disrupting the traditional methods used in agricultural practices and the manually led tools. Increasing threat of emerging entrants along with the fast-paced development of digitized and autonomous technologies up grading the market has encouraged market consolidation.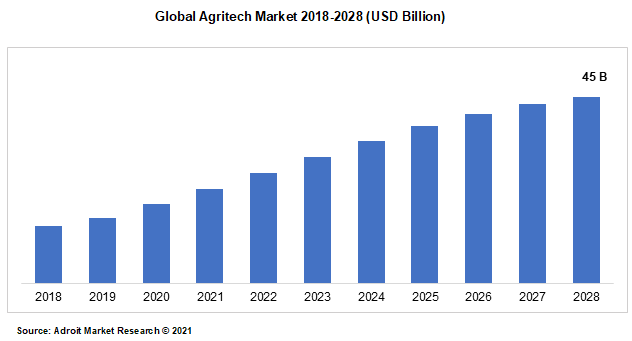 The major players of the global agritech market are PivotBio, Aerofarms, MeiCai, LettUs Grow, ProducePay, Apollo Agriculture, Ceres Imaging, Pure Harvest Smart Farms, AG Biome, ARSR Tech, Crofarm Agriproducts, Conservis, Indigo Ag, and Ninjacart. The global agritech market is house to a large number of domestic players along with well acknowledged international players signifying their market foothold and presence in the global market.
Additionally, the previously recognized market players are introducing a massive portfolio consisting of new strategies, novel technologies and innovative approaches to enhance the product development in order to secure a competitive edge in the global agritech market.
Agritech Market Scope
| | |
| --- | --- |
| Metrics | Details |
| Base Year | 2020 |
| Historic Data | 2018-2019 |
| Forecast Period | 2021-2028 |
| Study Period | 2018-2028 |
| Forecast Unit | Value (USD) |
| Revenue forecast in 2028 | USD 45 billion |
| Growth Rate | CAGR of 14% during 2021-2028 |
| Segment Covered | Type, Application, Regions |
| Regions Covered | North America, Europe, Asia Pacific, Middle East and Africa, South America |
| Key Players Profiled | PivotBio, Aerofarms, MeiCai, LettUs Grow, ProducePay, Apollo Agriculture, Ceres Imaging, Pure Harvest Smart Farms, AG Biome, ARSR Tech, Crofarm Agriproducts, Conservis, Indigo Ag, and Ninjacart. |
Key Segments of the Global Agritech Market
Type Overview, 2018-2028 (USD Billion)
Biotechnology and Biochemicals
Big Data and Analytics
Sensors and Connected Devices
Mobility
Application Overview, 2018-2028 (USD Billion)
Irrigation
Production and Maintenance
Supply Chain
Marketplace
Regional Overview, 2018-2028 (USD Billion)
North America
Europe
France
UK
Germany
Rest of Europe
Asia Pacific
China
India
Japan
Rest of Asia Pacific
South America
Mexico
Brazil
Rest of South America
Middle East and Africa
Reasons for the market study
Primary goal of the research study is to construct a high-end and reliable review on the global agritech market offering you with latest updates to benchmark against the rest of the market.
Ensure your competitive stance in the global market amidst the large-scale innovations driven by the key market participants.
What does the report include?
The study on the global agritech market provides amalgamation of an array of qualitative factors including key drivers, restrains, opportunities and growth trends
The report is inclusive of granulated competitive assessment consisting of existing and prospective players in the global agritech market with thorough evaluation of their strategic initiatives focused on product development
The study also provides conclusive analysis of market segments based on type, application and region for all of which detailed qualitative and quantitative insights have been incorporated.
Accurate market dimensions highlighting market sizes and share along with forecasts have been provided focusing on each segment derived.
Who should buy this report?
The report on the global agritech market provides a synopsis followed by in-depth market share analysis suitable of players across the agriculture value chain including mnaufcaturers, suppliers and distributors and raw material providers
Investors, private and public organizations and government funding bodies seeking in-depth understanding of the future outlook of the global Agritech market
Researchers, engineers, software developers and technology experts seeking insights shaping the global agritech market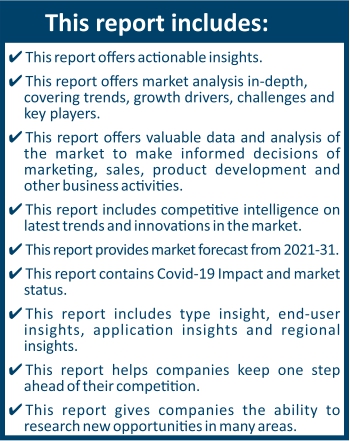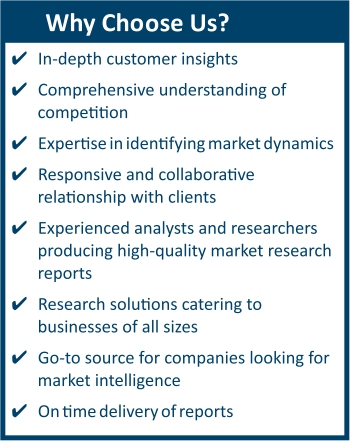 Frequently Asked Questions (FAQ) :
North America dominated the market for largest agritech market and accounted for the largest revenue share.
The market value of agritech market in 2028 was USD 45 billion
To get latest version of agritech market report can be obtained on demand from the website
Improved awareness of technology and agriculture blends, educational programs specifically targeted to inculcate farmers with the state-of-the-art technologies and their applications is encouraging growth of the global agritech market. Connectivity between farmers has improved significantly over the last few years with the increasing adoption of technologies such as internet of things and cloud technology which are encouraging a positive response from the farmers erasing their early concerns associated with the exact extent of capabilities showcased by these technologies.
In addition, global agritech market is gaining momentum with massive advancements in the fields of agricultural biotechnology, supporting and enhancing agribusiness marketplaces, development of high-quality biomaterials and bioenergy, introduction of advanced sensing and IOT-based devices, farm management software, adoption of farm robotics, surge in mechanization and digitized equipment and novel farming systems are among the types of features the global agritech market thrives upon.
Also, an exponential rise in the emergence of smaller start-ups focused on developing IOT and AI-enabled technological tools and software along with growing penetration of sensor technologies and devices with extensive investments in technological integration in the agriculture sector are accelerating the growth of the global agritech market over the forecast.
Type Segment
Based on the type, the market is split into multiple product services including biotechnology and biochemicals, big data and analytics, sensors and connected devices, and mobility. The biotechnology and biochemicals segment is likely to dominate the global revenue share over the forecast owing to the significant proliferation of biotechnology and biochemical tools across vast-ranging agricultural applications with the objective of enhancing crop yield for instance the increasing utilization of next-generation DNA sequencing, synthetic biology tools, RNA interface, genome editing tools and biochips. Increasing R&D activities to study plant anatomy and physiology are boosting the segment growth over the forecast.
Application Segment
In terms of application, the market is compartmentalized into supply chain, irrigation, production and maintenance, and marketplace. The production and maintenance segment is anticipated to acquire a dominating share of the global market revenue over the forecast years owing to the recent developments and spiked rate of adoption of advanced monitoring systems used to efficiently monitor the production phase or growth phase of crops in a farm monitoring the volumes of produce, sensors used to detect product environment and the desired criteria of temperature, humidity and other factors which allow farmers to optimize crop yield.
The global agritech market is heavily predominant across the geographic landmarks of North America. The region has dominated the market in the past and has the potential to lead the revenue share over the forecast years. North America houses two very prominently flourished agricultural marketspace in the U.S. and Canada.
With massive influx of both capital and technological evolution, the countries support substantial growth in the development of advanced technological equipments and products along with a promising geographic footprint scaling up the progressive growth in the future.
U.S. displays a robust landscape with gigantic number of commercial farms and start-ups fueling the demand for advanced Agritech products. Asia Pacific is a potential global agritech market anticipated to register highest rise in CAGR growth during the forecast primarily due to the rapidly rising investments in R&D and product development and the rising demand for a massive crop yield from the expanding food technology sector.