The demand for acrylic rubber is rising because of increased automobile manufacturing and the desire for durable products. The market for acrylic rubber is anticipated to expand due to the rising need for low fuel consumption and the rise in combustion temperature in engine compartments
The size of the global market for Acrylic Rubber is expected to reach US$ 1530 Mn. by 2027, expanding at a compound annual growth rate (CAGR) of 8.7%.
Covid-19 Impact & Market Status
The COVID-19 spread has had a significant impact on a wide range of enterprises all throughout the globe. The embargo on transit and travel has led to the scarcity of raw materials necessary to make the substance. The increasing number of COVID-19 cases has prompted governments to take the appropriate precautions to stem the spread of illness. The absence of outside activities has resulted in a decrease in automotive sales, which has resulted in a decrease in desire for acrylic rubbers. Part-time shifts, automated procedures, and lower working capacity, on the other hand, are anticipated to boost the market. Relaxations on travel, transportation, and manufacturing operations have resulted in the industry's sustained expansion. Manufacturers will very certainly adopt advanced automated manufacturing techniques to improve product quality, cut labour costs, and assure worker safety.
Automotive industry to propel the market growth
The automobile industry is the dominating sector due to rising consumer purchasing power. The acceptance of low-emission vehicles and shifting consumer tastes are key drivers of the car industry. Due to its benefits and durability over the long term, acrylic rubber is becoming very popular in many industries. It serves as a binder in the manufacture of automobile parts like aprons and doors, among others. Additionally, it is utilised to reinforce car parts and boost their resistance to harsh environments and damage.
The Gaskets segment will grow at a faster pace
Governments have implemented strict pollution limits due to the negative effects of carbon emissions and the release of harmful fuels into the environment. India's BS-VI emission regulations have made using alternative energy sources with lower sulphur content mandatory to reduce emissions. As the price of gasoline rises, new parts are created to reduce fuel use and boost vehicle efficiency. The use of acrylic rubber enhances and increases the damage resistance of automobiles. Due to the excellent properties of the rubber, it is easier for the car to survive heat, UV radiation, and other dangers, giving customers a better product.
Asia Pacific to dominate the acrylic rubber market during the projected period
Asia Pacific is anticipated to lead the acrylic market all across the globe due to rising vehicle sales in the region. The changing consumer lifestyle and the existence of significant companies can help the ACM industry grow. Better materials contribute to decreased emissions and the construction of higher-quality automobiles. Because of increased demand for luxury automobiles, North America has the 2nd highest acrylic rubber market position. Furthermore, the existence of several manufacturing units and enterprises might boost market growth. In Europe, the manufacturing industry's expanding sales are aided by customers' changing lifestyles and increased purchasing power. The development of industrial infrastructure and the establishment of many production facilities may enhance the acrylic rubber industry.
The acrylic rubber market is expected to be of worth USD 1.73 billion at a CAGR of 8.7% during 2022-2029. The businesses are using a variety of tactics and spending a lot on R&D to increase acrylic rubber's technical capabilities.
Ethyl methacrylate and other acrylic acids are combined to form the synthetic polymer known as acrylic rubber, which also contains traces of a vulcanization-promoting monomer. It is produced either through dispersion polymerization or dramatically launched emulsion polymerization. Diamines, surfactants, and oxidising agents are employed as medicating agents.
Unbalanced bipolar rubbers with outstanding shrinking resilience in both non-polar and sulfur-containing lubricants are acrylic rubbers. As a result of the absence of unsaturated bonds, they are resistant to oxygen, heat, and oxidation. This specialty rubber has a very low gas permeability and is ozone resistant.
It is a synthetic material made from the acrylic polymer. Acrylic rubber is a durable, flexible substance that can be employed in a variety of circumstances. Both in terms of performance and safety, it is superior to natural rubber. Natural fibres are a great option for acrylic rubber in a range of applications because it performs better and lasts longer than natural rubber.
It is frequently used in synthetic shoe bottoms, car tyres, and other applications that call for rubber. Because acrylic rubber is produced using synthetic methods rather from rubber or its by-products, its production has a smaller impact on the environment. Additionally, acrylic rubber is incredibly flexible, making it perfect for uses like automobile tyres and shock absorbers that need for a stretchy or durable rubber product. Acrylic rubber is suitable for several applications thanks to its excellent characteristics, including hardness, structural stiffness, and longevity.
The acrylic rubber industry is currently the most lucrative in the world. It is a market that strikes a balance between the practicality and suppleness of rubber and the toughness of plastic. Inventing Nylon, DuPont was the first company to create a synthetic rubber. One of the biggest markets in the world has historically been for acrylic rubber. It consists of many things that can be used for a wide range of purposes. The most popular product on the market, flooring, which includes carpets and rugs, can be used for a variety of purposes. The second most popular product on the market is plastic, which is utilised for a variety of things including construction machinery, pipelines, and some other goods.
Industrialization has increased the use of rubber in many different contexts and for a wide range of purposes. The world's urbanisation and the need for rubber are both growing. The automotive industry is where most of this rubber is used. Utilization in electronic devices and as components in a wide range of tools and industries is also growing. In a same vein, acrylic rubber is becoming more and more common in a variety of applications, including coating, sealants, composites, and lubricants. A growing number of people prefer ethyl acrylate rubbers over other types of this substance because of its greater high temperature, oxidation, and ozone resilience.
Additionally, it is used as a sealer for sealing tasks. Due to its outstanding resistance to a wide range of chemicals and environmental factors, more industrial facilities may employ it. Due to its powerful sealing abilities, it is also used in motors, fuel valves, and mechanical components. Valves outlast traditional rubber materials in terms of endurance and life duration. Even after numerous applications, it maintains its properties and resists leaks. These elements might have additionally influenced how the market for acrylic rubber developed.
Growing auto production and a rise in the popularity of components that function well in challenging working situations are two additional drivers propelling the acrylic rubber market. In the upcoming years, the industry is also projected to be supported by an excess supply from finishing industries like consumer goods and polymers.
The availability of substitute, less priced parts is probably going to impact demand for the product. Small-scale businesses might be interested in rubbers that are less priced and of inferior quality. Low-quality rubbers may be replaced multiple times due to their cheaper price, which immediately attracts the attention of small-scale manufacturers. The COVID-19 effect has led to a shortage of the raw materials needed to produce acrylic rubber, which could impede the industry's expansion. These problems are anticipated to impede market growth in the upcoming year.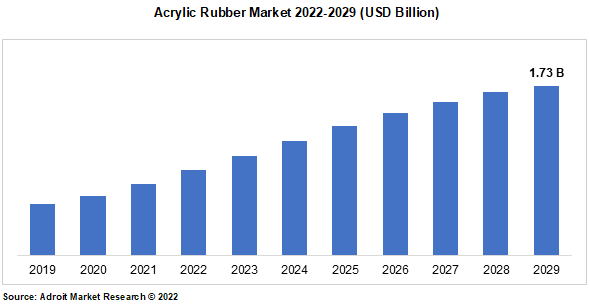 The key market players in the acrylic rubber market includes NOK Corporation, DuPont, Zeon Corporation, Jet Rubber Company, Canada Silicone Inc., Apcotex Industries Limited, Speciality Tapes Manufacturing, etc.
Latest Innovations in the Global Acrylic Rubber Market: A Snapshot
In Germany's Rheinmunster, Trinseo purchased the assets and site of Latex Binder in October 2019. Through an increased product offering for adhesives and building applications, the acquisition will quicken growth.
Acrylic Rubber Market Scope
| | |
| --- | --- |
| Metrics | Details |
| Base Year | 2020 |
| Historic Data | 2018-2019 |
| Forecast Period | 2021-2028 |
| Study Period | 2018-2028 |
| Forecast Unit | Value (USD) |
| Revenue forecast in 2028 | USD 1.73 billion. |
| Growth Rate | CAGR of 8.7% during 2021-2028 |
| Segment Covered | Type, Application, Regions |
| Regions Covered | North America, Europe, Asia Pacific, South America, Middle East and South Africa |
| Key Players Profiled | NOK Corporation, DuPont, Zeon Corporation, Jet Rubber Company, Canada Silicone Inc., Apcotex Industries Limited, Speciality Tapes Manufacturing |
Key Segments of the Global Acrylic Rubber Market
Type Overview, 2022-2029 (USD Billion)
Ethoxy Ethyl Acrylate
Ethyl Acrylate
Others
Application Overview, 2022-2029 (USD Billion)
Textiles
Adhesives
Gaskets
Coating
Plastics
Others
Regional Overview, 2022-2029 (USD Billion)
North America
Europe

UK
Germany
France
Rest of Europe

Asia Pacific

China
Japan
India
Rest of Asia Pacific

South America

Brazil
Mexico
Rest of South America

Middle East & Africa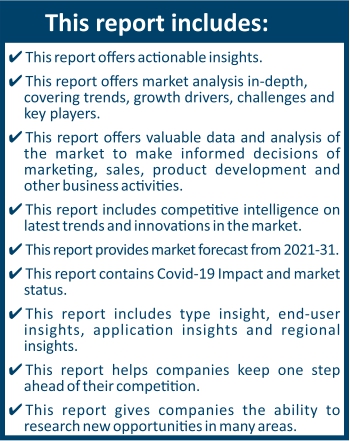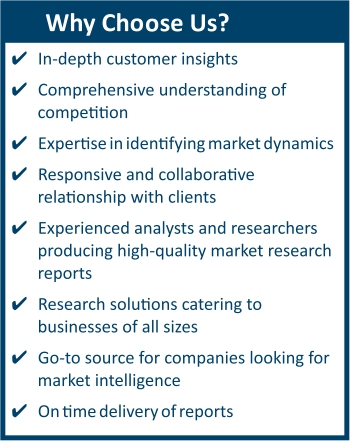 Frequently Asked Questions (FAQ) :
The market value of acrylic rubber market in 2029 was USD 1.73 billion.
The acrylic rubber market is growing at a CAGR of 8.7% over the forecast period.
The application of the acrylic rubber market textiles, adhesives, gaskets, coating, plastics and other.
Asia Pacific dominated the market for acrylic rubber market and accounted for the largest revenue share.
The top companies that hold the market share in acrylic rubber market are NOK Corporation, DuPont, Zeon Corporation, Jet Rubber Company, Canada Silicone Inc., Apcotex Industries Limited, Speciality Tapes Manufacturing and among others.